This post is about how I healed from celiac disease and put my celiac disease symptoms into remission. This is my personal experience as a patient of celiac disease and as an IIN-trained Integrative Nutrition Coach. Please discuss any changes to your diet with your doctor and health care provider. This post contains affiliate links. Please read my disclosures.
Healing from celiac disease is difficult and requires a specific treatment protocol beyond the gluten-free diet.
That said, I'm living proof that it's possible to heal your body from the damages caused by celiac disease because I have put my celiac disease into remission.
Ten years ago, a blood test, followed by an endoscopy and biopsy of my small intestine, confirmed that I had celiac disease.
However, in the years following my diagnosis, I've taken two blood tests to see if celiac disease was detectable in my body. Both tests came back negative.
Please note that when I say I healed myself from celiac disease, I don't mean that I no longer have celiac disease or that I'm "cured" of the disorder.
The truth is celiac disease is a lifelong condition with no cure and few promising treatment options beyond the gluten-free diet. I will always have celiac disease, and I will always have to eat gluten-free.
This means I must make great efforts to avoid gluten, a protein found in wheat, rye, barley, and sometimes oats, at all times. In other words, I must avoid gluten like the plague.
However, I have put my celiac disease symptoms into remission. I proudly live a symptom-free life because I follow a strict gluten-free diet and eat as healthily as possible.
Of course, I love to indulge in gluten-free treats, but 90 percent of my diet is filled with good-for-you gluten-free foods.
Please note that anyone who says they have "cured" themselves from celiac disease is not an expert you should be looking to for advice. There is no cure for celiac disease.
Read about how I broke up with gluten and healed my broken body in my book, Dear Gluten, It's Not Me, It's You, now available on Amazon.
What Is Celiac Disease?
Before I talk about how I healed my body from the damages caused by celiac disease, I'd like to discuss what it is and how it affects my body.
Celiac disease is a genetic autoimmune disorder that causes widespread damage to the digestive system. It impairs the body's ability to absorb nutrients from food properly.
The microvilli, or the hair-like follicles surrounding the small intestine, become flattened and damaged. Most people don't realize that the small intestine is the organ responsible for absorbing nutrients from food and then distributing those nutrients to every cell and organ in the body.
By the time someone is diagnosed with celiac disease, the small intestine has experienced extensive damage and begins to negatively affect not only digestion but a slew of other bodily functions.
It's why there are hundreds of symptoms of celiac disease, from skin disorders, canker sores, joint pain, brain disorders, hair loss, thyroid dysfunction, fertility issues, and more.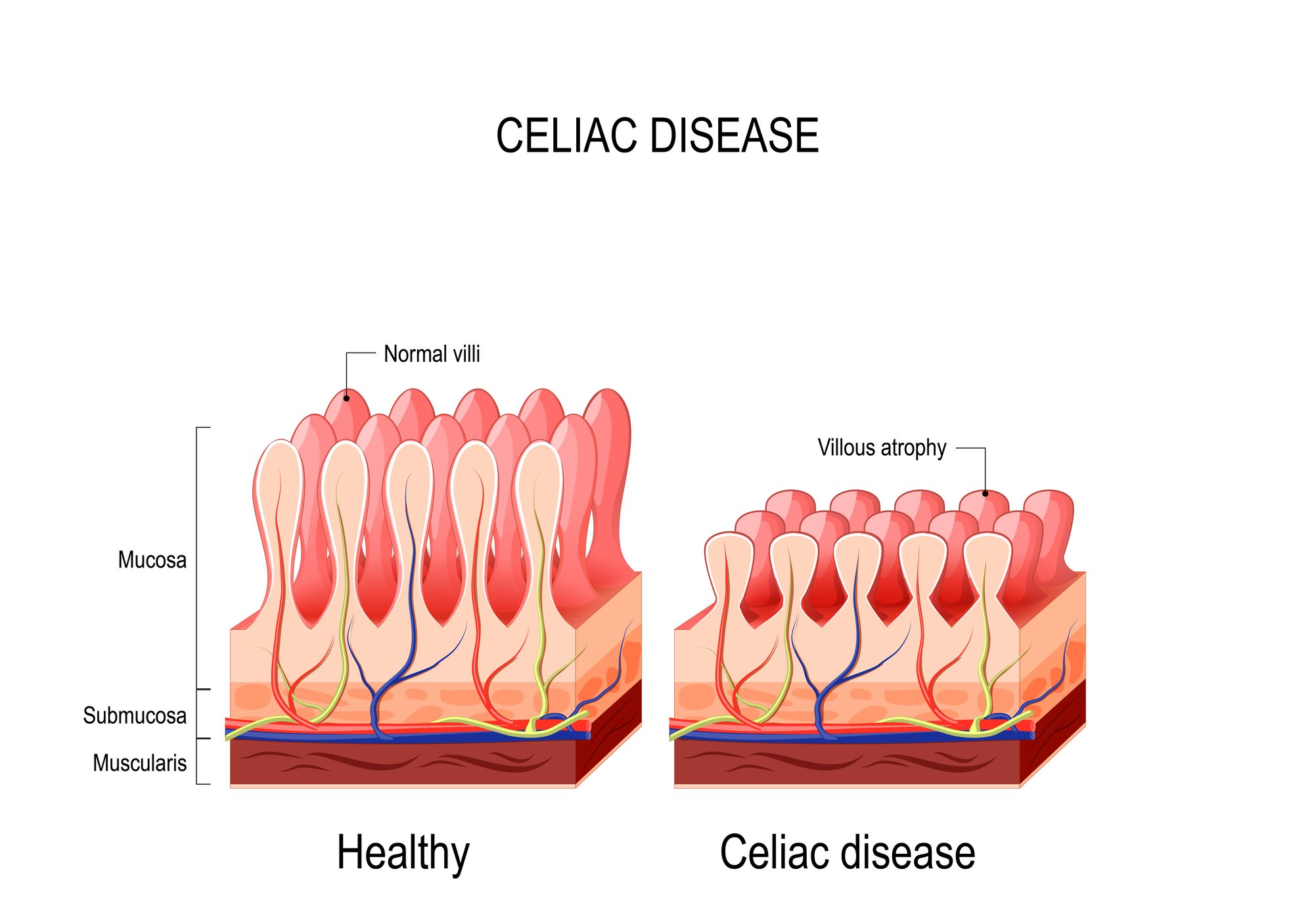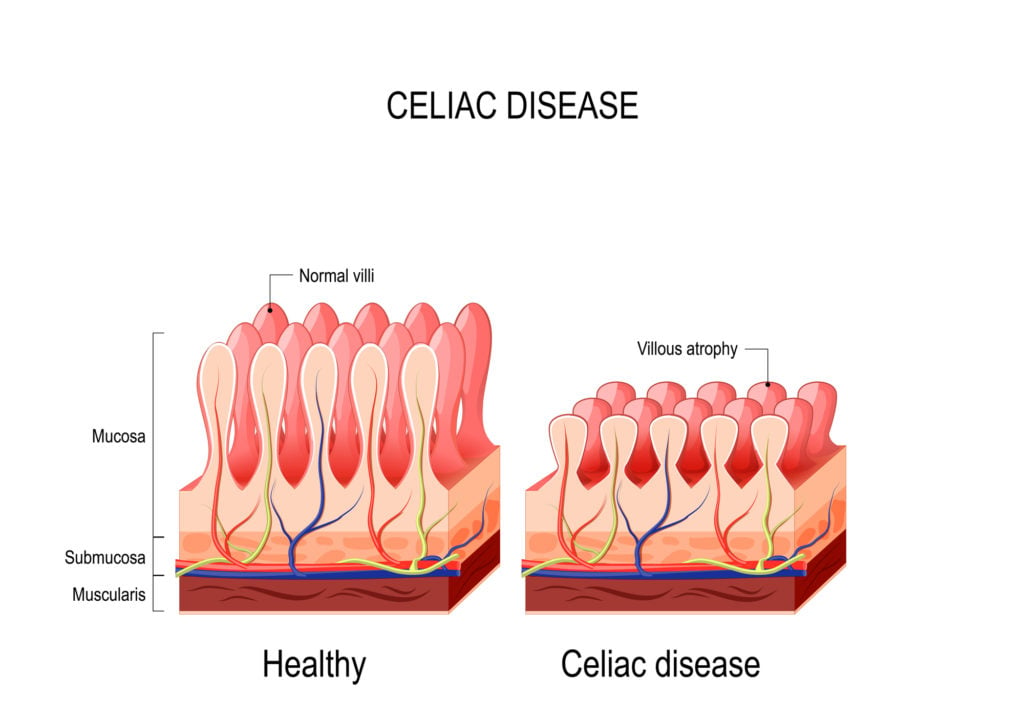 Most doctors tell their newly diagnosed celiac disease patients to go gluten-free, and "eventually" they'll feel better.
This is a half-truth because while the gluten-free diet will stop fueling the flames of inflammation, it can take years for the body to heal fully.
Unfortunately, most people with celiac disease never go on to experience full mucosal (gut lining) recovery, according to this study.
Because many people don't know that celiac disease is the underlying cause of their disorders, or they have silent celiac disease, they can go years without a proper diagnosis.
In fact, it takes an average of 6-10 years for someone to get a proper celiac disease diagnosis from the first onset of symptoms.
How Celiac Disease Affected My Body
Celiac disease was the underlying cause of my severe and painful bloating and embarrassing gas, which prompted me to discuss my symptoms with my doctor.
At the time, I had no idea that a single food group could make me feel so sick, and I, of course, blamed everything but gluten for my chronic bloating.
I've since learned that gluten is a catalyst for a leaky gut. Gluten causes the tight junctions, or the cells that line the small intestines, to loosen so much so that they allow undigested food molecules to "leak" out of the gut and enter the bloodstream without first having been properly digested.
These food particles then cause the immune system to go into attack mode, after all, random particles are floating around in the body!
People with leaky gut experience inflammation at a genetically weak spot in their body, which can vary from person to person.
This weak point could be the thyroid, small intestine, skin, brain, joints, etc. It depends on the person and where they are most genetically vulnerable to disease.
This explains why I not only experience chronic bloating and gas, but also random migraines, red skin bumps along my arms, geographic tongue, canker sores, nutritional deficiencies, and fatigue.
Why Removing Gluten is Only Step #1
After I was diagnosed with celiac disease, I only felt marginally better. I still experienced chronic bloating and gas, and I didn't understand why since I was doing all the right things (or so I thought I was).
My doctor told me to eliminate gluten, and I did, so why was I still experiencing these nagging symptoms years after my initial diagnosis?
I started to read books and search for articles online. I also enrolled in a nutrition training program.
Soon after, I realized that while I had fully removed the irritant (gluten), I did little to heal the wounds left behind. My gut was in shambles, and I hadn't done anything to repair it.
The way I looked at it, all I did was remove the knife from my gut, but I didn't take any time to nurture the wounds and deep scars left behind.
Unfortunately, most doctors have not studied gluten disorders in earnest, and most doctors have taken only one nutrition class in all of their medical training.
I don't say this to be mean to doctors; I say this to help you understand that your doctor may not know what it will take to heal your body because it requires more than a prescription for a gluten-free diet to do the trick. You must think beyond the gluten-free diet if you ever want a chance at healing.
My SIGNATURE Gluten-Free Course can help you learn the fundamentals of a gluten-free diet and healing your body in the aftermath of a celiac disease or gluten-sensitivity diagnosis. Learn more about my SIGNATURE Gluten-Free Course and 1-to-1 Coaching services here.
Healing From Celiac Disease is Possible
I know first-hand that healing from celiac disease is possible, and it requires a strict gluten-free diet AND some broader nutrition and lifestyle changes.
Below I share my personal celiac disease treatment protocol so you can see what I did to heal my body and put my celiac disease symptoms into remission.
I go into greater detail about my healing journey in my book, Dear Gluten, It's Not Me, It's You, which I hope you'll read too, and in my SIGNATURE Gluten-Free Course.
Remember, there is no magic pill, vaccine, or surgical procedure to heal celiac disease. The way to heal your body starts with the food at the end of your fork.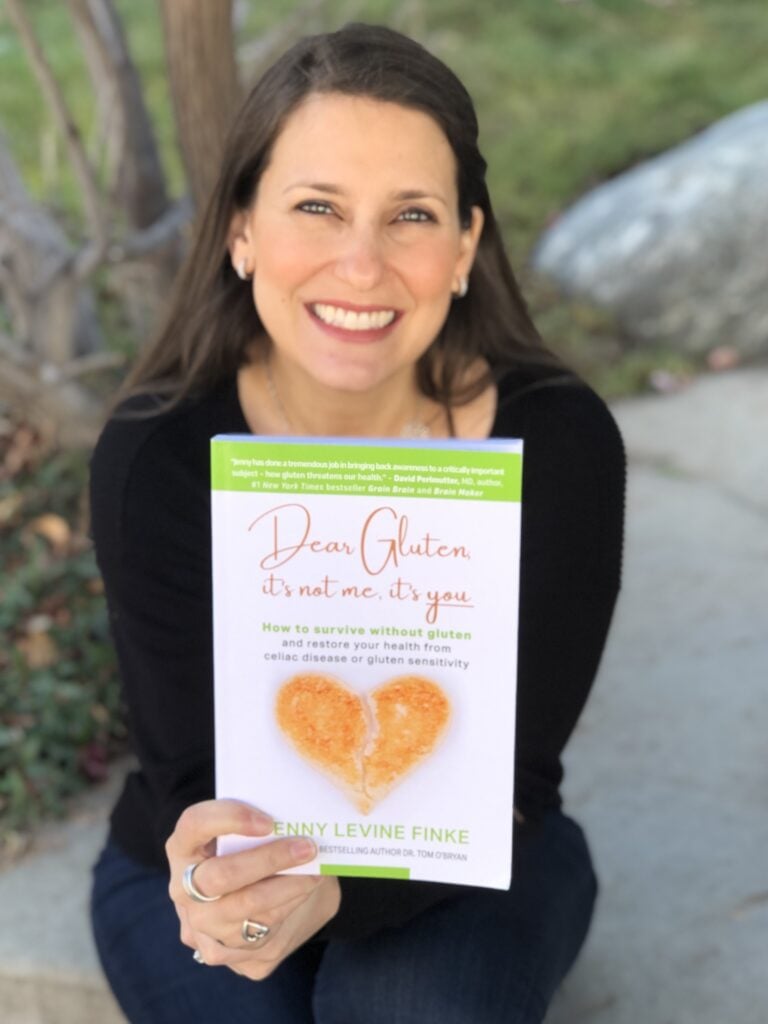 How to Heal from Celiac Disease Naturally
Following are the strategies I implemented to heal from celiac disease and put my symptoms into remission.
(1) What you take out is as important as what you put back in
The gluten-free diet isn't only about what you take out of your diet; rather, it's also about what you put in your body that counts. If you only go gluten-free and do nothing else, it will be a slow slog toward recovery.
However, when you start eating whole foods, unprocessed foods, and a slew of naturally gluten-free foods that don't come with a label (think avocados, apples, and eggs), only then will you begin the road to a more speedy recovery.
Check out my list of 200+ Foods You Can Eat on the Gluten-Free Diet to get started.
(2) Rest your digestive system
If you break your leg, you rest it, right? You don't run a marathon, plan a ski vacation, or even take your dog for a long walk.
Now apply this same logic to healing your digestive system and gut. If you want it to heal, think about ways to rest your digestive system.
A few resting strategies I employed include:
Green Juicing: Swap one meal or snack for green juice. This will flood your body with essential nutrients without making your digestive system lift a finger.
Bone Broths: Another way to get nutrients your body needs without making it work hard is by drinking bone broths.
Bone broths are loaded with essential vitamins, trace minerals, and collagen (a protein that contains amino acids essential for strengthening your bone, connective tissue, and skin), among other benefits.
Intermittent Fasting: Another way to rest your digestive system is to employ intermittent fasting, but don't go over-the-top crazy with fasting.
I fast daily from 7 pm until 7 am. This allows my digestive system 12 hours to digest, rest and restore itself, so it's ready to work the next day. Even your digestive system can use a little downtime, especially if your body is in the process of healing.
Limit Acidic Foods: Acidic foods (meat, dairy products, grains, carbonated sodas, etc.) are hard to digest and should be avoided as much as possible during the healing process.
Instead, eat alkalizing foods, such as fresh vegetables and fruits, and drink plenty of water, to help maintain a slightly alkaline ph balance in your body.
(3) Add key supplements
I believe you can get most of the nutrients you need from food. However, there are some nutrients that you either can't get from food, or you can't get in a large enough quantity from food.
This is why I recommend you take some key supplements for celiac disease. I list all the supplements I take – and recommend – in my article titled, Supplements for Celiac Disease and Gluten Intolerance.
(4) Limit packaged foods
Just because something is labeled "gluten-free," doesn't mean it's good for you. And while some packaged gluten-free foods are made with clean, quality ingredients, more likely than not, if it comes in a box or bag and you find it on the shelves at your grocery store, it's void of nutritional properties.
While it's always important to decode a food label for hidden gluten, it's also important to read nutrition labels. You may find that while you're avoiding the offending gluten protein, you're now eating excessive sugar in the form of white flour and starches.
Furthermore, many people on the gluten-free diet wind up with a new set of nutrient deficiencies when they go gluten-free because they're eating a diet heavy in packaged foods.
Read my article, 5 Dangers Associated with the Gluten-Free Diet, to ensure you're doing gluten-free right.
(5) Limit sugar
Chances are your sour tummy woes aren't just caused by gluten but also are caused by unwanted bacteria and yeast taking up residence in your gut.
You might have a belly full of bad bacteria and yeast wreaking havoc on your health by creating excessive gas, bloating, candida, SIBO, and/or other digestive discomforts.
Guess what feeds and grows yeast in your belly? It's sugar, both in the form of added sugar and white flour and starches that converts to sugar in your body.
The bacteria and yeast in your belly send signals to your brain to encourage (or demand) that you eat more sugar so they can thrive and proliferate.
However, when you limit your sugar intake, you began to starve the bad bacteria of what they desire most, and the bad guys eventually die off.
And you can replace the bad bacteria with good bacteria via a good probiotic supplement.
(6) Take a high-quality probiotic
In addition to limiting sugar, I encourage you to take a daily probiotic. A probiotic will help to repopulate the gut with beneficial bacteria and crowd out the bad bacteria.
I recommend taking a probiotic with at least 50 billion CFUs or higher, although you can decide the exact dosage with your nutritionist or doctor. Take one daily, and don't stop, even if you feel better.
For more information on selecting the right probiotic and for a list of gluten-free probiotics, read my article, The Benefits of Probiotics for Celiac Disease (and a list of gluten-free probiotic brands).
Avoid getting your probiotics from sugar-laden products like Yoplait Yogurt, GoodBelly Probiotic drinks, or Tropicana Probiotic Juice, all of which contain more sugar than a can of Coke per serving and negate the benefits of your probiotics since the excessive sugar feeds the yeast.
On a personal note, probiotics were life-changing for me, and I felt an immediate and positive change in my gut health.
Since then, I've also enjoyed eating probiotic-rich foods, such as lacto-fermented pickles or homemade kombucha (fermented tea), both of which replenish my gut with good bacteria.
(7) Avoid eating sick foods
Genetically modified foods are undeniably linked to illness in our country. Glyphosate (marketed as Roundup) is a powerful chemical that kills bugs but does not kill a genetically modified crop. Chemical residue is lurking on most products you find in grocery stores.
There's no need to assault your gut with such chemicals. You want to heal, not destroy your small intestine. I suggest you stop eating Roundup-resistant foods and instead buy organic produce, meats, and dairy products when possible.
(8) Be physical
Anyone who has ever recovered from surgery knows that there is little time to rest. The doctor wants you up and about, walking around and in rehab, all with the goal of helping your body recover more quickly.
This is why it's important to stay active and keep that blood flowing throughout your body. Your body works well when it's being used and challenged.
(9) Be social
It's easy to get depressed and want to go into hiding when you've been diagnosed with celiac disease. For a long time, I was scared to eat at restaurants or friends' houses.
However, long ago, I decided I wouldn't let celiac disease ruin my life. I slowly but surely began making plans with friends, helping them understand how to host me for a gluten-free meal and how to make sure restaurants take my diet seriously.
Being social and living my life (which meant going out to dinner occasionally) made a huge difference in my mental and emotional healing.
If you sit at home and feel sorry for yourself, you'll muddle in your disease and become depressed. But if you live your life and show celiac disease who is boss, you'll heal faster and be stronger both mentally and physically, in the end.
(10) No cheating
Too often, people with celiac disease (and more often with individuals with non-celiac gluten sensitivities) cheat on their gluten-free diet. They say things like, "A little gluten won't bother me." Spoiler alert!
When you cheat, cheating hurts your chances at healing, plus you'll feel awful, die earlier, attract disease in your life, and no one will take your request for a gluten-free meal seriously again.
(11) Take digestive enzymes
If your gut is in shambles and you're struggling to feel well after every meal, consider taking a gluten digestive enzyme before any meal.
Enzymes can help you better digest your food, and with time, you can wean yourself off of them or only take them when you're eating out and worry about the potential of gluten cross-contamination.
Read more about the pros and cons of digestive enzymes in my article, Do Digestive Enzymes for Gluten Work?
Are You Still Feeling Sick?
If you've been on the gluten-free diet for a while, and you've implemented the healing practices discussed in this article, and you still don't feel well, please talk to your doctor and health care team to uncover if something more is at play, or feel free to set up a 1-on-1 celiac nutrition coaching session with me.
You might have a serious case of candida, SIBO, mold/toxic exposure, hormone imbalance, thyroid issues, or another condition requiring medical intervention.
You might also be doing gluten-free wrong. The gluten-free diet can lead to other kinds of nutritional deficiencies and lack of fiber, as well as put you at risk for a slew of other serious diseases and heavy metal exposures.
Are You Ready to Accelerate Healing?
Healing from celiac disease is possible, but it requires effort on your part because it takes patience, know-how, and a commitment to changing your diet and lifestyle for the better.
That said, I'm living proof that a gluten-free and healthy diet can work.
While I won't eat gluten, the truth is I still eat my fair share of gluten-free cookies and gluten-free pizza. But you know what? The reason I can have these foods now is that I've put in the hard work upfront to heal my body.
My gut is sealed and healed. I've overcome my addictions to gluten, sugar, and fast food. I constantly load my body with healthy foods. I still love green juices. I cook at home often and enjoy meal planning.
Achieving diet perfection should never be your goal; rather, the goal should be to heal your body so you can take back your life, live disease-free, rebuild your immune system, and enjoy a sweet treat when you want to without being overcome with sickness.
The gluten-free lifestyle is about balancing dietary vigilance with your mental health and not letting it control your life.
You'll find that your digestive system will strengthen with time, and you'll become more resilient to inevitable accidental gluten exposure.
I wish you much success in your adventures in healing from celiac disease. If you found this article helpful, please leave me a comment and share your "healing" story.
Additional Reading