There's nothing like a classic chocolate chip cookie to make life taste good again. In this post, I share a classic gluten-free chocolate chip recipe. This recipe has been updated. If you're looking for the old-fashioned gluten-free chocolate chip cookie recipe, it's been changed as it wasn't working as well as this new and improved recipe. Please note this post contains affiliate links. Please see my disclosures.
Learning how to make a classic gluten-free chocolate chip cookie is essential baking for anyone with celiac disease or gluten sensitivity.
A classic gluten-free chocolate chip cookie must have the following characteristics (at least in my opinion):
It must be chewy and soft in the middle and slightly crispy on the ends.
It must be gooey inside. The more chocolate chips, the better.
It must be easy to make. I don't have time to go to the store to collect tons of ingredients and spend hours making a simple cookie. I want a quick and easy recipe reminiscent of my childhood.
Awhile back, when I first started this gluten-free journey, I found a recipe online that purported itself as a gluten-free Mrs. Field's cookie.
If you've visited this post in the past, you may have seen me recreate this cookie, too. The cookie looked pretty, however, after making it a few more times and after some feedback from readers, I decided it wasn't the "classic" cookie for me.
The original recipe in this post was adapted from another blogger. It contained cream cheese, which I rarely kept in my fridge, and it was just a lot of work. Too much work.
So I tested a few gluten-free chocolate chip recipes of my own, and have come to the conclusion that the best classic gluten-free chocolate chip cookie is the recipe on the back of my bag of chocolate chips.
Yep, I had to go through a lot of trial and error to figure out that a delicious cookie recipe was right in front of me the whole time… and I was too blind to realize it.
So skip all the random gluten-free chocolate chip cookies online and just stick with the classic one you find here!
It Starts with a Good Flour
The most important thing to remember about these cookies is you need a good one-to-one gluten-free flour blend to make it.
You can't just swap rice flour for wheat flour, but you can swap a gluten-free flour blend for wheat flour and get stellar results.
In this recipe, I used my trusty Bob's Red Mill 1:1 gluten-free flour blend, which contains a blend of flours, starches and xanthan gum, all which work together to give gluten-free baked goods their gluten-like texture and taste.
How to Make 'Em
It's so easy to make these cookies. They whip up just like you remember chocolate chip cookies coming together when you made them in your pre-GF days.
Step #1: Cream together butter and sugars. Combine your softened butter with the white and brown sugars in your mixer. Cream them together well.
Step #2: Add eggs, vanilla, baking soda and salt. Mix everything together until well combined.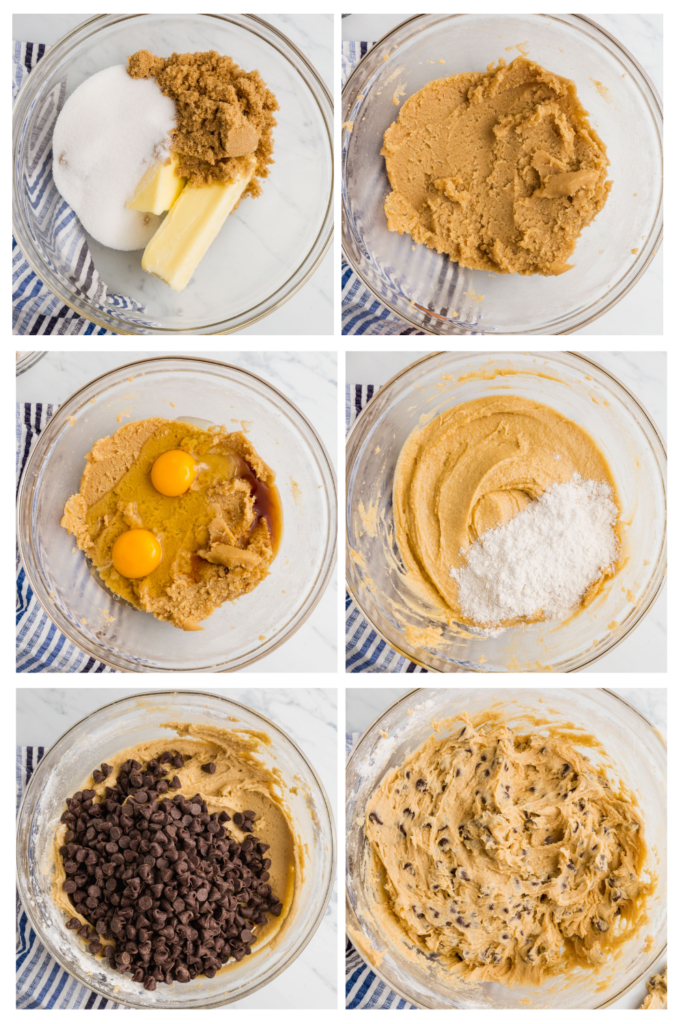 Step #3: Add the flour. Slowly and gradually add your flour to the mixture and mix until well combined. It'll look and feel exactly like a cookie dough even with the gluten-free flour.
Step #4: Fold in chocolate chips. Fold in two cups of chocolate chips by hand. I like my gluten-free chocolate chip cookies stuffed with chocolate chips because it makes them taste extra-chocolate-y and amazing!
Step #5: Get ready to bake 'em. Add spoonfuls of your dough to a parchment-lined baking sheet. You'll need two large baking trays to fit all the cookies. Be sure to space the cookies a couple of inches apart because they will spread.
Step #6: Bake those cookies! Bake the cookies at 375º F for about 10 minutes so they are just slightly underbaked, then allow them to cool for a few minutes on the baking sheet before transferring them to a wire rack to finish cooling. Bake cookies in batches.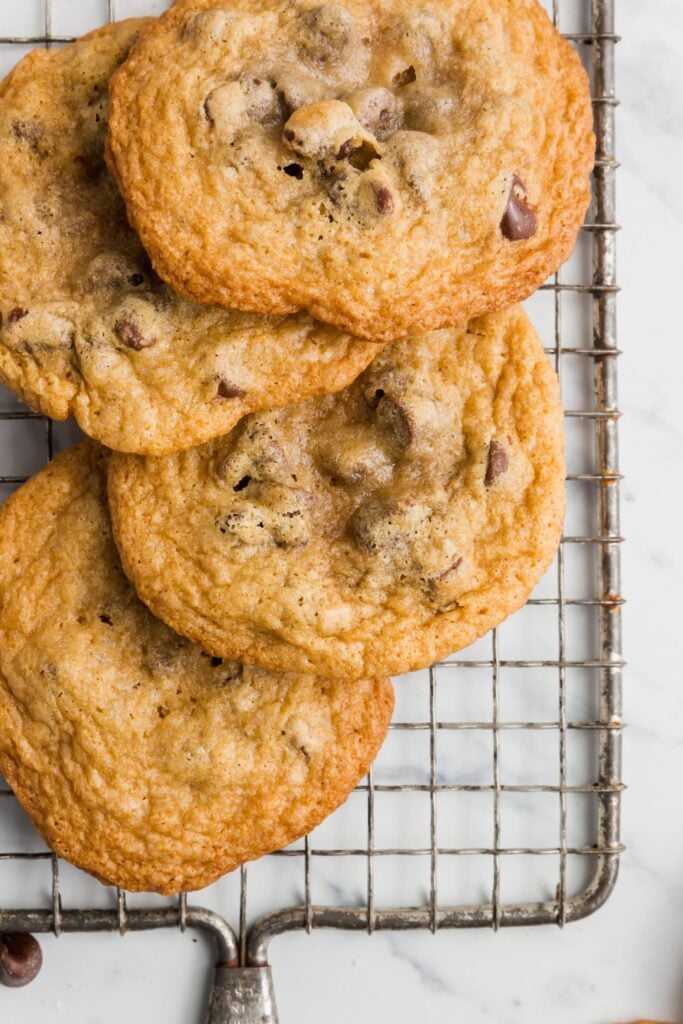 I Love These Cookies
The result is a beautiful cookie that tastes just like the classic cookies you knew and loved growing up.
And I promise, you won't find an easier or better tasting classic gluten-free chocolate chip cookie than this one.
While the cookies have a slightly brown, crisp edges, don't be fooled. They are soft and chewy on the inside. I recommend slightly underbaking them for maximum chewy result.
Enjoy these delicious cookies, my friends. Your taste-testers will have no clue they're free from gluten. They'll only taste a delicious soft and chewy gluten-free cookie that they are sure to love.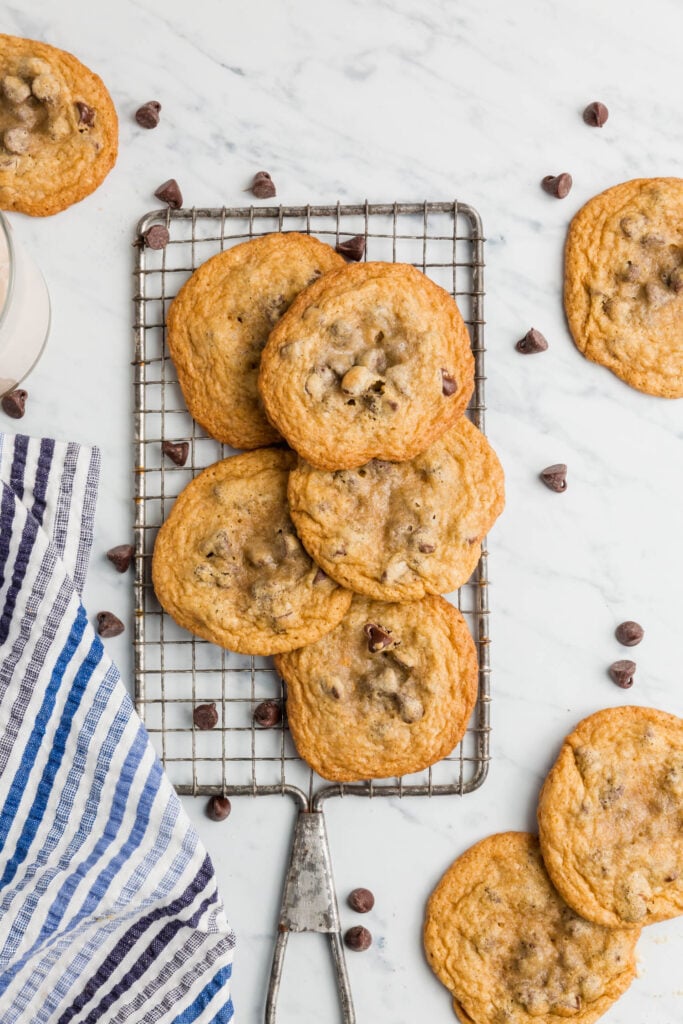 FAQs and Troubleshooting
Can I use another 1:1 flour? Yes, you can definitely try making it with another 1:1 flour blend. Make sure your blend contains xanthan gum, otherwise add 1/2 tsp of xanthan gum to your mix. Remember, a 1:1 blend (also known as a cup for cup or measure for measure blend) is required.
Can I make this dairy free? Yes, just use dairy-free butter (like sticks of butter from Earth Balance) and dairy-free chocolate chips.
Can I make this egg free? I have not tried making this without egg. If you do, please leave a comment to share if it worked and what you used.
Can I use other add-ins besides chocolate chips? Yes, M&Ms, dried fruits and nuts will all work. Enjoy!
Help! My cookies bleed together. When the cookies spread, it means you placed them too close together. Make sure to leave plenty of room between dough balls on your tray and bake cookies in batches. You can also chill your dough for 30-60 minutes before baking to deter spreading.
Classic Gluten-Free Chocolate Chip Cookies
These classic gluten-free chocolate chip cookies are reminiscent of the cookies you made and ate as a child. They are soft and chewy on the inside and slightly crispy on the ends. You an make them with 9 simple ingredients and 10 minutes in the oven!
Print
Pin
Rate
Instructions
Preheat oven to 375º F and line two large baking sheets with parchment paper.

In your standing mixer, cream together butter, brown sugar and sugar until well combined. Add eggs and vanilla, and mix on medium speed until well combined.

Add baking soda, salt and then gradually the flour and continue to mix on low speed until dough is thoroughly blended.

Fold in chocolate chips by hand.

Scoop spoonfuls of the dough onto your parchment lined baking sheet, leaving a few inches between the cookies so they have room to spread.

Bake one baking sheet at time (working in batches) for 10 minutes until bottoms begin to brown and the cookies are slightly undercooked.

Remove from oven and allow cookies to cool 5 minutes on baking sheet until transfering them to a wire rack to continue cooling.
Notes
This recipe is inspired by the back of the bag of chocolate chips and was adapted and tested to see if it could work. It did!
The cookies look a little brown, but don't be fooled. At 10 minutes they are slightly underbaked and soft. 
Store cookies in a zip top bag for several days. If cookies taste stale after a few days, zap one in the microwave for 7-8 seconds. 
This recipe makes about 30 cookies depending on the size of each cookie. Adjust baking time if you're making smaller cookies.
Don't like chocolate chips? Add nuts or dried fruits instead (or in combination with) chocolate chips.  These cookies can handle up to 1 cup of additional goodies.
Nutrition
Calories:
184
kcal
|
Carbohydrates:
23
g
|
Protein:
2
g
|
Fat:
10
g
|
Saturated Fat:
6
g
|
Cholesterol:
25
mg
|
Sodium:
168
mg
|
Potassium:
84
mg
|
Fiber:
2
g
|
Sugar:
15
g
|
Vitamin A:
166
IU
|
Calcium:
22
mg
|
Iron:
1
mg