Instead of worrying about what you can't eat when you're on a gluten-free diet, I'll help you relish in what you can eat. This article contains a list of 200+ foods you can eat on the gluten-free diet (of course, with a few noted limitations and exceptions). If you're following a medically-necessary gluten-free diet, or you eat gluten free because it makes you feel better, this article can help you find plenty of delicious foods to eat so you never feel deprived. This post contains affiliate links. Please read my disclosures.
When you eat gluten free due to a celiac disease or gluten sensitivity diagnosis, it's easy to get stuck focusing on what you can't eat.
Gluten is a protein found in wheat, barley, rye ,and sometimes oats. These grains are used to make beloved foods such as bread, pizza, pasta.
When the gluten-free diet is forced upon you, it's likely you obsess about whether or not you can eat this or that.
I get it, because I obsess about food, too.
However, in this article, I'll turn things around and instead focus on what you can eat.
In fact, when I started to write it all down, I realized there are more than 200 foods you can eat when you can't eat gluten! I sorted the list by category for easy scanning.
And if you're feeling like it's hard to create delicious, gluten-free meals, I encourage you to download one of my carefully designed Gluten-Free Meal Plans.
What am I missing from this list? Leave a comment below to share.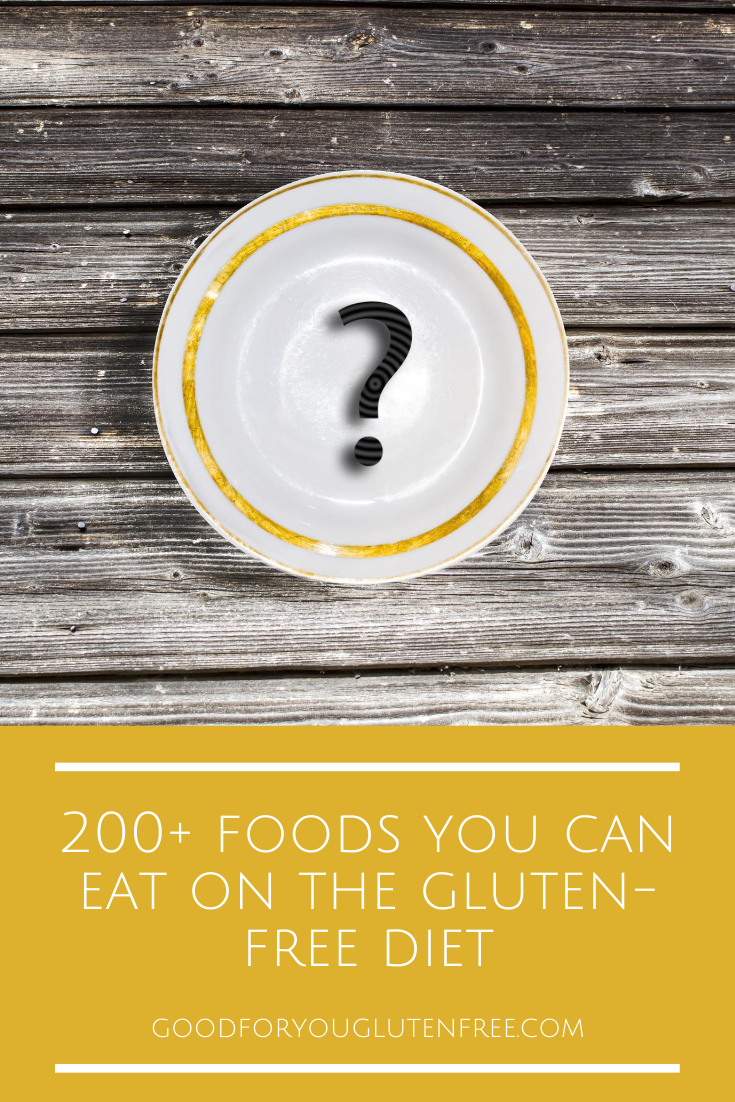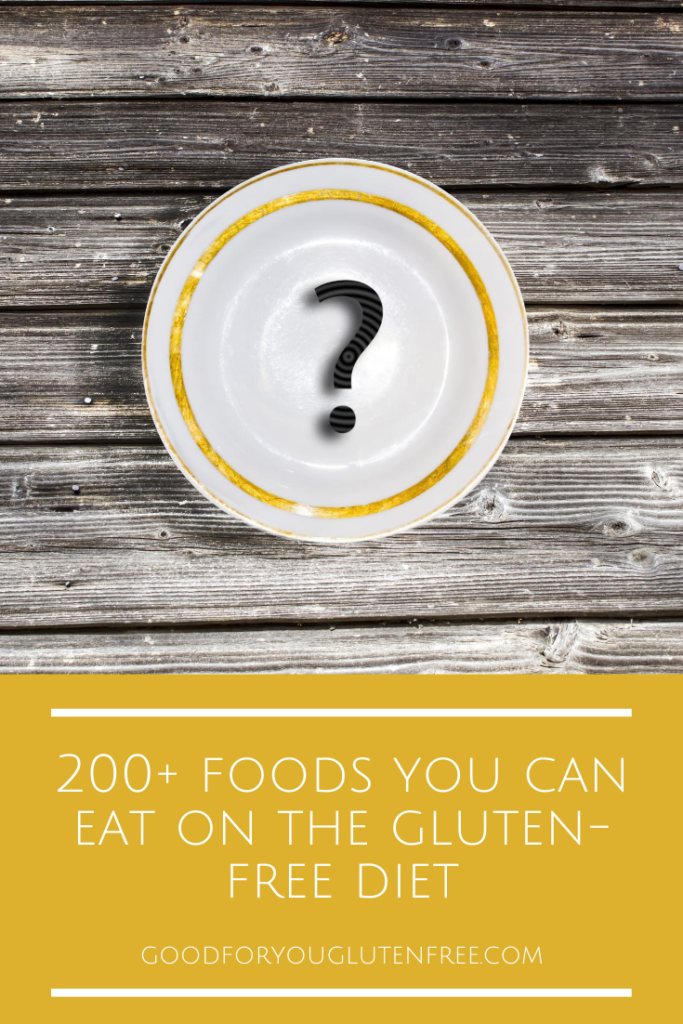 Vegetables and Fruits
Load your gluten-free diet with plenty of fresh fruits and vegetables. Fresh produce is not only 100 percent gluten free, but also it's 100 percent good for you.
Apples
Apricots
Artichokes
Asparagus
Banana
Blackberries
Blueberries
Bok Choy
Broccoli
Cantaloupe
Carrots
Cauliflower
Celery
Cherries
Collard Greens
Corn
Cucumber
Cucumbers
Eggplant
Fresh herbs
Garlic
Grapefruits
Grapes
Greenbeans
Honeydew
Kale
Leeks
Lettuce
Melons
Mushrooms
Olives
Onions
Oranges
Peaches
Pears
Peppers (all kinds and colors)
Plums
Pomegranates
Radishes
Raspberries
Shishito peppers
Spinach
Squash
Strawberries
Swiss chard
Tomatoes
Watermelon
Zucchini
Frozen, Canned and Dried Produce: Read labels carefully to ensure no gluten is found in the ingredient list nor were the products packaged on shared equipment used to process products containing gluten.
Watch out for malts, brown rice syrups, natural flavorings, flours, soy sauce and other ingredients listed alongside the fruit or vegetable.
Pre-Chopped and Vegetable Trays: Pre-chopped vegetables and fruits may be at risk for cross contamination and should be avoided.
Grains and Starches
You can choose from plenty of starchy vegetables and grains when on a gluten-free diet. Of course, you'll want to avoid wheat, barley, rye, and spelts, but so many grains and starches are on the table, including:
Amaranth
Buckwheat (despite its name, it's gluten free and contains no wheat)
Cassava flour (yuca)
Cornmeal
Cornstarch
Guar gum
Oat flour (see oats)
Oats (when labeled gluten free) – read more about oats in this article
Millet
Potato starch and flour
Potatoes
Quinoa
Quinoa flour
Rice (brown, white, wild, etc.)
Rice flour
Sorghum
Sweet potatoes
Tapioca flour / starch
Teff
Xanthan gum
Bulk Bin: Avoid buying any of these flours or grains from the bulk bins due to the risk of cross contamination with other bins that may contain gluten.
Oats and Oat Flour: Any product that contains oats or oat flour must be labeled gluten free or certified gluten free as well. Read this article to learn more about why oats are controversial.
Meats
You can enjoy all sorts of meat products. Just make sure you buy fresh ingredients, and if anything comes in a package, read the labels carefully.
Beef
Chicken
Lamb
Pork
Turkey
Veal
Packaged Meats: Hot dogs, sausages, and jerky may contain other ingredients that contain gluten. Avoid meats with flavorings and fillers where the source is unknown.
Deli Meats: Beware of deli meats as the risk for cross contamination is high. If you want to enjoy deli meat, the safest way will be to purchase pre-packaged meats clearly labeled "gluten free."
Imitation Meat: Imitation meat may or may not contain gluten. Beyond Meat and Impossible Burgers are formulated to be gluten free. Read more about which imitation meats are (and are not) gluten free in this article. Many bacon bits brands contain gluten as well.
Dairy
Almond milk
Butter
Cashew milk
Cheese (except brie cheese in some cases)
Chicken
Coconut milk
Cottage cheese
Cream cheese
Eggs
Ghee
Ice cream (with some exceptions – see below)
Milk
Oat milk (with some exceptions – see below)
Rice milk
Sour cream
Soy milk
Tofu
Yogurt
Packaged Cheeses: Shredded cheeses contain a slew of ingredients to prevent the cheese from caking and sticking together. Look for cheeses where the starch is known (typically cornstarch) and inspect labels carefully for clues on whether or not it contains gluten.
Tofu vs. Seitan: Be careful when enjoying imitation meats and seafood. Tofu is typically gluten free (check package labels) but seitan is made almost exclusively of gluten (seitan is wheat protein – aka, gluten). Read more in this article, Is Tofu Gluten Free?
Deli Cheeses: Again, beware of cheeses sliced at the deli counter as the risk for cross contamination is high.
Oat Milk: Oat milk may or may not contain gluten. It depends on the brand. Read more about which oat milk brands do – and do not – contain gluten in this article.
Ice Cream: Always read labels carefully. Avoid ice cream with obvious gluten-y fillers, like cookies and brownies. Beware of ingredients like malt flavoring (typically barley), and natural flavors. Determine if the ice cream is processed on the same lines as gluten-y ingredients before digging in. Read more about which ice cream brands are gluten free in this article.
Yogurts: Be on the lookout for added flavors and fillings that may contain gluten.
Fish
All fresh fish is safe to enjoy on the gluten-free diet, including (but not limited to), the following:
Carp
Catfish
Cod
Crab
Flounder
Halibut
Mahi-Mahi
Monkfish
Orange Roughy
Pike
Red Snapper
Salmon
Sardines
Scallops
Sea Bass
Shrimp
Swordfish
Tilapia
Trout
Tuna
Imitation Seafood: Imitation crab often contains gluten and is included on my 10 most surprising products that contain gluten list. Avoid.
Beans, Lentils, and Legumes
Beans and lentils are gluten free. You can enjoy any and all of the following:
Black beans
Black-eyed peas
Butter beans
Chickpeas
Great Northern beans
Kidney beans
Lentils (Lentils are naturally gluten free, but potentially cross contaminated with wheat. Read, Are Lentils Gluten Free?, for tips to enjoying lentils safely.)
Navy beans
Peanuts
Pinto beans
Soybeans
Split peas
Bulk Bins: Again, avoid buying these items in the bulk bins where the risk of cross contamination is high.
Nuts and Seeds
Nuts and seeds offer up a great source of healthy fats and protein. Enjoy them roasted, salted, plain or blended in a nut butter spread.
Black beans
Black-eyed peas
Brazil nut
Butter beans
Chestnuts
Chickpeas (Hummus)
Coconuts
Edamame
Great Northern beans
Hazelnuts
Kidney beans
Lentils
Navy beans
Peanuts (technically a legume)
Pecans
Pine nuts
Pinto beans
Pistachios
Soybeans
Split Peas
Walnuts
Oils
You can safely cook with a variety of oils without worry about gluten.
Avocado oil
Canola oil
Coconut oil
Corn oil
Grapeseed oil
Sesame oil
Sunflower oil
Vegetable oil
Cooking Sprays: You can use most cooking sprays, although avoid ones that are used for baking and may contain flour.
Mind Your Oil's Smoke Point: Some cooking oils are meant for cooking and frying while others are meant for dipping and drizzling. Read my article about cooking oils to learn more about what you need to look for when cooking with gluten-free cooking oils.
Beverages
Drink up! You'll be happy to know the following beverages are gluten free and safe for you to consume.
Coffee
Fruit juices
Tea
Vegetable juices
Water
Wine (almost exclusively made from grapes)
Avoid the following beverages:
Beer: Beer is made from gluten-y grains. You can find gluten-free beer, such as Holidaily, in some stores throughout the US. Avoid any product made from spent grains as these are the leftover grains from the brewing process
Some Alcohol. Read my list of safe – and not safe – alcohols. All distilled alcohol is technically gluten free. Avoid non-distilled alcohol, malt beverages (wine coolers), and beers, ales and lagers.
Chocolate
Thank goodness chocolate is gluten free. Dark chocolate, milk chocolate, white chocolate, and bittersweet chocolate. It doesn't matter; it's all GF.
Of course, packaged chocolate has its challenges and may contain gluten. Read labels carefully.
Condiments, Baking, Spices, and Sauces
You can enjoy all sorts of wonderful spices and condiments to add flavor to your gluten-free meals.
Agave syrup
Almond butter
Apple cider vinegar
Baking powder
Baking soda
Brown sugar
Cashew butter
Cocoa powder
Coconut aminos
Fresh spices (basil, oregano, cilantro, mint, etc.)
Guacamole
Hummus
Jellies and Jams
Ketchup
Maple syrup
Mayonnaise
Mustard
Peanut butter
Pickles
Salsa
Sugar
Sunflower butter
Sriracha (hot sauce)
Stocks and broths – check labels
Tahini
Tamari
Vanilla Extract
Yeast
Spices: Fresh spices, like fresh basil and cilantro, are a-okay and 100 percent free from gluten. You might run into issues with dried and jarred spices that may contain fillers or may have been processed on the same equipment used to process gluten. There are dedicated gluten-free spice brands such as Spicely. For a full list of safe spices, and how the major brands like McCormick and Spice Hunter fare when it comes to gluten, read my detailed article on gluten-free spices.
Soy Sauce: Avoid soy sauce as it's made from wheat. You can use coconut aminos or tamari instead.
Salad Dressings, BBQ Sauces, Tomato Sauces: You can find salad dressings, BBQs sauces, and tomato sauces that are gluten free, but not all are free from the gluten protein. Read labels carefully.
Worcestershire sauce: Worcestershire sauce is not typically gluten free, but Lea & Perrins typically the brand is – check labels to verify.
Packaged Foods
There are plenty of packaged foods that you can find labeled "gluten free" these days. You'll never feel deprived!
That said, be sure to read labels carefully and watch out for sneaky and confusing ingredients that often make their way into products.
You can easily find gluten-free labeled (or even better, certified gluten-free labeled) packaged items for the following foods:
Bread – This brand is a hands-down favorite.
Bread crumbs – I use this brand all the time.
Brown rice pasta – This pasta brand offers the best texture of any gluten-free pastas.
Cereals – I love this brand.
Chips – Pringles are off-limits, but try these stacked, gluten-free chips instead.
Corn tortillas
Crackers – This is my favorite cracker brand.
Gluten-free flour blends – I personally love using this 1:1 gluten-free flour blend for all my baking needs.
Packaged desserts – This brand makes all sorts of gluten-free desserts.
Rice cakes
Spices, dried – Read my full post about spices before you buy.
So Much to Eat, But…
There are hundreds of foods you can eat when you can't eat gluten. I have a few tips to help you stay consistent and healthy when eating gluten free.
(1) Always read – and fully understand – ingredient labels. Make sure you understand gluten-free label laws and what they mean. For example, the FDA says that in order for a product to be labeled "gluten free," it cannot contain more than 20 parts per million (ppm) of gluten. A company determines this claim on its own. However, a product labeled "certified gluten free" has been third-party verified to contain less than 20 ppm – and sometimes less than 10 ppm – of gluten.
(2) Eat as naturally gluten free as possible. Whole foods will always be the best foods. Fresh produce, meats, and whole, gluten-free grains will offer balance and safety. Limit the amount of processed and packaged foods in your diet. You will feel better when you do.
(3) Plan your meals. When you plan your meals, you never feel deprived, you always know what you're eating next, and you rarely find yourself reaching for something to eat that might not be 100 percent gluten free. Read 9 Meal Planning Tips for People with Celiac Disease and Gluten Sensitivities
(4) Eat out less. When you eat out, you rarely know what a chef is putting in your food. No one is going to be as diligent and stringent about what goes in your food as you are. Eat out less. Enjoy a variety of meals at home whenever possible.
Remember, every time you eat gluten, you undo all your hard work. If you have celiac disease, your body sets off an autoimmune reaction. (This is true even if you have latent or silent celiac disease.) If you have gluten sensitivity, your body remains in a chronic state of inflammation, and inflammation leads to disease.
There are literally hundreds of foods you can eat that are healthy, good for you, and nourishing. There is no room nor need for gluten in your life when you can enjoy a plethora of foods available to those of us living a gluten-free lifestyle.