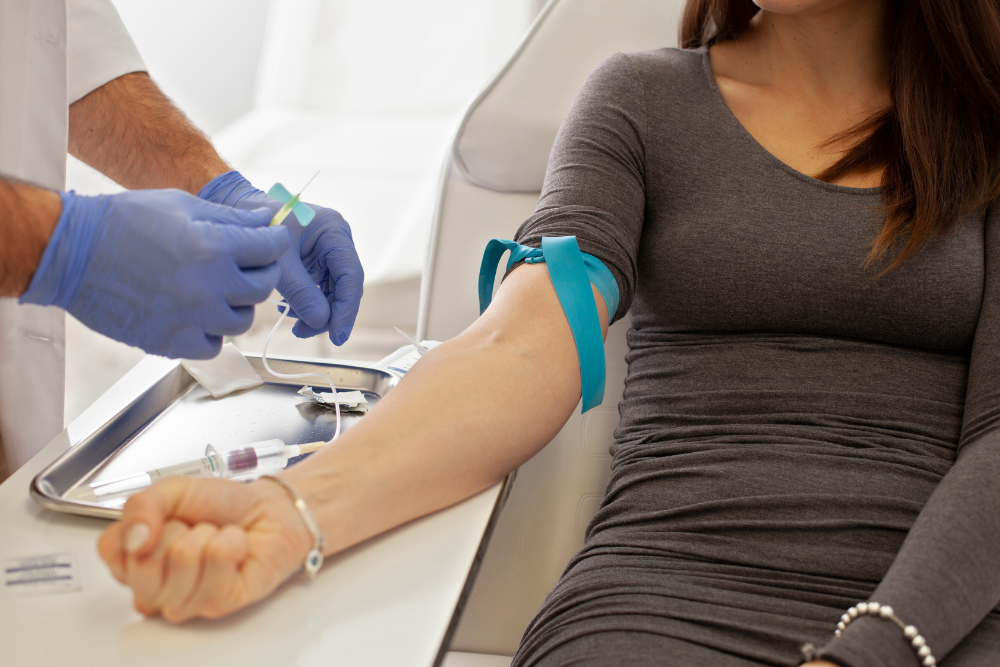 In this article, I discuss what to expect when getting tested for celiac disease – from a blood draw to endoscopy – so you're prepared for the testing process. This article is for informational purposes only and should not replace medical advice from your physician. All information shared is well-researched, and any opinions expressed are my own. This post contains affiliate links. Please see my disclosures and disclaimers for details.
Testing for celiac disease is a topic that creates a lot of confusion among the newly diagnosed. People want to understand the testing process, its accuracy, what all the "alphabet soup" celiac tests mean, and how to get an official celiac diagnosis.
While testing for celiac disease isn't always a clear-cut process, there is a method to screening patients for one of the most underdiagnosed diseases in the world.
According to the Celiac Disease Center at the University of Chicago, celiac disease affects roughly one percent of the U.S. population, or approximately three million people. However, 40-60 percent of those with celiac disease don't know they have the disorder and remain undiagnosed.
Another startling statistic is that the average length of takes for someone to be diagnosed with celiac disease in the U.S. is four years.
Such a delay means people are suffering longer, and during this time, they have an increased risk of developing other diseases, including cancer. Diagnosis is often delayed due to a lack of awareness of the disorder and its many symptoms beyond classic gastrointestinal woes such as bloating and gas.
Today, researchers know that celiac disease symptoms go well beyond the digestive tract and often include migraines, joint and muscular pain, skin conditions, hair loss, dental issues, infertility, and brain and/or mental disorders, to name a few.
In this article, I'll help you make sense of testing and share what to expect during and after the celiac disease testing process as someone who went through it all.
Testing for Celiac Disease
Getting tested for celiac disease requires a simple blood test you can obtain through your doctor or by ordering an at-home celiac disease screening test online. An at-home test is an exact test you'll get at your doctor's office, and any results should be discussed with your doctor.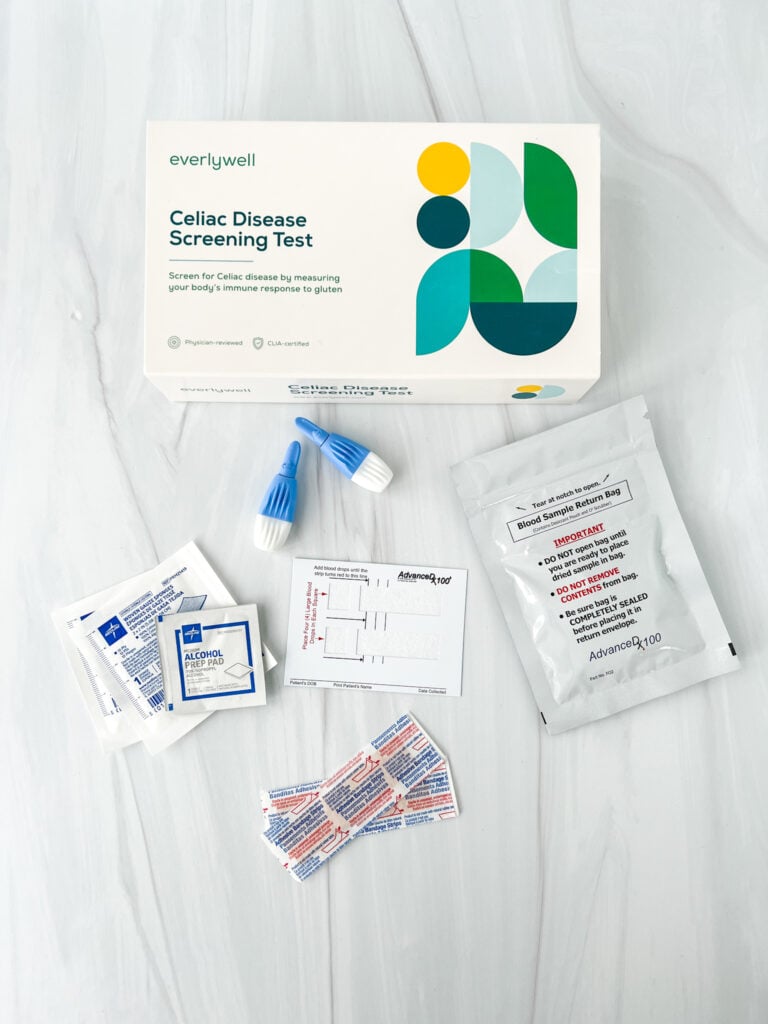 When conducting an at-home celiac screening test, Everylwell will send you a test kit. Read all the instructions carefully.
First, wash your hands and swab your finger with the alcohol pad provided. Then prick your finger with the provided lancet to collect drops of blood on the provided contact paper.
Place the sample in the zip-top bag, put it back into the box, and return the package to the Everlywell lab using the provided label.
In a few days, Everlywell will email you the results. All results are validated and interpreted by a physician. They are as accurate as any doctor-ordered tests. You can read more about the accuracy of at-home celiac screening tests in my article, Are At-Home Celiac Tests Reliable?
What a Celiac Disease Test Looks For
A celiac disease blood test looks for tissue transglutaminase (tTG) antibodies in your blood. tTG is an enzyme found in the intestine and is currently the gold standard screening test.
When someone with celiac disease consumes gluten, the immune system produces antibodies that attack tTG.
Two types of tTG antibodies are used to screen for celiac disease – tTG-IgA and tTG-IgG.
tTG-IgA antibodies are found in the GI tract and are positive in 95 percent of people with celiac disease (you must be consuming gluten for the test to detect tTG antibodies). It is highly specific in testing for celiac disease.
Although rare, about 1-3 percent of the U.S. population is IgA deficient and cannot make IgA antibodies. That's why celiac disease screening also looks for IgG antibodies, which are antibodies found throughout the body, not just in the GI tract.
Here are the ranges of IgA that indicate celiac in a blood test:
| | |
| --- | --- |
| 3 U/mL or less | Negative (no celiac) |
| 4-10 U/mL | Weak Positive (likely celiac) |
| 11 U/mL or greater | Positive (celiac) |
Additionally, celiac disease testing can include DGP-IgA and DGP-IgG biomarkers. DGP stands for deamidated gliadin peptide and is used to test for celiac disease in people who test negative for tTG antibodies.
Gliadin is a protein found in gluten and can be found in the body before tTG antibodies are present. DGP tests may someday aid in the early detection of celiac disease, especially in celiac disease testing in children.
Everlywell at-home celiac disease screening tests for ALL FOUR biomarkers (tTG-IgA, tTG-IgG, DGP-IgA, and DGP-IgG), offering comprehensive celiac disease screening.
I took the imaware celiac disease test, and after 7+ years of following a gluten-free diet, the test returned negative (see picture below).
This means my body isn't making antibodies to gluten because there's no gluten in my diet. However, a negative test years after a positive test doesn't mean I no longer have celiac disease. It simply means I'm effectively managing my diet. If I go back on gluten, a future celiac disease test would likely be positive.
What to Expect When a Celiac Disease Test is Positive
When a celiac screening test returns a positive finding, it likely means you have celiac disease. Only a doctor can officially "diagnose" a person with celiac disease.
The best way to verify the accuracy of your blood tests is via a small intestine biopsy known as an "endoscopy." During an endoscopy, you'll be under general anesthesia, and a gastrointestinal doctor will insert a scope into your small intestine via your mouth.
The doctor will examine the microvilli, or finger-like follicles surrounding the small intestine. The villi are responsible for absorbing and distributing nutrients throughout your body. In people with celiac disease, the villi are damaged and flattened.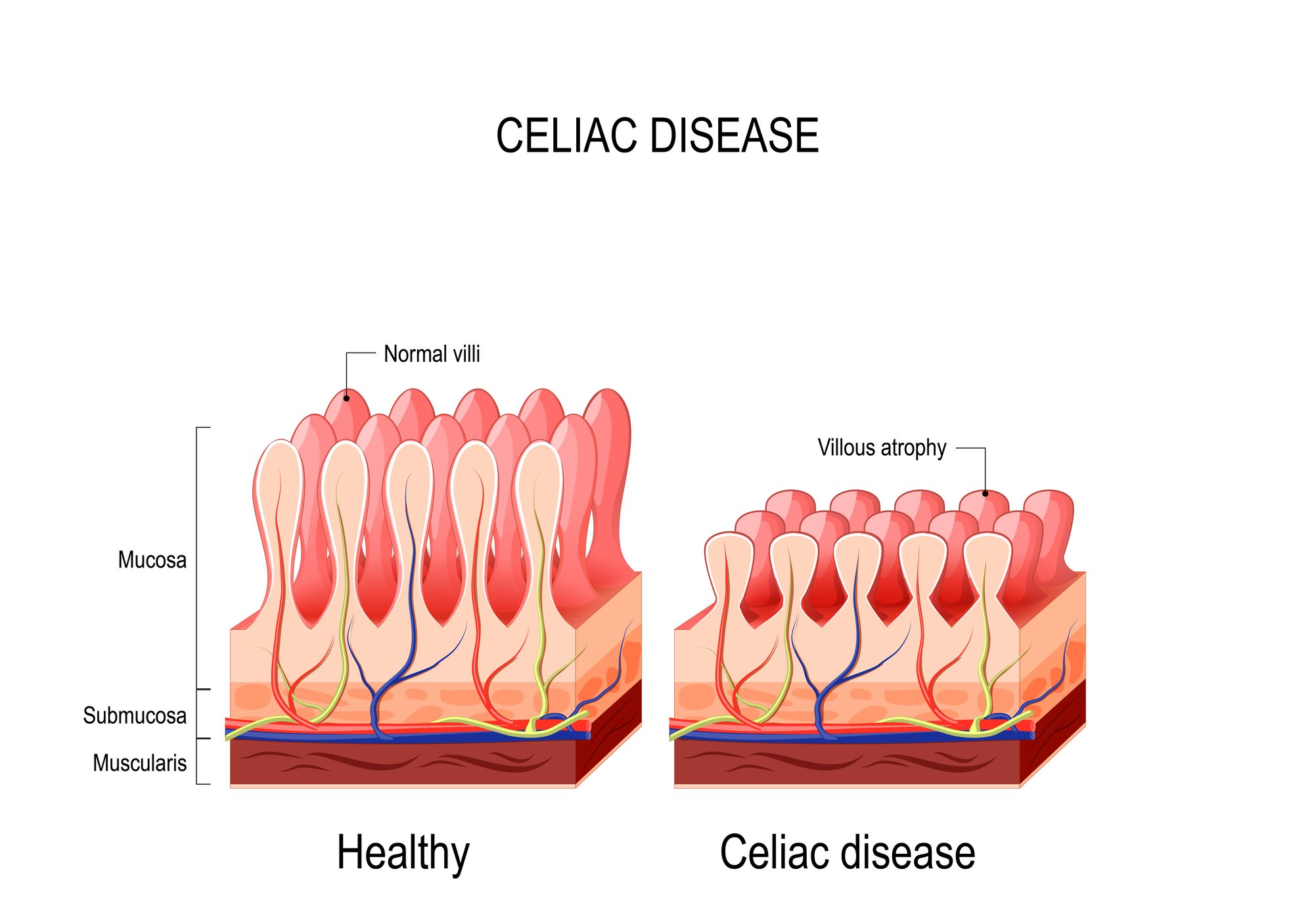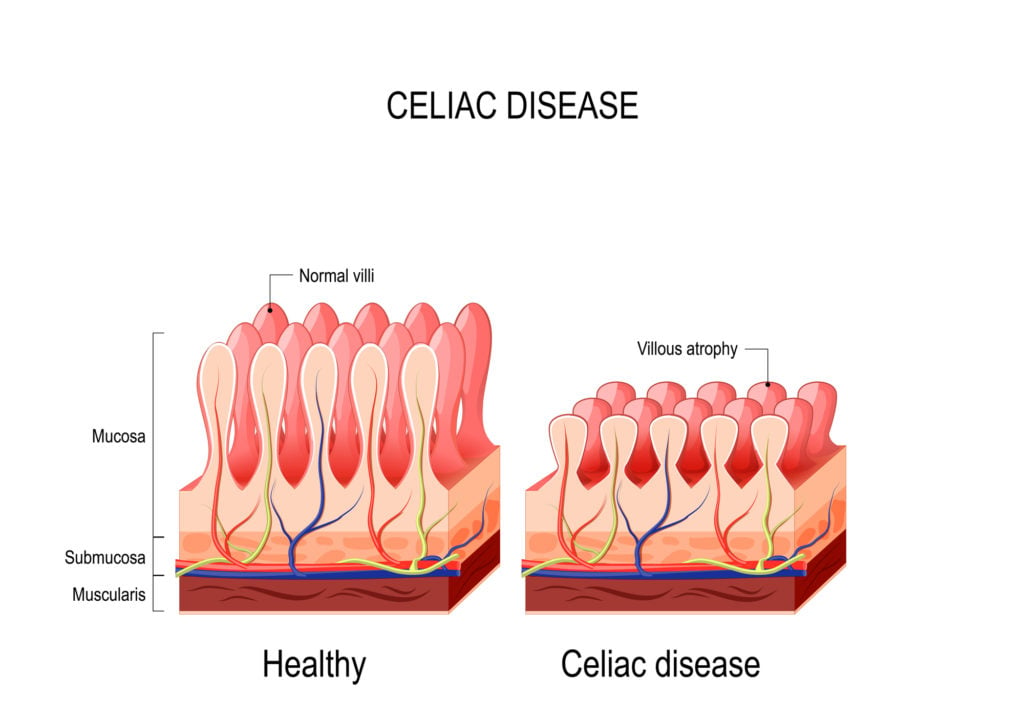 The doctor also will take several biopsies from various parts of your small intestine to submit for further lab testing. It will take a few days for the doctor to share the biopsy results with you.
My doctor told me my small intestine visually aligned with celiac disease, but of course, he wanted to wait for the biopsy results. My results, of course, were positive.
Going Gluten-Free
Once you're confident you have celiac disease (positive blood test verified by endoscopy), you'll need to learn the ins and outs of a gluten-free diet, the only treatment option for people with celiac disease.
A celiac disease diagnosis may come as a relief to you, especially if you've been dealing with a slew of annoying and painful symptoms.
For many, it can be a devastating diagnosis that turns your life upside down. Eating at restaurants and shopping at the grocery store exponentially become more difficult, and the treatment burden is high and constant.
I recommend the following resources for getting started on a gluten-free diet post-celiac disease diagnosis:
Also, at this time, you may want to consider having all first-degree relatives tested for celiac disease. First-degree family members are 15 times more likely to have celiac disease than the general population, with the highest incidence of celiac disease prevalence in siblings.
At-home celiac screening tests are currently for those 18 years and older.
Celiac Disease Monitoring
Post diagnosis, you'll want to ensure your body responds to the gluten-free diet and the many dietary lifestyle changes you make. (I recommend taking additional measures beyond a gluten-free diet to heal your body. Read How I Healed from Celiac Disease Naturally.)
Unfortunately, imaware says that 73 percent of patients do not follow up with their physician post-diagnosis, likely because most people (including me) feel like doctors don't know how to help celiac patients since there aren't any pharmaceutical interventions.
It's essential to follow up with your doctor and/or take an at-home celiac disease monitoring test to track your body's response to a gluten-free diet. I discuss the benefits and challenges of celiac disease monitoring tests in this article.
Genetic Testing for Celiac
Suppose your celiac tests repeatedly come back negative, but you have symptoms that align with celiac disease. In that case, I recommend undergoing genetic testing to see if you carry one of the two celiac disease genes. You can take this simple at-home celiac genetic screening test to determine your genetic risk.
If you carry one of the genes, you should continue testing for celiac disease each year or with any onset of celiac-related symptoms. If you don't carry one of the celiac genes, there's no need to continue to screen for celiac.
After years of negative celiac tests, I had my son genetically tested for celiac before I learned he didn't carry either gene. On the other hand, my daughter carries one of the genes and should be regularly screened for celiac. Read Genetic Testing for Celiac Disease for more information on this topic.
Additional Reading