I've never had a gluten-free pizza crust taste like this before, and it's all thanks to Caputo Gluten Free Flour. In this post, I'll show you how I used Caputo Fioreglut gluten-free flour to make a chewy, crusty and authentic Italian gluten-free pizza. This post contains affiliate links. Please see my disclosures.
I have a confession to make. I haven't had a memorable, out-of-this-world gluten-free pizza in a long time.
The one time I remember having an amazing pizza was in Paris at Little Nonna, a 100% dedicated gluten-free Italian restaurant. The pizza there was memorable, and during our weekend in Paris, we went back to Little Nonna's for gluten-free pizza twice.
Until then, I've had quality, fair-tasting gluten-free pizza. But that changed when I found Caputo gluten-free flour. This stuff is life changing. It's the one flour blend that comes closest to the texture and taste of wheat flour.
Caputo is an authentic Italian flour brand, and while you cannot find this flour in stores in the U.S., you can find it easily on Amazon.
Caputo Gluten-Free Flour Ingredients
Before I get into how I made this delicious gluten-free pizza crust, I must first tell you that Caputo's Fioreglut gluten-free flour contains a controversial ingredient. It contains wheat starch.
But before you write off this flour blend, you must know that wheat starch, when labeled "gluten free," is 100% gluten free. The protein (gluten) is separated from the starch. The starch is gluten free. The protein is not.
I even tested it with my Nima Sensor to make sure there is no gluten present, and Nima came back with all smiles (no gluten found).
Wheat starch is one of those confusing ingredients that our brains want to dismiss, but I assure you, it's a-okay to enjoy on a gluten-free diet. People with celiac disease can safely enjoy wheat starch. Of course, if you have a wheat allergy, you must avoid anything with wheat, and therefore Caputo gluten-free flour is not for you.
Also, if you have non-celiac gluten sensitivity, you'll want to be cautious about introducing Caputo gluten-free flour into your diet. Oftentimes, people with a gluten sensitivity (which should be called a wheat sensitivity) react to different components of the wheat, not just the gluten.
For a long time, I thought I would never venture into eating wheat starch; but as I got more information, and fully processed that information, I began to feel comfortable eating it.
The ingredients in Caputo gluten-free flour include:
Gluten-free wheat starch
Dextrose
Maize starch (cornstarch)
Buckwheat flour
Rice starch
Psyllium seed fibre
Thickener
Guar gum
Flavouring
The label says that the flour meets all FDA requirements for gluten-free foods.
All of these ingredients work together to make the flour hold together well (better than any gluten-free flour blend I've worked with) and it doesn't break when handled. It even stretches too, which is unheard of in gluten-free pizza making.
Bottom line: A product can be gluten free and still contain wheat. I discuss this in detail in my article, Wheat Free vs. Gluten Free – What's the Difference?
Pizza Dough Recipe
If you're feeling comfortable moving ahead with this flour (and you should feel comfortable, but I understand if you don't), then you're ready to make one of the best gluten-free pizzas of your life!
If you're not okay, you can make my homemade gluten-free pizza crust recipe using Bob's Red Mill 1:1 gluten-free flour blend, or buy any of these gluten-free frozen pizza brands.
To make the crust, you can either weigh the ingredients (you'll need a kitchen scale), or I have provided alternative measurements as well. You'll also need a standing mixer, although you can also mix everything by hand.
Start by combining 2 cups (260 grams) of Caputo Gluten-Free Flour and 1/2 tbsp (8 grams) of salt to a large bowl. Whisk it together.
In a separate bowl, combine 1 tsp (5 grams) of instant yeast with 1 cup (215 grams) of warm water. Mix it and set it aside for 3-5 minutes to activate. Once the yeast activates, add 1 tsp (8 grams) of olive oil to the mixture and give it a stir.
Now add your wet ingredients to your flour mixture and mix on medium speed for 8 minutes in your standing mixer. The flour will be soft and a bit sticky.
Add some of the Caputo flour to a flat surface or your countertop, then add the dough. Mix the dough gently with your hands to incorporate more of the flour until it's no longer sticking to your hands and the perfect texture of pizza dough.
If the dough is too sticky to work with, add a little olive oil to your hands. It will help you form the dough into a ball without sticking.
Add the dough to a lightly greased bowl, cover with plastic wrap, and allow it to rise for 2-3 hours in a warm place. I use a warming mat that helps my yeast goods rise well. If your house is cold, give it an extra hour to rise.
When your dough has doubled in size (as pictured above), flour a flat surface or countertop well and simply stretch out the dough using your fingers and pressure from the palm of your hands to shape a pizza. Be sure to leave a lip around the circumference of the dough so it looks like traditional pizza with a thick crust.
Top your pizza with sauce (see recipe below), cheese and toppings, then bake it on a hot pizza stone in a 550º F oven for 6-7 minutes until the cheese is bubbly and the crust is cooked through. Watch the pizza carefully as oven temperatures vary.
(If you have a pizza oven, follow pizza oven cooking instructions carefully. )
Homemade Pizza Sauce
While you could use store-bought pizza sauce, or even jarred marinara sauce, I like to make my own pizza sauce from scratch.
I used the New York-style pizza sauce recipe from the No Gluten, No Problem Pizza cookbook, which is a fantastic resource for gluten-free pizza making.
The ingredients include:
1 28 ounce can whole, peeled San Marzano tomatoes
1 6-ounce can tomato paste
2 tsp dried basil
2 tsp dried oregano
2 tsp sugar
1 tsp garlic powder
1 tsp salt
Add all the ingredients to your food processor and blend until smooth.
You will only need a cup of sauce for this recipe, so store the rest in a sealed container in your fridge and enjoy it for up to a week in other recipes, such as eggplant parmesan or turkey meatballs and spaghetti squash.
The Taste Test
The taste of this pizza crust is out of this world. It's soft, chewy, and has the spot-on texture of the pizza you remember before you said goodbye to gluten.
This is hands-down the best gluten-free pizza I've ever made, and only a close second to the pizza I enjoyed in Paris.
Pace yourself my friends… as you will want to eat the entire pie in one sitting. The texture alone will make you swoon.
I know this pizza would have tasted even better if I had baked it in a pizza oven, which maybe one day I'll invest in. Use it if you have it.
Nervous About Wheat Starch?
I get it. Most people with celiac disease, especially in the U.S., are nervous about wheat starch. I promise you, this starch is gluten free. As you saw above, I even tested it with my Nima Sensor and it tested a-okay.
But if you're not comfortable with it, but still want to make one amazing pizza, check out the No Gluten, No Problem Pizza cookbook. This cookbook features recipes for 75+ pizza styles (from New York style to Neapolitan, and everything in between) and none use wheat starch, although the authors note that wheat starch is a common ingredient used in gluten-free pizzas made in Italy.
Also, make my simple gluten-free pizza crust recipe, which uses Bob's Red Mill 1:1 Gluten-Flour, which contains no wheat starch and is soft and doughy too.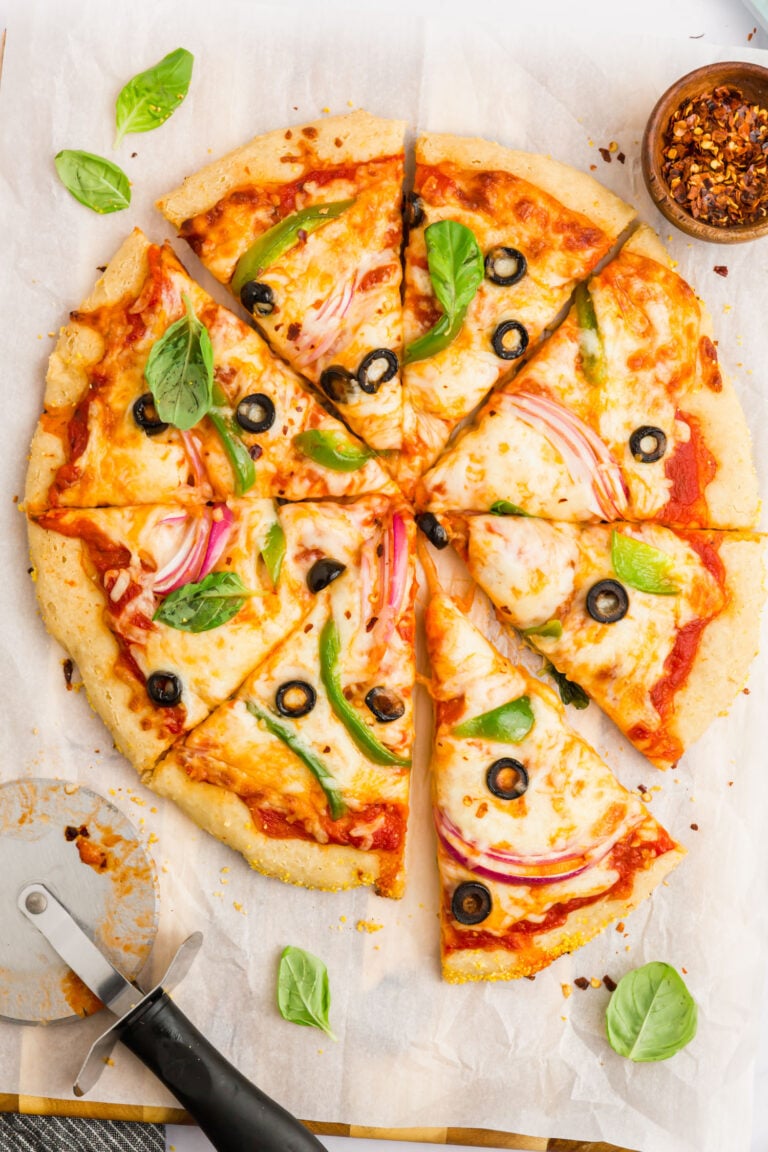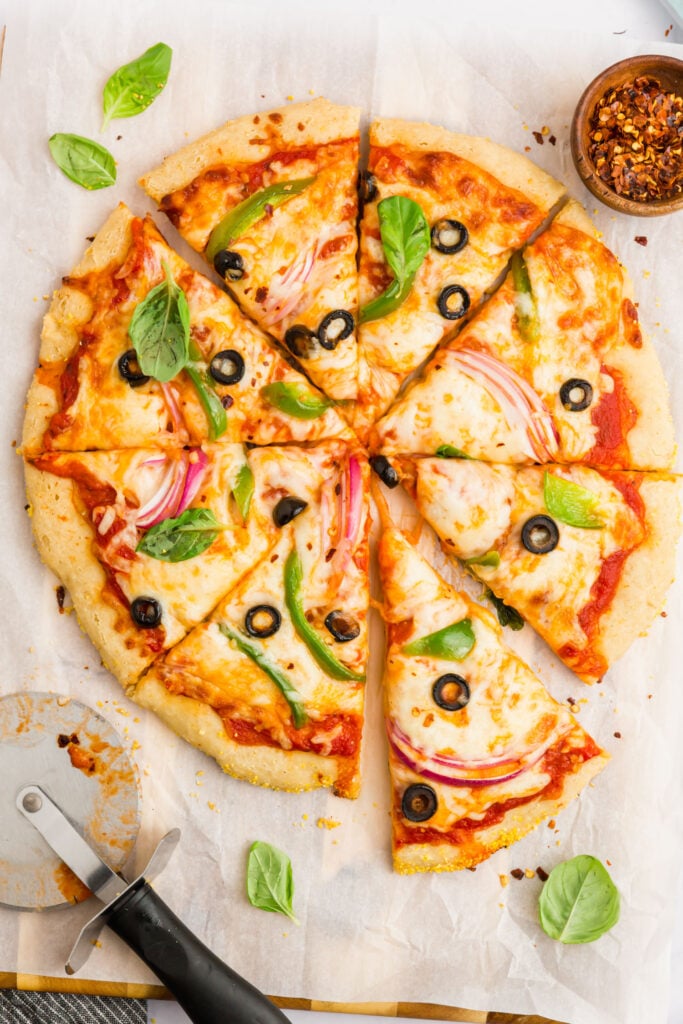 I assure you, however, that wheat starch, when labeled gluten free, is okay to eat. And I felt just fine after eating it, and I'm very sensitive to even trace amounts of gluten cross contamination.
You, ultimately, have to make your own decision on what you feel comfortable eating. I hope this article gives you comfort and assurance in trying Caputo flour in your gluten-free pizza recipes. You won't be sorry… even if doing so takes you a bit outside of your comfort zone.
Caputo Gluten-Free Flour: Pizza Recipe
This gluten-free pizza crust is the closest I've come to eating real pizza since my celiac diagnosis 9 years ago. The authentic Italian crust is chewy, thick and oh-so-good.
Print
Pin
Rate
Ingredients
For the Crust
2

cups

Caputo Fioreglut gluten-free flour

260 grams, plus extra for dusting surfaces

1/2

tbsp

salt

1

tsp

instant yeast

5 grams

1

cup

warm water

215 grams

1

tsp

olive oil

8 grams
For the Sauce
28

ounce

can of San Marzano tomatoes

6

ounce

can tomato paste

2

tsp

dried basil

2

tsp

dried oregano

2

tsp

sugar

1

tsp

garlic powder

1

tsp

salt
Toppings
2

cups

shredded mozzarella cheese
Instructions
Combine Caputo gluten-free flour and salt in a large mixing bowl and set aside.

Combine yeast and warm water in a small bowl, give it a light mix and allow yeast to activate for 3-5 minutes. Add olive oil to yeast mixture and stir.

Add yeast mixture to the flour mixture and mix on medium speed in your standing mixer for 8 minutes. The dough should be sticky but hold together well.

Lightly flour a flat surface, add a little olive oil to your hands, and place dough on surve. Gently knead the dough to incorporate more flour into the mixture and make it less sticky. Form dough into a ball. You should be able to easily handle and even slightly stretch the dough without breaking it.

Add dough to a lightly greased bowl, cover with plastic wrap, and allow it 2-3 hours to rise in a warm place (use a warming mat if you have one). The dough should double in size. If your home is cold, give the dough extra time to rise.

Preheat oven to 550º F and add a pizza stone to your oven to heat up.

Lightly flour a surface and stretch out the dough until it is in the shape of a pizza, using the palm of your hands and fingers to gently stretch and shape the dough. Make sure the dough doesn't stick to the surface. Add more flour if needed. Top pizza with homemade sauce (or jarred sauce) and shredded cheese. Carefully slide the pizza onto your hot pizza stone and bake for 6-7 minutes until cheese is bubbly. Cooking time will vary. Watch pizza closely and remove from oven with care.
Sauce
Prepare your sauce by combining all the sauce ingredients in your food processor and processing until smooth, about 45-60 seconds.
Notes
Nutrition information is approximate. Each serving is one slice. The pizza will make about 8 slices, 10 if you stretch the dough further.
This recipe has not been tested with other gluten-free flour blends and the results will vary depending on the flour used. This recipe is specifically for Caputo gluten-free flour. 
Caputo Fioreglut gluten-free flour blend contains wheat starch, which is a gluten free ingredient and essential to the texture of this pizza crust. This flour meets all FDA requirements for gluten-free labeling. Please see full article for details.
You can purchase Caputo flour on Amazon.
You will only use about 1 cup of the sauce. Store the remaining sauce in a sealed container in your fridge for up to 1 week. Use it to make pizza bagels, eggplant parmesan, and/or enjoy in lieu of marinara sauce in your pasta dishes.
Nutrition
Calories:
238
kcal
|
Carbohydrates:
35
g
|
Protein:
10
g
|
Fat:
7
g
|
Saturated Fat:
4
g
|
Cholesterol:
22
mg
|
Sodium:
1215
mg
|
Potassium:
455
mg
|
Fiber:
3
g
|
Sugar:
6
g
|
Vitamin A:
640
IU
|
Vitamin C:
14
mg
|
Calcium:
196
mg
|
Iron:
2
mg