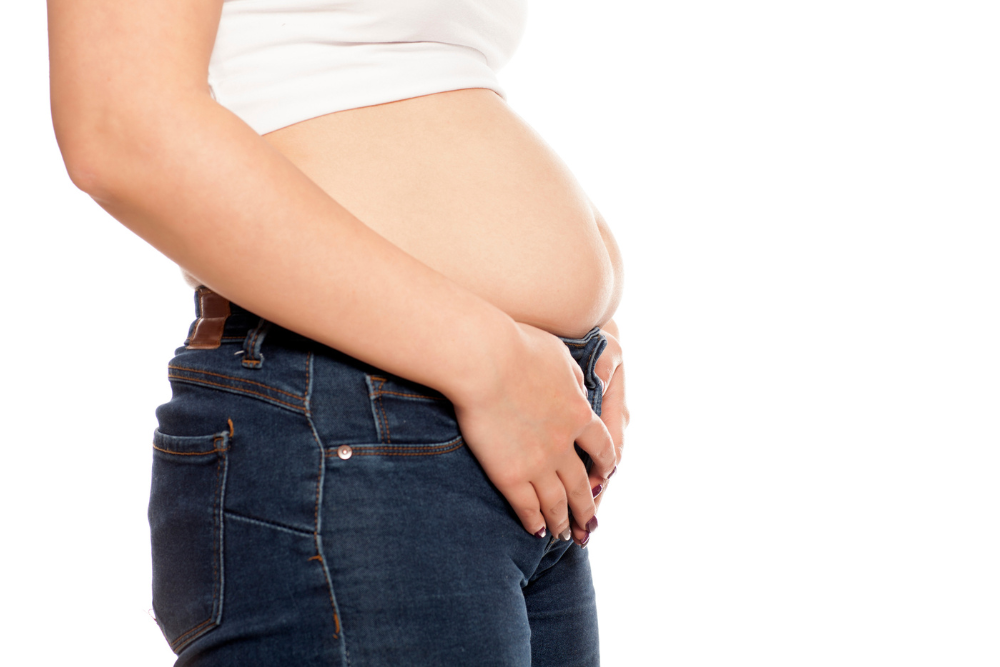 If you struggle with persistent bloating, you might be surprised to learn that gluten may be the underlying cause. In this article, I discuss how gluten can cause bloating, how to determine if gluten is behind your bloating symptoms, and how you can manage your symptoms via diet and lifestyle changes. This article contains affiliate links. Please see my disclosures.
Bloating is a common symptom that affects 16-30 percent of the population, and nearly one in seven people experience bloating at least once per week.
Bloating can be uncomfortable and even embarrassing for millions of people in the U.S. and around the world. It occurs when your stomach or intestines become filled with gas or air.
But have you ever stopped to consider why it might be happening?
While most people associate bloating with poor diet or overeating, the source of the discomfort may very well be undiagnosed gluten intolerance or celiac disease.
Gluten, a protein found in wheat, barley, and rye, has been linked to inflammation, bloating, and other health issues.
In this article, I discuss how gluten – and undiagnosed celiac disease or gluten intolerance -contributes to chronic bloating, other factors that contribute to bloating, and foods and supplements relieve painful bloating symptoms.
How Gluten Disorders Lead to Bloating
People with celiac disease often experience chronic bloating, and it's one of the more common symptoms of undiagnosed celiac disease. In fact, abdominal distention is common among children with celiac disease and is one of the early symptoms doctors used to diagnose the disorder.
This condition is characterized by an uncomfortable feeling of fullness in the abdominal area, which can make the stomach feel swollen and tender to the touch.
Bloating is often accompanied by diarrhea, constipation, fatigue, and dozens of other symptoms associated with celiac disease.
People with celiac disease must avoid gluten because every time they consume the protein, their immune system attacks and damages the lining of the small intestine. Such damage can lead to bloating and other digestive woes, as well as nutritional deficiencies.
Those who have non-celiac gluten sensitivity, or gluten intolerance, also may experience chronic bloating, along with various digestive maladies, every time they eat gluten. This especially occurs after consuming a meal with a lot of foods that contain gluten, like pizza, pasta, bread, and beer.
How to Diagnose Gluten-Related Bloating
If you feel bloated after eating certain foods, particularly those that contain gluten, you may be experiencing symptoms related to undiagnosed celiac disease or gluten intolerance.
The first step to figuring out if gluten is behind it all is to get tested for – and hopefully rule out – celiac disease.
Don't go gluten-free before ruling out celiac disease since you must be eating gluten for a celiac screening test to be accurate.
Everlywell offers a convenient at-home celiac screening test, making it easier than ever to test yourself for celiac disease without having to make a doctor's appointment. I highly recommend this test as a first step.
If you rule out celiac disease, it doesn't mean you're in the clear when it comes to gluten.
In fact, while only two million people have celiac disease in the U.S., 18 million people have non-celiac gluten sensitivity or gluten intolerance. Chances are higher that you have gluten intolerance vs. celiac disease.
To determine if you have a gluten intolerance, consider doing an elimination diet under the supervision of a nutrition professional. Eliminate gluten for 4-6 weeks, then add it back into your diet and carefully assess how you feel.
You can also take either the Wheat Zoomer or Cyrex Array 3X tests; however, such tests are costly. They will, however, tell you if you have an issue with wheat. Please consult your doctor with questions.
How to Eliminate Gluten from Your Diet
If you discover you have celiac disease or, more likely, gluten intolerance, then it's time to consider implementing a strict gluten-free diet.
To learn the ins and outs of a successful gluten-free diet, I highly recommend enrolling in this SIGNATURE Gluten-Free course, which will teach you everything you need to know about following a gluten-free diet and healing your body in the aftermath.
Going gluten-free isn't something you want to do haphazardly. You want to be all-in if you're serious about seeing and experiencing results.
Foods That Help Manage Chronic Bloating
Chronic bloating can be a frustrating and uncomfortable byproduct of an undiagnosed gluten disorder. While there are medications that can help relieve bloating, none address the root cause.
Eliminating gluten will be the first step to relieving chronic bloating, but you may need to also consider other diet and lifestyle choices if you want to banish the bloat for good.
Consider changing your diet, focusing your meals around foods that have natural anti-inflammatory properties to help reduce inflammation and swelling and to promote healthy digestion.
Foods like pineapple contain an enzyme called bromelain that helps to break down protein molecules in food. Ginger has been used for centuries to calm the stomach and settle indigestion.
Other helpful foods include leafy greens, probiotic-rich yogurt, and hydrating fruits like watermelon and cantaloupe.
Additionally, fermented foods like kombucha, sauerkraut, lacto-fermented pickles, and kefir contain natural probiotics that can help improve the balance of bacteria inside your gut, which will likely help to relieve painful bloating symptoms and embarrassing gas.
Avoid using over-the-counter gas medications. While they may relieve your symptoms in the short term, they often create more serious symptoms.
Remember, medications only mask the symptoms; they don't address the underlying cause of why the symptoms occurred in the first place.
Supplements and Home Remedies for Treating Chronic Bloating
Thankfully there are a variety of supplements and home remedies that can help alleviate bloating symptoms while you work on improving your gut health.
One supplement that is a game-changer for many people suffering from chronic bloating is probiotics.
Probiotics contain live bacteria that colonize the gut and crowd out the bad bacteria and yeast that might be causing some or most of your chronic bloating.
Another effective supplement that many people with celiac disease and gluten intolerance take is digestive enzymes, which can aid in the breakdown of food and prevent gas and bloating.
There are specific digestive enzymes for breaking down proteins (aka, gluten), which I talk about in detail in this article.
However, people with celiac disease and gluten intolerance should use digestive enzymes sparingly and only in times when they might get accidentally glutened (e.g., when they eat at a restaurant and, despite their best efforts, they still get glutened).
Digestive enzymes are not an excuse to eat gluten; rather, they are an insurance policy in the rare times you eat gluten unknowingly (e.g., cross-contamination).
There are also several home remedies that can lessen the bloat, such as ginger tea and peppermint oil. I also find a hot bath or laying on my back will reduce severe bloating symptoms.
I encourage you to read my article, What to Do When You Accidentally Eat Gluten, for more home remedies that I curated from the gluten-free community.
Remember, everyone's body is different, so it may take some trial and error to find the right combination of supplements and remedies that work best for relieving your symptoms.
What Else Could Cause Bloating?
While gluten is a common trigger for bloating, it's not the only cause. Several factors can lead to that uncomfortable fullness in your belly.
(1) Salt: Consuming too much salt can lead to bloating since your body retains extra water to dilute the sodium.
(2) Sugar: When you consume large amounts of sugar, your body may produce more insulin than needed, causing the excess glucose to be stored in your cells as glycogen. This leads to water retention, which can result in bloating.
Some people may have trouble digesting certain types of sugars, such as lactose or fructose, leading to further bloating and discomfort.
Also, because bad bacteria in the gut feed off sugar, eating a diet high in sugar and refined grains will only help the bad bacteria proliferate, which can lead to uncomfortable bloating, gas, and other digestive symptoms.
Read 10 Tips to Breaking Your Sugar Addiction for tips to reducing your dependence on sugar.
(3) Fatty and Greasy Foods: Indulging in fatty, greasy foods can also lead to bloating since they take longer to digest and sit in your stomach for an extended period of time.
(4) Carbonated Beverages: Carbonated beverages can lead to bloating as the bubbles can cause excess gas to build up in your digestive tract.
(5) Eating Too Quickly: When you eat quickly, you may swallow more air along with your food. This trapped air can build up in your stomach and intestines, leading to discomfort, pain, and bloating.
Also, when you eat quickly, you may not fully chew your food, which will make it harder for your body to break down and digest the food properly.
Digestion begins in the mouth when your salivary glands release digestive enzymes. Rushing the process means you won't be fully mechanically (chewing) or chemically (enzymes) breaking down your food before it enters your stomach.
Also, eating fast can lead to overeating. Your brain needs time to register that you are full. When you eat too quickly, you may consume more food than your body actually needs, leading to feelings of fullness, bloating, and discomfort.
(6) Medications: Certain medications can cause chronic bloating, including but not limited to:
Antibiotics: Antibiotics disrupt the normal balance of bacteria in the gut and kill off healthy bacteria, which can lead to an overgrowth of harmful bacteria in the gut.
Nonsteroidal anti-inflammatory drugs (NSAIDs): NSAIDs such as aspirin, ibuprofen, and naproxen can cause bloating by irritating the lining of the stomach and intestines and leading to inflammation and gas.
Proton pump inhibitors (PPIs): PPIs such as omeprazole, lansoprazole, and pantoprazole are commonly used to treat acid reflux and ulcers. However, they may cause bloating by reducing the production of stomach acid and slowing down digestion.
Antidepressants: Certain antidepressants, such as selective serotonin reuptake inhibitors (SSRIs), can cause bloating by affecting how the digestive system works.
Birth control pills: Some women may experience bloating as a side effect of birth control pills, which can cause water retention and changes in hormone levels.
Diuretics: While diuretics can help reduce bloating by increasing urination, they can also cause bloating as a side effect by depleting the body of essential minerals such as potassium.
If you're experiencing bloating, it's worth considering all the potential culprits – beyond gluten – to your diet and lifestyle.
The Bottom Line
It's no secret that gluten can lead to bloating and other gastrointestinal issues, especially in people with celiac disease and gluten intolerance.
Removing gluten, eating whole, nutrient-dense, and anti-inflammatory foods, and taking probiotics can all help lessen the symptoms of chronic bloating over time.
If you have any helpful tips or stories about your own experience in battling the bloat, please leave a comment to share below.
Additional Reading