In this article, I discuss celiac disease monitoring tools that can help you determine the effectiveness of your gluten-free diet. This post contains affiliate links. Please discuss health concerns and changes to your diet with your doctor or healthcare provider. Please read my disclosures.
Most people are diagnosed with celiac disease and don't know what to do besides follow a gluten-free diet.
Do they need to follow up with their doctor to discuss the effectiveness of the gluten-free diet? How do they know their celiac biomarkers are improving? And is there anything else they need to do besides "eat gluten-free" to improve their health?
According to a study by Beyond Celiac, 27 percent of nearly 1,500 adults with celiac disease did not see a healthcare provider post-celiac disease diagnosis. Why? Most celiac patients, and their doctors, don't know what to do.
Many people with celiac disease face the messy task of tackling the gluten-free world with little assistance from their doctor and little knowledge about what to do next.
In this article, I discuss the "what's next" part, helping celiac patients figure out how to monitor the effectiveness of their gluten-free diet and what they should do to manage celiac disease going forward.
Celiac Disease Monitoring Tests
A celiac disease monitoring test is a simple blood test used to determine if your body is making antibodies to gluten. Remember, your body can only make antibodies to gluten if you're eating gluten.
Celiac monitoring tests look for the production of transglutaminase antibodies (tTG-IgA and tTG-IgG), which are found in the GI tract and are positive in 95 percent of people with celiac disease. One to three percent of the U.S. population is IgA deficient and cannot make IgA antibodies. This is why celiac screening and monitoring tests also check for IgG antibodies, which are found throughout the body, not just in the GI tract.
Celiac disease screening and monitoring tests also include DGP-IgA and DGP-IgG biomarker testing. DGP stands for deamidated gliadin peptide and is used to test for celiac disease in people who test negative for tTG antibodies.
Today, celiac patients have the power to monitor the effectiveness of their gluten-free diets with this at-home Celiac Monitoring Test. The test takes a few minutes to do in the privacy of your home, and you'll receive the results via email in a few weeks thereafter.
The test comes with lancets, alcohol wipes, a collection tube, bandaids, and a return envelope. Here's what it looks like when the test kit arrives at your house.
I'm proud to say that seven years after following a strict gluten-free diet, my results are normal, which means my body is responding to the gluten-free diet.
| tTG IgA | tTG IgG | DGP IgA | DGP IgG |
| --- | --- | --- | --- |
| Normal | Normal | Normal | Normal |
I repeated the test on the 11th anniversary of my gluten-free diet, and my results were again "normal," giving me further comfort that what I'm doing is working.
However, as I wrote this article, one of my clients (I'll call her Shari – not her real name) shared a letter she received from her doctor.
I worked with Shari last year, and at the time, she had been gluten-free for four years (upon a celiac disease diagnosis), but she says she didn't take her diet seriously.
Fast forward one year, Shari cleaned up her diet and felt better. She performed a celiac monitoring test to see how her body was responding to the gluten-free diet.
Shari's test found she experienced elevated deamidated gliadin. Her DGP-IgA level was 57.5 (normal would be less than 14.7). This means she was still consuming gluten, as her body couldn't make antibodies to gluten if it couldn't detect gluten.
I told Shari to closely examine if she might get accidental gluten exposure from medications, lip balms, cross-contamination, airborne flour, convection ovens, etc. She is doing an audit as I write this.
It's challenging for me to know how to coach Shari going forward beyond helping her figure out where she is still getting exposed to gluten. It also could mean that she needs more time to heal.
Everybody is different. Some people with celiac disease feel better immediately, and their celiac disease biomarkers normalize within months of eating gluten-free. For others, unfortunately, it can take a year or more to normalize.
I also recommended to Shari that she test herself again in six months to see if her DGP-IgA biomarkers decrease. If it's decreasing, it will at least show progress.
How Often Should You Monitor Your Biomarkers?
The Celiac Disease Center at the University of Chicago Medicine suggests that celiac patients monitor their celiac biomarkers after six months, then again on the one-year anniversary of their diagnosis.
I recommend checking your biomarkers on the anniversary of your celiac diagnosis every year, which I do to ensure my body responds to a gluten-free diet. Consider it an anniversary gift to yourself.
Strategies for Post Celiac Disease Management
Since there is no gold standard "here's what you do after you're diagnosed with celiac disease" protocol, I thought I would share a few pointers on what to do next (post-diagnosis):
(1) Implement a Strict Gluten-Free Diet
Eating a strict gluten-free diet is the first step, and boy, is it an overwhelming step. Please read my 10 Tips to Getting Started on a Gluten-Free Diet and my book, Dear Gluten, It's Not Me, It's You. Tackle the process bit by bit. You can do this.
Remember, even a little gluten can undo all of your hard work. No cheating, okay?
(2) Check Your Vitamin Levels
Most people with unmanaged celiac disease are nutrient-deprived since celiac disease impairs the small intestine, which is responsible for nutrition absorption.
If you have celiac disease, be sure to focus on eating a whole foods-based, nutrient-dense diet. Here are 10 Naturally Gluten-Free Foods Every Celiac Should Be Eating.
Also, be sure to take important supplements to rebuild and boost your depleted nutrient tank. Persistent nutrient deficiencies can make it harder to heal and build immunity.
Some doctors will issue vitamin level checks, although most insurance companies won't cover it. If you're concerned about your vitamin levels, you can monitor them with this at-home Vitamin B test and/or this at-home Vitamin D test.
(3) Monitor the Effectiveness of Your Diet
Take time to monitor your celiac biomarkers annually. You want to be assured that your gluten-free diet is working.
I perform a celiac monitoring test every year on the anniversary of my celiac diagnosis (April 12th). Everlywell's Celiac Screening test makes it easy for me to monitor my biomarkers from the privacy of my home.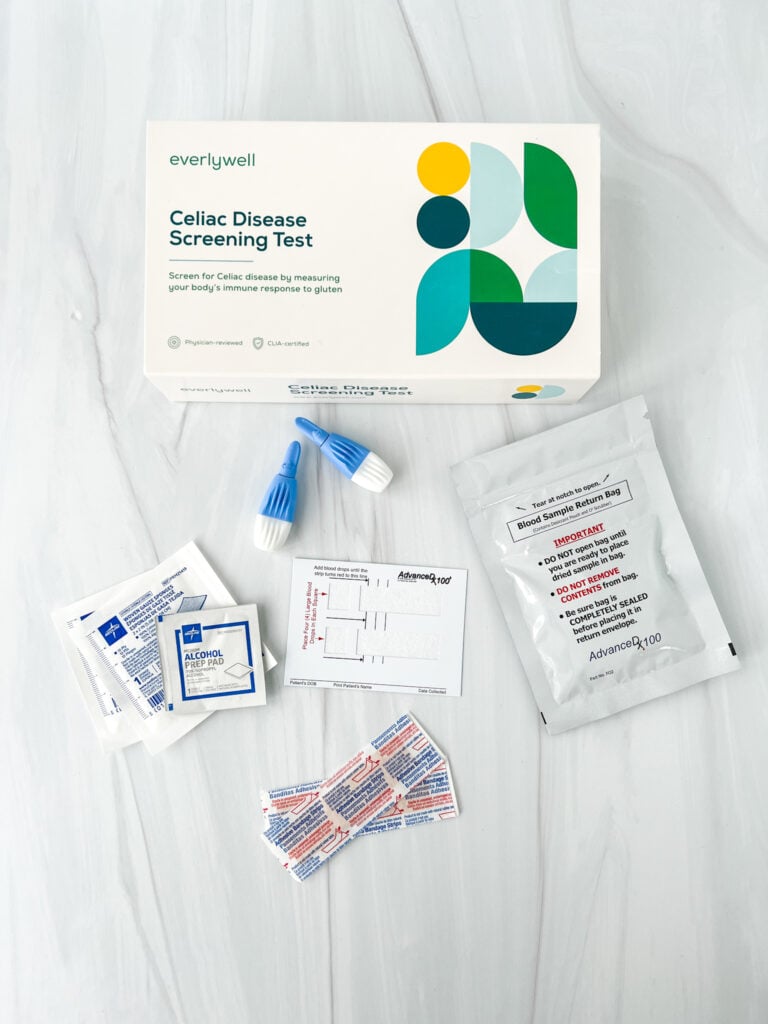 (4) Go Beyond Gluten-Free
Going gluten-free is overwhelming, but it's sometimes not enough. It took me going gluten-free AND implementing various healing strategies to feel better.
I discuss these strategies in my book, Dear Gluten, It's Not Me, It's You, and in my article, How I Healed from Celiac Disease Naturally.
(5) Advocate for Yourself
Knowledge is power, and when you find discrepancies in your celiac monitoring test, or something doesn't feel right, discuss your concerns with your doctor. No at-home test is a substitute for medical advice from a trained professional.
Additional Reading
You might enjoy these articles: