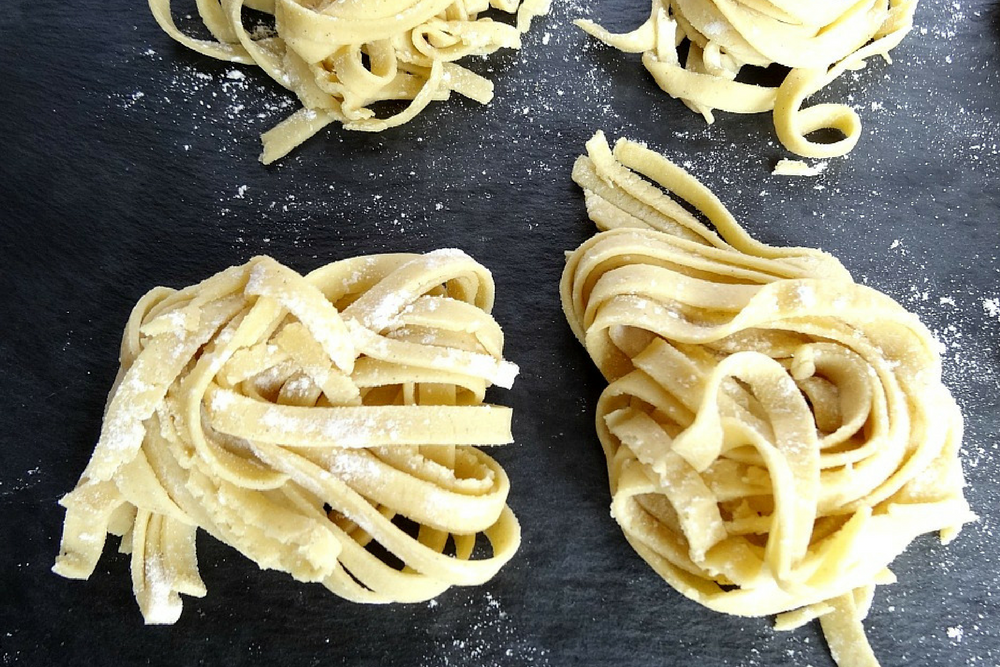 There is nothing like homemade pasta, and just because you can't eat gluten, doesn't mean you can't enjoy the homemade stuff too. In this post, I will take you step-by-step through the process of making gluten-free pasta with just two ingredients. This post contains affiliate links. Please read my disclosures.
Most of us gluten-free folk love and dearly miss pasta.
Pasta just isn't the same without the gluten.
However, when I start feeling sad about pasta, I remember how amazing my homemade, two-ingredient gluten-free pasta is, and then I get happy again.
Homemade pasta tastes just as good – if not better – than any pasta you've ever had, gluten or not!
It's almost too hard to believe that you can make homemade gluten-free pasta with only two simple ingredients. Mind blown!
While most people think making homemade pasta is difficult, I'm going to show you otherwise. In fact, once you get the hang of it, it's pretty easy to do.
Related Recipe: Incredibly Easy From-Scratch Gluten-Free Egg Noodles
What You'll Learn in this Post
In this post, I'll take you step-by-step through how to make your own gluten-free pasta from scratch using just two simple ingredients.
Specifically, this post will cover the following:
What tools you need to make your own homemade pasta.
The two ingredients needed to make homemade gluten-free pasta.
Step-by-step instructions, with pictures, to walk you through how to make amazing, homemade pasta at home.
Let's get started!
What Tools Do You Need?
You'll need a few tools in order to make homemade gluten-free pasta. Some you might have, some you won't, and some might be worth investing in if you plan on making pasta at home time and time again (like me!).
(1) Food Processor
I use a food processor to mix all the ingredients and find that I can put a gluten-free pasta dough together in a few seconds – about 12-20 pulses. Using the food processor saves me so much time and energy.
If you have a food processor, use the dough blade to mix your pasta dough ingredients. If you don't have one, simply mix the ingredients by hand. Use your muscles to mix the dough until it comes together well. More on that in a bit.
Related Recipe: Easy From Scratch Gluten-Free Bread Made with 1:1 Flour
(2) Pasta Machine
You don't have to own a pasta machine to make your own gluten-free pasta, but it sure is fun to use one if have it or are willing to invest in one.
I have an electric Marcato Atlas Pasta Machine that I love. My mother-in-law bought it for me for my birthday, nearly one year after I learned I had celiac disease. She knew how much I loved pasta. Best gift ever!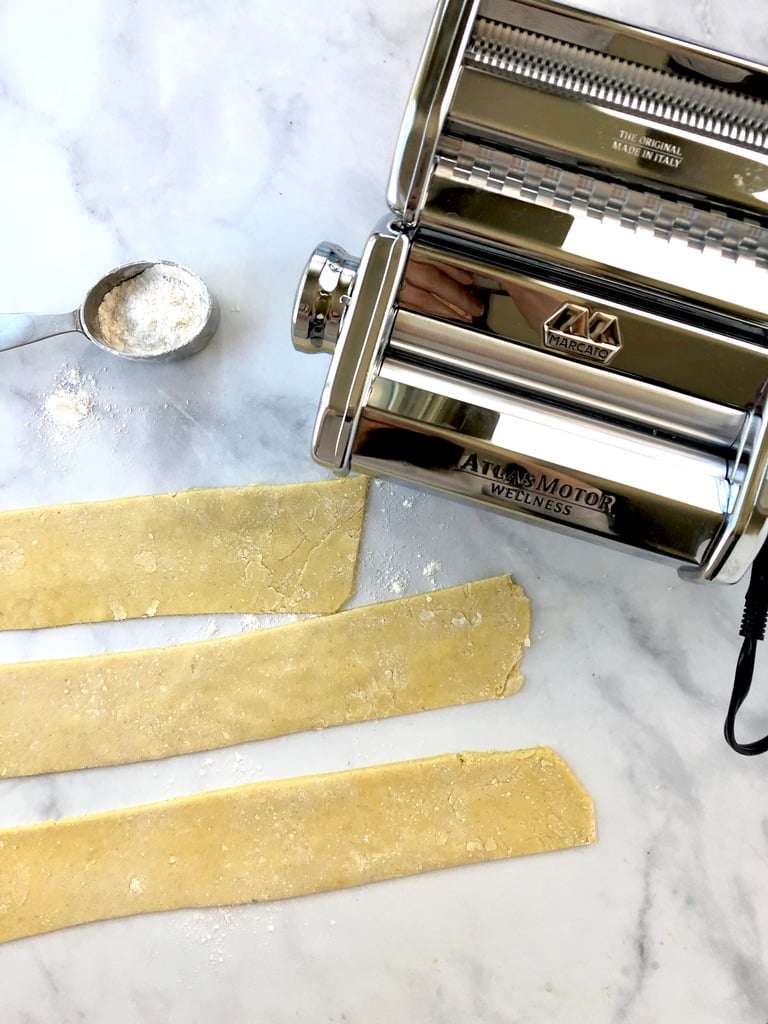 I have used my pasta machine so many times to make homemade pasta, and it's fun to pull out when I have friends over. Everyone loves to play with it to watch their pasta creations cut into even strips of linguine or spaghetti noodles.
If you have a Kitchenaid Standing Mixer, you can purchase the pasta attachment and use that to cut pasta into even strips too.
If you don't have a pasta machine or the pasta attachment for your Kitchenaid, I recommend using a pizza cutter to cut strips of pasta, or this low-cost rolling pin that cuts even pasta strips for you!
(3) Rolling Pin
A rolling pin is a must for getting flat, thin noodles. I recommend this simple rolling pin with handles.
All of these items are worthwhile investments that will bring you many years of joyful pasta-making!
Related Recipe: How to Make Homemade Sweet Potato Gnocchi
Two Ingredients Needed
I know it's hard to believe that this recipe requires only TWO ingredients, but alas, that's all you need to make delicious, homemade, gluten-free pasta from scratch.
The two ingredients are simple too.
All you need are (1) eggs, and (2) a good 1:1 gluten-free flour blend (one that includes xanthan gum already).
I highly recommend using Bob's Red Mill 1:1 Gluten-Free Flour Blend. It's my go-to blend and works like a charm.
Many people have made this recipe with fantastic results using other 1:1 flour blends such as King Arthur Measure-for-Measure Gluten-Free Flour and Cup 4 Cup All Purpose Gluten-Free Flour.
Bottom line, use what flour you have in your pantry and like best. Just make sure it's a flour blend (not just a single ingredient rice flour).
Do you have celiac disease or gluten sensitivity? Are you confused by food labels? Read my article, Decoding 20 of the Most Confusing Ingredients for Hidden Gluten
How to Make Gluten-Free Pasta from Scratch
Making gluten-free pasta is fairly straightforward to do, but it may take a little practice to get everything just right.
Step #1: Combine Ingredients
The first thing you'll do is combine the eggs and flour in your food processor. Pulse 12-20 times until the dough comes together. Most of it will clump together in a dough ball, and whatever doesn't stick to the dough ball, just clump it together by hand when you remove the dough from the food processor.
The mixture will be slightly sticky, but will dry out as you roll it on your floured surface.
Tip! If at any time the mixture become too dry, wet your hands and then play with the dough a bit. It will make the dough sticky and more malleable.
Step #2: Roll Out Dough
Once you have the gluten-free pasta dough ball ready, sprinkle some flour on your countertop and begin to roll out the dough. There is no need to knead the dough further as there is no gluten to develop. You can start rolling out the dough as soon as it's mixed together.
Remember, you don't want your dough too dry, because it'll flake and crack. You also don't want it too sticky because then it will stick to the surface, rolling pin, and pasta machine (if using).
You'll want to roll it as thin and flat as possible. Cut off any rough edges so you have almost perfectly- shaped lasagna noodle-sized flat sheets.
Optional: If you're using a pasta machine, you'll want the sheets flat enough to fit through the pasta roller. You can use the sheet attachment on your pasta machine to get a nice, even flat noodle sheet before you run the sheet through the pasta cutter.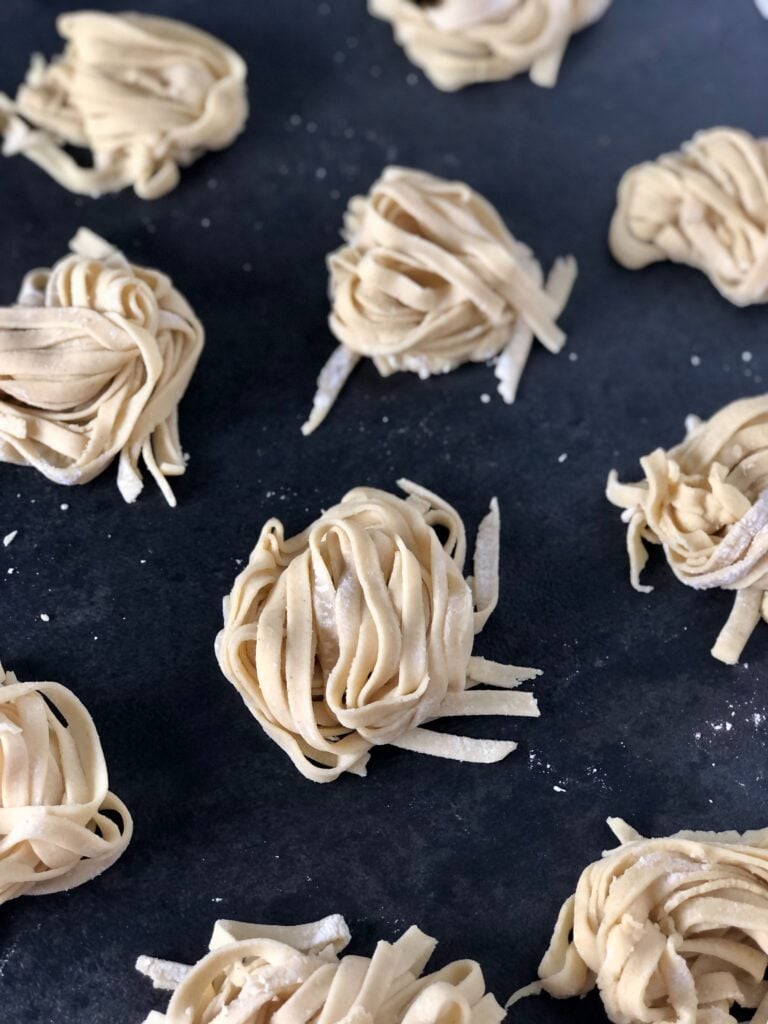 Step #3: Cut Pasta Strips
Once you have flat sheets of noodles, you'll then want to cut the sheets into strips.
If you have a pasta machine, this experience is a magical one. You'll gently glide the flat lasagna-noodle through the machine and instantly have evenly cut pasta on hand.
If you don't have a pasta machine, you can use any of the tools noted in the "Tools" section of this article, which include a pizza cutter or special rolling pin that cuts pasta into even strips.
Step #4: Cook the Noodles
Bring a large pot of salted water to a boil, and then add the pasta to water. Be sure to separate the pasta before putting it in the water so you don't end up with clumps.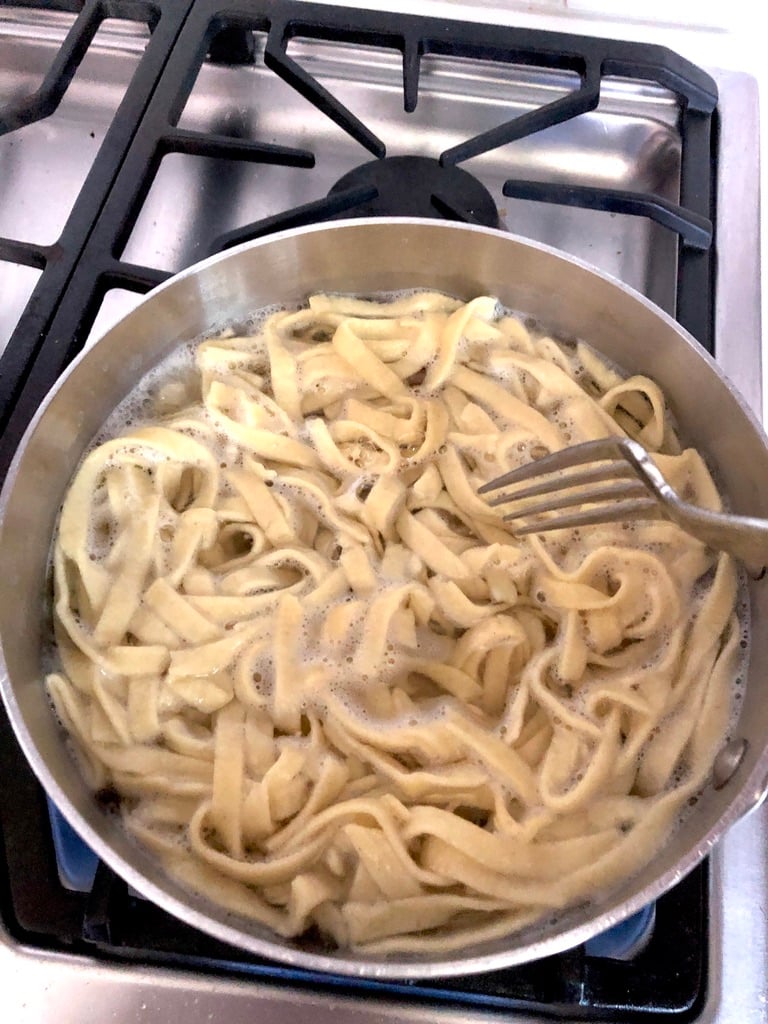 Boil for less than one minute, drain, and serve. The noodles cook quickly, so don't leave them boiling for more than a minute. The cooking process goes fast!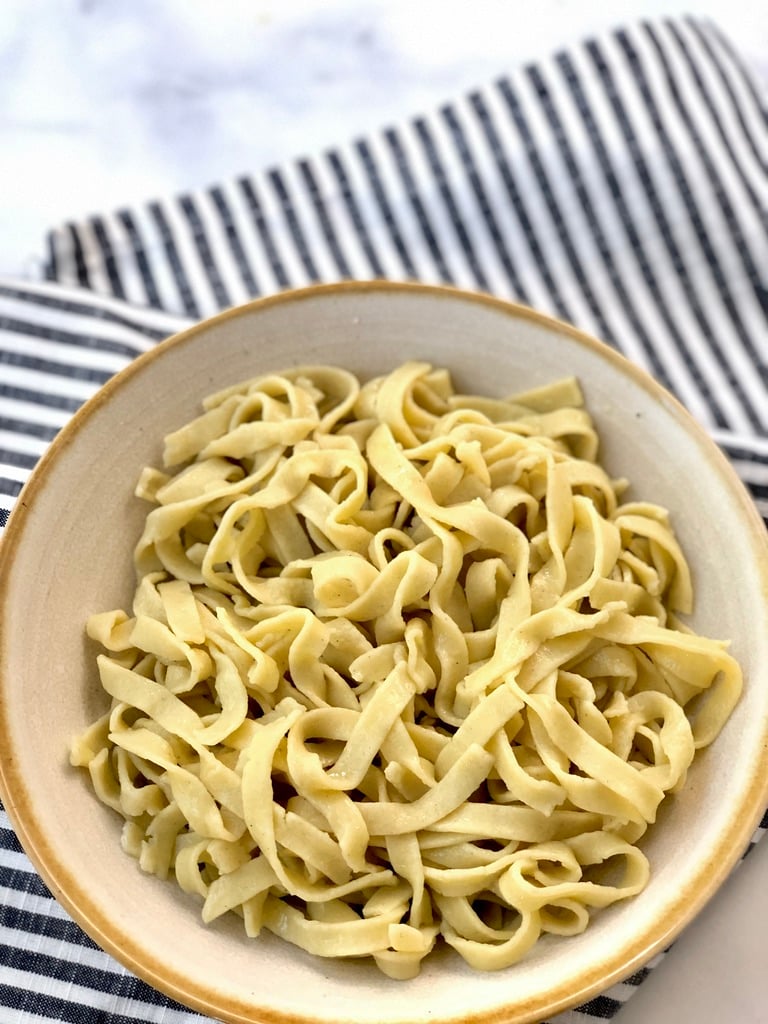 Step #5: Toppings and Sauces
These homemade gluten-free pasta noodles taste fabulous with just a little olive oil and salt (although they may be well salted already from the salted boiling water).
You could also top with jarred or homemade tomato sauce, pesto sauce, or a garlic-butter sauce like the one I used in my homemade gnocchi.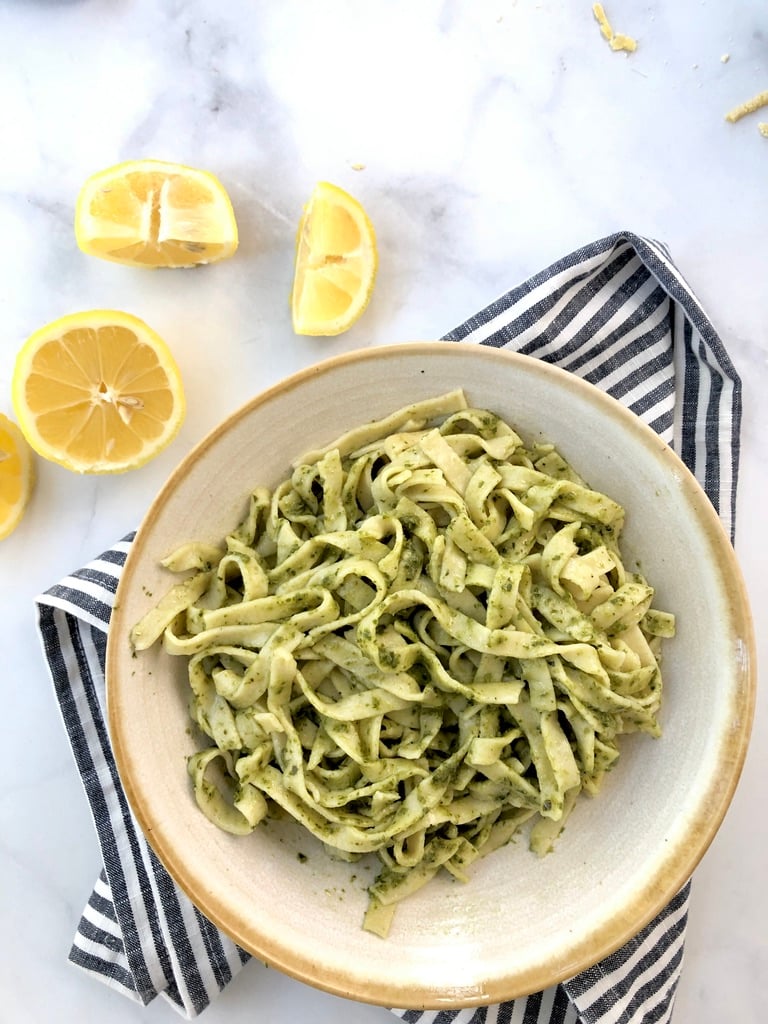 Sick of Hearing Lies about the Gluten-Free Diet?: 10 Surprising Celiac Disease and Gluten-Free Diet Myths Debunked
The Taste Test
I have to tell you, when you make your own gluten-free pasta at home, you may never go back to the store-bought stuff. The noodles are doughy and light and taste amazing.
They are as good as they look, and taste just like the homemade noodles you remember eating before you stopped eating gluten.
Have you ever eaten homemade pasta? If so, you know exactly what I'm talking about.
Homemade pasta gives you all the happy feels, and all you need is a little gluten-free flour, a few eggs, and and a pinch of love (and patience) to make your own gluten-free pasta at home from scratch. Enjoy!
Additional Recipes
Try these recipes:
Two Ingredient Gluten-Free Bagels: This recipe will have you reaching for the smear in no time!
Gluten-Free Egg Noodles from Scratch: A slight variant on this recipe if you crave a more eggy noodle.
Slow Cooker Turkey Meatballs: These meatballs tastes great over your homemade pasta, or serve them over steamed spaghetti squash.
Gluten-Free Pumpkin Gnocchi: If you like pasta, I have a feeling you'll love these delicious potato-pasta dumplings too.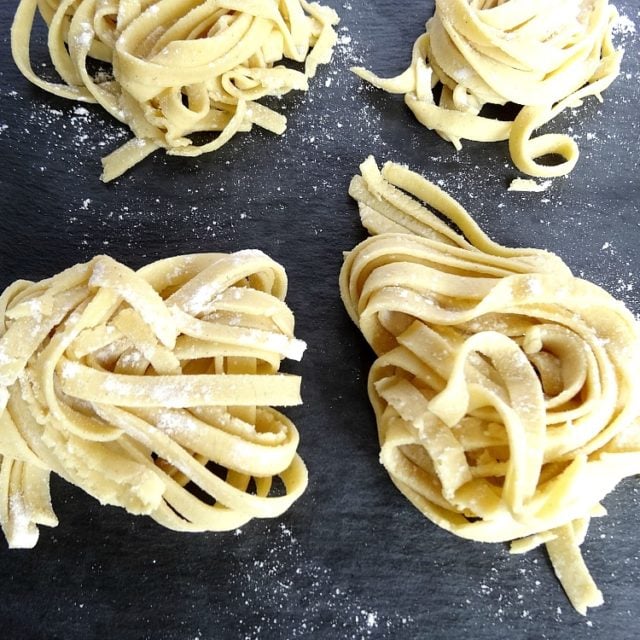 Two-Ingredient Gluten-Free Pasta Dough
You're going to love making – and EATING – homemade gluten-free pasta. The texture of these noodles is amazing and nothing beats the taste of homemade pasta. You won't miss the gluten either! If you have a pasta machine – or are willing to invest in one – you'll get evenly sliced pasta that is as much fun to make as it is to eat.
Print
Pin
Rate
Equipment
Pasta machine

Rolling pin

Food processor
Ingredients
200

grams

Bob's Red Mill 1-to-1 Gluten-Free Baking Flour* (plus a little extra to use when rolling out the dough)

200 grams is equivalent to 1 1/4 cups + 2 Tbsp

3

large

eggs
Instructions
Add flour and eggs to a food processor using the dough blade. Pulse about 12-20 times until a dough ball forms. Do not overwork dough.

Remove dough ball from food processor and place on a lightly floured surface.

If dough is sticky, add a sprinkle of flour and mix it into the dough for 30 seconds until the texture is still wet but not sticky. Remember, gluten-free dough doesn't require kneading since there is no gluten to develop. If the mixture is too dry, wet your hands and play with the dough a bit to incorporate the water. You should be able to handle the dough without it sticking to your hands or crumbling (which means it would be too dry).

Roll out dough into a thin flat layer on a floured surface. You can cut dough into strips using a pizza cutter or run dough through your pasta machine. If using a pasta machine, run the sheets through the flattener tool, then run it through the pasta cutting tool.

Add gently unraveled pasta strands to salted boiling water and cook for about 1 minute. The pasta cooks fast so watch it carefully.

Drain noodles. Rinse with cold water (optional). Serve immediately with your favorite sauce. 
Notes
*If your gluten-free flour blend doesn't have xanthan gum, you'll want to add about 1 tsp of it to the mix. Most one-to-one blends already contain xanthan (or guar) gum. I used Bob's Red Mill 1:1 gluten-free flour blend, which includes xanthan gum. This recipe will work with other 1:1 gluten-free flour blends too. 
When making the dough, remember you want it to be wet but not sticky. It must be wet enough to work with without cracking, but not too wet that it sticks to your countertop of the pasta machine.
To get the pasta looking uniform and nice, cut off and discard frayed edges of pasta sheets. 
Make sure you separate the pasta before adding it to the water. The dough may clump together. Do not overcrowd pot to avoid clumping. 
To prevent pasta from sticking together after it's cooked and drained, coat it with a light drizzle of olive oil. The oil will keep the pasta from sticking together. 
Please be sure to read the entire blog post above this recipe for pictures and detailed instructions.
Nutrition
Calories:
401
kcal
|
Carbohydrates:
65
g
|
Protein:
18
g
|
Fat:
10
g
|
Saturated Fat:
2
g
|
Cholesterol:
279
mg
|
Sodium:
107
mg
|
Potassium:
104
mg
|
Fiber:
9
g
|
Sugar:
3
g
|
Vitamin A:
405
IU
|
Calcium:
101
mg
|
Iron:
5
mg