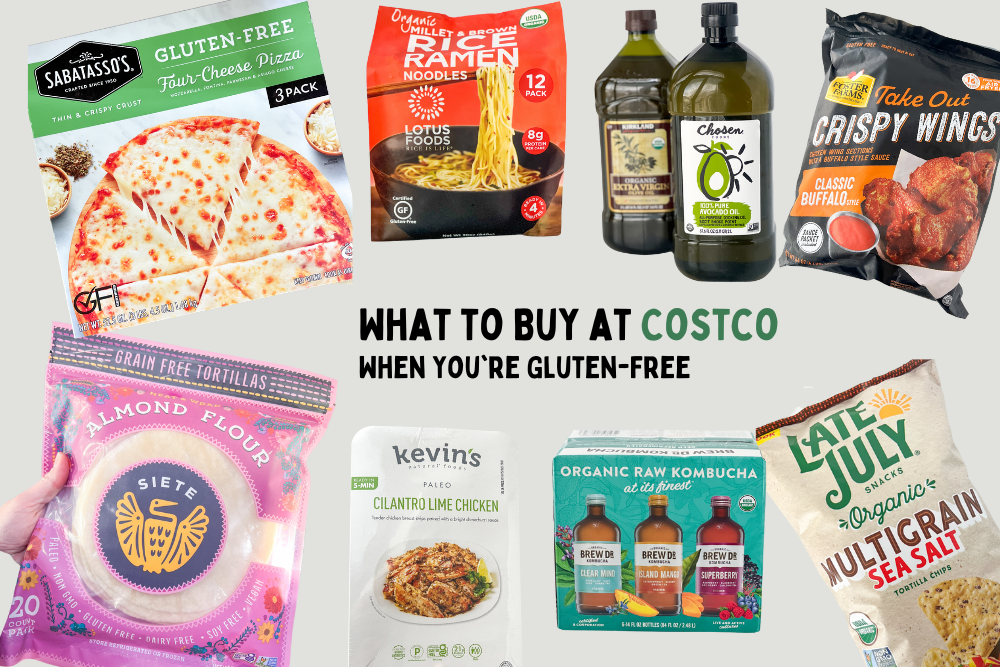 There are many gluten-free products to discover at Costco, making a membership worth its weight in gold. In this article, I share 22 of the best gluten-free products to buy at Costco. This post contains affiliate links. Please see my disclosures.
I love shopping at Costco because the grocery chain offers many gluten-free brands I know and love.
Its produce, meat, and fish are always fresh and affordable, which is a bonus given that gluten-free products cost double, sometimes triple, their wheat-based counterparts.
Costco also offers many organic foods, including organic meats, cheeses, fruits, vegetables, and products, making shopping at Costco even more spectacular.
And while you must skip the bakery aisle because nothing is gluten-free there, there are plenty of gluten-free products to find throughout the store.
Below I share 22 of the best gluten-free products to buy at Costco. These are the exact products I repeatedly buy, all of which are safe to consume when you have celiac disease or gluten intolerance.
Please note that every Costco is different, and stores change their merchandise often. Some of these brands may be available at your local Costco, but some won't. These are products I've been able to consistently find at my Costco near Denver.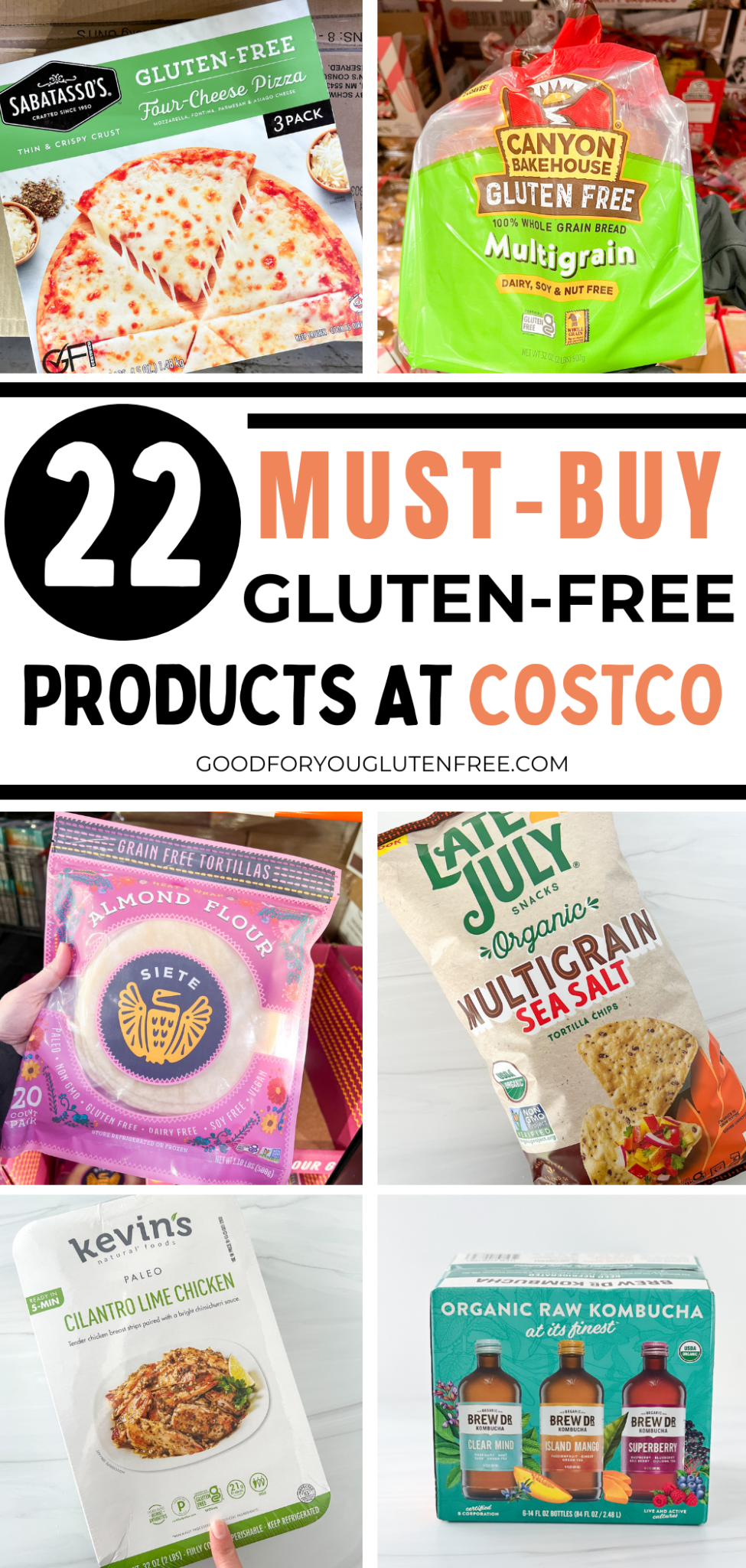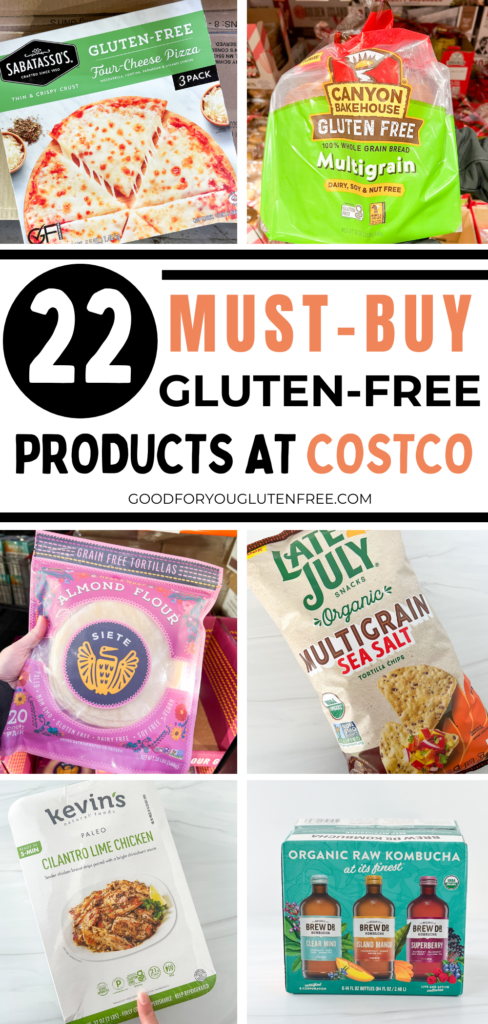 22 Best Gluten-Free Products to Buy at Costco
(1) Rotisserie Chicken: The Costco 3 lb rotisserie chicken is a steal at $4.99. I purchase one every visit and use it to make chicken soup or stock, chicken pot pie, or enjoy it throughout the week on top of salads.
The chicken is labeled "No Gluten." I also tested it with my Nima Sensor; this article shows how it fared.
(2) Kombucha: Kombucha is a sweet, fizzy beverage that contains beneficial bacteria and little sugar. I used to brew my own kombucha, but it requires a lot of upkeep. Costco always carries kombucha and offers it at a great price.
I've found Brew Dr., Humm, and Health-Ade at Costco at various times, and whatever they offer, I buy. A six-pack of Brew Dr. costs $11.99. At the grocery store, one bottle will run you $3.49.
(3) Avocado Oil: Avocado oil is expensive, but when you buy a giant jug of Chosen Foods avocado oil at Costco, it lasts a long time, and you get a lot of bang for the buck. I exclusively use avocado oil when cooking food. It's tasteless in baked goods and can safely fry at high heat.
Many vegetable oils become carcinogenic at high temperatures, but avocado oil is safe for heating up to 550º F. I use it to fry my jelly donuts, as well as to make breaded pan-fried chicken.
I also purchase Kirkland Extra Virgin Olive Oil for making homemade dressings and drizzling on salads.
(4) Canyon Bakehouse Bread: Gluten-free bread is expensive, but at Costco, you can purchase a two-pack of Canyon Bakehouse's Multi-Grain Gluten-Free Bread (in the stay-fresh packaging) for $8.99. The bread is shelf stable for months, and once you open it, place it in the freezer to avoid spoilage.
Costco is the only place I buy gluten-free bread these days. Some Costco locations carry gluten-free bread from Franz or Bfree bread.
(5) Foster Farms Buffalo Wings: I often prepare a package of Foster Farms Buffalo Wings on busy nights when I don't feel like cooking. They come out crispy and are extra spicy when tossed with the enclosed buffalo sauce packet.
I spend $60+ when we order wings from Wing Wok, so this is a steal at $17.99 for 4 lbs.
(6) Sabatasso's Gluten-Free Pizza: Another frozen food find that can't be passed up at Costco is Sabatasso's Gluten-Free Pizza. You can buy a three-pack of frozen pizzas for $14.99; the taste is excellent.
We also love Freschetta and other frozen pizza brands, but the cost of Sabatasso's three-pack at Costco can't be beat.
(7) Siete Tortillas: I used to buy (and love) Mikey's cassava flour tortillas, but the brand discontinued its grain-free tortillas, leaving me in the lurch to find something new.
Enter Siete almond flour tortillas. Costco sells them frozen for $11.89 for a 20-count package. I use them on taco night and for making snack-sized quesadillas and taquitos. I find, however, that while they taste delicious, they break easily.
(8) Late July Chips: We go through many tortilla chips in my house, and one of my favorites is Late July. You can buy a big bag for $8.89 and enjoy them for scooping up your favorite salsas or crumbling in chicken enchilada soup.
(9) Crunchmaster Crackers: Another favorite brand in our house is Crunchmaster, and I love that you can buy a huge box (28 ounces) of Crunchmaster multi-seed crackers for only $13.49. The package lasts us for months, and I use them when entertaining and in my kids' lunches.
The crackers work exceptionally well in my spinach and artichoke dip. Some Costco locations carry Simple Mills almond flour crackers, and I've also spotted Milton's and Mary's Gone Crackers gluten-free crackers.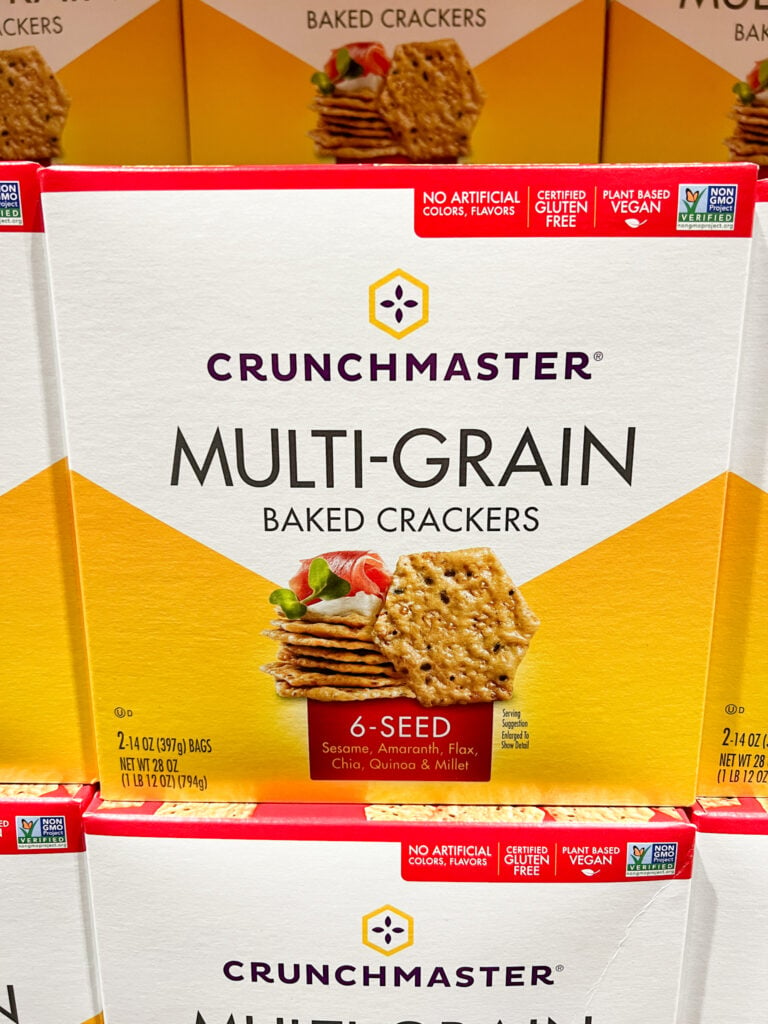 (10) Eggs: Eggs are naturally gluten-free, and we go through eggs like water in my house between eating eggs every morning for breakfast and testing various gluten-free recipes.
I also purchase hard-boiled eggs at Costco to send in my kid's lunches. They love egg salad and crackers, and I usually buy the Chosen Foods mayo at Costco too.
(11) Banza Chickpea Pasta: At $8.99 for 2.5 lbs, buying Banza Chickpea Pasta at Costco is a must. If you were to buy the equivalent amount at Walmart, it would cost $14.30.
(12) Bare Apple Chips: If you're craving a crunchy snack, you'll love Bare Apple Chips. I buy a big bag of them all the time to snack on. I love that Bare chips contain no added sugar. They're baked, not fried, and contain no artificial colors, flavors, or preservatives.
(13) Smoked Salmon: I find myself buying fresh salmon from Costco time and time again, especially when I'm entertaining and need a big slab of salmon. I also buy frozen tilapia, which is perfect for making fish tacos.
But one of the best deals at Costco is the Kirkland smoked salmon (lox), which is a steal at $23.99 for 24 ounces, much cheaper than anything you'll find at the grocery store or Trader Joe's.
(14) Lotus Food Rice Ramen: If you've missed ramen since you gave up gluten, don't fret. Lotus Foods makes brown rice gluten-free ramen that rivals any ramen you enjoyed when you used to eat wheat. The bag of ramen costs about $10 for 12 squares.
(15) Rice: I slowly but surely go through a 20 lb bag of rice at Costco. I entertain a lot, and I feed a hungry family of four, so one 20 lb bag of rice will last six months, but it might last for a year or two if you're cooking for a smaller crowd.
The rice is easy to store and doesn't spoil, and the price ($25) can't be beat. You can also buy individual portions of pre-cooked white or brown rice at Costco (Minsley Organic) for $9.49. And if you like quinoa, you can also stock up on a big bag of quinoa at Costco.
(16) Cheese: Costco's cheese selection is incredible, especially if you love cheese. I sometimes buy a brick of Parmigiano Reggiano or a wheel of brie. I always buy shredded Mexican and mozzarella cheeses to keep in the house for topping on eggs, tortillas, and homemade gluten-free pizza.
(17) Heavenly Hunks: Heavenly Hunks Organic Oatmeal Dark Chocolate Cookie chunks are soft, chewy, and delicious, and some Costco locations carry a big bag of them (22 ounces). These are perfectly sized for snacking.
(18) Kevin's Natural Foods: Kevin's makes ready-to-prepare refrigerated entrees that offer a clean ingredient list and make for a convenient lunch or dinner. My teenage son loves them and can prepare them himself.
Costco carries a variety of flavors, including Thai Coconut Chicken, Korean BBQ Chicken, Teriyaki Chicken, Cilantro Lime Chicken, and Mongolian Beef.
(19) Jelly Belly: As a guilty pleasure, I often add Jelly Belly jelly beans to my Costco cart. They're gluten-free (thank goodness!), and Costco sells a 4 lb container of mixed jelly bean flavors for about $20. As you can see, I've already enjoyed half of this container.
(20) Baking Essentials: If you love to bake (like me), you can stock up on a few baking essentials at a great price. And if you bake often, you'll go through these items quickly. I always buy sugar, raw honey, cacao powder, almond flour, vanilla, and various spices at Costco.
Unfortunately, my local Costco doesn't sell all-purpose gluten-free flour, although some locations (and Costco online) carry a six-pack of Namaste gluten-free perfect flour blend.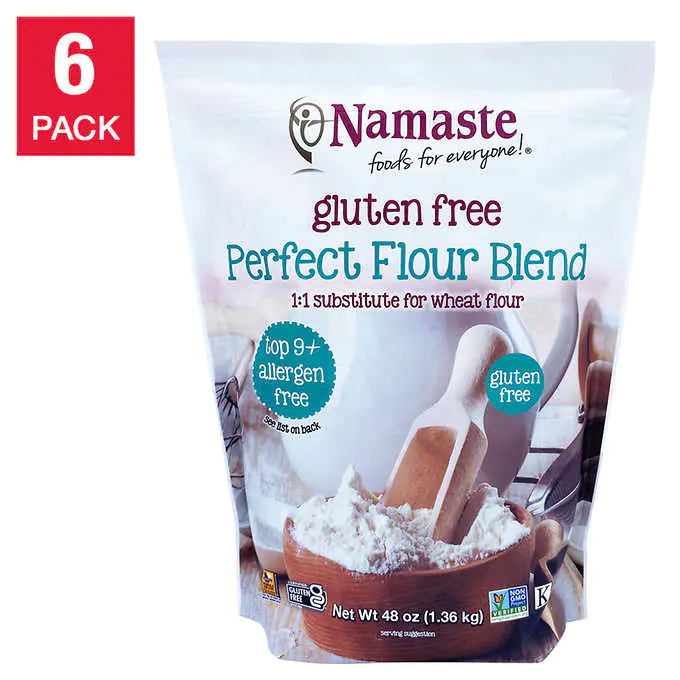 (21) Amylu Breakfast Sausages: I often buy a package of Amylu's breakfast sausages at Costco. These chicken breakfast lists are gluten- and pork-free, making for a tasty breakfast.
(22) Chicken and Vegetable Broth: The Kirkland Chicken Stock is "certified gluten-free" and an ingredient I often use to make soups and stews. I also stock up on the Culinary Treasures Vegetable Broth, labeled "gluten-free."
Other Items to Look for at Costco
Costco is constantly testing new items, many of which are gluten-free. I've spotted gluten-free pasta from Taste Republic, gluten-free soups from Boulder Organic, Hippeas chickpea snacks, Brazi Bites, and other specialty gluten-free items that Costco occasionally carries.
And don't forget the kitchen essentials because Costco offers excellent prices on air fryers, rice cookers, toasters, pots and pans, high-speed blenders, food processors, standing mixers, immersion blenders, and InstaPots. You can also stock up on aluminum foil, parchment paper, and freezer bags at Costco.
What other must-have gluten-free items have you found at Costco? Leave a comment to share!
Additional Reading
You might like these articles, too: