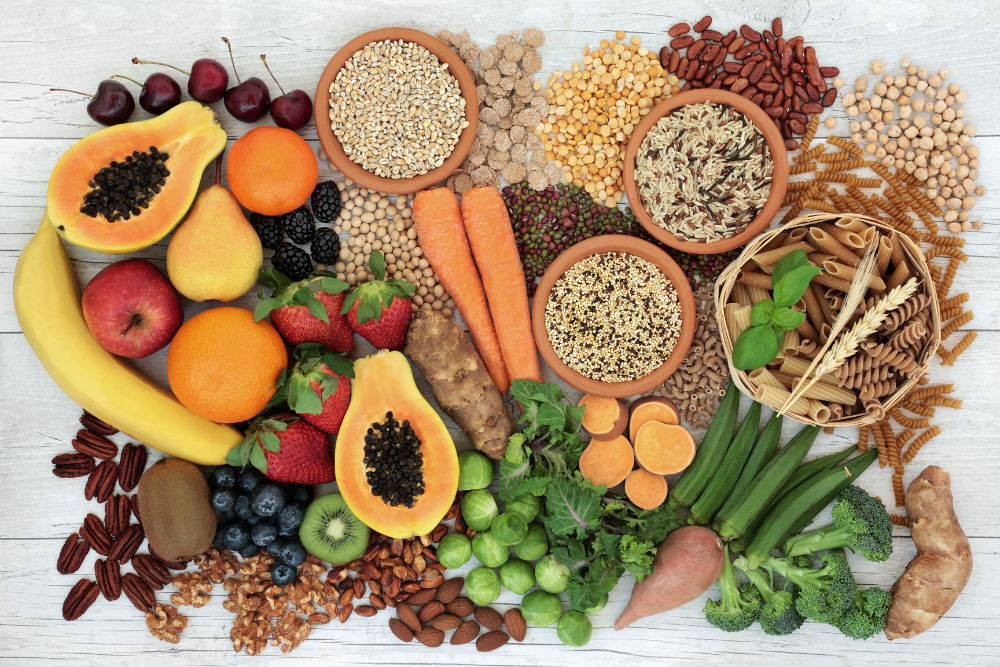 This article features a list of 50+ gluten-free foods that are also high in fiber. I also explain why fiber is essential to a healthy, gluten-free diet. Please see my disclosures.
Fiber matters, especially when you're on a strict gluten-free diet. Fiber is essential for lowering cholesterol, preventing heart disease, maintaining a healthy digestive system, and sustaining a healthy weight. You must eat plenty of high-fiber gluten-free foods daily if you have celiac disease or non-celiac gluten sensitivity.
I knew little about nutrition when I was diagnosed with celiac disease in April 2012. In my quest to feel normal, I filled my plate with gluten-free packaged foods. I ate gluten-free cookies, bread, and pasta, all products devoid of redeeming qualities and certainly no fiber.
I learned that many people suffering from celiac disease or gluten sensitivities also were not getting enough fiber in their diets. Mainstay high-fiber food sources, like wheat, rye, and barley, were now off-limits, robbing the gluten-free community of these common fiber sources.
In this article, you'll learn why adding high-fiber foods to your diet is important and which fiber-rich foods you can eat without sabotaging your gluten-free diet.
What is Fiber?
Fiber is a non-digestible carbohydrate that the enzymes in your body cannot fully break down. As a result, your body slowly digests fiber, which helps you feel fuller longer. Fiber is essential to helping you maintain a healthy weight and steady blood sugar.
In contrast, when you eat a non-fiber grain, like white rice flour, your body quickly converts the food to sugar. This leaves you with a spike in energy and then feeling hungry and tired shortly thereafter.
The nutrition community classifies fiber into two categories: soluble fiber and insoluble fiber.
Soluble fiber is the kind of fiber that turns to gel in water, like chia seeds, oats, flax seeds, and psyllium. Soluble fiber soaks up water and things like cholesterol and sugar as it runs through your digestive tract. It's responsible for helping your stools stay soft as they exit your bowels. Soluble fiber also is known to help lower your LDL cholesterol (your bad or "loser" cholesterol), which can help in the fight against heart disease.
Insoluble fiber, however, does not turn into a gel-like substance in water. It helps to get things moving through the digestive tract and adds bulk to your stool. Sources of insoluble fiber are found in vegetables and whole grains.
The best sources of fiber come from naturally gluten-free foods like fruits, vegetables, beans, legumes, nuts, and seeds. Whole grains like brown rice, buckwheat, sorghum, and certified gluten-free oats are also excellent sources of fiber.
Strive for at least 25-30 grams of fiber per day – the target amount is 14 grams for every 1,000 calories in your diet. Of course, you should adjust these amounts depending on your age, gender, lifestyle, and digestive strength.
For example, if you suffer from bloating and gas, perhaps gradually adding a little fiber to your diet over time will strengthen your digestive system as you build up a tolerance to higher fiber intake.
50+ High-Fiber Gluten-Free Foods
Below are some of the best high-fiber gluten-free foods that help to keep your digestive tract healthy and happy.
Fruits
Fruits offer a sweet way to enjoy your fiber. Fruit is perfectly packaged with the vitamins, minerals, and fiber your body needs to maintain good health. Leave the skin on fruits like apples to double your fiber intake, boost your nutrient load, and benefit from antioxidants like quercetin.
Apples
Avocados
Bananas
Blueberries
Blackberries
Mango
Pears
Persimmon
Pomegranates
Prunes
Raspberries
Strawberries
Vegetables
Vegetables offer one of the best sources of insoluble fiber, which adds bulk to your stool and helps food pass quickly through your digestive system. Vegetables are arguably among the healthiest foods you can eat. They offer a slew of vitamins and minerals essential for maintaining a healthy immune system and whole-body health.
Acorn squash
Artichoke hearts
Asparagus
Beets
Broccoli
Brussels sprouts
Carrots
Cauliflower
Collard greens
Corn
Eggplant
Jicama
Potatoes
Seaweed
Sweet Potatoes
Whole Grains
Whole grains contain plenty of fiber, vitamins, minerals, and other nutrients to keep you healthy; plus, they help you feel full and satiated. Whole grains contain all parts of the grain – the bran, germ, and endosperm. (The germ and brand, which are the fiber-rich components, are removed from refined grains.) Studies suggest whole grains help to lower bad cholesterol, insulin levels, and blood pressure.
Buckwheat
Oats (gluten-free)
Oatmeal (gluten-free)
Popcorn
Sorghum
Whole grain pasta
Nuts and Seeds
Nuts and seeds are excellent sources of plant-based protein, healthy fats, fiber, vitamins, and minerals. They help you feel full and support good digestion. Nuts and seeds are also good sources of omega-3 fatty acids (healthy fats), which experts suggest reduce inflammation throughout the body.
Almonds
Chia seeds
Flax seeds
Lima beans
Pecans
Pistachios
Pumpkin seeds
Sunflower seeds
Walnuts
Beans & Lentils
Beans and lentils are excellent sources of plant-based protein, fiber, vitamins, and minerals. Experts suggest that a diet rich in beans and legumes may reduce cholesterol, decrease blood sugar levels, and increase healthy gut bacteria. One cup of cooked beans or lentils will account for 60 percent of the recommended daily value of fiber.
Bean pasta
Black beans
Edamame/Soybeans
Garbanzo beans
Kidney beans
Navy beans
Peanuts
Pinto beans
Split peas
Got Fiber?
Something amazing happens when you add more fiber to your diet. You start eating healthier foods. Your bowel movements regulate. You may lose weight (or at least maintain your healthy weight). And last but not least, you may lower your LDL (loser) cholesterol to stave off heart disease.
Now you know fiber's role in keeping you healthy and what high-fiber gluten-free foods you can add to your diet. Now eat up!