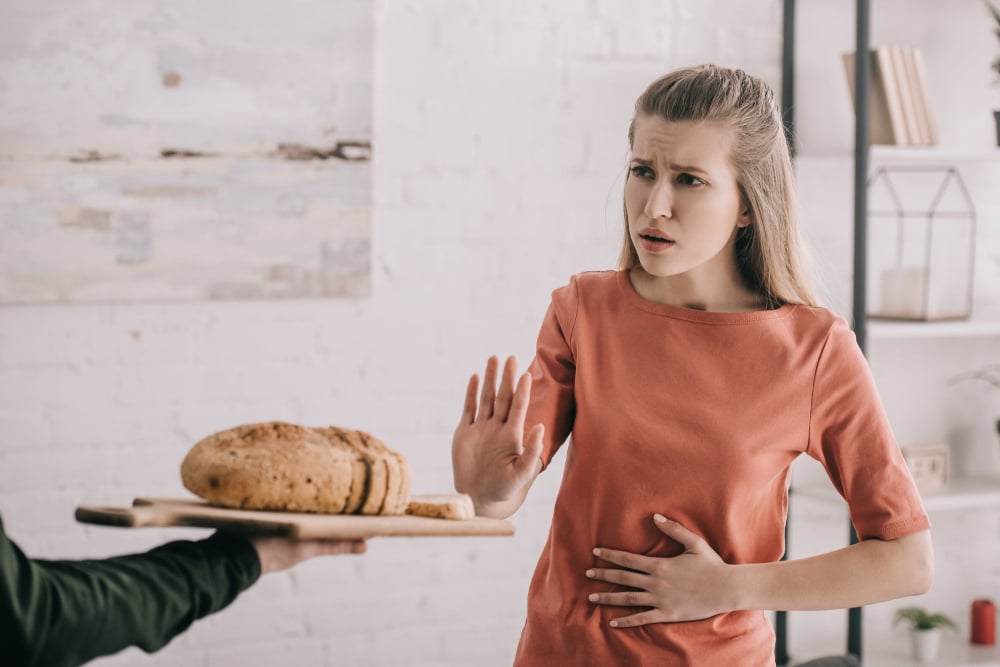 Gluten sensitivity (also called gluten intolerance) is often misunderstood and sometimes seen as a nonsense or non-serious disorder. This article will shed light on this disorder and help you discover if you have gluten sensitivity or how to find out if you do. Please note that, for all intents and purposes, I interchangeably use the terms "gluten intolerant" and "gluten sensitivity" as they mean the same thing. Information in this article should not be construed as medical advice. Please consult your doctor and/or health care team before implementing any diet. Please see my disclosures and disclaimers. This post contains affiliate links.
Experts estimate that a whooping 18 million people are affected by non-celiac gluten sensitivity, which is also known a "gluten sensitivity," or "gluten intolerance."
In comparison, celiac disease, which is an autoimmune disease where a person's body attacks itself every time he or she consumes gluten, affects 3 million people or 1 percent of the population.
There isn't a lot of research on gluten disorders beyond celiac disease; however, just because the research isn't there (yet), doesn't mean it's not a real disorder and that it's all in your head as some doctors would have you believe.
Unfortunately, research has been slow to catch up to the information crowdsourced by people who have successfully implemented a gluten-free diet and found symptom resolution.
In fact, researchers are just starting to understand gluten sensitivity, its symptoms, how to test for it, and how to fully manage the disorder. In this article, we'll discuss:
Symptoms of gluten sensitivity
The differences between celiac vs. gluten sensitivity
Gluten sensitivity tests and diagnostics
Treatment options
Symptoms of Gluten Sensitivity
When someone has a gluten sensitivity, they typically feel some sort of gastrointestinal symptoms triggered by the consumption of gluten. However, not all symptoms may be GI related; in fact, there are hundreds of potential symptoms triggered by gluten sensitivity.
Common symptoms associated with a gluten intolerance include:
Gastrointestinal disorders such as bloating, gas, constipation, diarrhea, etc.
Energy issues, such as anemia, chronic fatigue, low iron, weakness, low blood sugar, etc. A wonky thyroid can also be tied to energy issues.
Skin conditions, such as dermatitis herpetiformis, keratosis pilaris, acne, eczema and psoriasis.
Brain disorders such as depression, ADHD, migraines, anxiety and autism.
Oral conditions, such as mouth sores, cavities, canker sores and geographic tongue.
Fertility issues, such as infertility, irregular menstrual cycles and premature births.
Joint pain, such as stiffness and arthritis.
Delayed puberty, or failure to thrive and short stature in children.
While someone with gluten sensitivity doesn't experience an autoimmune reaction when he or she consumes gluten, a protein found in wheat, barley, rye and sometimes oats, it's certain that gluten is what is causing inflammation in their bodies, and inflammation fuels disease.
Dr. Tom O'Bryan, in his pioneering book about autoimmune disease, The Autoimmune Fix, says that gluten sensitivity is a precursor to celiac disease and/or a slew of diseases including autoimmune disease, diabetes, cancer and more.
He says, "Excessive inflammation pulls on your chain, and wherever the weak link in your health chain is, that's where the tissue damage will occur."
Celiac Disease vs. Gluten Sensitivity
Celiac disease is an autoimmune disease where gluten triggers the body's immune system to attack the lining of the small intestine.
Non-celiac gluten sensitivity is not an autoimmune disease; however, gluten triggers a chronic state of inflammation in the small intestine instead, and its symptoms are similar – even identical – those with celiac disease.
People with a gluten sensitivity tap into their innate immune system. Innate immunity is your body's first defense against foreign invaders that want to attack your cells, such as viruses, bacteria and parasites. Your innate immunity occurs naturally, as it's "innate." In order for a pathogen to attack your cells, it's going to have to get past your innate immune response first.
On the other hand, people with celiac disease experience an adaptive or acquired immune system response to gluten over time. Adaptive immunity is your body's second line of defense against invaders and is much more complex. Once an invader (gluten) is introduced in the body, the adaptive immune system creates an army of immune cells designed to attack that specific antigen. The immune system remembers those antigens so it can initiate future attacks more efficiently.
I discuss, in detail, the differences between Gluten Intolerance vs. Celiac Disease in this article.
Gluten Sensitivity Tests
Diagnosing someone with a gluten intolerance is challenging, and there seems to be no consensus on how to do it or if any reliable tests exist. Dr. Stefano Guandalini says that no antibodies in the blood are specific enough to test for sensitivity.
Again, the research isn't fully there (yet), but please don't mistake "non-existent" research with a "non-existent" disorder. A gluten sensitivity is a serious disorder with dire consequences if not properly treated and managed.
If you believe gluten is at issue with your body, it's wise to first get tested for celiac disease. You can learn more about getting tested for celiac disease in this article.
A test for celiac disease is a simple blood test, which is highly accurate. You can request the test from your doctor, or take this at-home celiac disease test and then discuss the results with your doctor.
If the test is positive, your doctor will likely recommend doing an endoscopy procedure where he or she can biopsy and examine your small intestine.
Your doctor is looking for total villous atrophy or flattened villi, which are the hair-like follicles surrounding the small intestine responsible for nutrient absorption and distribution. If you had a positive celiac disease blood test, it's likely the doctor will see damaged intestines congruent with celiac disease during the biopsy examination.
If you have a negative blood test, and have fully ruled out celiac disease, yet, you still think gluten is up to no good in your body, you have a few options.
(1) Gluten Sensitivity Tests
First, you can consider getting tested for non-celiac gluten sensitivity, however, there is no consensus in the gluten-free nor medical communities about the right test, or the reliability of such tests either.
That said, Cyrex Labs has developed a test that screens 12 different components of wheat know to cause inflammation, which can lead to celiac disease or other autoimmune disorders. Talk to your doctor about ordering the Cyrex Array 3 test or learn how you can order it directly on this website. The Cyrex Array 3 test also tests you simultaneously for celiac disease.
Another test to consider is the Wheat Zoomer test. The test will look for antibodies to wheat peptides – including gluten and non-gluten components, along with antibodies that may indicate intestinal permeability (aka, leaky gut).
Unfortunately, I hear about patients' struggles to get the test(s) they need to figure out if gluten sensitivity is at play in their bodies. Some can't afford the Cyrex Array 3 test or Wheat Zoomer test without insurance. Others say they are "talked out of" taking any test because either their doctor doesn't think gluten sensitivity is a real disorder, or because the testing methods are still fledgling. Fair enough.
(2) Elimination Diet
Once you've ruled out celiac disease, and regardless if you got your hands on a non-celiac gluten sensitivity test, you may want to consider implementing an elimination diet.
An elimination diet is where you remove gluten (or other suspect food) from your diet for 4-6 weeks, then reintroduce it and see how you feel. You must remove gluten fully from your diet – 100 percent – not even a crumb.
It's wise to work with a trained nutrition professional to help you plan meals and help you stick to your diet, which is easier said than done. (A great resource to getting started is my free sample celiac disease meal plan.)
For some people, the impact of reintroducing gluten after 4-6 weeks will be sudden. They may feel flu-like symptoms, or their joint pain or stomach aches will come back with a vengeance. For others, symptoms, if resolved by the gluten-free diet, may reemerge slowly or show up on an abnormal thyroid test later in the year, for example.
If eliminating and reintroducing gluten doesn't resolve anything, perhaps it's time to consider that gluten is not the root cause of your digestive distress, and perhaps there is something more at play. Talk to your doctor about getting tested for other disorders, particularly candida, SIBO, Irritable Bowel Syndrome (IBS), or fructan intolerance.
Treatment Options
The only way to treat gluten sensitivity is via a life-long strict, gluten-free diet. This means you must eliminate all sources of wheat, barley, rye, spelt and some oats from your diet.
If a 4-6 week elimination of gluten doesn't help, or only mildly resolves the symptoms, you may want to consider going on a low FODMAP diet to see how you feel, particularly if you have IBS.
FODMAP is an acronym that stands for "fermentable oligosaccharides, disaccharides, monosaccharides, and polyols." FODMAPS are short-chain carbohydrates and sugar alcohols found primarily in wheat, as well as in other foods. They are not easily digested, which often leads to bloating, gas and other GI symptoms similar to gluten sensitivity.
High FODMAP foods that should be avoided include but are not limited to:
All wheat, barley and rye products
All dairy products
Beans and lentils
Some vegetables, including artichokes, asparagus, Brussels sprouts, mushrooms, onions and garlic
Some fruits, including apples, cherries, pears, watermelon, dates and peaches
Sweeteners like honey, high fructose corn syrup and xylitol
Nuts such as pistachios
Low FODMAP foods include but are not limited to:
Meat
Dairy-free alternatives
Nuts such as almonds, cashews and peanuts
Eggplant, potatoes, tomatoes, cucumbers and zucchini
Grapes, oranges, strawberries, blueberries and pineapple
Sweeteners like maple syrup, molasses, and stevia
Work with a nutrition professional to help you eliminate FODMAPs, and then reintroduce them to your diet, slowly, to see if any high FODMAP foods might be the root cause of your digestive distress.
Before You Go
Before implementing a gluten-free diet, please get tested for celiac disease. It is essential that you "rule out" celiac disease before eliminating gluten from your diet as you must be eating gluten in order for a celiac disease test to be accurate.
If you've already implemented a gluten-free diet, and want to get tested for celiac, read my article about whether you should take the Gluten Challenge, where you reintroduce gluten to your diet for a period of time.
Regardless, please take away from this article that gluten sensitivity is a serious disorder, and is considered a precursor to celiac disease and other autoimmune diseases.
Weigh all your options carefully, talk to your doctor, and work with a nutrition professional to help you get to the bottom of your gluten sensitivity (or whatever it is that is bothering you).
Additional Reads