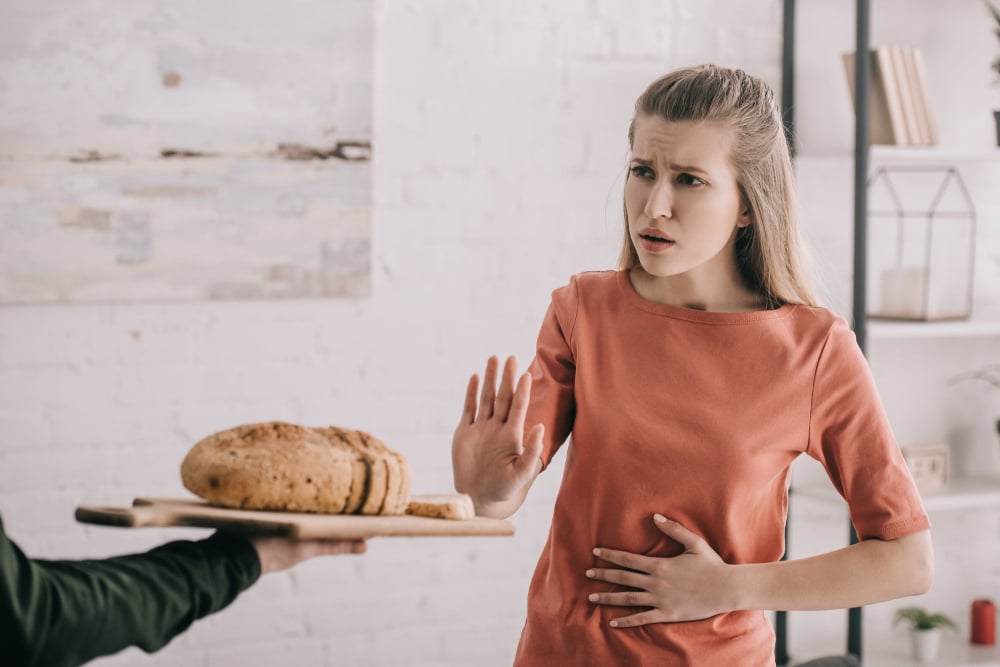 Gluten intolerance, also known as non-celiac gluten sensitivity, is an often misunderstood disorder and there's a lot of confusing and contradictory information on the Internet. This article will shed light on this serious disorder and help you figure out if you have a gluten intolerance. Please note that the terms "gluten intolerance" and "gluten sensitivity" are used interchangeably because they mean the same thing. Please see my disclosures and consult your doctor before making changes to your diet. This post contains affiliate links.
Experts estimate that a 18 million people are affected by a disorder known as non-celiac gluten sensitivity, which is commonly referred to as "gluten sensitivity" or "gluten intolerance." People with gluten intolerance cannot eat gluten, a protein found in wheat, rye, barley and sometimes oats.
It's important to note that non-celiac gluten sensitivity may be a bit of a misnomer, as many people with gluten sensitivity actually have wheat sensitivity. This means they have an issue with various components of wheat, including but not limited to the gluten protein.
Celiac disease, an autoimmune disease where a person's immune system mistakenly attacks the healthy tissue surrounding the small intestine every time a person eats gluten, affects only three million people or one percent of the population.
Unfortunately, despite the large size of people considered gluten intolerant these days, the research on gluten disorders continues to center around celiac disease, one of the most understood researched diseases today. Celiac disease is the only autoimmune disease in which the trigger (gluten) is known.
That said, one should not mistake lack of research for lack of disorder. Gluten sensitivity is a very real disorder that can lead to dire consequences if not treated properly.
One promising study that validates the role of gluten in people with autoimmune disease came in 2022 from one of the leading autoimmune doctors in the world, Dr. Yehuda Shoenfeld. Dr. Schoenfeld, and a team of researchers, found that the gluten-free diet can ameliorate the symptoms of non-celiac autoimmune diseases in nearly 80 percent of all cases!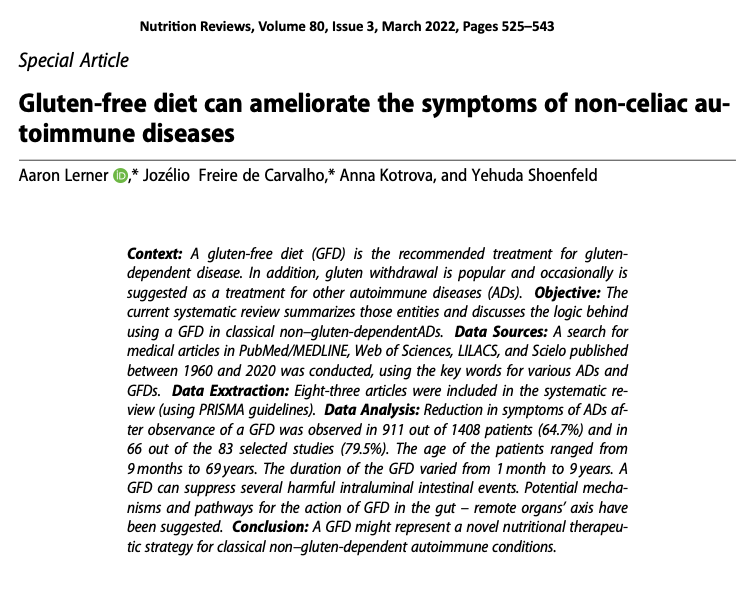 Furthermore, an earlier study from a team of researchers lead by one of the leading celiac disease researchers in the world, Dr. Alessio Fasano, found that gluten causes inflammation in all humans, not just people with celiac disease. These researchers found that gluten consumption can lead to intestinal permeability or leaky gut in a large percentage of the population.
The research is finally starting to explain what people with non-celiac gluten sensitivity have known all along… and that is that gluten is up to no good and causes very real issues in people who cannot tolerate the protein and/or wheat.
In this article, you'll gain insight into gluten intolerance so you can better understand the disorder and how you can get tested.
Symptoms of Gluten Intolerance
Gluten intolerance comes with a slew of symptoms similar to those with celiac disease. While a lot of people experience classical symptoms, like gastrointestinal symptoms triggered by the consumption of gluten, a large number of people don't experience any chronic GI issues at all.
It's important to note that just because you don't have GI symptoms such as bloating, gas, constipation, and/or diarrhea, it doesn't mean you don't have an issue with wheat. Some of the more common non-GI issues associated with a gluten intolerance include:
Energy issues

: Energy issues can be the result of chronic gut inflammation. Such inflammation can lead to nutritional deficiencies, low iron or anemia, chronic fatigue, and low blood sugar issues.

Thyroid disease: Hyper- and hypo-thyroid issues can be the sign of a gluten intolerance. Many people with Hashimoto's or Graves disease cannot tolerate wheat.
Skin conditions

: While

dermatitis herpetiformis

, an itchy skin condition known as "celiac of the skin" is the sign of celiac disease, other skin conditions such as keratosis pilaris,

acne

, eczema and psoriasis

have been helped with a gluten-free diet.
Brain disorders: A wheat disorder can often manifest in the brain in the form of memory issues, depression, ADHD, migraines, anxiety and autism.
Oral conditions: Many people don't realize that inflammation in the gut can affect the mouth. Various mouth sores, cavities, canker sores and geographic tongue can all be the sign that something isn't right in the gut.
Fertility issues: Unfortunately, gluten can cause gut issues, which can affect hormone regulation that leads to infertility, irregular menstrual cycles and premature births.
Joint and muscle pain: Many people in the gluten-free community who experience joint and muscle pain find their symptoms improve with the gluten-free diet.
On top of it all, anyone with an autoimmune disease, more likely than not, has an issue with wheat. Dr. Tom O'Bryan says in his pioneering book about autoimmune disease, The Autoimmune Fix, that gluten sensitivity is simply a precursor to celiac disease, autoimmune disease, diabetes, cancer, heart disease and other serious conditions.
He says, "Excessive inflammation pulls on your chain, and wherever the weak link in your health chain is, that's where the tissue damage will occur." In other words, if your skin, for example, is where you're genetically predispositioned for disease, a gluten sensitivity will rear its ugly head in the form of a skin condition.
Dr. O'Bryan also says that anyone who has an autoimmune disease, or early symptoms of an autoimmune disease, likely has a wheat sensitivity that will only worsen until the person removes gluten and wheat from their diet.
How to Get Tested for Gluten Intolerance
Before getting tested for gluten intolerance, it's important to first rule out celiac disease for a number of reasons I detail in my article, STOP! Don't Go Gluten Free Until You Read This Article. You can get tested for celiac disease with this reliable and convenient at-home celiac disease test.
If you've ruled out celiac disease but believe you still have an issue with gluten or wheat, then it's time to look to other diagnostic measures.
Unfortunately, diagnosing someone with a gluten intolerance is challenging because there isn't a firm consensus on how to do it and many doctors are in the dark about current testing protocols.
However, there is one test, the Wheat Zoomer test, that Dr. O'Bryan recommends that may be the magic bullet test the gluten sensitivity community has been hoping for.
Wheat Zoomer is a simple blood test that can determine if your body is making antibodies to wheat peptides – including gluten and non-gluten components to determine if you have a gluten or wheat sensitivity. It also looks for antibodies that indicate the presence of intestinal permeability, wheat allergy, celiac disease, wheat germ agglutinin-related vitamin D deficiencies, gluten ataxia and other neurological symptoms, and dermatitis/eczema (skin-related disorders).
If testing for gluten sensitivity isn't in your budget, or your doctor is uncooperative in ordering the test for you, then you can take matters into your own hands and do a simple elimination diet. You may not have diagnostic proof of a wheat-related disorder, but you don't need a document to know you have an issue with wheat.
An elimination diet requires you to remove gluten and all wheat products from your diet for 4-6 weeks, then slowly reintroduce gluten and wheat to see how you feel. Remember, you must remove all gluten and wheat from your diet as even a crumb can undo all your progress.
During this time, you're looking to see if your symptoms resolve. Are you experiencing less bloating and gas? Have your skin condition, migraines, and/or joint pain issues resolved or lessened? Do you have more energy?
It's wise to work with a Certified Gluten-Free Practitioner to help Implement and stick to the gluten-free diet, which isn't an easy feat.
After 4-6 weeks, you can reintroduce gluten. For some people, reintroducing gluten will hit them like a ton of bricks and make them feel awful. Others may feel fine at first, but then 2-4 months later, their thyroid begins to act up or their skin rash comes back.
Truly, the best way to know if your symptoms resolve is by testing upfront with the Wheat Zoomer test, and then retesting again six months later to see if your antibody levels dropped. Again, a trained Gluten-Free Practitioner can help you with this.
If eliminating and reintroducing gluten doesn't resolve anything, it's important to consider that gluten may not the root cause of your chronic disorder(s) and perhaps there is something more at play. Consult your doctor about getting tested for other disorders, particularly candida, SIBO, Irritable Bowel Syndrome (IBS), and/or a fructan intolerance.
Treating Gluten Intolerance
A lot of people with gluten intolerance don't realize that the gluten-free diet is a lifelong treatment, and that there's no such thing as a "low gluten" diet.
In fact, Dr. O'Bryan says that your immune system creates memory B cells to wheat. That means it remembers wheat and will react to wheat every time it's present in your body, similar to a vaccine.
For example, if you've received the measles vaccination, your immune system remembers measles and is trained to respond and attack the disease if it enters your body. The same happens when your immune system spots wheat; the memory B cells remember wheat and it makes antibodies to attack it.
The only way to treat a gluten intolerance is with a lifelong, strict gluten-free diet. This means you must eliminate all sources of wheat, barley, rye, and some oats from your diet for the long haul without exception.
To get started on the gluten-free diet, please read my Beginners Guide to Gluten Free and order my book, Dear Gluten, It's Not You, It's Me.
Additional Reading