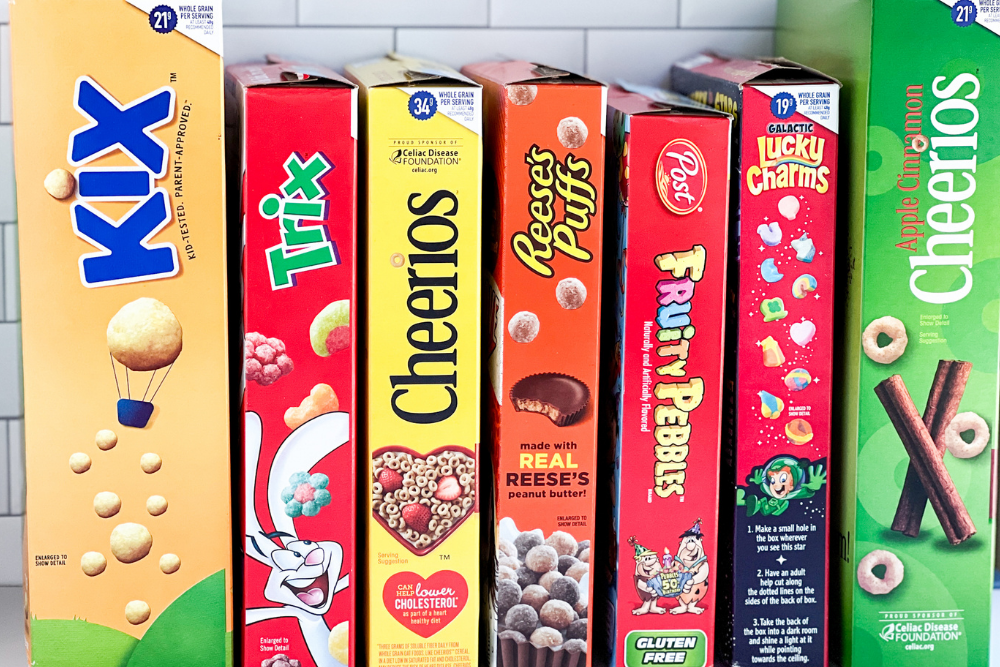 Are you looking for a list of gluten-free cereals? I've researched and tested several cereal brands for hidden gluten, including Lucky Charms, Cheerios, Kix, Fruity Pebbles, and more. I also discuss if Cheerios are gluten-free and why some people choose to [potentially unnecessarily] avoid them. This post contains affiliate links. Please see my disclosures.
Have you ever wondered which of your favorite cereal brands are still safe to eat now that you're on a gluten-free diet? Is Raisin Bran gluten-free? And what about Special K, Crispix, and Cocoa Pebbles?
In this article, I share what each of the mainstream cereal brands says about gluten, and I put several brands to the hidden gluten test with my Nima Sensor (more on that in a bit).
People with celiac disease and gluten sensitivities cannot eat gluten, a protein found in wheat, barley, rye, and sometimes oats. Gluten destroys the lining of the small intestine in people with celiac disease, causing nutritional deficiencies and a slew of symptoms that lead to other disorders. It also creates inflammation and leaky gut in the 18 million people suffering from non-celiac gluten sensitivity.
While gluten is clearly found in many brands of cereals you love, like Frosted Mini Wheat (duh, wheat is in the title), it's not so clear if it's found in products that do not include wheat, barley, or rye.
I decided to investigate all the questionable cereals to see if they were gluten-free or full of gluten. My results are detailed below.
How I Determined if a Cereal is Gluten-Free
To determine if a cereal is gluten-free, I looked at the following criteria:
(1) I looked for gluten-free labeling on the packaging: Does it bear any "gluten-free" claims directly on the packaging itself?
(2) I inspected the ingredient list: Does the ingredient list contain any red flag ingredients, such as wheat, barley, rye, oats, or derivatives of these ingredients, such as malt (barley)?
(3) I conducted additional research online: I researched each cereal brand online, looking at the company's FAQs and emailing the company directly if needed.
(4) I tested it with my Nima Sensor: Finally, I used my Nima Sensor to test each cereal if I thought the cereal appeared to be gluten-free. I didn't test cereals that clearly contained gluten.
What's a Nima Sensor?
Nima Sensor is a portable gluten-detecting device that allows you to test a small portion of your food for hidden gluten.
If the device displays a smiley face, it means the portion tested does not contain gluten. If you see a wheat symbol and a "Gluten Found" message, it means it contains gluten. You can learn more about the pros and cons of using a Nima Sensor in my article, What You Need to Know About Nima Sensor Before You Buy.
I only used my Nima Sensor to test cereals that appeared to be gluten-free, e.g., they did not contain any gluten or disclaimers that hinted that they might contain gluten. For example, Cocoa Puffs does not appear to have any gluten ingredients; however, the bottom of the ingredient label says, "May Contain Wheat Ingredients." Therefore, I would not eat or test this cereal.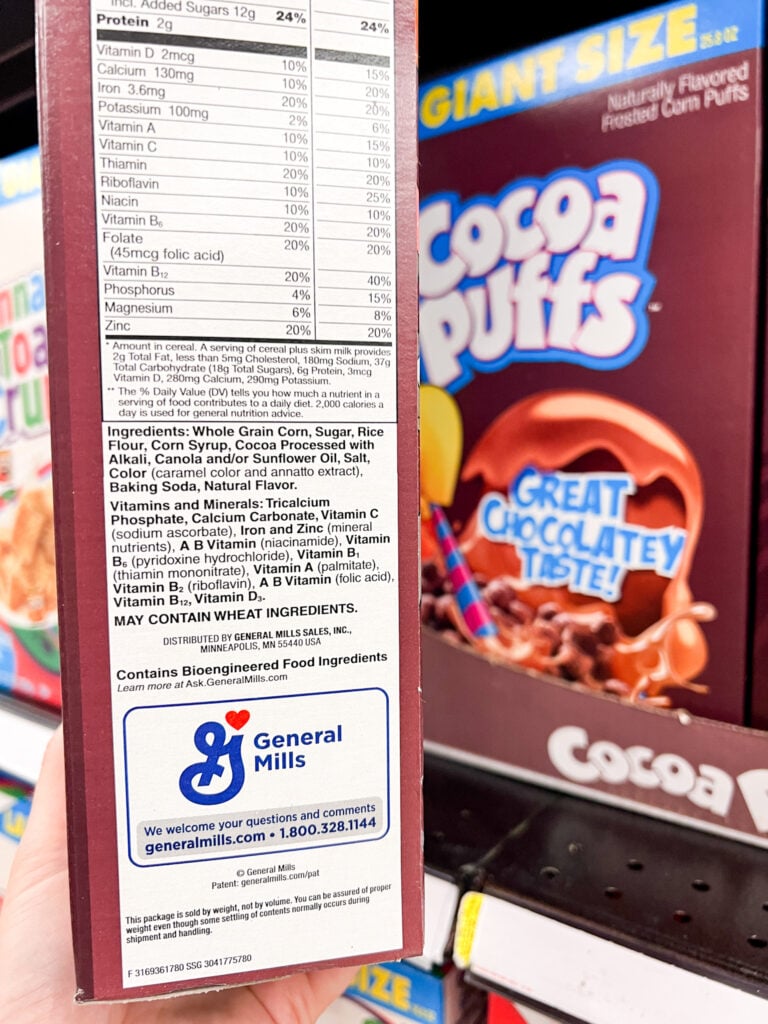 You can click on any of the links below to automatically redirect to the cereal in question or scroll down to see how each cereal performed.
Are Cheerios Gluten Free?
There's a lot of confusion in the gluten-free community about Cheerios and whether or not the cereal is gluten-free and safe to eat.
I will first share why many people in the gluten-free community consider Cheerios a safe, gluten-free option, then discuss why some don't.
Why Some People Say Cheerios are Safe for People on a Gluten-Free Diet
Many people in the gluten-free community choose to eat Cheerios and feel fine doing so. I applaud people for making their own decision about what they feel comfortable eating. Sometimes the gluten-free community unnecessarily restricts itself from generally eating safe foods.
Here are a few reasons Cheerios might be safe to eat on a gluten-free diet:
(1) It's Labeled Gluten-Free: First, Cheerios are labeled gluten-free, which means the company has verified it contains less than 20 ppm of gluten per the FDA's labeling guidelines. It could not be labeled gluten-free if it contained more gluten than the 20 ppm gluten threshold.
(2) The Celiac Disease Foundation Endorses Cheerios: The packaging says Cheerios is a "Proud sponsor of the Celiac Disease Foundation." This means the Celiac Disease Foundation accepts money from Cheerios, which can be interpreted as an endorsement from the organization. If the organization found that Cheerios wasn't safe for the gluten-free community, it would be highly unethical for the organization to accept money from General Mills.
The Celiac Disease Foundation's Medical Advisory Board says it has "no evidence that General Mills gluten-free cereals are not safe for celiac consumption." And the owner of Celiac.org talks about how General Mills would have opened itself up to a slew of litigation if wasn't testing its products correctly.
Personally, I'm waiting for the data that shows what – if any – percentage of Cheerios contains gluten above 20 ppm. I think it's been seven years since Cheerios became gluten-free, and I imagine someone would have found something awful by now if Cheerios was as dishonest as the gluten-free influencers say. In the meantime, the lingering anti-Cheerios sentiment will likely deter other large companies from entering the gluten-free fray.
(3) Nima Smiles: Third, I independently tested Cheerios for hidden gluten, and Nima didn't detect any gluten (a smiley face means no gluten was found). (Editor's Note: I've tested Cheerios four times over the years, and Nima has never found gluten.) Of course, this is how my Cheerios tested and may not be how your box of Cheerios tests.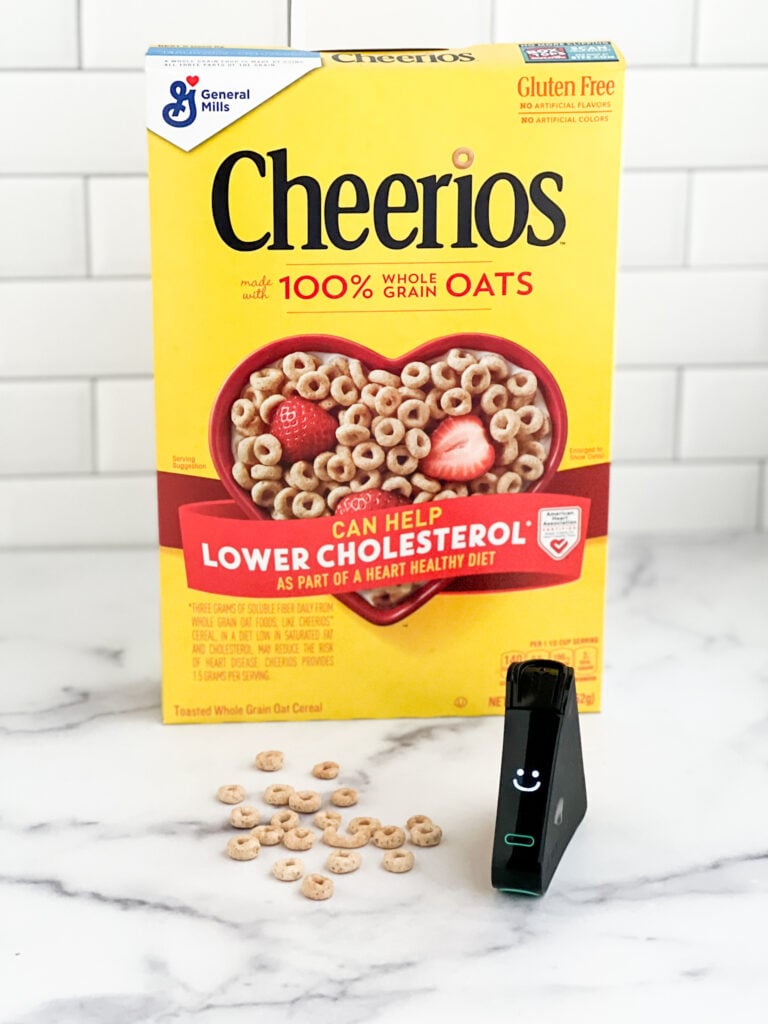 Why Some People Say Cheerios are NOT Safe for People on a Gluten-Free Diet
Some people in the celiac disease community are wary of Cheerios. I'm skeptical, although I think that feeling has waned with time. I've personally enjoyed Cheerios occasionally, although I'm not much of a cereal person. Here's why some gluten-free people shun the cereal brand:
(1) Cheerios Uses Commodity Oats: Some people in the celiac disease community are skeptical of Cheerios because General Mills uses "commodity" vs. purity oats. Oats, while naturally gluten-free, are cross-contaminated with wheat during harvesting and manufacturing.
Commodity oats are optically or mechanically sorted to separate the oat grains from non-oat grains, and the oats are washed to remove any gluten dust. Commodity oats are used by companies that require large quantities of oats to manufacture their products. General Mills, Quaker, Bob's Red Mill, Oreo, and other companies use commodity oats without issue.
On the other hand, purity oats are grown on dedicated oat fields free from wheat contamination. They are more expensive and harder to find in large quantities.
Regardless of how the oats are grown, a company should test the product for gluten throughout the manufacturing process. Even purity protocol oats contain gluten, as shown by the GF Harvest debacle. Read more about oats in my article, Are Oats Gluten Free? Unpacking Confusing and Contradictory Information.
(2) The Gluten-Free Watchdog Says So: Another reason people in the gluten-free community are scared to eat Cheerios is based on The Gluten-Free Watchdog's recommendations. She says that General Mills uses unsatisfactory testing to determine if each batch of Cheerios contains gluten.
To explain, she says Cheerios takes the "mean" test results from 12-18 boxes of Cheerios made in a 24-hour period. This means some of the boxes may contain detectable levels of gluten, while others won't. Instead of discarding the batches with detectable levels of gluten, she says General Mills will average the test results from all 12-18 boxes (taken from different lots) to determine the mean amount of gluten. If the mean is less than the FDA's threshold of less than 20 ppm of gluten, all the batches tested will be labeled "gluten-free."
While the testing method isn't satisfactory to some people in the gluten-free community, it doesn't mean that Cheerios aren't gluten-free; it just means that Cheerios isn't testing the boxes in a consistent way, which can [potentially] lead to some boxes of Cheerios containing a higher concentration of gluten while others contain no gluten at all.
Ironically, The Gluten-Free Watchdog recommends against using the Nima Sensor to test Cheerios because Nima can only test a small sample size of the cereal, which is true but not the whole story. Nima cannot test an entire box for hidden gluten (no testing method can), and it's one of the device's many limitations. But Nima gives you a pretty good indication of whether the box you're about to eat contains gluten.
Remember that Nima tests the ACTUAL food you're about to eat. If you purchase testing data from a third party, you only see how the food they're eating fared; such tests say little about the food you're about to eat.
My opinion: There's no need to throw shade at Nima in an important discussion about Cheerios. It has nothing to do with Nima.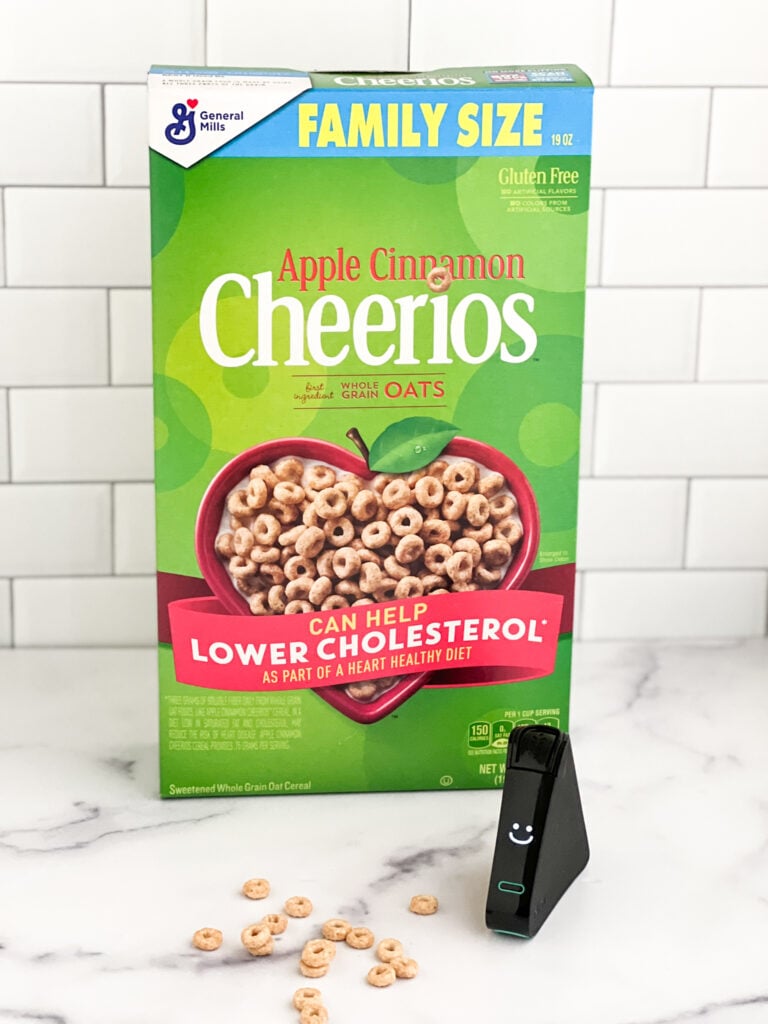 (3) The Big Cheerios Recall: Finally, people distrust Cheerios because it had to recall nearly 2 million boxes of cereal contaminated with wheat. The distrust in the company ensued, and many people with celiac disease swore off the brand.
The Bottom Line on Cheerios
I believe everyone in the gluten-free community should decide if they want to eat Cheerios and shouldn't be judged or admonished for those decisions.
My Ted Talk on Cheerios offers a little perspective on the one-sided conversation taking over social media and Facebook support groups. It allows you to make your own decision about Cheerios, Nima, and everything in between.
Remember, some information from "experts" recommending against Cheerios might cause unnecessary restrictions and anxiety for the already restricted gluten-free community. Read Can You Be Too Gluten-Free? How to Balance Dietary Vigilance Without Losing Your Mind to learn more about this topic.
If I'm at a friend's house, and they offer me Cheerios for breakfast, I will eat them because they bought them for me.
Only Some Cheerios are Gluten-Free
Please note that not all Cheerios are labeled gluten-free. If you decide Cheerios are right for you (no judgment from me), you must look for the "gluten-free" label on the packaging. The current flavors listed as gluten-free include:
Apple Cinnamon Cheerios
Banana Nut Cheerios (limited edition)
Blueberry Cheerios
Chocolate Cheerios
Chocolate Strawberry Cheerios (limited edition)
Cinnamon Cheerios
Honey Nut Cheerios
Frosted Cheerios
Fruity Cheerios
Maple Cheerios
Multi-Grain Cheerios
Peach Cheerios (limited edition)
Pumpkin Spice Cheerios (limited edition)
Toasted Coconut Cheerios
Very Berry Cheerios
Also, all Cheerios found in Canada are NOT labeled gluten-free. This information is for U.S. readers only.
Is Chex Gluten-Free?
One cereal brand that is proud to be gluten-free is Chex. The "Gluten-Free" label is written in large print across most Chex cereal boxes.
You can enjoy all Chex cereals except for the Wheat Chex. Looked for boxes labeled "gluten-free" to ensure you're buying one of the gluten-free varieties.
Gluten-free Chex varieties include:
Apple Cinnamon Chex
Blueberry Chex
Chocolate Chex
Cinnamon Chex Cereal
Corn Chex
Honey Nut Chex
Rice Chex
Vanilla Chex
I did not test Chex for hidden gluten because it is labeled "gluten-free."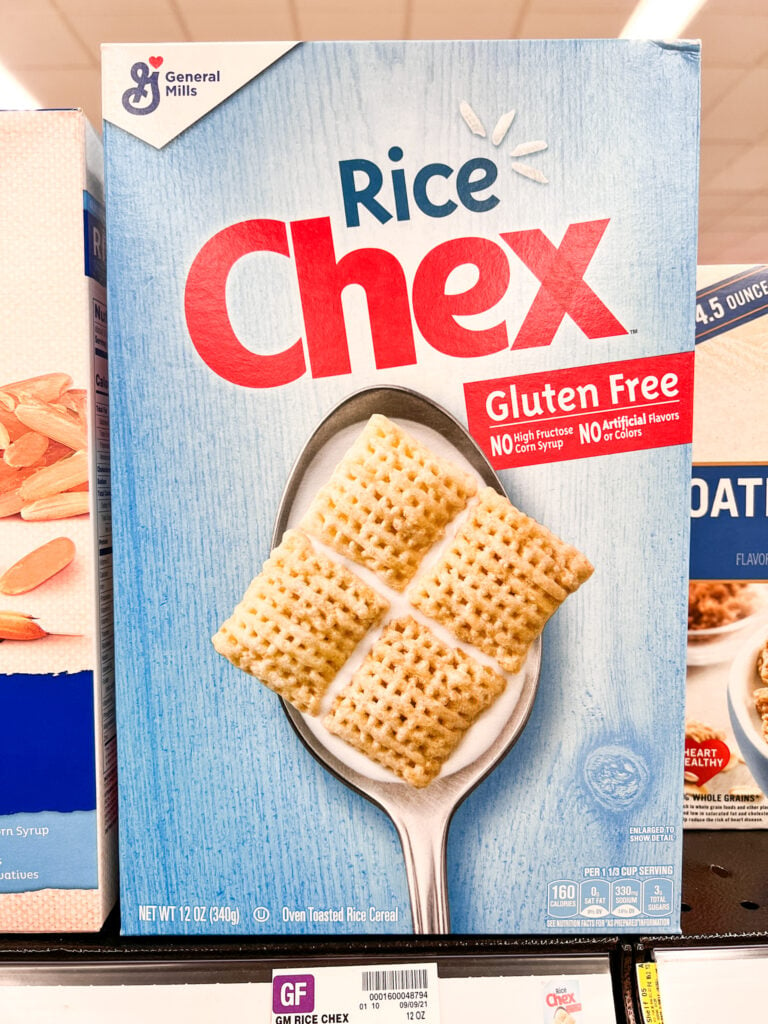 Is Crispix Gluten-Free?
Crispix cereal is made of crunchy corn on one side and crispy rice on the other. It's not labeled gluten-free.
Crispix ingredients include rice, milled corn, sugar, salt, molasses, brown rice syrup, baking soda, and turmeric extract. Brown rice syrup, despite its innocent name, often contains gluten, which you can learn more about in my article, Is Yeast Extract Gluten Free and 20+ Other Confusing Ingredients?
Nima found gluten when I tested Crispix for gluten. Avoid this product.
Is Kix Gluten-Free?
Kix cereal is made up of slightly sweetened, crispy corn puffs. While Kix is not labeled gluten-free, nor could I find any gluten-free information about Kix on the Kix website, it doesn't appear that Kix contains gluten.
Kix is made from whole grain corn, corn meal, sugar, salt, brown sugar syrup, and baking soda. And as you can see, Nima is all smiles, which means it didn't find any hidden gluten.
Are Fruity Pebbles Gluten-Free?
Fruity Pebbles are gluten-free and labeled as such too. The "Gluten Free" label is on the cereal box's side panel and under the ingredient list.
Fruity Pebbles are made from rice, sugar, oil, and a whole bunch of food dye. No gluten in sight, and Nima is all smiles, assuring me that it's indeed gluten-free.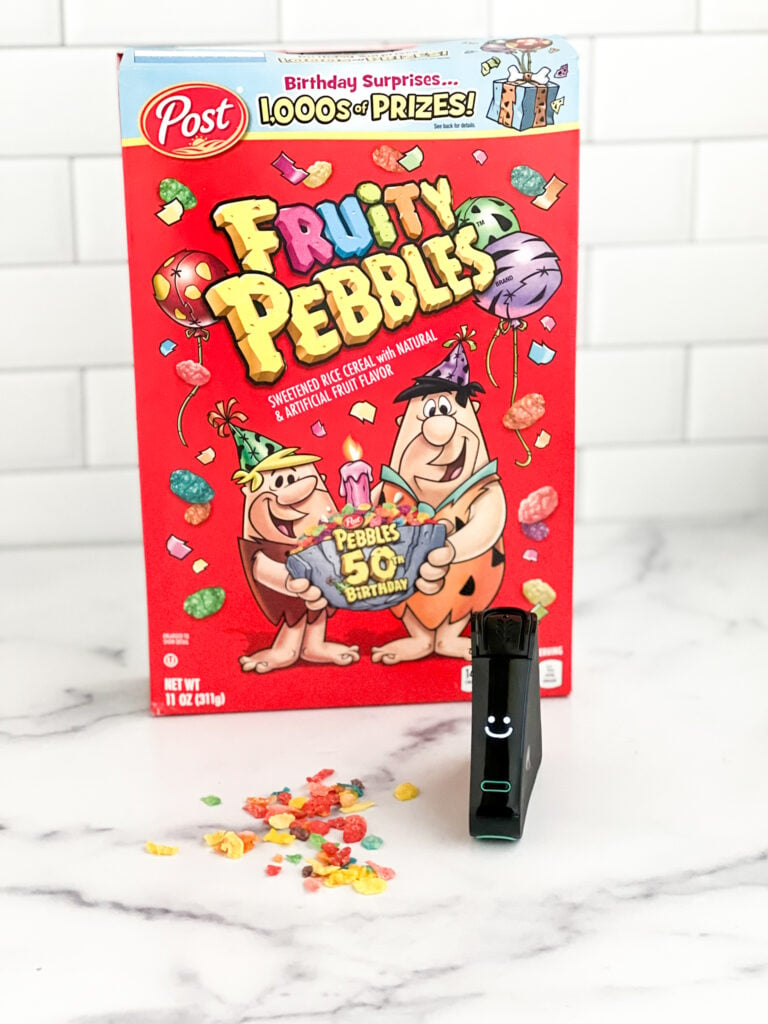 Please note that Cocoa Pebbles are also labeled gluten-free and safe to consume on a gluten-free diet.
Are Lucky Charms Gluten-Free?
According to the Lucky Charms website, the Original Lucky Charms cereal is gluten-free even though the cereal contains oats. Again, while oats are naturally gluten-free, they are highly cross-contaminated with wheat during harvesting and manufacturing.
Lucky Charms says, "First, we check the oats after sifting to make sure they contain less than 20 parts per million of gluten. Then, we check it again after the oats are milled into flour. We always ship the flour to our plants in our fleet of dedicated gluten-free trucks and rail cars. Lastly, after the flour is baked into Original Lucky Charms cereal, we check once to ensure [it's] gluten-free."
The marshmallows inside Original Lucky Charms are gluten-free too. Did you know you could buy a bag of Lucky Charms marshmallows? Sign me up!
I put Lucky Charms to the Nima test, and Nima was all smiles. This means Nima didn't find any hidden gluten.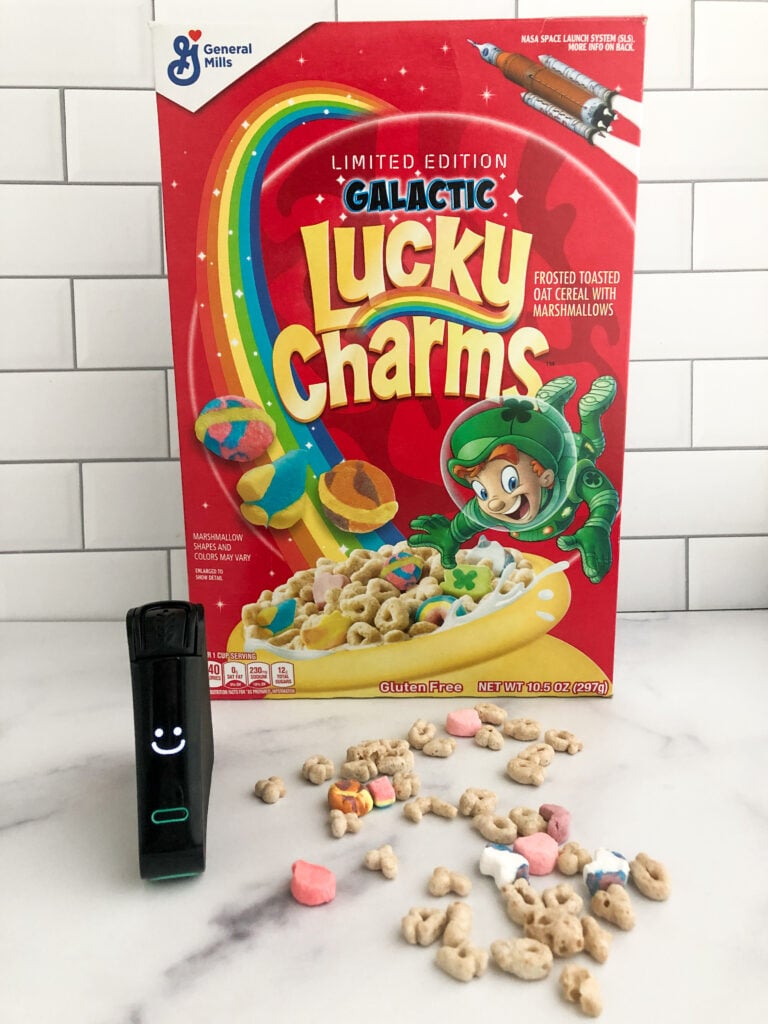 Please note that Chocolate Lucky Charms and Fruity Lucky Charms are NOT gluten-free. General Mills only guarantees that its Original Lucky Charms contain less than 20 ppm of gluten. Look for the "gluten-free" claim on individual packages of Original Lucky Charms.
Is Trix Gluten-Free?
While not labeled gluten-free, Trix cereal does not contain any gluten ingredients. It's made from whole-grain corn, sugar, rice flour, corn syrup, oil, and food coloring.
I tested Trix with my Nima Sensor to see if it contained any hidden gluten. Nima came back with a smile (no gluten found).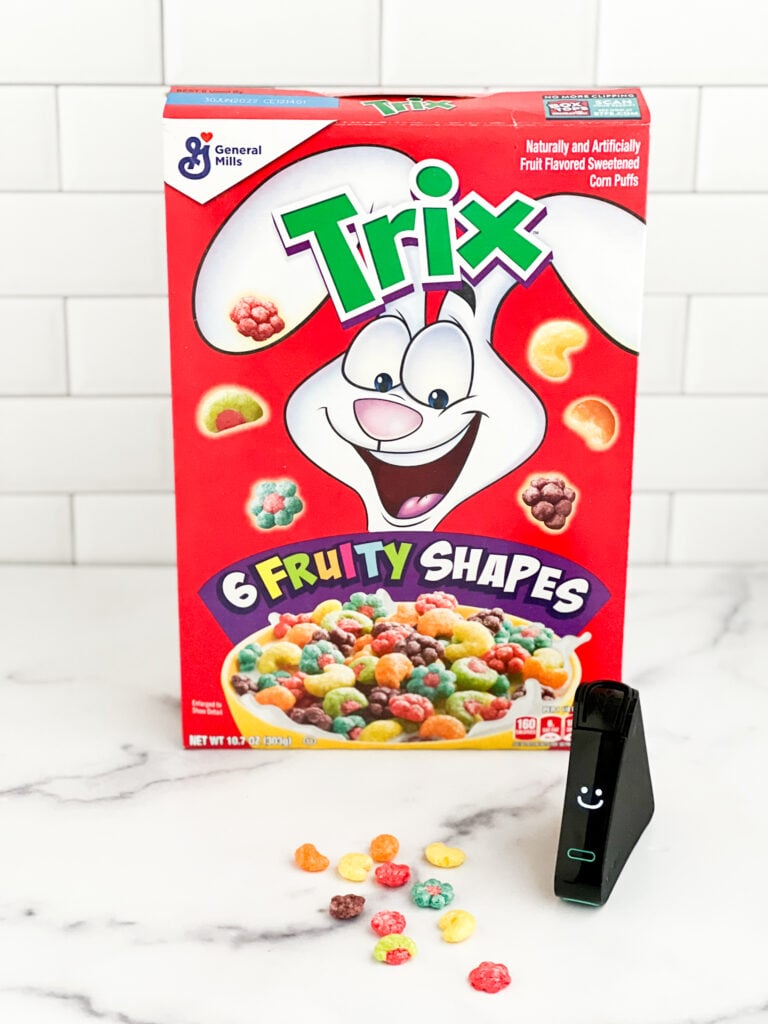 Are Reese's Puffs Gluten Free?
Reese's Puffs cereal is made of sweet and crunchy corn puffs coated with peanut butter. If you have a peanut allergy, you should avoid this cereal.
The cereal box isn't marked gluten-free. However, the ingredient list, which includes whole grain corn, sugar, Reese's peanut butter, dextrose, corn meal, corn syrup, oil, and artificial flavors, does not contain gluten ingredients. (Note, Reese's Peanut Butter Cups are gluten-free – you can read more about it in my Gluten-Free Candy Guide.)
I tested Reese's Puffs for hidden gluten with my Nima Sensor, and Nima returned with a smile (no gluten found).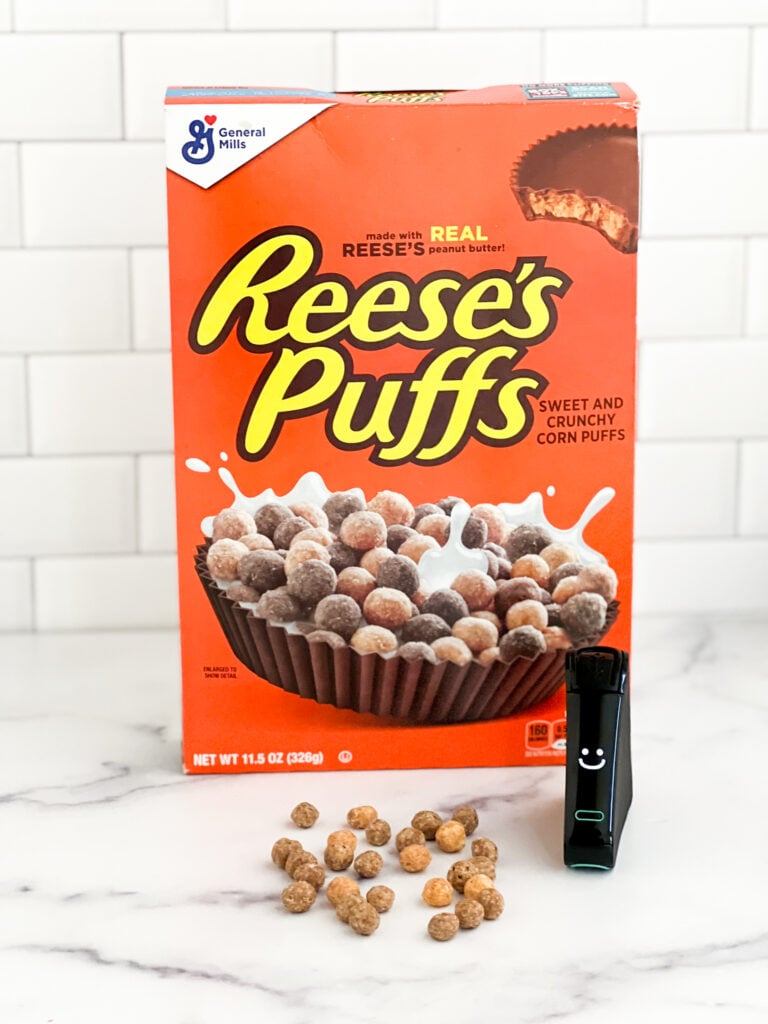 Avoid these Cereals that Contain Gluten
Cereals that clearly say they contain gluten and should be avoided include:
Apple Jacks: Contains wheat flour – avoid.
Cap'N Crunch or Captain Crunch: Although the cereal doesn't contain wheat, rye, and barley, it has oats, which could contain trace amounts of wheat. The parent company (Quaker Oats) says Cap'N Crunch cereals are not labeled gluten-free because the company cannot guarantee the cereal is free from gluten contamination.
Cinnamon Toast Crunch: Contains wheat – avoid.
Cocoa Puffs: Do not consume. At the bottom of the ingredient list, it says, "May contain wheat ingredients."
Corn Flakes: Contains barley malt extract – avoid.
Corn Pops: Contains wheat – avoid.
Cream of Wheat: Contains wheat – avoid. Please note Cream of Rice cereal is gluten-free.
Frosted Flakes: Contains malt flavor (barley) – avoid.
Frosted Mini Wheats: Contains wheat – avoid.
Fruit Loops: Contains wheat – avoid.
Honey Bunches of Oats: Contains malt extract (barley) and non-GF oats.
Kashi: Contains wheat – avoid.
Life: Contains wheat – avoid.
Lucky Charms (Chocolate and Fruity flavors): While the Original Lucky Charms are gluten-free, the Chocolate and Fruity varieties are NOT.
Raisin Bran: Contains wheat – avoid.
Rice Krispies: Contains barley malt – avoid. Please note that you can find gluten-free Rice Krispies in Canada. Look for "gluten-free" labeled boxes. Learn more about why Rice Krispies contains gluten.
Shredded Wheat: Contains wheat – avoid.
Special K: Contains wheat – avoid.
Gluten-Free Cereal Swaps
If you miss your favorite cereal from your pre-GF days, here are a few gluten-free cereal brands to try instead.
Be sure to look for the "gluten-free" label on individual packaging. Not all cereals from these brands are gluten-free.
Crispy Rice Cereal (Kroger): Kroger's brand of Crispy Rice cereal makes the perfect Rice Krispies swap. It's gluten-free and works well in rice crispy treats.
Love Grown Foods: Love Grown cereals are made with beans and come in various kid-friendly shapes and flavors. They're great for picky kids and discerning parents looking for a less sugary alternative to Fruity Pebbles and Fruit Loops.
Magic Spoon: Magic Spoon is a kid-friendly cereal that is high in protein and low in carbs. It's grain free and made with a blend of milk protein, tapioca starch, and peanut flour. It also makes for a good Fruit Loops swap, although I found the artificial sweetener taste a bit overwhelming.
Nature's Path: Try Nature's Path Mega Sunrise Flakes. It's certified gluten-free and an excellent substitute for Special K or Corn Flakes lovers.
One Degree Organics: One Degree makes sprouted rice cereals and sprouted O-shaped cereals. It makes for a good Rice Krispies and Cheerios alternative.
Three Wishes Cereal: Three Wishes makes a grain-free cereal with chickpeas as the main ingredient. It comes in Honey, Cinnamon, Cocoa, Unsweetened, and Fruity varieties. If you're worried about Cheerios, Three Wishes is a great alternative.
Am I missing any gluten-free cereal brands you love? Please leave a comment to share. I will update this article with new information as it becomes available.
Additional Reading
You might enjoy these articles too: