---
Hi, I'm Jenny Levine Finke. I'm the founder of Good For You Gluten Free, author of Dear Gluten, It's Not Me, It's You, and creator of the popular SIGNATURE Gluten-Free Course.
I'm also a Certified Gluten-Free Practitioner and Certified Integrative Nutrition Coach, and I have 11 years of lived experience with celiac disease.
If you're looking for commonsense, practical, and trustworthy advice about living your best gluten-free life, you've come to the right place.
About Good For You Gluten Free
Good For You Gluten Free is more than just another gluten-free blog; rather, it's a place where you can feel good about being gluten-free and find inspiration whether you're starting your gluten-free journey or you're simply stopping by along the way.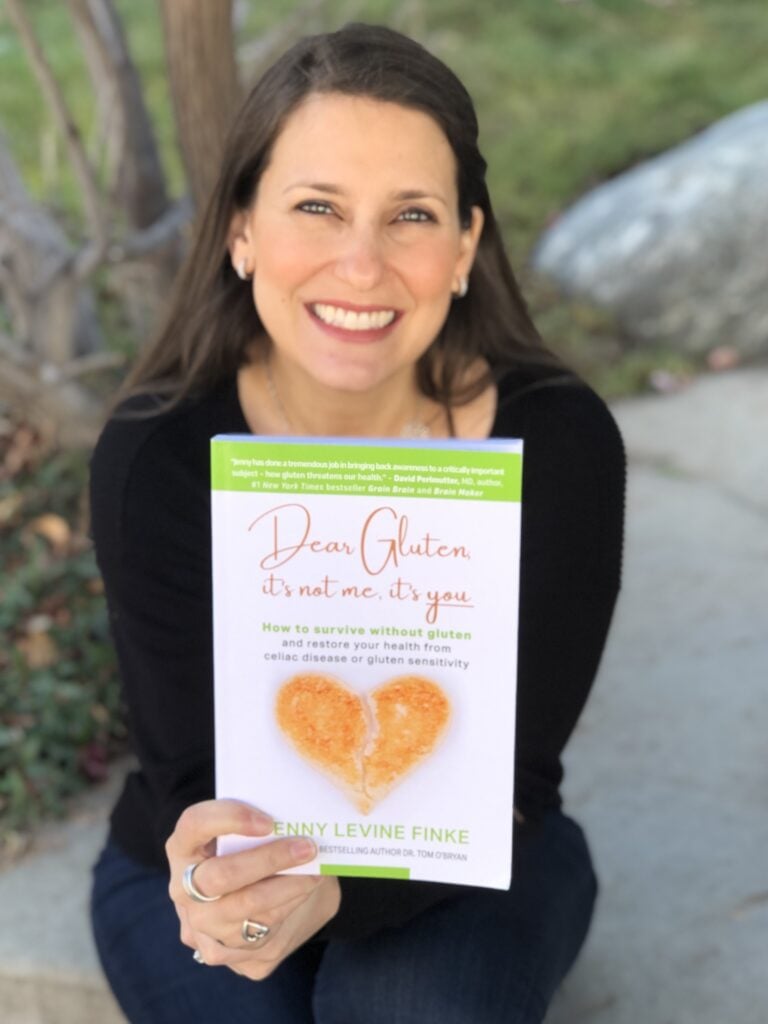 ---
I believe in fostering a supportive community. This website is a no-judgment zone. I recognize everyone has a different "level" of adherence to the diet and is at a different place on their journey.
I also believe not every answer is black and white, that commonsense should always prevail, and that our community needs broader, kinder support from those living in the trenches.
I've been following a gluten-free lifestyle since April 2012, when I was diagnosed with celiac disease (read my celiac disease story here).
While I felt relief knowing my painful bloating would soon end, I was overwhelmed by the process and how difficult that first year would be physically and emotionally.
And while the gluten-free diet gets easier with time, it's never easy.
I've grown into my role as a gluten-free "expert" of sorts.
I've spent the last decade:
---
Who Can You Trust?
It's hard to know who and what to trust these days and where you can find accurate and well-researched information about living a gluten-free life.
I created this small corner of the Internet to share my experiences and well-researched information about the topics weighing on your mind, including the following:
I don't have all the answers, but I do strive to offer a different, sometimes contrarian, perspective so you can think for yourself.
I believe no one should take the information they find online – even what you read here! – as fact. Nor should they take what their doctor or dietician says at face value.
We must research, aggregate data, question, and decide for ourselves the best approach for our care. No two people are the same. No two approaches are the same either.
I believe food can aid in your healing journey, but you should not be militant about what you will and won't eat. As long as it's gluten-free, I encourage you to enjoy it.
I follow the 85-15 rule. I eat healthy foods 85 percent of the time and then enjoy treats and sweets 15 percent of the time. No diet is perfect; perfection is always the enemy of good.
---
Eating Out Is My Jam
I like to eat out and help restaurants understand what it means to provide a safe, gluten-free meal. I even wrote THE book about eating out safely called, The Ultimate Guide to Eating Out Gluten Free.
You'll often see me testing restaurants and products with my trusty Nima Sensor. The Nima Sensor is a portable gluten-detecting device that enables you to test a portion of your food for gluten before eating it.
I used to work with the Nima founders, and while I don't work with the brand today, I still see value in the device despite the shade thrown at it.
You can view products and restaurants I've tested for hidden gluten in my Nima Tested archives and read more about what you need to know before you buy a Nima in this article.
---
New Here?
If you're new here, please read my START HERE page so we can get further acquainted.
Also, please be sure to subscribe to my weekly newsletter. Every Friday, I send a newsletter packed with news, recipes, and important information for the gluten-free community. I promise you won't be disappointed!
You can also follow me on Instagram, TikTok, Facebook, and Pinterest. It's a great way for us to keep in touch on a day-to-day basis.
To learn how to go gluten-free fast, enroll in my SIGNATURE Gluten-Free Course. Also, feel free to download my gluten-free meal plans and recipe packs.
---
Partner with Good For You Gluten Free
If you're interested in sharing a new product or story idea with Good For You Gluten Free, please drop me a line at jenny @ goodforyouglutenfree dot com.
I look to feature brands that offer clean, allergy-friendly ingredients that are widely available to the gluten-free community and taste good.
Please consider me for any of the following:
Sharing a new product find or restaurant
Partnering for a fun giveaway
Teaching educational seminars, workshops, and webinars
Speaking at events and conferences
Spokesperson opportunities
Gluten-free cooking demos and workshops
Please email me at jenny at goodforyouglutenfree dot com to discuss working with me.
---
Street Cred
Jenny is the author of the published book, Dear Gluten, It's Not Me, It's You, with a foreword written by best-selling author and leading gluten-sensitivity doctor Dr. Tom O'Bryan.
Good For You Gluten Free was named one of the Best Gluten Free Blogs by FaveGlutenFreeRecipes.
Good For You Gluten Free is listed as one of the Best Gluten-Free blogs named by Feedspot, and is a member of the What the Fork blog network.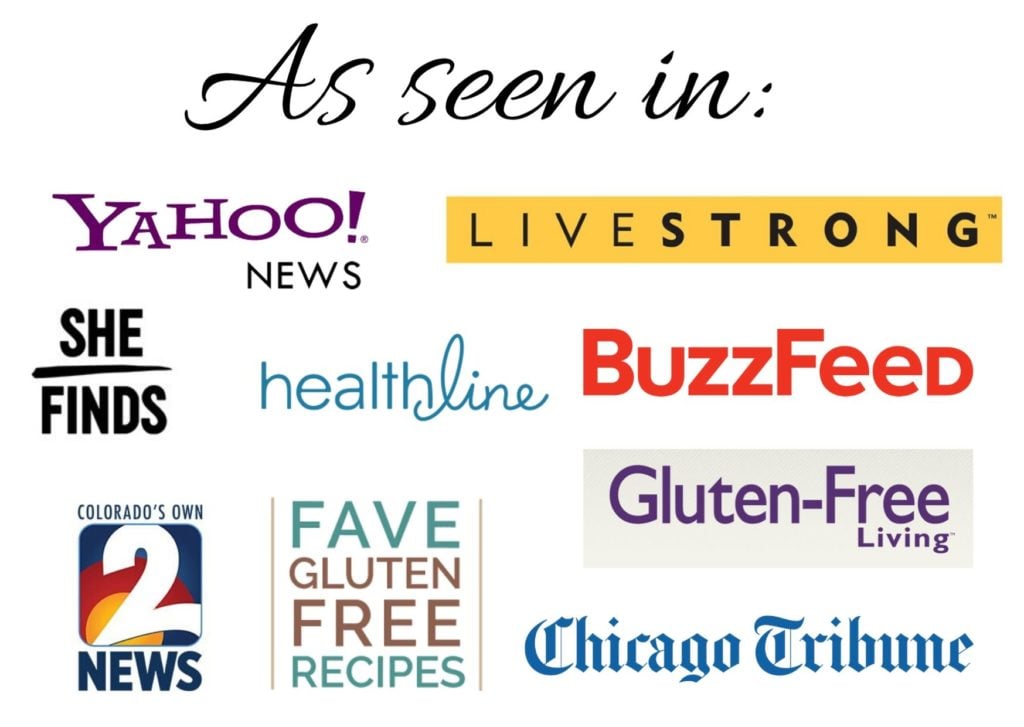 Jenny has been featured on many websites and blogs, including:
---
What Readers Say
"My name is Olivia, and I am 15 years old. I was diagnosed with celiac disease last year, and it has completely changed my life. It's been a struggle to find things I enjoy to replace what I can't have anymore, but slowly I'm discovering delicious GF options that I love. (Mostly your recipes!! My mom makes a lot of them. Some of my favorites are your sweet and sour chicken, pumpkin pancakes, scones, and cinnamon rolls). 
"One day after school, my mom gave me your book. I loved the title "Dear Gluten, It's Not Me, It's You." I think it's so clever that you wrote your book like a breakup because that's really how it feels! 🙂  Reading your book has really helped me feel like someone understands everything I'm going through. 
"Your book has helped change my perspective on celiac disease and how it affects my life and made me feel like I'm not alone. Thank you for everything you wrote and how open and honest you were in telling your story. You are so brave and inspiring, and I wanted to write to you so I could thank you so much for how much you have changed my perspective on celiac and for knowing that someone understands exactly what it's like." – Olivia
---
"I have to tell you how very helpful you have been in my celiac journey! I was diagnosed in June of 2019 at age 67. I have probably had celiac for quite a long time. Life-changing and your advice and guidance were fantastic! I listened to all your webinars and loved your advice about not cheating. You are a wealth of information. I had a GI appointment this week and told my doctors all about you! Your website, book, and the Nima Sensor. They had no idea! Hopefully, they will pass the information on to other celiac patients. You are definitely an amazing resource!! Thank you so much!" – Cathy
---
"I found your website about 5 months after being diagnosed, and I really appreciate how much you care and support the celiac community. You've become my hero! Knowing that I was not alone in this struggle made me feel better, and I started to become more understanding of myself and my body. I started to feel less ashamed about saying that I have a gluten intolerance or saying I have celiac. Using the recipes you have shared, I have made plenty of gluten-free foods for myself and my sister, for example, your pull-apart dinner rolls, chocolate chip cookies, and sugar cookies, and they've all tasted so good! Your website is my go-to website for all things gluten free. Thank you so much for creating it! I've found it such an inspiration!" – Sydnie
---
"I was just recently diagnosed with celiac disease (less than a week ago) and am kind of at a loss as to where to start. I had no idea gluten is in so many things! I'm thankful for your blog…..it makes me feel a little less overwhelmed." – Lori M.
---
"I am so impressed with the level of detail and the amount of educational resources you offer on your website. You are truly a godsend to the celiac community. I wish I would have known about your site when I was diagnosed three years ago, as it would have helped me tremendously. I often get asked about a good starting place for those going gluten-free and I direct them to a variety of sources because I've never found a site as thorough as yours. Even though I'm fairly good at navigating the GF world and I know a lot, I've found myself reading article after article on your blog."  -Valerie C.
---
"It's down to people like yourself, that write honest, trustworthy articles and really want help others, where the magic key to the right direction can be found." – Steve S.
---
"Thank you so so so much.  I am celiac for nine days now and I think I'm still making mistakes (so much to learn).  Tomorrow is my first time eating out and I'm totally nervous. Thank you from the bottom of my heart for your care and information.  I know we don't know each other but you are impacting my life." -Pam"I'm reading all your articles in your archives and taking lots of notes. Blessings to you – I'm so happy I found your blog. You are a light in the darkness that I was experiencing." -Maribeth
---
Read our full Disclosure Policy: In summary, the FTC requires bloggers to disclose relationships with advertisers in a forthright manner. If I receive compensation in exchange for a review or other advertising compensation, I will disclose it within the post's text. If I use an affiliate link, I will also disclose it within the post's text. If you click on one of my affiliate links and make a purchase, I receive a small commission. The compensation helps offset the costs of running my blog, and I work hard to link to only brands I know and trust to be safe for the GF community. Readers should always do their due diligence and research before consuming any products mentioned in this blog.
Nothing in this blog should be construed as medical advice, and all health and nutrition information should be carefully considered by a healthcare professional before making any changes to your diet. I'm not a medical doctor, nor do I dispense medical advice. By reading this blog, you acknowledge and accept these disclosures.