---
Go gluten-free fast and fast-track healing with the #1 course exclusively for people with celiac disease & gluten intolerance.
---
If you've been diagnosed with celiac disease or gluten intolerance, and you're somewhat new to the gluten-free lifestyle, my SIGNATURE Gluten-Free Course is for you!
In my course, I'll teach you how to go gluten-free fast with the essential information you need to master the gluten-free lifestyle.
My students appreciate my commonsense, measured approach to a gluten-free diet.
One of my students told me this after she took my course:
"My 7-year-old daughter was diagnosed with celiac disease three weeks ago. After the biopsy, her GI team hooked us up with a dietician. I was so overwhelmed and needed education! My husband and I found you on IG, and I just completed your course. [I am] crying happy tears because I truly feel that because of your course, I can safely care for my daughter, and continue to go out to eat, travel with her, and let her be a normal healthy kid! I learned more from you than from her dietician and two different GI teams. Thank you, thank you, thank you for this course!" – Jenny S. (Satisfied Mama and Student)
I strive to help you find a balance so you're eating safely but not over-restricting yourself.
Not only will you master skills such as label reading and eating out, but also you'll learn how to go beyond gluten-free to heal your body.
I'll teach you how to tap into your body's innate ability to heal, helping you address poor gut health, common nutritional deficiencies, and overall best practices for achieving whole-body wellness.
If you have yet to seek nutritional guidance or see results from your piecemeal version of a gluten-free diet, my SIGNATURE Gluten-Free Course is for you!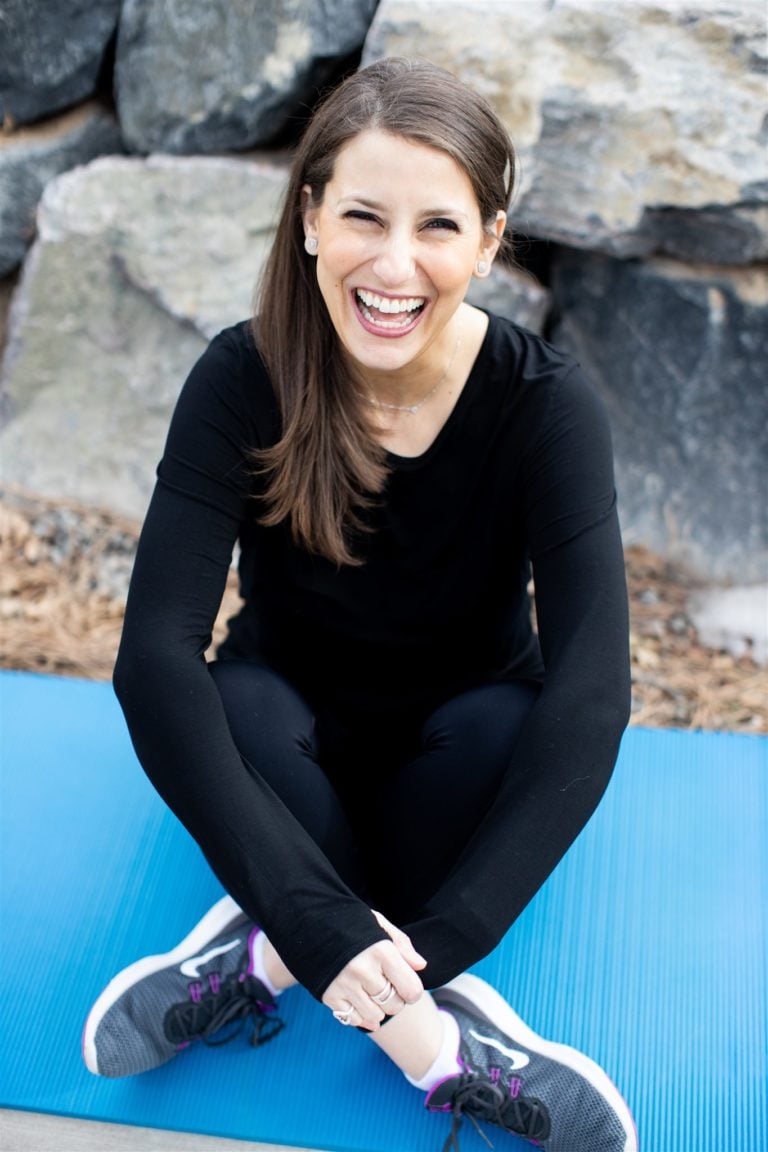 Course Overview
I believe it's possible to live a full and healthy life with celiac disease or gluten intolerance.
I believe a gluten-free diet shouldn't restrict you from doing what you love.
I believe you can have success with the gluten-free diet as long as you implement it right.
I want you to enjoy traveling, eating out, and hanging out with friends again.
I want you to enjoy delicious, nourishing meals and sweet treats on occasion, too.
I want you to heal your body so you don't feel, look, or act sick.
And I want to help you put your celiac disease symptoms into remission by reducing the inflammation inside of you.
In my SIGNATURE Gluten-Free Course, I'll show you how to care for your body each and every day, as well as how to make a mindset shift into your new reality as a gluten-free eater for life.
My students tell me they enjoy my mature, measured, and commonsense approach to a gluten-free lifestyle, all of which comes from my 11 years of lived experience with celiac disease (and 46 years of life experience), as well as my training in Integrative Nutrition and as a Certified Gluten-Free Practitioner.
In my SIGNATURE Gluten-Free course, I'll help you learn how to cook delicious meals at home, reduce your dependence on eating out, live your life free from symptoms, and heal your body so you feel and look your best self (again).
And I'll never make you feel bad about enjoying a cookie.
Let me help you make sense of your newfound gluten-free lifestyle and achieve a new and improved version of yourself free from the protein (gluten) that's been holding you back!
What's Inside
My SIGNATURE Gluten-Free Course covers the following topics:
How to quickly identify gluten in food labels.
How to efficiently set up your kitchen & home.
How to cook simple & nourishing meals without gluten.
How to mimic gluten when baking.
How to feel more confident eating out, traveling, and navigating events, holidays & more!
How to identify sources of cross-contamination in the home and at restaurants.
How to accelerate healing in YOUR body beyond a gluten-free diet.
How to avoid over-restriction to vastly improve the quality of your life.
How to monitor the effectiveness of your gluten-free diet.
How to get the emotional support you need and crave.
And so much more!
Testimonials
Here's what people are saying about my SIGNATURE Gluten-Free Course:
"I've been gluten free for 12 years since my diagnosis and this course could have saved me immense amounts of pain and suffering if I'd had it at diagnosis. This is such a wonderful and complete course for anyone newly diagnosed with Celiac and even for those that feel they understand everything, there is more opportunity for learning within what Jenny has created. I know that this course gave me ways that I can improve my diet to promote healing and more options for travel."

– Katy Furusho
"As someone with celiac and only 2.5 years in, I found this course to be very informational and even a little eye-opening. I've been struggling to heal my gut and found the information about healing my body the most helpful. This course will help you understand that this journey is about being more than just gluten-free, something I wish I'd known from the start. I'm grateful to Jenny for sharing this valuable information so others so can heal and feel better faster. I look forward to having this information on hand whenever I need to refer to it."

– Aleta Stout
"I can't remember how I found Jenny years ago, but I'm so glad I did. She has been a vital part of my gluten-free journey. I was diagnosed with celiac disease at the age of 67. She has always provided me and her community with great information, and I've come to depend on her valuable advice. Her SIGNATURE course has all of her excellent information in one place, which I'm grateful I can access over and over again. Her videos are easy to follow, and truly, there's nothing else like it. Doctors are not educated enough to provide this level of support. Thank you, Jenny, for doing an excellent job of informing and helping our community. I highly recommend Jenny's SIGNATURE Gluten-Free course."

-Cathy Foster
"Jenny's devotion to the celiac and gluten-intolerant communities has been amazing, to say the least, and I can honestly say her work has made life with celiac disease easier and less challenging. All of the information, lists, links, etc., compiled in her SIGNATURE Gluten-Free course is worth so much more than money. They are a huge help and contribute to my peace of mind. The course has plenty of information for those who are new to gluten-free and those who have been living the lifestyle for years. Overall, Jenny has been my go-to trusted advisor in the industry for years, and her course is just the icing on the cake."

– Karen Di Padova
"I am so happy I found Jenny and her course to help me navigate my newly diagnosed celiac disease. Jenny is very knowledgeable, non-judgmental and knows that not everyone's experiences with gluten intolerance and celiac disease are the same. This course of videos and downloads is packed with information from what gluten is all the way to healing your gut (which is my favorite part). I would highly recommend this course because just after watching a few videos, I felt so much better about my future and not so worried about eating out."

– Peggy Blair
"If you're gluten-free, there's no reason to go anywhere else for information because Jenny leaves no crumb left unturned in her Signature Gluten-Free course. It's complete but not overwhelming, and it's well-organized and clearly presented for folks with diverse learning styles. I found the course to be full of helpful downloads, including a 70-page ebook on dining out, travel tips, links to more information, analogies, examples, encouragement, apps, templates, meal-planning ideas, and more! I truly appreciate the opportunity to learn from Jenny, not just because of her first-hand experience and advanced education but also because of her compassion for others and passion for this topic. Overall, this course isn't just Jenny teaching me how to avoid gluten; she also encourages me to feel worthy of HEALING, and is clearly invested in supporting my overall well-being."

– Christy Cantara
Meet Your Gluten-Free Teacher
I've been gluten-free for 11 years after getting diagnosed with celiac disease at the age of 34.
I know what it's like to live a carefree life with gluten and then suddenly have the proverbial rug pulled out from right under you.
I struggled to figure out the gluten-free diet, and I thought I could piecemeal information I found on the Internet to make it work.
Boy, was I wrong!
After years (yes, literally years!) of still not feeling "quite right" and still feeling bloated and gassy despite my best efforts to be gluten-free, I knew I was missing something.
I enrolled in the Institute of Integrative Nutrition with the encouragement of a friend (and mentor) and spent the next few years learning everything I could about nutrition, gluten, and how to heal my body. I'm still learning new stuff every day!
Today, I know how to eat in a way that feels good to me.
I've balanced my hormones and worked hard at maintaining a healthy weight (although it's a daily struggle).
I live in a way that feels good to me by stressing less, prioritizing exercise, spending lots of time in the kitchen, and being grateful that I can control my "disease" with the food at the end of my fork.
I can't wait to teach you the ins and outs of the gluten-free diet and how to eat in a way that feels good to you in my SIGNATURE Gluten-Free Course.
Course Outline
Module #1: Sources of Gluten
Get to Know Gluten and Label Reading
Controversial Ingredients
Non-Food Sources of Gluten
Module #2: Gluten-Free Living At Home
Preparing Your Kitchen
Gluten-Free Baking & Cooking
Meal Planning Strategies & Recipes
Module #3: Eating Outside the Home
Eating at Restaurants
Navigating Special Events
Strategies for Traveling
Module #4: Nutrition & Healing
Overcoming Nutritional Deficiencies
Healing Your Gut
Eating to Accelerate Healing
Resting the Digestive System
Exercise and Healing
Understanding Digestive Enzymes
Module #5: Continued Care
How to Measure If Your Gluten-Free Diet is Working
Staying Vigilant Without Losing Your Mind
Kids & Teens
Gluten-Detection Tools
The course includes 20 video lessons and dozens of PDFs, downloads, and links to additional information.
It also includes a copy of the Ultimate Guide to Eating Out Gluten Free (70+ page ebook on eating out) and my Clean Eating 4-Week Meal Plan and Recipes.
FAQs

I have gluten intolerance. Is this course for me or is it only for people with celiac disease?
While there is a lot of discussion about celiac disease, this course intentionally includes the needs of people with non-celiac gluten sensitivity (aka, gluten intolerance). While people with gluten intolerance don't experience the same intestinal damage, they experience many of the same symptoms and find themselves in the same predicaments as people with celiac disease.

This course is for ANYONE navigating a gluten-free diet for medical and health reasons.
Do you accept insurance?
I don't accept insurance for any courses or coaching programs. You may be able to use FSA/HSA funds, but you'll need to check with your provider to determine if this course is an approved purchase.
How long will I have access to the course?
Your purchase includes lifetime access. This means as long as this course exists, it will be accessible to you. I hope to leave this course up for years and continue to add new videos and lessons.
I don't live in the U.S. Is this course a fit for me?
This course discusses U.S. labeling guidelines and laws, as well as features products/brands widely available in the U.S. Parts of this course may not fully apply to people who live outside the US. That said, much of the advice about living a full and healthy gluten-free life will apply to anyone on a gluten-free diet.
Why are you qualified to teach this course?
Here's what I bring to the table:
-11 years of lived experience with celiac disease.
-Certified Integrative Nutrition Coach
-Certified Gluten-Free Practitioner
-A level of maturity and understanding for people of all ages. (I was diagnosed with celiac disease at the age of 35.)
-A healthy prognosis. My body has responded well to a gluten-free diet and other healing tactics I've employed over the years. I'm a healthy and active adult.
Do you guarantee my body will heal after taking this course?
There is no guarantee your body will respond to a gluten-free diet. Everyone is a unique bio-individual, and everyone has the free choice to eat and live how they see fit.

However, this course offers best practices and guidelines for living a full and healthy gluten-free life. If followed, most people will respond well.

Some people will respond well to a strict gluten-free diet alone; others may need to implement other healing strategies. Few may never heal. This is the reality of celiac disease.

Any changes to your symptoms or health should be discussed with a doctor. I am not a doctor and do not provide medical advice.
Will you refund my purchase if I'm dissatisfied with the course?
I don't offer refunds; however, if you're dissatisfied with the course, I welcome the opportunity to speak further with you so I can better understand why, figure out how I might be able to assist you further, and point you to additional resources for help.

Not everyone will implement the strategies in this course as they should be implemented, and therefore I cannot guarantee success or satisfaction with your results. I can, however, guarantee that this course will provide you with the foundation and framework you need to navigate a gluten-free diet.
Is this course okay for children?
This course is for anyone eliminating gluten at any age and stage. However, children under 18 y.o. must take this course with the consent and supervision of their parent(s) or guardian(s).

Children have unique nutritional needs that may not be fully addressed in this course. Therefore, it's essential that parents discuss specific concerns regarding their child's diagnosis, treatment, nutrition, supplements, etc., with their child's physician.
I can't afford the course but really need it. Can you help?
I want everyone who needs this course to have access to it. If you cannot afford it but desperately want to enroll, please let me know. I offer need-based scholarships. Please reach out to jenny@goodforyouglutenfree.com for more information.