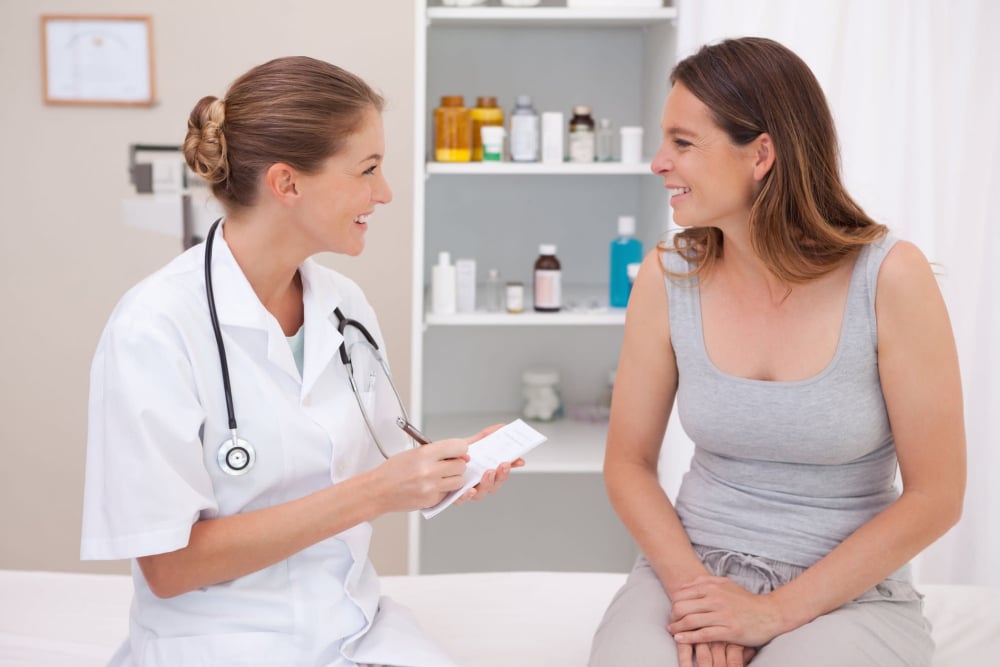 Celiac disease is an incurable disease in which there is no cure. However, there are several treatment options on the horizon that promise to help people with celiac disease better manage their symptoms and deal with gluten cross contamination, as well as promising medications and potential celiac disease vaccines. The information presented in this article is for discussion purposes only and contains affiliate links. Please read my disclaimers.
People are always asking me if there are celiac disease treatment options besides the gluten-free diet.
Unfortunately, there are not any known treatment options for celiac disease besides following a strict, gluten-free diet. It bears repeating that the only treatment option for celiac disease is a strict, gluten-free diet.
However, there are a lot of promising clinical trials for medications and supplements that promise to relieve symptoms commonly associated with the autoimmune disorder.
Celiac disease is a genetic, autoimmune disease that affects 1 in 100 people worldwide. Millions of people suffer from this disorder, and bear the high burden associated with following a strict, gluten-free diet for life.
It's not wonder that so many people with celiac disease hope and pray for a cure or better treatment option. The gluten-free diet is life changing, and presents a challenge to those of us living with the disorder every day.
In this article, I share some of the celiac disease treatment options on the horizon.
Again, there is no cure for celiac disease and none of the medications or treatment options listed below give someone with celiac disease permission to eat gluten again.
7 Promising Celiac Disease Treatment Options
Now let's discuss some of the promising treatment options that may one day help millions of people with celiac disease.
(1) Larazotide Acetate
Larazotide acetate is a medication that entered into Phase III clinical trials. It promised to be one of the first celiac disease treatment options of its kind.
UPDATE: Researchers discontinued Phase III clinical trials in June 2022 after results from a 12-week double-blind treatment phase and an additional 12-week continued safety phase did not show that larazotide was effective.
The larazotide acetate compound is used to help regulate tight junctions in the bowel. The junctions in the bowel are closed (except when the body is shedding dead cells) in normal, healthy individuals. However, the presence of gluten causes the tight junctions to stay open in patients with celiac disease. When the junctions are open, the body responds by launching an autoimmune attack on the small intestine.
Researchers thought that larazotide acetate might work by inhibiting zonulin production, which is overproduced by celiac patients after they eat gluten. 
Bottom Line: This research was promising at first, but a failed Phase III trial proved larazotide acetate was not helpful in inhibiting the production of zonulin when a person with celiac disease takes it before a meal.
(2) Nexvax2® … a vaccine for celiac disease?
Nexvax2® was a potential vaccine that promised to help celiac disease patients build up resistance to the gluten protein, similar to how an allergy shot works.
Unfortunately, in June 2019, researchers discontinued the Nexvax2 trial because the results showed the vaccine did not provide protection from gluten exposure when compared to placebo. (Source: Beyond Celiac)
(3) Latiglutenase (formerly known as ALV003 or ImmunogenX)
Latiglutenase is a drug currently in Phase 2a and 2b clinical trials that has been shown to reduce intestinal mucosal damage caused by gluten. It's a combination of two enzymes that complement one another to break down and degrade gluten proteins inside the stomach and cause less symptoms and/or damage.
ImmunogenX completed Phase 2 of its study, called CeliacShield, where researchers set out to determine the drug's effectiveness in a general population of celiac disease patients.
In Phase 2, 25 participants with celiac disease on a gluten-free diet were given 1,200 mg of latiglutenase each day for six weeks while another 25 participants were given a placebo.
Researchers found those who received latiglutenase experienced 88 percent less damage to the upper portion of their small intestinal lining than those on the placebo. You can read the full Phase 2 study results in this article.
Bottom Line: This promising celiac disease treatment option may be able to help people with celiac disease prevent their bodies from activating an autoimmune response when they eat small amounts of gluten. More testing is needed to know if this drug will be effective and safe for celiac disease patients.
(4) GliadinX (AN-PEP)
AN-PEP (Aspergillus Niger prolyl endoprotease) is an enzyme used in GliadinX and other digestive enzymes and dietary supplements that researchers say will degrade gluten in the stomach. (Source: National Celiac Association)
The enzyme is safe and well tolerated in celiac patients, and research suggests that AN-PEP reduces the amount of gluten that actually gets to the duodenum or the first part of small intestine.
Researchers designed AN-PEP to be used in conjunction with the gluten-free diet to help celiac disease patients digest accidental or unintended gluten exposure, typically via cross contamination.
You can currently purchase AN-PEP in the U.S. in the form of a supplement called GliadinX. GliadinX is not approved by the FDA, and should only be used for accidental gluten exposure, not giving someone with celiac permission to eat gluten.
(5) KumaMax
KumaMax is a potent digestive enzyme designed to break down gluten in the digestive system. The drug is said to not only prevent painful symptoms that come with exposure to gluten, but also prevent small intestinal damage from accidental gluten ingestion.
KumaMax also is for celiac patients on a gluten-free diet but who may accidentally ingest gluten through cross contamination. It has the potential to degrade the gluten before it enters the small intestine, according to Takeda, a pharmaceutical company that has committed $35 million to the research and development of KumaMax. (Source: BioPharmaDive)
GlutenAid, GlutenDigest, and GlutenEase, among other products, are also brands of digestive enzymes that promise to help your digestive system break down the gluten proteins. They are just a few of the many digestive enzyme supplements on the market today.
These digestive supplements do not prevent or treat celiac disease, but they have been known, in some studies, to reduce the symptoms involved with accidental or unwanted gluten exposure.
(6) Gliadin Nanoparticles
Researchers in Finland are studying how nanoparticles containing gliadin can work in treating – and maybe one day curing – celiac disease.
Researchers found gliadin-infused nanoparticles inserted into the blood of mice with celiac disease resulted in significantly reduced markers for gliadin-specific T cell activation, inflammation, and tissue damage.
In other words, injecting gliadin nanoparticles in patients with celiac disease may reprogram the immune system to tolerate gluten, potentially allowing people with celiac disease to eat gluten again without causing an autoimmune attack.
Research is fledgling yet promising. See details about the full study here.
(7) PRV-015 (anti-interleukin-15)
PRV-015 may soon be the first approved therapeutic for the treatment of non-responsive celiac disease. It is the first investigational study to show a reduction in (1) gluten-induced symptoms and (2) markers of intestinal inflammation in a placebo-controlled trial in celiac subjects.
Provention Bio, a biopharmaceutical company, says in a press release that it has initiated Phase 2b of its PROACTIVE (PROvention Amgen Celiac ProtecTIVE) study of PRV-015, an anti-interleukin-15 monoclonal antibody, in adult celiac patients not responding to a gluten-free diet.
You can read more about the trials in this press release.
Celiac Treatment Options Don't Go Far Enough
Unfortunately, the promising vaccination for celiac disease failed in clinical trials, and right now, there are no significant cures on the horizon.
The most of the promising celiac disease treatment options only offer symptom relief if taken before or during an accidental gluten exposure.
The fact is, the only treatment option for celiac disease is the gluten-free diet.
If you need help eating gluten free, I encourage you to download one of my beautifully-designed dedicated gluten-free meal plans.
If you like eating out, a great resource to help you eat out safely while on the gluten-free diet is this book, The Ultimate Guide to Eating Out Gluten Free.
Additional Reading
You might enjoy these articles too: