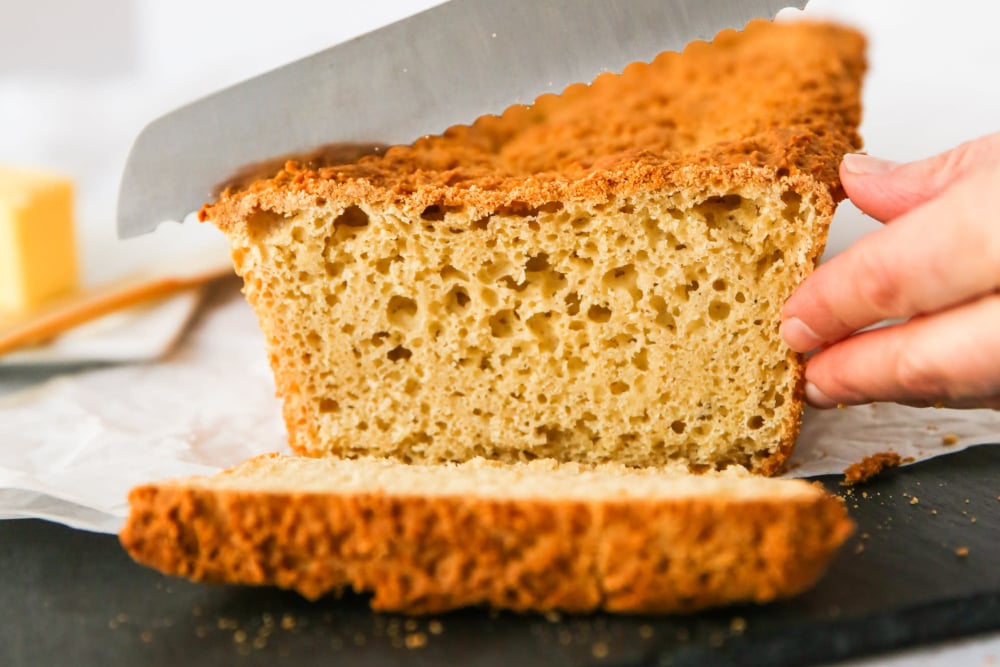 Making gluten-free bread doesn't have to be a chore, especially if you're willing to work with a high-quality 1:1 gluten-free flour blend. I created this easy gluten-free bread recipe using a store-bought gluten-free flour blend, and the results are surprisingly good. This recipe contains affiliate links. Please see my disclosures.
I've been working on creating different gluten-free bread recipes for you, as gluten-free bread is a high-demand search topic within the gluten-free community.
There are so many people purporting themselves as gluten-free bread baking experts, but the truth is, we're all just trying to figure this stuff out.
Baking bread from scratch – and one that actually tastes decent – isn't for the faint of heart.
I've tried many recipes, and I've had many misses. One top of that, I constantly feel like I have to shop for tons of different flours and ingredients. I've had enough of spending money on expensive flours with no guarantees of success.
What I've come to realize is that I don't need more gluten-free flours. Instead, I just needed a good recipe using the flour I already have in my pantry.
Today, all this buying of multiple bags of flour and other weird ingredient business stops. What you'll find below is an easy, no-fuss gluten-free sandwich bread recipe that uses Bob's Red Mill 1:1 Gluten-Free Flour Blend and no other flours.
(Please note this recipe is not sponsored, but I do collaborate with Bob's Red Mill on other recipe creations.)
An Ideal Bread
The reason I came up with this recipe is that I wanted a gluten-free bread recipe that would meet the following criteria:
Be baked with a store-bought 1:1 gluten-free flour blend
Slice well without crumbling
Taste like real bread – soft and doughy – yum!
Made with pantry staples. I can't stand having to shop for tons of ingredients just to bake a simple bread.
One that looked beautiful with a brown crust and doughy middle.
Well, guess what, my friends. I've done it. This sandwich bread is all of the things I've ever wanted in a sandwich bread and more. And now you can make this easy gluten-free sandwich bread recipe at home too. Read on to learn how.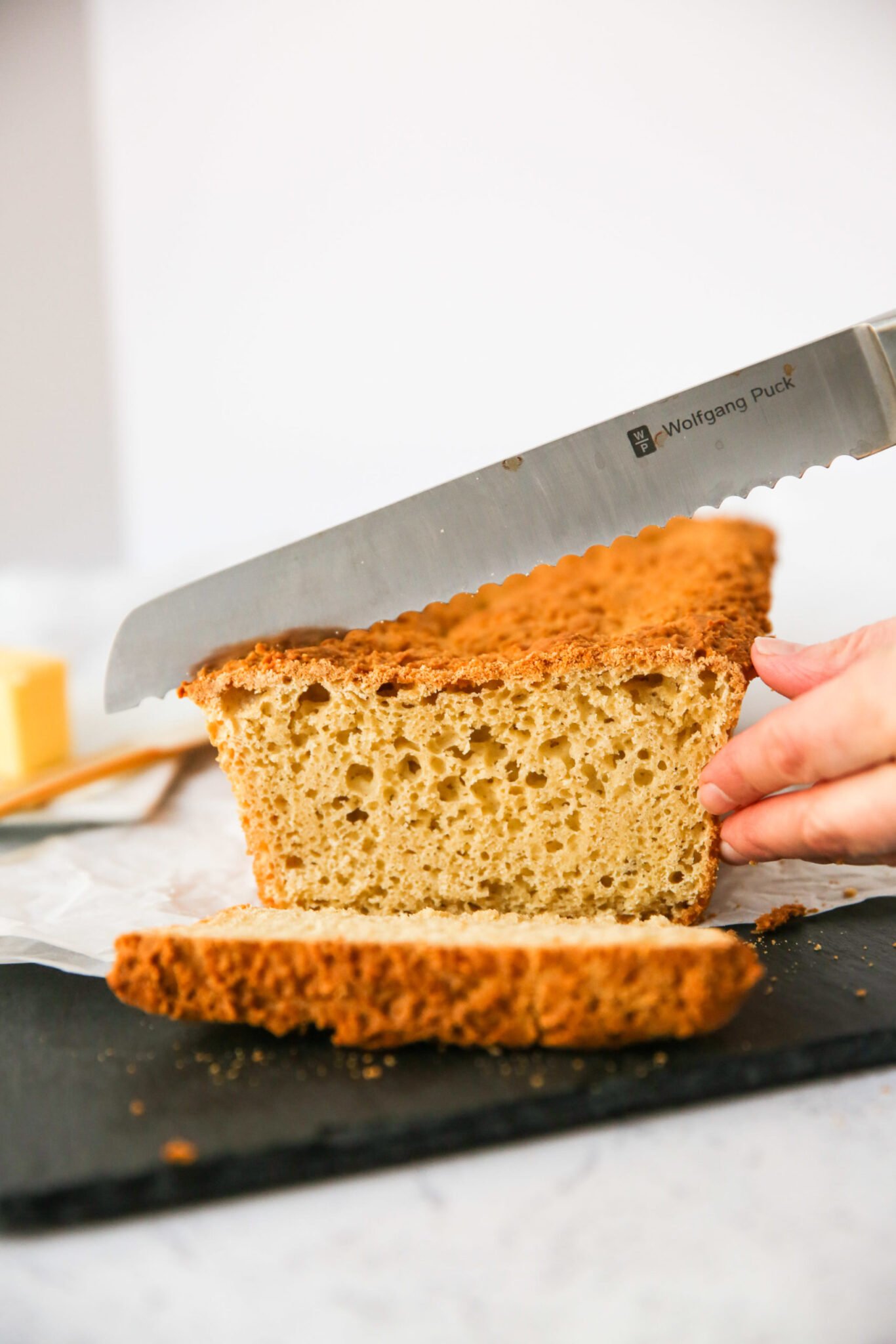 The What and How
To make this recipe, you'll need to gather a few basic ingredients. As noted above, I used only pantry staples so you don't have to run to the grocery store to buy any weird ingredients or multiple flours.
The key ingredient, and what makes this sandwich bread uniquely gluten free, is the Bob's Red Mill 1:1 flour.
This recipe calls for three cups, or 430 grams, of Bob's Red Mill 1:1 Gluten-Free Flour blend. Look for it in the blue bag.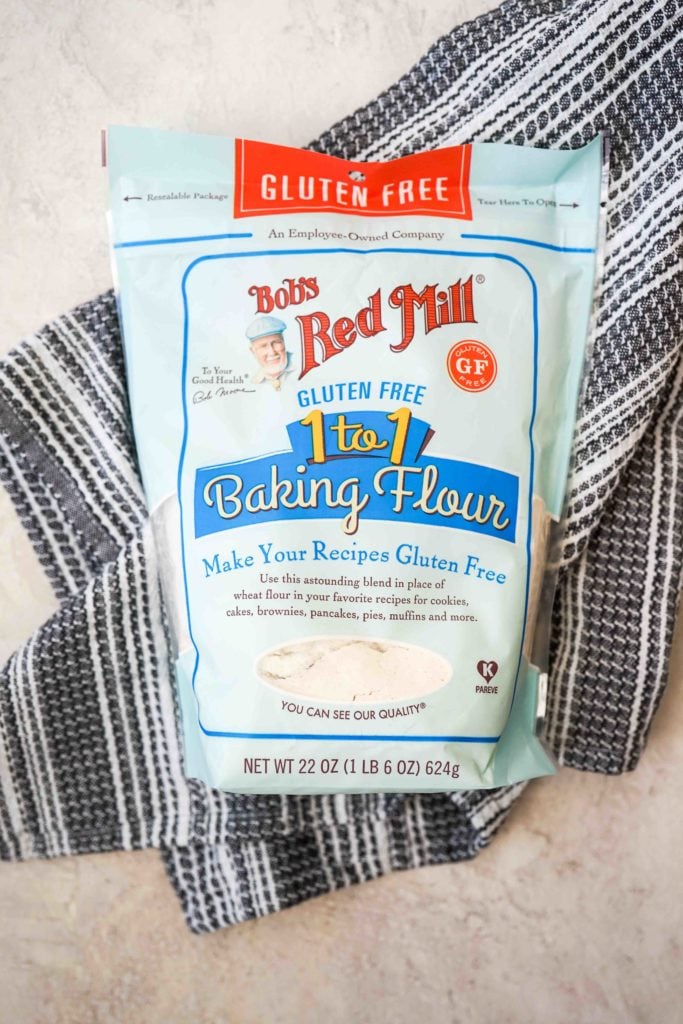 You'll want to combine the flour, brown sugar, yeast and salt in a large bowl attached to your standing mixer.
You'll drizzle in some warm milk (or non-dairy milk substitute okay too) as you mix the flour mixture on low speed. You'll also add in the honey and softened butter at this time.
Related Recipe: Gluten-Free Grown-Up Grilled Cheese Sandwich
Now, turn up your mixer to medium speed and add three eggs, one at a time, until well incorporated.
Once all the eggs are incorporated, crank up the mixer to high speed and beat the dough for three minutes. Remember, the dough will be sticky and wet because it's gluten-free dough.
Cover the mixture with plastic wrap and allow it one hour to rise, preferably in a warm place in your home. (I often place rising dough on the heating mat I use to make kombucha.)
If you have a proofing mode on your oven, use it as it will provide a warm place for the bread to rise. Make sure you use the middle rack for proofing.
As the dough is rising, you'll want to grease a 8.5 x 4.5″ loaf pan. After 1 hour has passed, use a spatula to add the bread dough into the greased loaf pan. Cover the pan with plastic wrap and allow it to rise for another 45-60 minutes.
Tip! Want your bread to rise high and tall? Purchase a bread loaf pan like this one. I don't have one (yet) because I'm okay with smaller bread slices. But if you're looking for that tall sandwich bread shape, consider investing in a bread loaf pan.
Bake the bread in a 350º F preheated oven for 38-40 minutes until top is slightly browned. Remove from the oven and allow it to cool for a few minutes in the loaf pan before removing it from the loaf pan and placing it on a wire rack to continue cooling.
Related Recipe: Gluten-Free French Toast Casserole
Once your bread is slightly cooled, you can slice it and eat it.
Always cut bread slices using a serrated knife. I like to cut a slice as needed (vs. pre-slicing the entire loaf) to ensure the bread stays as moist as possible for as long as possible.
The bread tastes best warm and right out of the oven.
Ways to Enjoy Gluten-Free Bread
Always be sure to warm leftover bread just before enjoying it. The texture will be so much more spongy and soft.
Here are some fun ways you can enjoy this bread:
Topped with slices of ripe avocado and a little Kosher salt.
Lightly toasted with a pat of butter.
Does It Store and Freeze Well?
Be sure to wrap any unused bread in plastic wrap and store it on your countertop.
Simply heat a leftover slice of the bread in your toaster (or microwave for a few seconds) to help it become soft and doughy again. This bread will last for several days wrapped and, again, will taste best when slightly warmed.
This bread will freeze well too. Slice it as desired before freezing, and remove desired slices when ready. Defrost the slices of bread in your fridge overnight and don't forget to lightly toast or heat it in your microwave or stovetop before eating.
Wanna Know a Shortcut?
I love this gluten-free bread mix by Lorraine's Gluten Free. The bread comes out fluffy, almost better than anything I could whip up at home. If you get a moment, order a mix and try it. Seeing is believing.
This photo is from the Lorraine's website. I will take a photo the next time I make it, too.
More Recipes?
If you're looking for a rustic loaf that will really impress your friends, try my gluten-free artisan bread recipe.
Miss Sourdough Bread? Try my gluten-free sourdough bread recipe (and learn how to make a gluten-free sourdough starter).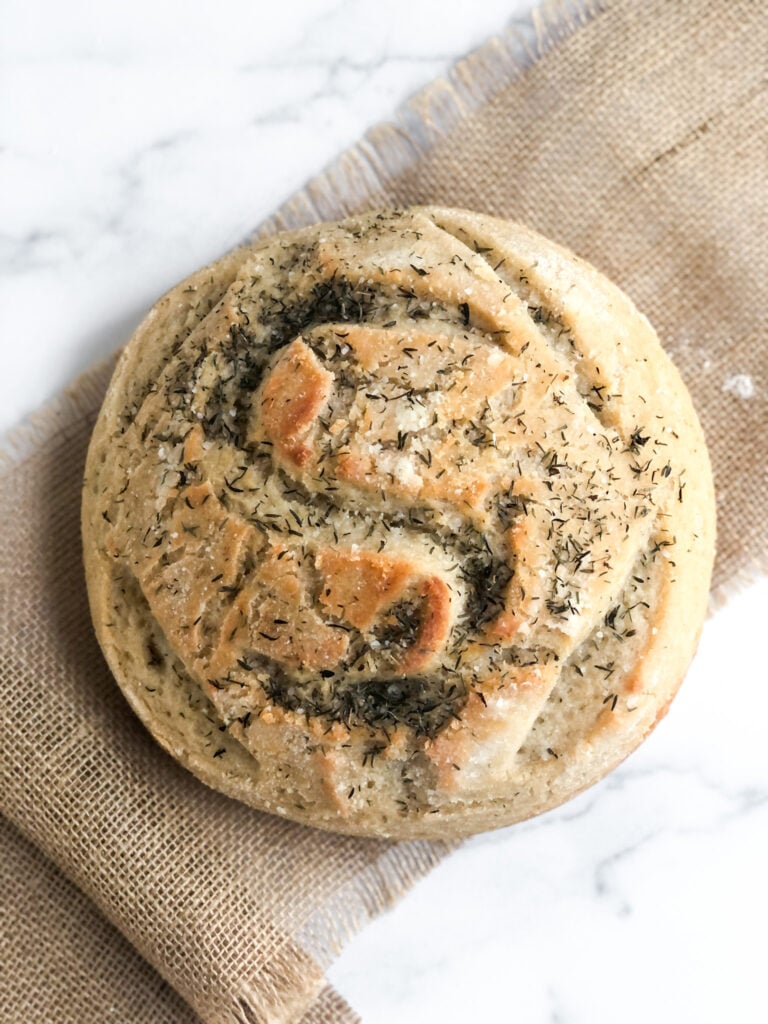 Challah Back! My gluten-free challah recipe has an amazing texture and taste.
Oat Bread: Make this earthy gluten-free oat bread to enjoy for sandwiches or as is.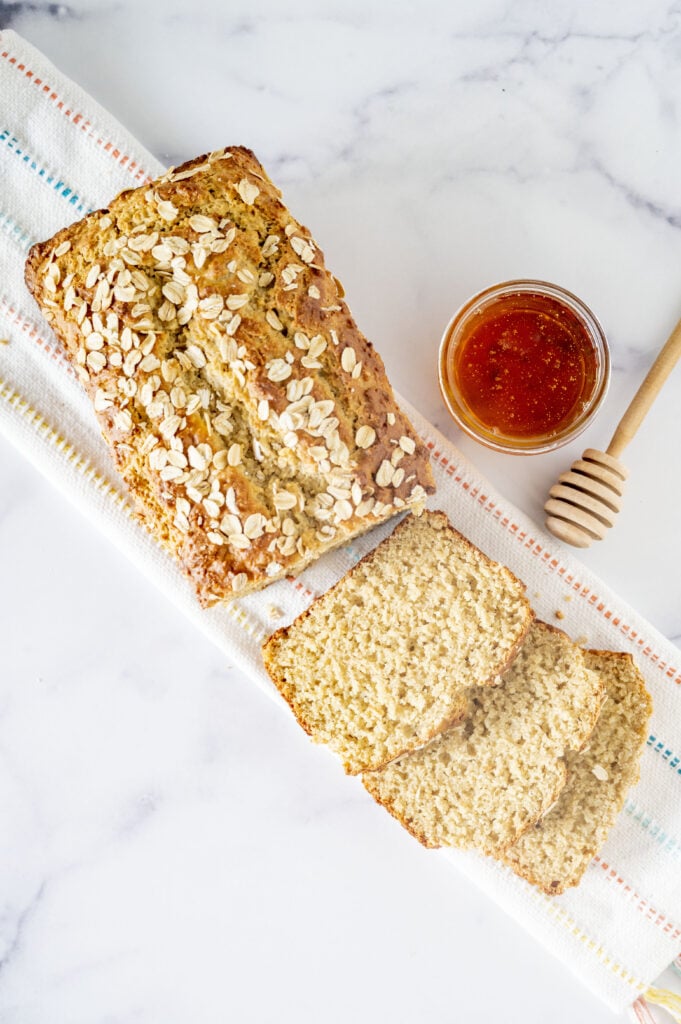 Also try these recipes using Bob's Red Mill 1:1 flour:
Gluten-Free Bread Made with 1:1 GF Flour
Looking for a quick and easy sandwich bread made with pantry staples? Look no further than this simple gluten-free sandwich bread made with Bob's Red Mill 1:1 Gluten-Free Flour Blend and a few simple ingredients I bet you already have on hand.
Print
Pin
Rate
Instructions
Combine flour, brown sugar, yeast, salt in the bowl of your standing mixer.

Attach the paddle attachment to your standing mixer and slowly mix all ingredients on low speed. Drizzle in milk, then add honey and butter and continue to mix well.


Turn mixer to medium speed and add each egg, one at a time until incorporated. Once all the eggs are added, mix dough for 1 minute on medium-high speed until all ingredients are well combined. The batter will be sticky and soft (not like normal bread dough).

Grease an 8.5 x 4.5" loaf pan and gently pour dough into the pan without deflating it. Cover with plastic wrap and place in warm spot to rise for 90-120 minutes. 

Preheat oven to 350º F and bake for 38-40 minutes until the top is slightly browned and the dough is cooked through. Place bread on a wire rack to cool completely. 

Use a serrated bread knife to cut bread into slices. The bread tastes fantastic toasted and lasts for several days when wrapped in plastic wrap.
Notes
I used a standard loaf pan to bake this bread, but if you want a higher rise and taller slices, use a bread loaf pan instead, like this one.
The bread tastes best right out of the oven. Reheat leftover bread in your microwave for a few seconds or in your toaster oven to get that soft, doughy texture you desire more.
This recipe was inspired by the Gluten-Free Bread blogger.
Nutrition
Calories:
121
kcal
|
Carbohydrates:
18
g
|
Protein:
4
g
|
Fat:
4
g
|
Saturated Fat:
2
g
|
Cholesterol:
35
mg
|
Sodium:
298
mg
|
Potassium:
41
mg
|
Fiber:
2
g
|
Sugar:
4
g
|
Vitamin A:
139
IU
|
Calcium:
35
mg
|
Iron:
1
mg