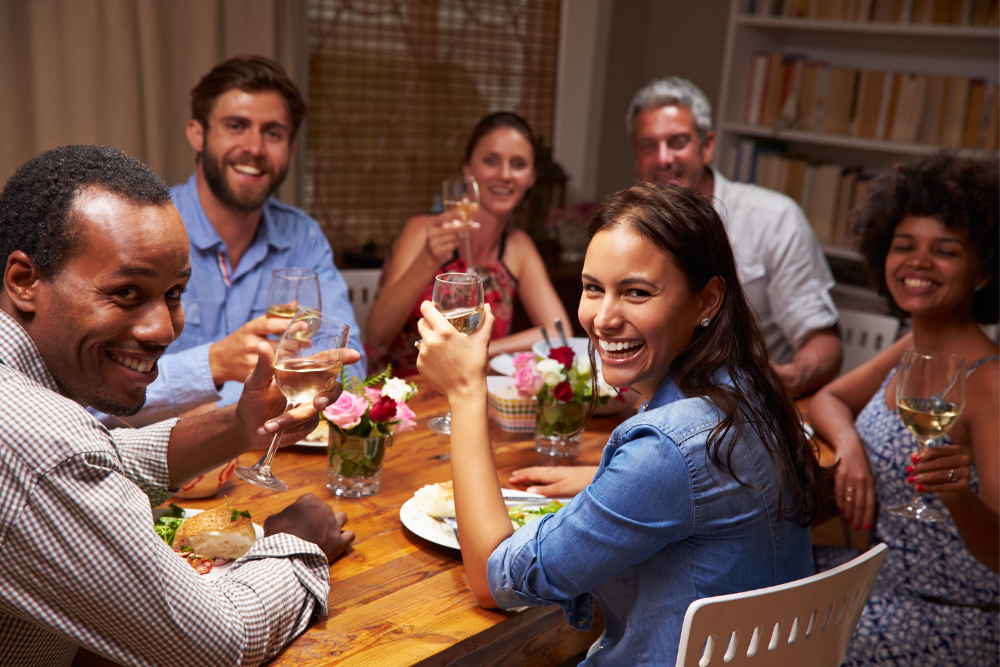 Hosting a gluten-free friend for dinner? Want to cook for her safely? This post will show you how to make a safe, no-fuss meal for your friend. This post contains affiliate links. Please see my disclosures.
If you have a gluten-free friend who has celiac disease or cannot eat gluten, I'd like to share some tips for hosting them for dinner (or a meal).
Before I get into my tips, I first want to say, "Thank you!" You're a good friend. You're supporting your friend when most are afraid to host her, and your friend is scared to eat outside her house.
These tips might seem overwhelming; perhaps you'll even think your friend is a diva for having so many demands. But I assure you that these suggestions will help keep your friend healthy. And the last thing you want to do is make her sick, right?!
Please know that your friend likely has a lot of anxiety about eating at your house. While you invited her and want to host her, she is likely feeling torn. On the one hand, she wants to be with you and feel amicable and gracious; on the other hand, she's worried about being a burden and getting sick.
Tips for Hosting Your Gluten-Free Friend for Dinner
Many people with celiac disease will never share their actual list of demands with their friends for fear of sounding like a diva. And since they won't tell you the full extent of what it takes to host them for a meal safely, these ten tips will help you.
(1) Decide On a Menu and Discuss It with Your Friend
Many friends ask me what they can make me, and I happily provide suggestions or recipes. It's easy to come up with ideas of your own, too.
Easy gluten-free meals for someone new to cooking gluten-free include tacos, roasted chicken or fish, rice bowls (think Chipotle), gluten-free lasagna, and stir-fries. Great side dishes are vegetables, rice, baked or mashed potatoes, corn chips, guacamole, or hummus. You can search my gluten-free recipe index for ideas and inspiration.
Please don't assume your gluten-free friend is okay with a salad when everyone else is having pizza. It's important to make her something comparable to everyone else.
When my friend told me she was serving pizza at her dinner party, I offered to bring my food. However, my friend insisted that she would make me something. When I got to the party, I learned she had made me a lettuce and tomato salad. I didn't communicate with her well, so I didn't get something comparable. I wish I had brought gluten-free pizza so I could have enjoyed pizza along with everyone else.
(2) Clean Your Prep Station and Utensils
Understand that someone with celiac disease can get sick even if a crumb of gluten makes its way into your dish.
To avoid cross-contamination or to have the food you're preparing for her come in contact with any gluten crumbs, run your pots, cooking utensils, and serving platters through the dishwasher (or make sure they're really clean before using them).
Always keep your hands and cooking station free from gluten and avoid coming in contact with gluten during the cooking process. This means you can't prepare yourself a sandwich while cooking tonight's dinner.
If you're going to grill, use a grill mat or bake her food instead to avoid having her food touch surfaces that once touched gluten. You can buy grill mats on Amazon and use them when you're hosting your gluten-free friend. Remember, heat does not kill gluten.
(3) Check Ingredient Labels
Gluten is hidden everywhere, so I suggest avoiding packaged foods and using fresh ingredients instead.
Of course, there are times when you may need to use sauces, spices, and other items to prepare your meal, and this is when label reading is a must!
Most dried spices are fine (although fresh spices are better), but do a double take to ensure the only ingredient inside the spice jar is the spice.
Salad dressings, seasoning packets (including onion soup mixes), store-bought chicken broths, bouillon cubes, and other condiments are notorious for hidden gluten, and most ingredients aren't clearly stated as "gluten" on the label.
Avoid gluten ingredients like wheat, barley, rye, and oats, and look at the "contains" statement at the end of the ingredient list. Many manufacturers will disclose if their ingredients contain any of the top allergens like milk, eggs, wheat, peanuts, shellfish, etc. (Please note that gluten is not an allergen, but wheat is. A product may be labeled "wheat free" but it doesn't mean it's "gluten-free" since it could contain barley.) Read: Wheat Free vs. Gluten Free – What's the Difference?
Because labels are confusing, use fresh ingredients like onions, garlic, and salt and pepper to season your food. If you must use other seasonings, check labels first and avoid specific ingredients when in doubt. You can also ask your friend if an ingredient is okay. She will likely know. And if it's not okay, she will likely know of a substitute you can use instead.
(4) Avoid Ingredients Where Gluten Lurks
Every time you butter your bread, you're contaminating your tub of butter with gluten crumbs. Think about it. You take some butter, spread it on your bread, then maybe take a bit of butter. Crumbs are everywhere in your tub of butter. The same goes for your peanut butter, jelly, mayo, and bag of sugar.
Yep, even your container of sugar is at risk for cross-contamination. Think about when you bake and dip the measuring cup in the flour, then into the sugar. Your naturally gluten-free jar of sugar may now contain bits of gluten!
Please use a new tub of butter and a fresh container of sugar when cooking or baking for your gluten-free friend.
(5) Don't Use Your Electric Mixer
Your electric mixer likely has bits of flour that have made their way into the crevices of your mixer. You shouldn't use this mixer to make your friend baked goods.
Instead, buy a naturally gluten-free dessert, such as store-bought cakes and cookies, See's Candies, ice cream, and fresh fruit, or ask your friend to bring dessert.
And if you insist on making a baked good, use a store-bought mix that doesn't require a mixer.
(6) Avoid Using Previously Glutened Surfaces
Clean all surfaces with warm, soapy water before preparing gluten-free foods, including your countertops and cutting boards. Also, avoid using colanders for draining pasta, convection ovens, air-fryers, cast-iron pans, and toasters.
(7) Wash Your Hands
If you're going to serve a gluten-free dish at your meal, make sure you wash your hands between touching the gluten-y and gluten-free foods. If you can make the entire meal gluten-free, even better. Your friend will feel much better eating at your house, and there's no sense in cooking things that not everyone at your dinner party can enjoy.
(8) Let Her Take First
If you serve gluten-y foods at your dinner party, let your friend take her food first. She can fill her plate before other people cross-contaminate the food with gluten. I've watched people put bread on their plates, take salad, and then touch the salad utensils to the bread crumbs.
I've also watched people swap serving utensils between dishes. The spoon for the gluten-free potato salad somehow made its way into the couscous salad, which is not gluten-free. A simple error can compromise the meal you worked hard to make safe for your friend.
(9) Take Her Diet Seriously
Take cooking for someone with celiac disease or food allergies seriously. This is a medically necessary diet. There are a lot of gluten-free jokes floating around, but this is no joke for your friend; this is her reality.
If that doesn't motivate you, remember you don't want to make your friend sick. Do your best and take every precaution you can. No one is perfect, but if you stick to using naturally gluten-free ingredients and reading food labels carefully, there is nothing to worry about. It's as easy as a [gluten-free] piece of cake!
(10) Assure Her
Nothing is more comforting than a friend telling me what she did to prepare for my visit. She'll often tell me she washed the pots and cooking utensils or mixed the cake batter by hand (no electric mixer). She'll list all the ingredients and sometimes show me the packaged items she used.
All of this makes me feel confident that my friend not only took my diet seriously but also that she took great care in hosting me. These are the kinds of friends I'm so grateful to have!
Tip! Nothing is worse than someone who "can't remember" exactly what they put in their food. When people tell me they "think" something is gluten-free, I won't eat it. I need to know for sure.
It's Not Easy Being Gluten Free
As you probably experienced first-hand in preparing this meal for your gluten-free friend, this gluten-free stuff isn't easy. Indeed, no one would choose this lifestyle if they didn't have to eat this way for health reasons.
You might sigh relief knowing that you only have to take such precautions when hosting her, but remember; this is your friend's reality every day. Your empathy for her will significantly increase, and your act of kindness will be felt tenfold.
Thank you again for being a great friend and taking every precaution to host your gluten-free friend for a meal. You are a true friend, and it will be duly noted!