This page contains affiliate links.
I'm new to the gluten-free diet. Where do I start?
I recommend taking the Good For You Gluten Free SIGNATURE Course to go gluten-free quickly and fast-tracking the healing process. This course contains 20 self-paced video lessons to help you master the gluten-free diet.
You can also read my book, Dear Gluten, It's Not Me, It's You. It's a fantastic resource for someone new to the gluten-free lifestyle.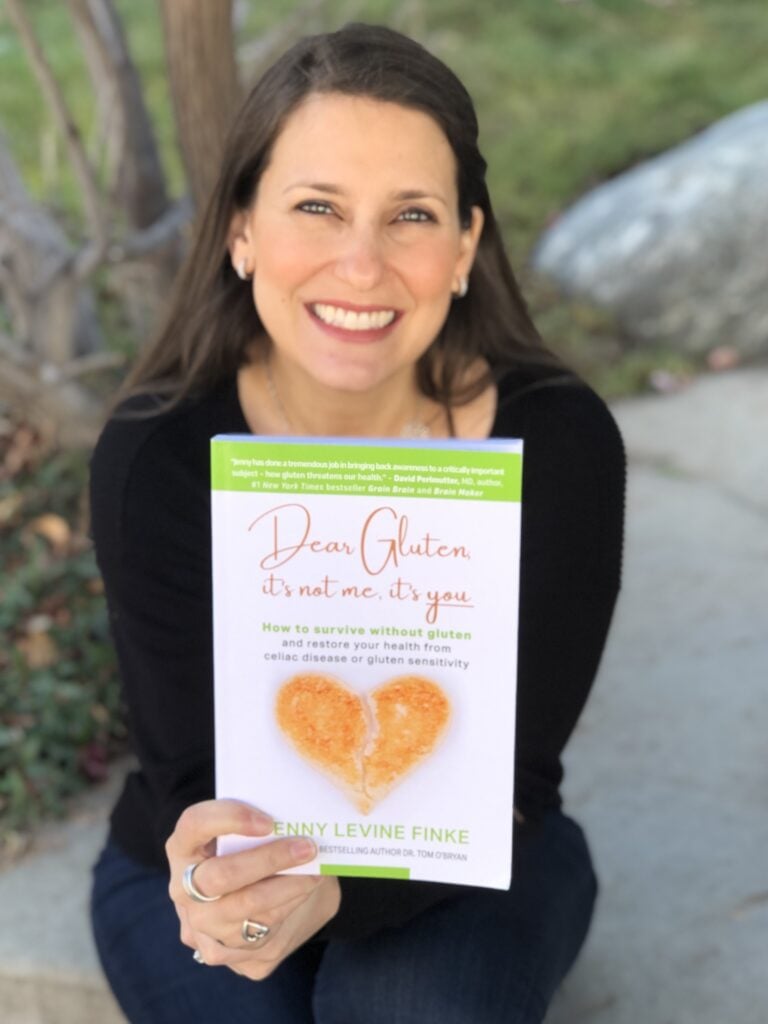 I also have several free resources, including my Gluten-Free Quick Start Guide and popular weekly newsletter, which is packed with information to help you live your best gluten-free life.
What gluten-free flour do you recommend for baked goods?
I have found it convenient to use gluten-free flour blends that are already commercially available. They work as a good cup-for-cup substitute in most gluten-free recipes.
While I don't know what blend is the best, I find myself using Bob's 1-to-1 Gluten-Free Flour most often, just because it's cheaper than other blends and easily found at most grocery stores.
I also highly recommend Better Batter and King Arthur's Measure-for-Measure flour. Both flours took home top honors when I tested five different flour blends with the same chocolate chip cookie recipe.
For yeasted recipes, like cinnamon rolls and monkey bread, I love Lorraine's Sweet Dough Mix.
I like to eat out. Is it safe to do, and how do you eat out safely while maintaining your gluten-free diet?
Eating out safely is not an easy thing to discuss. Some people judge me for eating out, but I like to eat out, and it helps me feel normal.
When eating out, ALWAYS let your server know you need a safe, gluten-free meal. Express the seriousness of your request. Also, try to order foods that are as naturally gluten-free as possible to avoid cross-contamination.
I highly recommend reading my ebook, The Ultimate Guide to Eating Out Gluten Free, to help you eat out more confidently as a newly minted gluten-free dinner.
I also offer two tools to help you eat out safely:
Download my free Gluten-Free Safe Dining Card here. Print it and show it to your server when you eat out.
Look into investing in a Nima Sensor. This is a portable device you can use to test your food for gluten BEFORE you take a bite. Please note that some people misguidedly criticize Nima, but I suggest reading this article to put your mind at ease.
I've tested dozens of restaurants for hidden gluten – you can see a full list of them by scrolling through my Nima Tested Archives.
How do I know if I have celiac disease?
It is essential that you get tested for celiac disease before you go on a gluten-free diet. You must be eating gluten for a celiac disease test to be accurate. Here are a few resources to read:
How do I know if I have gluten sensitivity or another food sensitivity?
If you don't have celiac disease but think you have an issue with gluten, you might have gluten sensitivity. Read, Do You Have Gluten Intolerance? How to Test for Non-Celiac Gluten Sensitivity, for more information on testing for gluten disorders beyond celiac.
I was just diagnosed with celiac disease. Is there a good book you recommend?
I wrote the book I wish I had when I was first diagnosed with celiac disease. It contains eight years of wisdom and a ton of research about not only breaking up with gluten but also how to heal your body in the aftermath.
You can find my book, Dear Gluten, It's Not Me, It's You, on Amazon. It includes a foreword by Dr. Tom O'Bryan. Dr. Tom wrote the book on autoimmune disease. He is the leading gluten-sensitivity doctor in the world, and his book, The Autoimmune Fix, is also mandatory reading.
Another book that really got to me is Undoctored by Dr. William Davis (author of the famed Wheat Belly). This book is more about being grain-free and learning to take your health into your own hands vs. being dependent on doctors and pills.
Are there any gluten-free cookbooks you recommend?
I recommend a few good ones:
What is the best gluten-free recipe you've ever made?
It's hard to choose just one, but my go-to dessert is chocolate chip applesauce cake. Whenever someone asks me to bring dessert, I almost always make this cake.
Is it true that I can get glutened from lip products and cosmetics?
Yes, it is. Many cosmetic products contain gluten, and if you ingest them, you may have to run for the toilets! I highly recommend gluten-free lip products from Red Apple Lipstick. It's one of the VERY few brands that is certified gluten-free.
Also, read more about gluten-free lip balms and certified gluten-free make-up brands.
Didn't find the answer to your question? Ask me anything.