Gluten is tempting and incredibly hard to give up, leading many to cheat on the gluten-free diet. In this article, I explain why you should never cheat on the gluten-free diet, and how doing so may cause more harm than good. This article may contain affiliate links. Please read my disclosures.
Getting diagnosed with a gluten disorder – such as celiac disease or non-celiac gluten sensitivity – can feel like a punch in the gut. The only treatment option for these gluten disorders is a strict gluten-free diet. No cheating. It's all or nothing.
Gluten is a sticky protein found in wheat, rye, barley, and sometimes oats, and it's unfortunately found in the majority of packaged foods. Millions of individuals living with celiac disease and gluten sensitivities cannot eat gluten, and are more likely to feel the physical and emotional burdens of the gluten-free diet every day.
While it might sound easy enough to go gluten free, doing so in a world full of gluten is harder than it looks. Most people with celiac disease I know would rather take a pill so they can eat gluten again rather than put in the exhaustive effort it takes to be fully gluten free day-in and day-out.
I've been on the gluten-free diet for more than 10 years, and while it gets easier with time, it's never easy. Wherever I go in the world, I'm reminded that I'm different. My journey is always more difficult and finding gluten-free safe foods, or bringing a suitcase full of my own foods on vacation, often feels more like a chore than an enjoyable time away from home.
While I realize that complaining about how hard it is to follow a strict gluten-free diet might sound like a first world problem, when you're in the thick of the lifestyle, and you cannot eat gluten for medical reasons, the struggle is real.
Knowing first hand the difficulties of complying with the gluten-free diet, it's no wonder that few people are able to do it. In fact, researchers found that fewer than 50 percent of adults on a gluten-free diet were adhering to a strict gluten-free diet. I write all about the challenges of why the gluten-free diet is hard to stick to a gluten free diet in this article.
Below, I discuss what cheating on your gluten-free diet looks like, how it affects your ability to heal, and the long-term repercussions of eating even just a little gluten.
What Does Cheating Look Like?
Cheating on your gluten-free diet can come in many forms, and I've had several clients with celiac disease who continue to eat gluten despite knowing the harm its doing to their bodies.
Below are some of the many excuses the gluten-free community uses to justify eating gluten despite having celiac disease or non-celiac gluten sensitivity:
I'm not celiac, so I can eat just a little gluten here and there.
I'm just gluten intolerant, so I'm not worried about cross contamination.
I'm on a low gluten diet.
I have silent celiac so a little gluten doesn't bother me.
Gluten doesn't bother me that much, so I just avoid it but I'm not strict about avoiding it.
I always eat gluten free, but since it's my birthday, I'll eat the cake, just this once.
I'm going on vacation. I'll resume my diet when I return.
I don't mind if the French fries are cooked in a shared fryer, I'll be fine.
It's okay, I'll eat the lasagna you made even though it contains gluten. I'll just pick away the noodles.
A lot of these excuses minimize the seriousness of the gluten-free diet, perhaps it's done because someone doesn't want to appear to be making a fuss, or they truly don't think "just a little gluten" will hurt. Plus, in a world full of gluten, resisting gluten's temptation is near impossible at times.
However, I assure you, and so do some of the leading doctors on the subject say, that full compliance to the gluten-free diet is the number of predictor of long-term health outcomes.
Why You Shouldn't Cheat
Dr. Tom O'Bryan, the leading gluten sensitivity doctor in the world who also wrote the foreword to my book, says it only takes one small exposure to gluten to activate an immune system response in both people with celiac disease and gluten sensitivity.
In other words, even "just a bite" of gluten can and will trigger antibodies in your immune system. If you have celiac disease, these antibodies attack your small intestine, but if you have gluten sensitivity, these antibodies can attack healthy tissue and create inflammation at your most genetically weak spot, whether it be your thyroid, skin, brain, joints, bones, reproductive system, etc.
Cheaters never win, and the following reasons can help you better understand why cheating on the gluten-free diet is no good.
Reason #1: You'll Feel Awful
One of the worst side effects from cheating on the gluten-free diet is that you'll feel awful. That said, where and how you feel awful can vary from person to person.
One person might experience painful bloating and embarrassing gas, while others might experience chronic joint pain, skin rashes, migraines, fatigue, etc.
Eating gluten causes me to bloat up like a balloon and then urgently have to use the bathroom. It's not fun nor pretty. It also causes severe fatigue, acne and my annoying geographic tongue to emerge.
It's important to note that there are more than 60 symptoms connected to gluten disorders, and many of these symptoms have nothing to do with the gastrointestinal tract at all. However, avoiding gluten and taking your gluten-free diet seriously can save you from experiencing a slew of preventable symptoms and disorders.
A 2022 study by a leading autoimmunity doctor, Dr. Yehuda Shoenfeld, boasted an incredible headline. The headline of this study read, The Gluten-Free Diet Can Ameliorate the Symptoms of Non-Celiac Autoimmune Diseases." The findings reveal that a reduction of symptoms occurred in 64.7 percent of autoimmune patients, showing once again the undeniable link between autoimmune disease and gluten.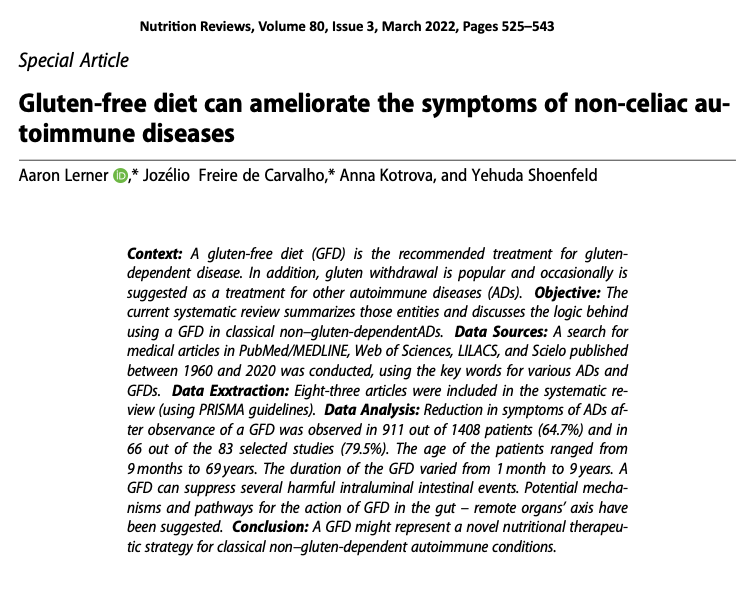 Reason #2: You'll Die Earlier 
Not to sound sensational or dire, but it's important to know that regardless if you have gluten sensitivity or celiac disease, your relative risk of death is higher than the general population when you don't comply with the gluten-free diet.
A study published in 2001 in the Lancet followed celiac patients for more than 20 years and recorded their eating patterns. Patients who ate gluten once per month, even if they didn't feel bad after eating gluten, incurred a sixfold increase in the relative risk of death. That seems like a high price to pay to eat wheat!
In another study published in the Journal of the American Medical Association in 2009, researchers examined 351,000 intestinal lining biopsies. They found about 46,000 on the celiac disease spectrum, 29,000 with celiac disease, and 17,000 with early stage celiac disease development (the period before the microvilli were completely worn down). There were another 13,000 people in the study who did not have positive bloodwork nor worn down microvilli but still had gluten sensitivity and inflammation.
The researchers said that people with celiac disease had a 39 percent increased risk of early mortality while people with inflammation from gluten sensitivity had a 72 percent increased risk of early mortality.
Why is the mortality rate higher for those with gluten sensitivity? Some researcher speculate it's because someone with celiac disease takes their gluten-free diet more seriously than someone with gluten sensitivity. Therefore, people with celiac disease put their inflammation into remission while people with gluten sensitivity who continue to eat gluten continue to experience chronic inflammation.
Reason #3: You'll Accumulate More Disease(s)
Need another reason not to cheat on your gluten-free diet? Gluten might be the catalyst that ripens your body for additional disease.
In fact, according to a study published in Gastroenterology, people with non-celiac wheat sensitivity (aka gluten sensitivity) have double the amount of elevated levels of antinuclear antibodies than the levels experienced in people with celiac disease. Antinuclear antibodies are known to manifest themselves in autoimmune conditions like lupus, rheumatoid arthritis, Sjogren's syndrome, scleroderma, polymyositis, and other conditions.
In other words, if your exposure to gluten continues, you will likely progress further along the autoimmune spectrum and your gluten sensitivity may eventually turn into a full-blown, irreversible autoimmune disease!
According to Dr. O'Bryan, elevated antibodies could be traveling in your bloodstream and destroying tissue wherever the weak link in your chain resides (small intestine, thyroid, joints, brain, etc.), making you susceptible to a slew of autoimmune conditions.
Remember, research is just starting to show that celiac disease is just one manifestation of a sensitivity to wheat, and there are hundreds of other autoimmune conditions that may be triggered by gluten. Only time will tell.
Reason #4: You'll Elevate Your Cancer Risk
If you have celiac disease, any gluten exposure will damage your small intestine and prevent it from healing and functioning properly. This leaves celiac patients living not only in a chronic state of nutrient depravity, but also persistent damage puts celiac disease patients at serious risk of lymphoma, a type of blood cancer.
A study published in the Annals of Internal Medicine found that people with celiac disease who incurred persistent intestinal damage had a higher risk of lymphoma than celiac patients whose intestines had healed.
In another study, researchers found that patients with celiac disease had an annual lymphoma risk of 67.9 per 100,000, a 2.81-fold increase compared with the general population risk of 24.2 per 100,000. However, celiac patients with persistent villous atrophy (aka, damaged microvilli surrounding the small intestine) incurred a larger annual risk of lymphoma – 102.4 per 100,000 – compared with those with healed intestines, whose risk was much less at 31.5 per 100,000.
These findings suggest that intestinal healing should be the ultimate goal for patients with celiac disease, and the intestinal lining cannot heal if its continually inflamed by gluten. The truth is, celiac disease can kill you (over time) and may absolutely keep you in a state of morbidity (dying/suffering).
Reason #5: No One Will Take You Seriously
When someone tells their waiter they need a gluten-free meal, but then they take "just a sip" of their spouse's beer or a "small bite" of their friend's chocolate cake, it enrages me. Why? Cheating on your gluten-free diet makes it look like this isn't a serious lifestyle for you, putting the rest of the gluten-free community at risk of not being taken seriously too.
When I come along and insist on a gluten-free meal, that same waiter may not take my request seriously, thinking it's okay for someone who is gluten free to eat just a little gluten.
Furthermore, I've had many clients go gluten free, recover and feel better, and then start eating gluten again thinking they've been "cured". The truth is, there is no cure for celiac disease, and gluten intolerance is a lifelong affliction too. Once someone goes back on gluten, the damage will reemerge, often with a vengeance.
Reason #6: You'll Undo All Your Progress
It's always curious to me why someone would go out of their way to follow a gluten-free diet most of the time, only to undo all of their hard work by eating a "little gluten" here and there.
When you eat gluten, you undo all of the progress you made. A weak moment on the lips can lead to a catastrophic chain reaction in your body. Just as you can say one wrong thing and have your reputation destroyed, eating just one bite of gluten can topple all your progress and set back your healing by weeks, months and even years.  
How to Stay Gluten-Free Compliant
It takes a lot of physical and emotional willpower to be loyal to the gluten-free diet. But the truth is, it's a do or die situation if you have celiac disease or gluten sensitivity and you want to live a full, healthy life.
For me, I want to live a long life and die quickly at the end. I don't want to live in a state of dying and suffering for years like many people do these days. I want to live my life, and be healthy enough to take care of myself up until my time comes. I don't want to be dependent on drugs and medical interventions that keep me alive but severely reduce my quality of life.
This is why staying gluten-free compliant is a top priority for me, and it's why I want it to be a top priority for you too. I know you can do this, and here are a few tips to making compliance easier:
Plan Your Meals. When you plan your meals for the week, you will know what you're eating and when you're eating it. Read my 9 Meal Planning Tips for People with Celiac Disease and Gluten Sensitivities to help you get started with meal planning.
Eat the Majority of Your Meals at Home. Eating at home will lower your risk of getting accidentally glutened from gluten cross contamination at a restaurant. When you eat at home, you control the food and how it's prepared, which will ultimately ensure you eat gluten-free safe at all times.
That said, I believe eating out can help you feel normal too. Don't be afraid to eat out, just do it with caution. My ebook, The Ultimate Guide to Eating Out Gluten Free, offers plenty of tips to help keep you safe without sacrificing your love of eating out.
Focus on Nutrient Dense, Naturally Gluten-Free Foods. Try to eat as many nutrient-dense naturally gluten-free foods as possible to avoid eating unwanted gluten. I offer a list of naturally gluten-free foods as well as a list of 200+ foods that are gluten-free safe.
Strategically Supplement. While eating a naturally gluten-free, whole foods-centered diet will help boost your nutrient tank, supplementing can help you ensure you're getting the nutrients you need as well as fill in any gaps since many gluten-free foods are not fortified with vitamins like their wheat-based counterparts.
Read my list of supplements for celiac disease and gluten intolerance as well as a discussion on the benefits of probiotics for celiac disease and gluten sensitivities.
Learn to Cook and Bake. I didn't know how to cook or bake when I first went gluten free. I was overly depending on take out food and packaged foods. But then I started to experiment in the kitchen and realized how much I loved it – and that I was actually good at it!
I cook a lot of healthy dinners for my family, and I've learned to recreate childhood favorites like challah, pizza, Pop Tarts and Goldfish.
Keep Healthy Snacks on Hand at all Times. Always have healthy and fun gluten-free snacks on hand so that when hunger strikes, you're prepared with a pantry and fridge full of delicious gluten-free foods. Read my list of my favorite gluten-free brands as well as some of my favorite gluten-free snacks.
Surround Yourself with Supportive People. Use your newfound diet as the opportunity make gluten-free friends and surround yourself with people who want you to be healthy too. "Break [gluten-free] bread" with those who never ask you to compromise your gluten-free diet or pressure you to eat at places that make you feel uncomfortable.
Staying Strong. The gluten-free diet gets easier with time, albeit, it's never easy. You've been given one body in this lifetime. Take care of it.
Additional Articles