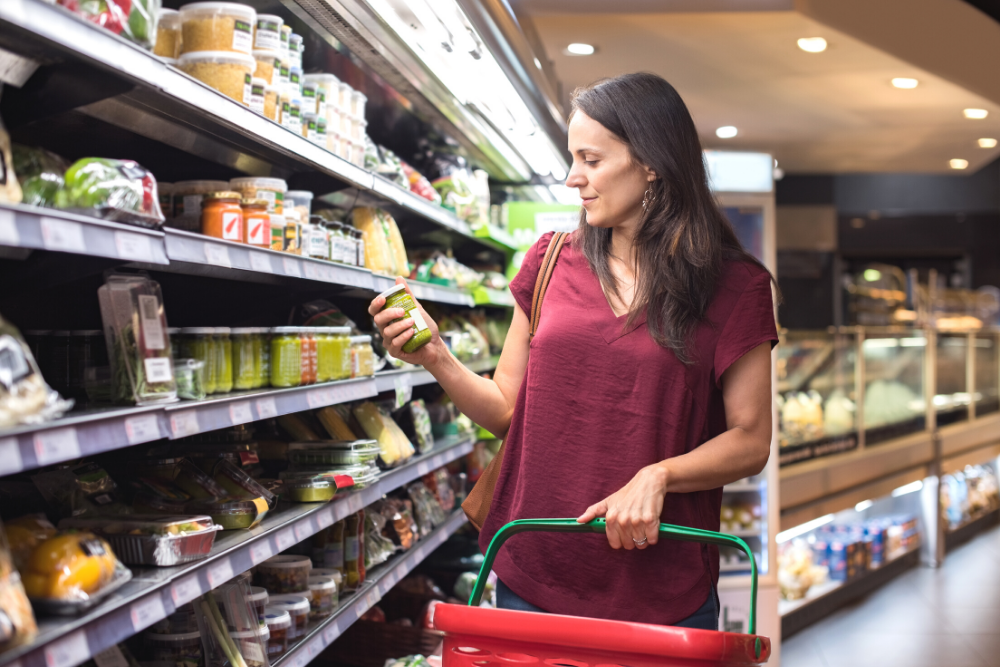 One of the most critical skills a person with celiac disease or gluten intolerance can master is label reading. In this article, I explain the current gluten-free labeling laws and how to decode if a product is gluten-free. This article applies to food labeling standards in the U.S. only. Please read my disclosures.
Three million people in the U.S. have celiac disease, a genetic autoimmune disease that damages the small intestine, an organ responsible for absorbing and distributing nutrients from food to every cell and organ in the body.
Another 18 million people in the U.S. suffer from non-celiac gluten sensitivity or gluten intolerance, which causes inflammation in the small intestine and can lead to various autoimmune and metabolic diseases depending on where the weak link is in a person's chain.
Understanding gluten-free labeling laws is one of the most critical skills a gluten-free person can develop and master. There is much to learn, understand, and decipher when determining a product's safety. It can be an overwhelming and frustrating experience regardless if someone is new to the gluten-free diet or has been gluten-free for decades.
In this article, I detail everything a person needs to know about the FDA's gluten-free labeling guidelines, the difference between "gluten-free" and "certified gluten-free," how to decode confusing "May Contain" statements, and what red flag ingredients people with gluten disorders should avoid.
You can also watch me discuss this topic in detail in my webinar: How to Decode Food Labels for Hidden Gluten.
What the FDA Says about Gluten-Free Labeling
On August 2, 2013, the U.S. Food and Drug Administration (FDA) set forth guidelines for food manufacturers to use when making products they claim as "gluten-free."
These guidelines help to not only define what "gluten-free" means but also set forth uniform standards that are "truthful" and "accurate" for people living with celiac disease.
While the FDA says these guidelines are voluntary, and food manufacturers must regulate themselves to ensure accurate claims, they offer much-needed protection to celiac disease and gluten-intolerant communities.
Below is what the FDA gluten-free guidelines say:
(1) A product labeled "gluten-free," "no gluten," "free of gluten," or "without gluten" means that the product does not contain any gluten-containing grains (wheat, barley, rye) or any ingredients derived from gluten grains (i.e., wheat flour or barley malt). Please note the guidelines don't mention oats, which are notoriously cross-contaminated with wheat. Please read: Are Oats Gluten Free? Unpacking Confusing and Contradictory Information.
(2) A "gluten-free" labeled product must contain less than 20 parts per million (ppm) of gluten to include the "gluten-free" claim on its packaging. Concerned that the 20 ppm gluten threshold isn't enough? Read, Is the FDA's 20 ppm Gluten Threshold Enough?
Please note that the FDA does not require manufacturers to test a final product to ensure it contains less than 20 ppm of gluten. A food manufacturer can decide for itself how it will approach meeting the FDA's guidelines. Some will test their final products; others will use other methods to determine if they meet FDA guidelines.
(3) If an ingredient derived from a gluten-containing grain has been processed to remove the gluten protein, such as wheat starch, it can be labeled "gluten-free" only if the final product verifiably contains less than 20 ppm of gluten.
(4) A food labeled "gluten-free" and whose label includes the term "wheat" in the ingredient list or bears a separate "contains wheat" statement (more on May Contain statements next) must also include clarifying language that explains that the wheat has been removed and that the final product contains less than 20 ppm of gluten.
Please note that the FDA guidelines cover all food and beverages except for meat and poultry, which are regulated by the USDA, and alcohol, which is regulated by the Alcohol and Tobacco Tax and Trade Bureau. (Read Answers to 11 Common Questions about Alcohol and the Gluten-Free Diet.)
Gluten-Free vs. Certified Gluten Free
A product can be labeled "gluten-free" if it meets the above criteria set forth by the FDA. However, many products take it a step further by becoming "certified gluten-free."
When a product is certified gluten-free, it means a manufacturer has met stricter gluten-free labeling guidelines set forth by a third-party certifying agency.
Certifying agencies include the most widely used certification agency, the Gluten-Free Certification Organization (GFCO), and certification programs from Beyond Celiac, The National Celiac Disease Association, and NSF International.
Many of these agencies require products to contain less than ten ppm of gluten vs. less than 20 ppm of gluten, and all require manufacturers to test their final products to ensure they don't contain gluten. Remember, the FDA does not require final testing of products for a manufacturer to make a "gluten-free" claim.
Furthermore, it's important to note that a certified gluten-free claim does not mean a product was manufactured on dedicated gluten-free equipment. Many certified gluten-free products are made on shared equipment also used to manufacture products that contain gluten and wheat.
However, gluten-free certifying agencies require the equipment to be sanitized between runs and of course, require testing of the final product to ensure it's gluten-free.
The following image shows the logos designed by the various gluten-free certifying agencies. In 2020, the GFCO created a more distinct logo, changing from the widely used GF in a circle to its current squiggly purple "g." The agency did this because the circle logo was often mistaken as a generic gluten-free label.
While food manufacturers must pay for third-party certification, such labels offer manufacturers a good return on investment.
Products that bear these logos instill consumer trust and confidence and make it easier for people following a gluten-free diet to shop for groceries and quickly identify safe products.
New gluten-free certification programs are popping up all the time as the gluten-free industry grows. Industry experts say the gluten-free products market will be worth $8.3 billion by 2025!
One such addition is the BRGCS's Gluten-Free Certification Program (GFCP), which is a logo that says "Informed Gluten-Free." I first spotted this new certification logo on Shelia G's Gluten-Free Brownie Brittle.
Decoding "May Contain" Statements
The Food Allergen Labeling and Consumer Protection Act of 2004 (FALCPA) requires food manufacturers to clearly disclose if their products contain any of the top eight food allergens, which include:
Milk
Eggs
Fish
Shellfish (crustaceans)
Tree nuts
Peanuts
Wheat
Soy
If, for example, a product contains food starch, and that food starch is derived from wheat, a company must list wheat in or below the ingredient label. An ingredient label could say "food starch (wheat)" inside the ingredient listing, or it could include a disclosure below the ingredient list saying, "Contains wheat."
However, gluten-free consumers should beware of the following three pitfalls when relying on May Contain statements to sniff out gluten in a product.
(1) While wheat is considered an allergen, gluten is not. This means products can be wheat-free but not gluten-free. Barley and rye are wheat-free, but they contain gluten.
(2) May Contain statements never include oats, which can be highly cross-contaminated with wheat. Consumers should be cautious against buying products that contain oats unless the label specifies the product is "gluten-free" or "certified gluten-free."
(3) A "May Contain" statement may not include "wheat" in the disclosure statement below the ingredient listing, even when an ingredient label clearly lists wheat in the ingredient list. For example, in the Talenti gelato shown below, notice how wheat flour is listed in the ingredient list but not included in the May Contain statement.
Decoding Precautionary May Contain Statements
While a product may not outright contain one of the top eight allergens, food manufacturers sometimes add precautionary May Contain statements to their food labels. These precautionary statements usually look like the following:
"May contain wheat."
"Manufactured in a facility that uses wheat ingredients."
"Manufactured in a facility which processes wheat."
"Processed in a facility that uses wheat."
"Manufactured on equipment that processes products containing wheat."
"Manufactured on equipment that uses wheat."
"Manufactured in a facility that processes wheat, but not on the same equipment."
"Manufactured on shared equipment with products that contain wheat."
Precautionary statements are incredibly confusing and should be approached with common sense. I try to balance dietary vigilance without overly restricting myself, and therefore recommend approaching precautionary statements as follows:
(1) Avoid all products with the disclosure, "May contain wheat," unless labeled or certified gluten-free. For example, if a product contains gluten-free wheat starch, the product is gluten-free and, therefore, safe for someone with celiac disease.
Remember, people with gluten intolerance (not celiac disease) may react to various components of wheat, not just gluten, and therefore should cautiously eat products containing gluten-free wheat starch. Read The Truth about Gluten-Free Wheat Starch for more details on this topic.
(2) Generally avoid products with the disclosure, "Manufactured on shared equipment with products that contain wheat" unless the product is labeled "certified gluten-free." Many certified gluten-free products are produced on shared equipment that has been thoroughly sanitized between runs, and the final product has been tested to ensure it doesn't contain gluten.
(3) Proceed cautiously when you see the statement, "Manufactured in the same facility as wheat." Manufacturing facilities are enormous, and the wheat is likely used to create a different product in a separate room, making the risk of wheat exposure extremely low. In other words, I typically eat these products because I don't want to restrict myself unnecessarily. Look to the label for other clues to help you determine the safety of the product.
How to Decode Confusing Ingredients
Gluten-free labeling is voluntary, so each food manufacturer decides if it wants to test and label its products as "gluten-free." Some do, and some don't.
When a product doesn't contain overt gluten in the form of wheat, rye, barley, or oats, the decision to trust that product is up to the consumer. And this is where things can get dicey.
Many ingredients on food labels are confusing, including maltodextrin, yeast extract, modified food starch, gelatin, MSG, natural flavors, vinegar, malt, and more. I've written extensively about these confusing ingredients in my article, 20 Confusing Ingredients that May Contain Hidden Gluten.
Be cautious about eating products when ingredient sources are unknown. Many of these products are gluten-free, but it can be hard to decipher which are and aren't entirely safe.
Consider using the Fig Food Scanning App to scan the UPC of a product label. It will quickly highlight questionable ingredients that require further research, helping you to sniff out gluten in a food label.
Shop Smartly
Decoding a food label for hidden gluten is one of the best skills a person with a gluten disorder can learn and hone over time. I've been on a gluten-free diet for ten years and still have to research ingredient labels and questionable ingredients at times.
To make grocery shopping more bearable, I recommend the following strategies:
(1) Shop for Certified Gluten-Free Products: Certified gluten-free products will always be the safest bet at the grocery store. These food manufacturers have invested the time and resources to create safe products, and the community should feel comfortable and proud supporting the brands that support them.
(2) Trust "Gluten-Free" Claims: When a product bears a gluten-free claim on its labels, it meets the FDA's gluten-free labeling guidelines. Remember, even gluten-free products can contain trace amounts of gluten, and of course, some food manufacturers aren't always truthful, and such products should be reported to the FDA. Be sure to read, Is the FDA's 20 ppm Gluten Threshold Enough? to understand how a product can contain trace amounts of gluten (and it's [likely] okay that it does).
(3) Read Ingredient Labels Carefully: The most accurate and latest information about a product's ingredients will always be on the label itself. Look for clues to decode and decide if a product contains gluten. The Fig Scanner App can help. Remember, formula and ingredient labels change constantly, so never get too cozy with a product. Read my list of formerly gluten-free products that now contain gluten.
(4) Contact the Manufacturer: If it's unclear if a product is safe, contact the manufacturer and ask questions. If enough people ask questions, the manufacturer might take a hint and test and label its product as "gluten-free." However, many manufacturers cannot (or will not) say if their products are gluten-free because they haven't tested them to verify that they meet the FDA's gluten-free labeling guidelines.
(5) When in Doubt, Don't: There is almost always a gluten-free substitute, so shop wisely. When unsure if a product is safe to eat, the best course of action is to put it back on the shelf.
(6) Money Talks: I encourage the gluten-free community to support brands that support them by shopping for products labeled gluten-free or certified gluten-free. Supporting such brands is a way the community can speak loud and clear with their wallets. When a brand knows they can make more money by labeling their products "gluten-free," more will take the time and resources to test and label their products accordingly.
(7) Write Your Senators and Representatives: The Food Labeling Modernization Act of 2023, if passed, will require food manufacturers to disclose all sources of gluten on a food label (not just wheat, but barley and rye as well). Read more about this bill and how you can support it in my article, What You Need to Know About the Food Labeling Modernization Act When You're Gluten-Free.
Additional Reading