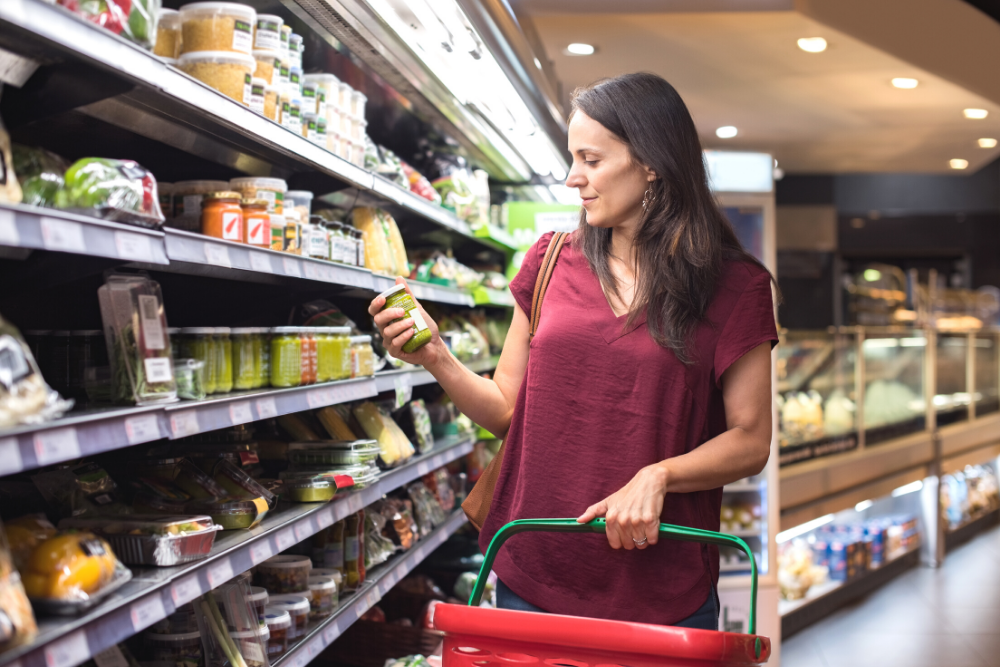 This post will detail everything you need to know about gluten-free food labeling laws, what they mean, and how to decode if a product is gluten free. It also discusses what "certified gluten free" means and how it differs from the guidelines set forth by the FDA. This article applies to food labeling standards in the U.S. only. Please read my disclosures.
Three million people in the U.S. have celiac disease, a genetic disorder that affects the small intestine, and 18 million more suffer from non-celiac gluten sensitivity.
The number of people affected by gluten disorders is on the rise, making standardized gluten-free labeling guidelines essential for the safety and well-being of the millions of people who cannot eat gluten.
Understanding gluten-free labeling laws can be an overwhelming experience to someone new to the gluten-free diet. There is a lot to learn, understand and decode when it comes to determining if a product contains gluten or not.
This article will clearly lay out everything you need to know about:
FDA gluten-free food labeling laws and guidelines
What certified gluten free really means
How to decode confusing may contain statements
How to decode confusing ingredients for hidden gluten
Don't want to read this article? Watch my webinar to learn everything you need to know about gluten-free labeling laws.
FDA Gluten-Free Labeling Laws
On August 2, 2013, the U.S. Food and Drug Administration (FDA) set forth guidelines for food manufacturers to use when making products they claim as gluten free.
These guidelines help to not only define "gluten free" but also they set forth uniform standards that are "truthful" and "accurate" for people living with celiac disease.
While the FDA says these guidelines are voluntary, and food manufacturers must regulate themselves to ensure accurate claims, they are a good start to protecting the celiac disease and gluten sensitivity communities.
Here's what the FDA gluten-free guidelines say:
(1) A product labeled "gluten free," "no gluten," "free of gluten," or "without gluten" means that the product does not contain any gluten-containing grains (wheat, barley, rye, spelt and sometimes oats), or any ingredients derived from gluten grains (ie, wheat flour or barley malt).
(2) A "gluten-free" labeled product must contain less than 20 parts per million (ppm) of gluten in order to bear the "gluten-free" claim on its packaging. This tiny amount of gluten is what the FDA has deemed a safe amount of gluten for someone with celiac disease to consume without causing an autoimmune reaction.
(3) If an ingredient derived from a gluten-containing grain yet has been processed to remove the gluten protein, such as wheat starch, it can be labeled "gluten free" only if the final product verifiably contains less than 20 ppm of gluten
(4) A food labeled "gluten free" and whose label includes the term "wheat" in the ingredient list or bears a separate "contains wheat" statement (more on contains statements next) must also include clarifying language that explains that the wheat has been removed and the product contains less than 20 ppm of gluten.
Please note that the FDA guidelines cover all food and beverages except for meat and poultry, which is regulated by the USDA, and alcohol, which is regulated by the Alcohol and Tobacco Tax and Trade Bureau. Read Answers to 11 Common Questions about Alcohol and the Gluten-Free Diet.
What Does Certified Gluten Free Mean?
A product that is certified gluten free is a product that has been verified by a third-party agency to meet the FDA's gluten-free guidelines.
When you see a certified gluten-free seal or claim on a packaging, this means the food manufacturer paid a third-party agency to verify that its products meet FDA guidelines, and some agencies have even stricter guidelines than those set forth by the FDA.
By far, the largest certifying agency is the Gluten-Free Certification Organization (GFCO), and most gluten-free shoppers are familiar with the GFCO logo. It's the black circle with the GF in the center.
Please note that, in 2020, the GFCO created a more distinct label, as seen in the graphic
Other certifying agencies include: The National Celiac Disease Association, NSF International, and Beyond Celiac. (Logos and seals shown above.)
Products that bear a third-party certification or seal instill consumer trust and confidence in a product, and makes it easier for someone a gluten-free diet to shop for groceries and quickly identify safe products.
NOTE: Make sure the product you purchase includes a logo for a legitimate certifying agency. Some products have look-alike logos designed by sneaky graphic designers.
"May Contain" Wheat Statements
The Food Allergen Labeling and Consumer Protection Act of 2004 (FALCPA) requires food manufacturers to clearly disclose if their products contain any of the top eight food allergens. The top eight allergens include:
Milk
Eggs
Fish
Shellfish (crustaceans)
Tree nuts
Peanuts
Wheat
Soy
While a product may not contain one of the allergens, food manufacturers often list precautionary statements on their food labels, including:
"May contain wheat"
"Manufactured in a facility that uses wheat ingredients"
"Manufactured in a facility which processes wheat"
"Processed in a facility that uses wheat"
"Manufactured on equipment that processes products containing wheat"
"Manufactured on equipment that uses wheat"
"Manufactured in a facility that processes wheat, but not on the same equipment"
"Manufactured on shared equipment…may contain wheat"
If, for example, a product contains food starch, and that food starch is derived from wheat, a company must list the ingredient as "food starch (wheat)," or say, "Contains wheat," below the ingredient listing.
Please note that while wheat is considered an allergen, gluten is not (and you cannot be allergic to gluten). Products can be wheat-free but not gluten-free if they still contain barley or rye, for example.
These precautionary statements are extremely confusing and leave many people in the gluten-free community wondering what is the right thing to do.
Here are some of my thoughts on how to handle precautionary statements:
Avoid all products that bear the disclosure, "May contain wheat" unless the product is certified gluten free. For example, a product may contain wheat starch, where the gluten protein is removed from the starch. If it's certified gluten free, you know the product has been independently tested to be safe for you to consume.
Use caution when considering eating a product with the disclosure, "Manufactured on shared equipment with products that contain wheat." Again, only consume these products if they are certified gluten free.
When you see the claim, "Manufactured in the same facility as wheat," and the product does not contain any other gluten-containing grains, you can proceed with caution. Follow up with the manufacturer to verify and further define this claim, and enjoy the product if you feel the explanation is satisfactory.
Decoding Confusing Ingredients
Because gluten-free labeling is voluntary, many manufacturers choose not to do it. This leaves you to have to decode if a product is free from gluten or not.
Some of the confusing ingredients you see in products today include:
Maltodextrin
Modified food starch
Gelatin
MSG
I have written extensively about each of these ingredients in my article, 20 Confusing Ingredients that May Contain Hidden Gluten.
Shop Smartly
The best thing you can do is to shop smartly.
Look for a Certified Gluten-Free Logo. Products bearing these disclosures will be your safest bets. These companies have taken the time and invested the resources to work with a third-party certification agency.
Look for a "Gluten-Free" Claim. When you see a gluten-free claim, you at least know the manufacturer considered the gluten-free community in developing the product and has likely tested the product to ensure it contains less than 20 ppm of gluten.
Read the Ingredient Label. On the label you'll see other clues like, "may contain wheat," or, "manufactured on shared equipment with wheat." Decide if these claims are satisfactory to you before enjoying a product.
Decode Specific Ingredients. Refer to my list of the 20 Confusing Ingredients that May Contain Hidden Gluten. Look up other ingredients to verify safety.
Contact the Manufacturer. If you're unsure if a product is safe, and you really want to eat it, contact the manufacturer to verify its safety.
When in Doubt, Don't. There is almost always a gluten-free substitute for a product. When you're unsure if a product is safe, your best bet will be to put it back on the shelf.
Speak With Your Wallet: Finally, one of the best ways you can ensure accurate labeling is to purchase products that are certified gluten free. This way you speak loud and clear with your wallet; that is the best way to get the undivided attention of food manufacturers.
I hope you found this overview on gluten-free labeling laws helpful. Please leave a comment to share your thoughts and further questions.
Additional Reading
Is PBfit Gluten Free? Maybe Not
Is Sprouted Wheat [Bread] Gluten Free?