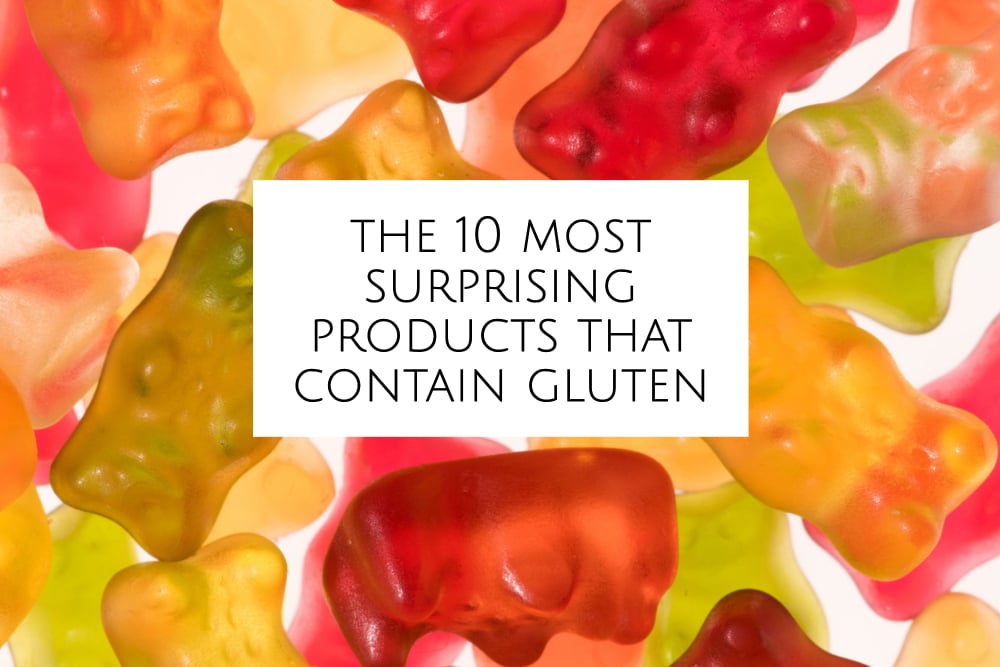 Are Twizzlers gluten free? Are Haribo gummy bears gluten free? As you can imagine, gluten lurks in many places, and it doesn't always go by the names wheat, rye and barley. In this post, I'll share 10 surprise products that contain gluten. Please note this post contains affiliate links. Read my disclosures.
If you follow a gluten-free diet, you must be extra careful about what you eat.
That's because gluten is lurking in so many products that don't look like they contain the tricky protein, but they do.
Gluten is a protein found in wheat, barley, rye, and derivatives of these grains. Food manufacturers use gluten to improve the taste and texture of their packaged foods.
Unfortunately, gluten is harmful for people with celiac disease and gluten sensitivities to consume.
This commonly used protein can be hidden in ingredients such as natural flavors, malt, yeast extract, and modified food starch. You can read my article, 20+ of the Most Confusing Ingredients to Decode for Hidden Gluten.
While I know gluten is lurking in many foods I've enjoyed in my pre-celiac years, it's easy to get stumped on occasion. You have to be an avid label reader and ingredient decoder to uncover hidden gluten these days.
When you see an questionable ingredient, you must do further research or avoid altogether.
10 Surprise Foods that Contain Gluten
Below I list 10 surprise foods that contain hidden gluten. These are the 10 food that surprised me most when I first started the gluten-free diet. Which foods surprise you most?
1. Do Meat Alternatives Contain Gluten?
Many people think if it's healthy, it must be gluten free. As you know, this kind of thinking is flawed.
Just because a veggie burger sounds healthy, doesn't mean it's gluten free (or healthy) at all.
The vast majority of Morningstar's veggie protein products (including its veggie burgers) contain gluten. Same with Gardein products, Amy's Kitchen's veggie burger, and many of Lightlife hot dogs.
Keep in mind that soy meat alternatives most likely contain wheat gluten as well. Gluten gives the burgers a chewy texture that best mimics the taste of meat.
Seitan is an ingredient found in many imitation meats and it's made from vital wheat gluten. Eating seitan is like eating condensed gluten without the wheat.
The good news is there are several alternative meats that are gluten free and safe for you to enjoy, including Beyond Meat Burgers and Impossible Burgers.
Dr. Praeger's products and Hilary's Eat Well also offer plant-based burgers that are certified gluten free.
Related Reading: Are Impossible Burgers, Beyond Meat and Other Plant-Based Meats Gluten-Free?
2. Do Haribo Gummy Bears Contain Gluten?
I'm about to break some bad news to you… Haribo™ gummy bears contain wheat and are not gluten free.
Yep, it's true. Haribo Goldbears contain wheat syrup and wheat-based dextrose according to its ingredient label. The Haribo Starmix also contains wheat.


Haribo gummy colas, gummy peaches, and gummy frogs do not contain gluten.
However, for a safer gummy candy alternative, look for Black Forest gummy bears and products. All its gummy products are gluten free. You can find them on Amazon.
3. Does Soy Sauce Contain Gluten?
The name "soy sauce" is so deceiving as you'd never suspect something made from soy would contain gluten. Alas, however, it does.
In fact, about 40 percent of the average bottle of soy sauce contains wheat!
The good news is there are many soy sauce alternatives to choose from, including gluten-free soy sauce or tamari. They offer the same taste, no wheat. An easy swap.
I carry several gluten-free tamari to-go packets in my purse in case I find myself at a sushi restaurant and in need of soy sauce. I use them more often than you'd think!
Along the same lines of soy sauce, please note that many Worcestershire sauces contain barley malt or malt vinegar, which are most definitely full of gluten.
Lea & Perrins worcestershire sauces, however, are labeled gluten free. Be sure to read labels carefully as ingredient lists and manufacturers can change.
4. Is Imitation Crab and Bacon Gluten Free?
Did you know that most imitation crab contains wheat? This makes dining at a sushi restaurant all the more difficult. Always ask for real crab or avoid the California Rolls altogether.
Unfortunately, even the imitation crab I spotted at Whole Foods the other day (I forgot the name) had wheat in the ingredient list. Back on the shelf it went.
Related Reading: How to Make Your Own Gluten-Free Sushi Rolls at Home
There are some brands of imitation crab that are gluten free, including:
Some bacon bits brands contain gluten, making it ever-important to carefully read labels. Durkee brand clearly lists "wheat gluten" on its packaging, while Hormel says its bacon bits contain no gluten ingredients.
Tip! Make sure restaurants leave the bacon bits off your salad.
5. Are Salad Dressings Gluten Free?
Some salad dressings contain hidden gluten, making it ever-important to carefully read and inspect ingredient labels. Choose your salad dressing wisely.
Here's the scoop on some of your favorite brands:
All Drew's Organics, Organicville, Primal Kitchen, Skinnygirl, and Tessemae's salad dressings are certified gluten free.
Many varieties of Annie's, Brianna's Home Style, Ken's Foods, Girard's, and Newman's Own brands of salad dressing are gluten free, check labels.
Some Hidden Valley, Kraft, and Wishbone dressings may be free from gluten. Again, read labels carefully.
If you're unsure if a salad dressing contains gluten, and there's not label to read such as times when you're eating it at a restaurant, simply ask for some olive oil, balsamic or red wine vinegar, a lemon wedge, and a little S&P. It's all you need to dress your salad, sans gluten.
6. Do BBQ Sauces Contain Gluten?
I never understood how something that should contain simple, clean ingredients like BBQ sauce could contain gluten, but unfortunately many do.
Gluten-free BBQ sauce brands include Stubb's BBQ (its label says it uses only "gluten-free ingredients"), Annie's Naturals (website says "naturally gluten free") and Organicville.
There are other brands as well – and the BBQ sauce market is large and wide – so read labels carefully.
You will definitely find a safe, gluten-free BBQ sauce on the shelves of most grocery stores worldwide.
Related Reading: Gluten Sensitivity vs. Celiac Disease
7. Is Licorice Gluten Free?
Sorry to share the bad news, but licorice is rarely gluten free, and the most popular licorice brands, Twizzlers and Red Vines, are most certainly NOT gluten free despite looking so innocent.
Twizzlers and Red Vines ingredient labels cleary list "enriched wheat flour" as one of their top ingredients.
Good & Plenty, Nibs, and Sour Punch candies are licorice-based candies and also contain gluten.
If you miss licorice, try this brand of gluten-free licorice. It is certified gluten-free and tastes pretty good if you ask me, especially if you're craving licorice.
Gluten Free on a Shoestring created a gluten-free licorice recipe if you're willing to experiment and spend some time shopping for the right ingredients. It looks complicated, but if the craving is strong enough, I'm sure you'll cave and do it!
8. Is Gravy Gluten Free?
Take a look at the Heinz gravy container – it clearly states wheat flour (and a slew of other crappy ingredients) on the ingredient label.
Heinz gravy is not a gluten-free product – gluten is listed in plain sight!
There are, however, some gluten-free gravy brands, such as Simply Organic Turkey Gravy, that are safe to eat when you're on a gluten-free diet.
Always read labels carefully or make your own gravy with the leftover juices from your turkey, a little broth, and some cornstarch.
Also note that come Thanksgiving, while you might have a hankering for cream of mushroom soup, Campbell's cream of mushroom soup contains wheat flour. There are, however, several cream of mushroom alternatives that are free from gluten, and you can find a complete list in Gluten-Free and More Magazine.
Also be on the lookout for bouillon cubes. Many, including Knorr, contain yeast extract, which is made from spent brewer's yeast and is not gluten free.
Yeast extract is one of the many confusing ingredients that may contain gluten that I included on my list of 20 confusing ingredients to decode for gluten.
9. Are Oats Gluten Free?
Oats do not technically contain the gluten protein, however, they are grown in rotation with wheat crops using the same fields, equipment, and harvesting tools, thereby cross contaminating oats with wheat.
If you want to enjoy oats, you must look for products using only gluten-free oats.
While the ingredient label may not say "gluten-free oats," as adjectives (such as gluten-free) are not allowed in ingredient lists, you can look for gluten-free markings directly on the packaging
I have written extensively about oats in this article, Are Oats Gluten-Free?
10. Do Rice Krispies Contain Gluten?
You'd think a product made from rice would be gluten free, but Kellogg's Rice Krispies unfortunately contains "malt flavor." Malt is derived from barley, which is not a gluten-free grain.
Forget those darn Kellogg's Rice Krispies and instead try one of the many awesome gluten-free crisped rice cereal brands I detail in this article.
Related Reading: 10 Facts Your Doctor Doesn't Know about Celiac Disease
11. Is Play Doh™ Gluten Free?
I know this is a top 10 list, but I couldn't help but add an eleventh hidden gluten source to the list.
I know you don't eat Play Doh, but if your child has celiac disease or gluten sensitivity, they should avoid playing with Play Doh brand playdough and instead play with this gluten-free playdough brand or make your own.
Play Doh can easily get into the crevices of your fingernails and may at some point sneak into your child's mouth. It's not worth the risk if your child reacts to gluten in any way.
What Foods Surprise You Most?
Gluten is hidden in many products that look so innocent. While you know to avoid breads and pastas, you may not have realized that you also need to stay away from gummy bears, soy sauce, licorice, and some veggie burgers, too.
Remember, you can't determine if a product is gluten free just by looking it. You must carefully read its ingredient label.
And when in doubt, don't. It's just not worth it.
Are there other products that you think should be on this list?  Please share in the comments section below.
Additional Reading
5 Hidden Sources of Gluten at the Grocery Store
Fig: Food Scanner & Discovery App Review
Canned Gluten-Free Soups – Tested for Hidden Gluten