Get ready to learn all about gluten-free couscous brands, alternatives, and substitutes in this comprehensive guide. This post may contain affiliate links. Please see my disclosures.
Do you love the idea of a delicious bowl of couscous, but you're concerned about gluten, a protein found in wheat, rye, and barley?
Couscous is a popular dish found in the Middle East and Mediterranean.
While bland in taste like rice, it pairs well with spices, sauces, and flavorful dishes that go well with a neutral side dish. It's also used in salads, stews, and stir-fry.
If you're one of the 20+ million people living with celiac disease or gluten intolerance in the U.S., navigating the world of grains can be challenging, and many of your favorite foods just might be off-limits.
This guide to gluten-free couscous will help you identify safe gluten-free brands and delicious gluten-free alternatives to this popular side dish.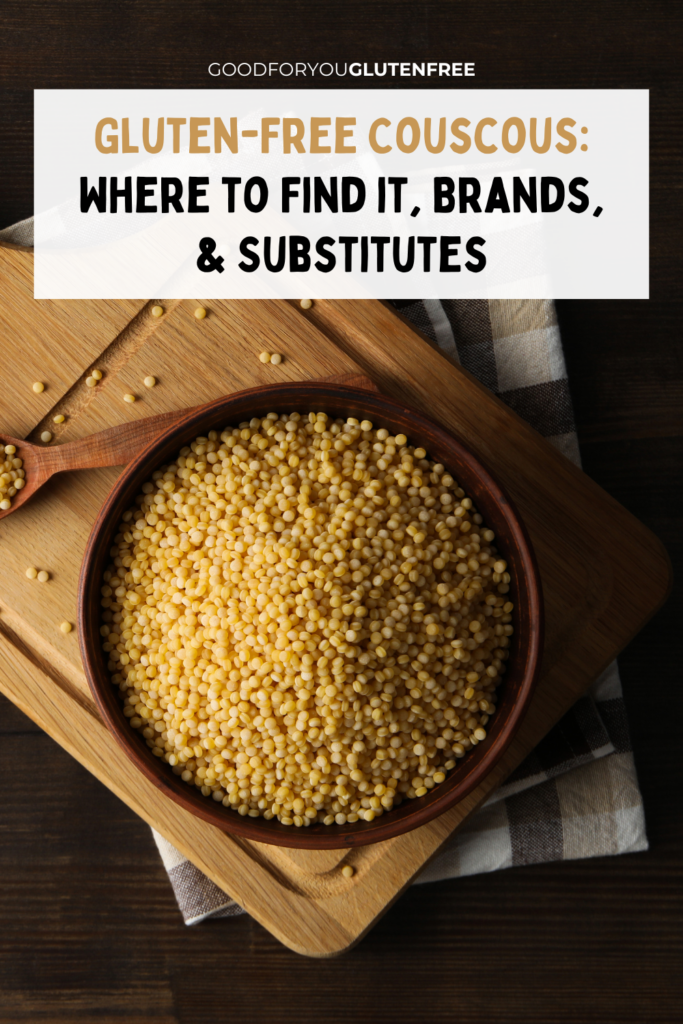 Is Couscous Gluten-Free?
If you're following a gluten-free diet, you might be curious if couscous, a popular dish in the Middle East and Mediterranean, is gluten-free.
Unfortunately, couscous is NOT gluten-free. It's made from tiny granules of durum wheat semolina, which is a type of wheat flour.
Couscous is primarily made of gluten and should be avoided by anyone with celiac disease, gluten intolerance, or wheat allergy.
Is Pearled (Israeli) Couscous Gluten-Free?
Pearled couscous, also known as Israeli couscous, is a type of couscous that has a slightly different texture and shape compared to traditional couscous.
Instead of the small granules, pearled couscous appear as tiny round pearls, resembling small pasta or beads. The pearled beads have a chewy texture, similar to pasta.
Because pearled couscous is made from semolina flour, it's NOT gluten-free.
Are There Any Gluten-Free Couscous Options?
Because couscous is primarily made of wheat, it isn't easy to find gluten-free options similar in taste and texture.
Some kosher brands carry gluten-free pearled couscous for Passover.
Come Passover in April, check the Passover food aisles, and stock up on gluten-free pearled couscous. Please note that no gluten-free brands of regular vs. pearled couscous brands exist.
I've only found the Streit's brand at my local grocery store, but other major brands carry it, too, including the following:
Streit's Gluten-Free Pearled Couscous
Streit's gluten-free Israeli couscous works as a tasty side dish. I like to mix it with sauteed onions, mushrooms, and savory seasonings, as pictured below. It has a wonderful chewy texture but is fairly bland without added seasonings.
It's made from tapioca starch, potato starch, dried potato flakes, egg whites, emulsifiers, xanthan gum, and paprika. No gluten in sight!
Unfortunately, Streit's gluten-free couscous isn't available on Amazon or online; instead, you'll need to watch for it at your local kosher market or grocery store near a dense Jewish population come Passover time.
I usually buy at least a dozen packages of Israeli couscous during Passover so I can enjoy it year-round.
Gefen Gluten-Free Pearled Couscous
Gefen gluten-free couscous is certified gluten-free by the GFCO, kosher for Passover, and vegetarian.
You can find it on Amazon for $17.99 for a three-pack. In comparison, the non-GF pearled couscous by Gefen is only $8.99 for a three-pack.
It's disheartening when companies jack up the price of gluten-free food, but its par for the course in gluten-free land.
Lieber's Gluten-Free Couscous
Another brand of gluten-free couscous comes from Lieber's, which is known for its selection of kosher products.
Its gluten-free couscous is made of potato starch, potato flour, salt, potato starch, palm oil, whole eggs, spices, natural flavor, and FD&C yellow 5.
Unfortunately, finding Leiber's gluten-free couscous online is challenging, but I did spot it on the Oh Nuts! website for $7.19 for a 6-ounce box. Oh Nuts! only carries kosher foods.
Goldbaum's Israeli-Style Gluten-Free Couscous
Goldbaum's Israeli-style couscous is labeled gluten-free and made from tapioca starch, potato flakes, potato starch, pasteurized egg white, emulsifier (mono glycerid of palm oil ) stabilizer, xanthan gum, and spices (turmeric and paprika).
It's $4.79 and available in the Gluten-Free Shoppe, although it may be sold out.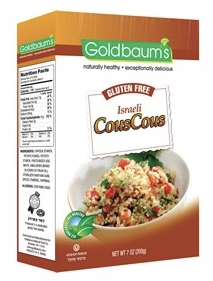 Gluten-Free Substitutes for Couscous
As mentioned, couscous is not gluten-free, and unfortunately, there are no suitable substitutes for regular couscous.
There are gluten-free pearled couscous alternatives, as noted above, but none taste like regular couscous.
If a recipe calls for couscous, it's probably not a recipe for you. Instead, consider using any of the following grains in lieu of couscous altogether:
(a) Quinoa: Quinoa has a similar texture to couscous and a slightly nutty taste. It works well in salads, side dishes, and more where couscous would be typically served.
(b) Rice: Rice has a chewier texture than couscous, but it makes a great side dish and gluten-free couscous alternative.
(c) Riced Cauliflower: Riced cauliflower can also work as a couscous substitute. I use it when making gluten-free tabbouli or tabbouleh, made with bulger, a type of cracked wheat similar to the durum wheat semolina used in couscous.
Below is a picture of my tasty Cauliflower Tabbouleh (Tabouli) Salad made with riced cauliflower.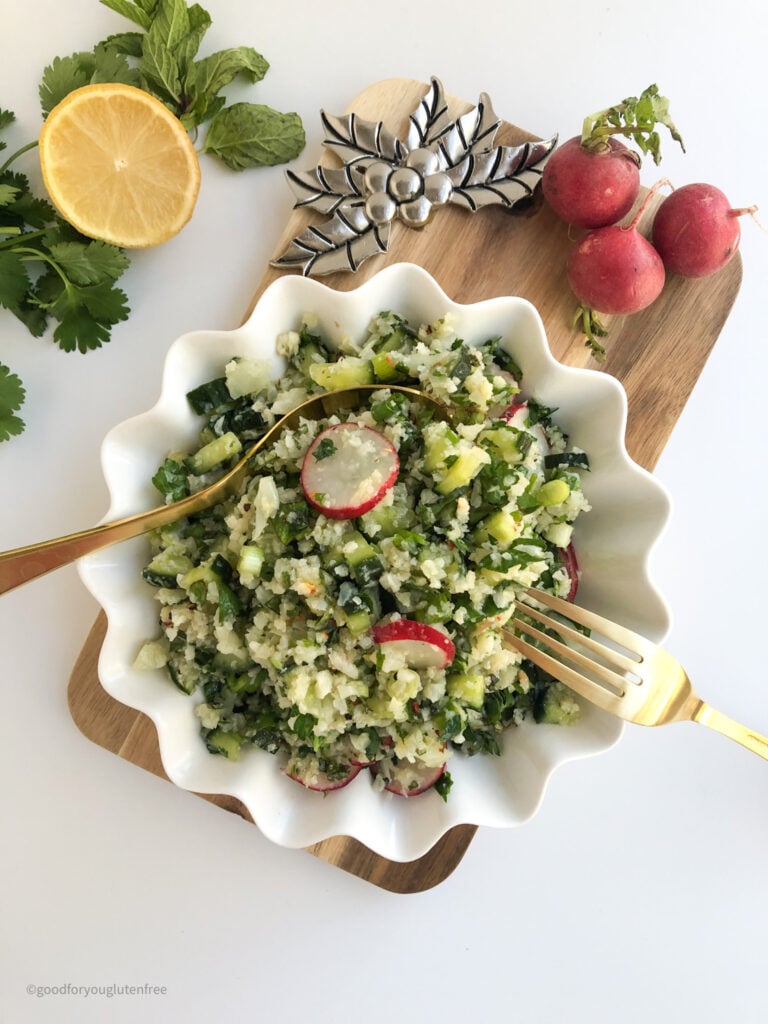 (d) Millet: Millet is another great gluten-free couscous substitute. This ancient grain (which is actually a seed) has a mild, slightly sweet flavor.
Bob's Red Mill makes a gluten-free hulled millet that works well in place of couscous.
Remember, when following a recipe for couscous, you cannot substitute quinoa, rice, riced cauliflower, or millet verbatim.
Instead, you'll need to prepare the substitute couscous grain or vegetable as directed on its packaging, then follow the recipe using the prepared couscous substitute.
The Bottom Line on Gluten-Free Couscous
Unfortunately, there isn't a widely accepted substitute for couscous because it's a single-ingredient food made from wheat.
However, I hope this guide has provided you with a wealth of information and options regarding gluten-free couscous substitutes and alternatives.
Remember to read labels carefully, experiment with different brands and recipes, and embrace the versatility of these couscous substitutes.
You're now ready to let your culinary creativity flourish with these gluten-free couscous substitutes and alternatives. Enjoy!
Related Reading and Recipes