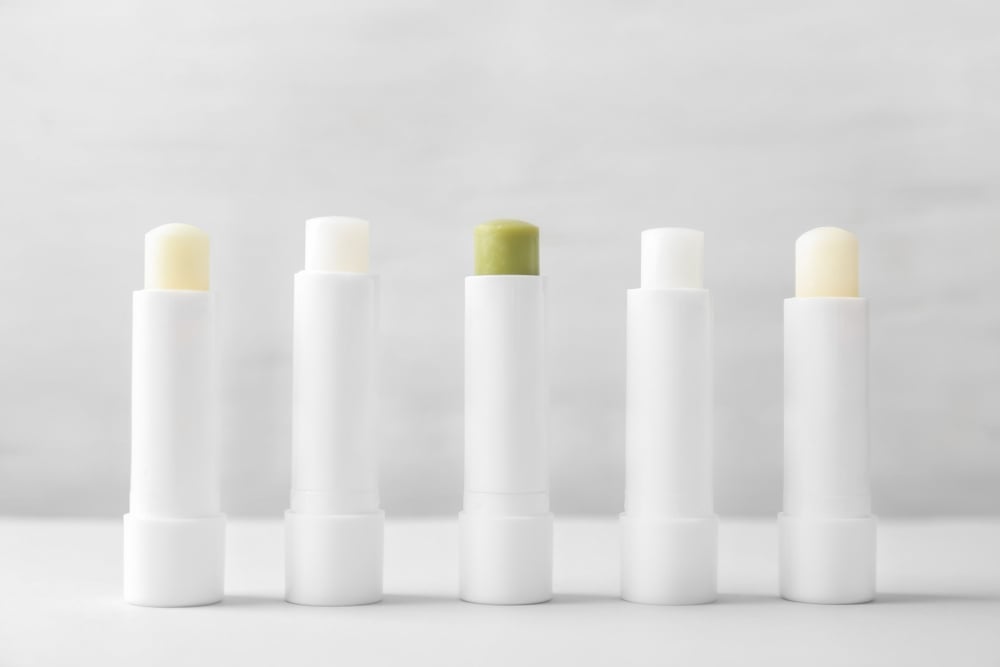 In this post, I share 16 gluten-free lip balm brands, many of which are celiac-friendly. I also detail what some mainstream brands – like ChapStick and Burt's Bees – say about gluten. One gluten-free lip balm brand that I always trust is Red Apple's Lip Balm. Use my exclusive coupon code GOODFORYOUGF to get 20 percent off any purchase at Red Apple. Please see my disclosures.
Are you concerned that your favorite lip balm brand may contain gluten, a protein found in wheat, rye, barley, and sometimes oats?
If you're going gluten-free in response to a celiac disease or gluten sensitivity diagnosis, you need to be cautious about anything – food and non-food sources – that comes in contact with your mouth.
I've suffered from dry lips my whole life. I discovered dry lips are common in people with celiac disease, likely due to nutritional deficiencies caused by damage to the small intestine.
I'm a self-professed lip balm addict, and I know how attached one can be to their favorite lip balm brand.
In this article, I'll share 16 gluten-free brands of lip balm, as well as what some of the mainstream brands say about gluten, so you can make an educated decision on what lip balm you choose to help you maintain smooth and healthy lips.
Ingredients to Avoid in Lip Balms
Avoid lip balms that contain wheat, barley, or rye. You can spot these ingredients on the ingredient label.
There are also many not-so-obvious gluten-containing ingredients hidden in lip balms that should be avoided, including:
Avena sativa (oat bran)
Colloidal oatmeal
Hordeum vulgare (barley)
Oats (oats must be labeled "gluten-free")
Secale cereale (rye seed)
Tocopherols (may be derived from wheat)
Tocotrienols (may be derived from wheat)
Vitamin E (most commonly derived from wheat, but can be derived from soybean or other sources)
Triticum Vulgare (wheat bran)
When you see these ingredients, put the product back on the shelf and find a safer alternative.
16 Gluten-Free Lip Balm Brands
I spent the past few weeks researching dozens of lip balm brands to find out which are safe for the celiac disease and gluten intolerance communities.
Unfortunately, a lot of the mainstream brands do not offer gluten-free options. Please scroll down to see what mainstream brands like ChapStick, Burt's Bees, and Carmex say about gluten in their lip balms.
Before I get to that information, I first want to share a list of 16 gluten-free lip balm brands that make safe, even "celiac-friendly" lip balms for the gluten-free community to enjoy. I've included my top picks at the top of the list.
(1) Red Apple Lipstick – BEST OVERALL PICK
Red Apple Lipstick's Ralleye lip balm is one of the few certified gluten-free lip balms. It's 100% safe to use if you have celiac disease. In fact, ALL Red Apple Lipstick products are certified gluten-free.
If you're on a gluten-free diet and serious about being gluten-free, Red Apple Lipstick should be your go-to brand for lip balm, lipstick, and other cosmetics.
I also think the Rallye Balm is a fantastic lip balm. It makes my lips feel hydrated and silky, leaving my lips with a slight glossy shine.
Red Apple Lipstick says its lip balm contains 100% gluten-free Vitamin E suspended in a special, cold-pressed castor seed oil. The company explains that Vitamin E is an antioxidant that zaps the free radicals in your lips. Zap away!
Don't forget to use my exclusive coupon code GOODFORYOUGF to get 20 percent off any purchase at Red Apple Lipstick.
(2) Badger Balm – TOP EDITOR'S PICK
Many Badger Balm products are certified gluten-free by the GFCO, including its entire lineup of lip balms. The company says most, but not all, products are safe for the gluten-free community and that customers should look for the GF label.
Please note that Badger's Lip Tints, After-Bug Balm, Shave Soap, Shampoo Bar, and all Canadian Sunscreens are produced offsite by sub-contract manufacturers that have NOT been certified gluten-free, so the company says these products cannot be guaranteed gluten-free.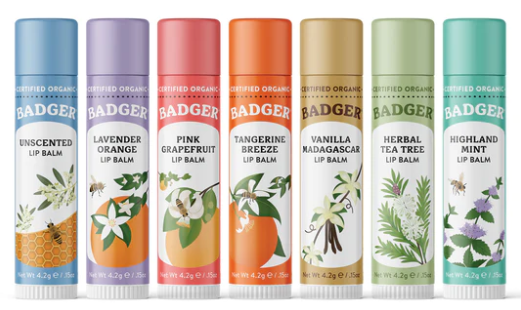 (3) EOS Lip Balms – TOP EDITOR'S PICK
EOS, which stands for Evolution of Smooth, says in its FAQs that no EOS lip balm contains gluten nor is exposed to gluten during manufacturing. If a product includes oats, the company says it's certified gluten-free oats.
Furthermore, the company says all its products are checked in the final stage for gluten traces as an "added precaution." You can shop for EOS products on Amazon.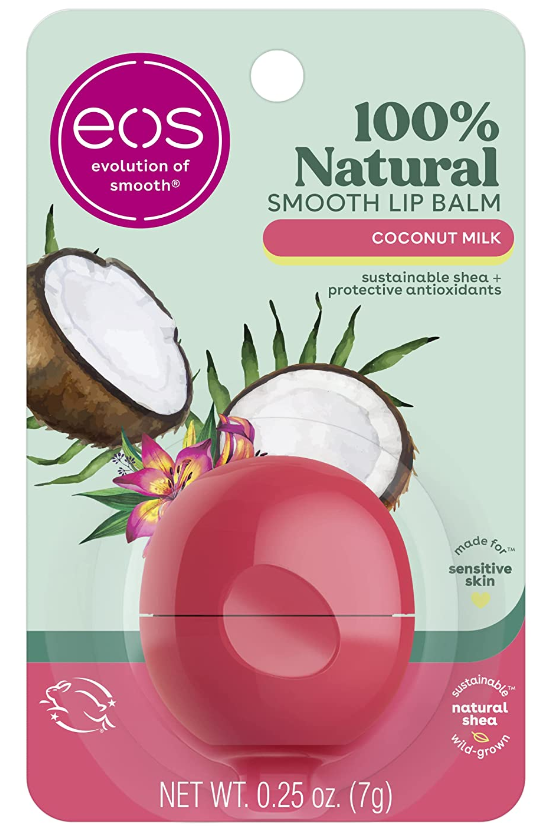 (4) Blistex (maybe – use with caution)
I checked the ingredient list for Blistex Medicated Mint Lip Balm to see if I could identify any sources of gluten. While there are plenty of ingredients I don't recognize, I don't blatantly see any gluten ingredients.
I emailed Blistex to confirm my findings, and they said, "It is to the best of our knowledge, based on the non-proprietary information provided to Blistex from raw material vendors/suppliers, the products may be considered gluten-free. We are attaching a copy [below] of the lip care products that may be considered gluten-free."
Here are the products the company says it considers gluten-free:
Blistex Lip Ointment
Blistex Medicated Mint Lip Balm
Blistex Medicated Berry Lip Balm
Blistex Medicated Lip Balm
Fruit Smoothies Melon Medley, Orange Cream, Triple Tropical, Peaches & Cream, Berry Explosion, and Strawberry/Banana flavors
Complete Moisture
Deep Renewal
DCT
Global Blend
Herbal Answer Lip Balm
Lip Medex
Lip Serum
Lip Vibrance
Moisture Melt
Nurture & Nourish
Orange Mango Blast
Raspberry Lemonade Blast
Silk & Shine
Simple and Sensitive
Triple Essentials
Ultra-Rich Hydration
Soft & Lush
Blissful Butters
Bliss Flip Soft & Silk
Bliss Flip Ultra Moisturizing
Blistex originally included Five Star Lip Protectant on the list they sent me, but a diligent reader pointed out that it contains wheat germ! Always check labels, even if a company says it's okay to use or consume.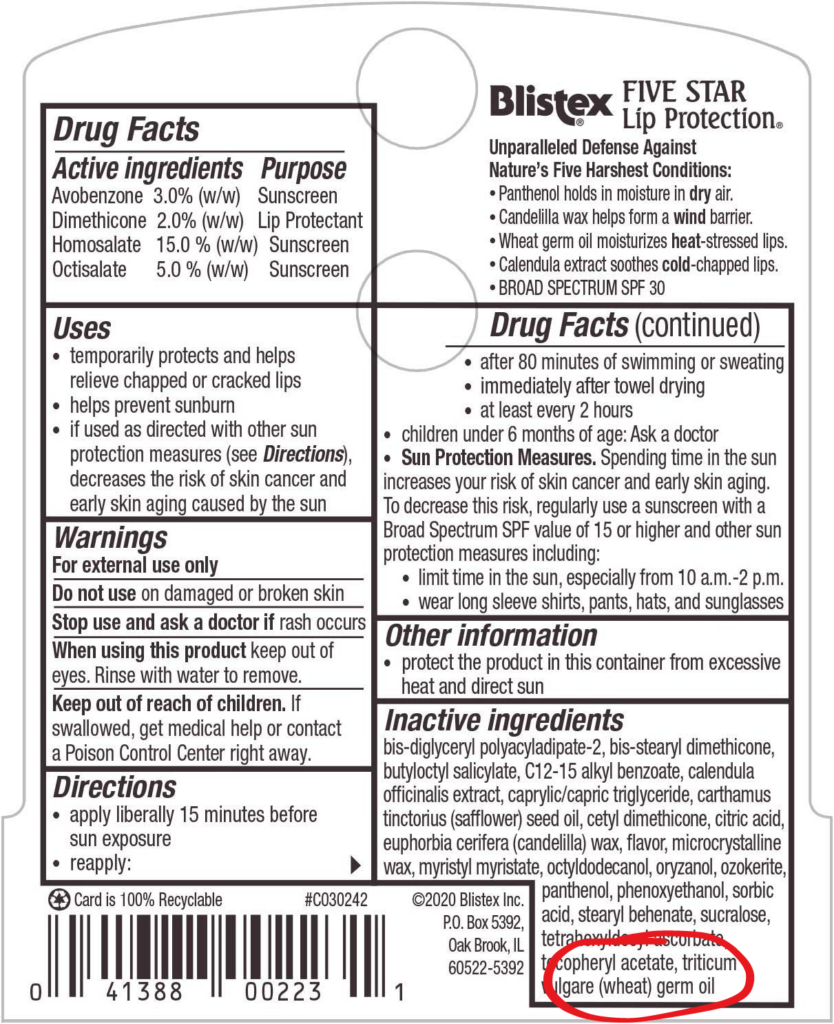 (5) DMSKY
DMSKY lip balms contain 100% certified beeswax, Vitamin E, and coconut oil to nourish lips, and none of its lip balms contain petroleum, chemicals, gluten, or parabens. The brand has received over 1,000 reviews on Amazon!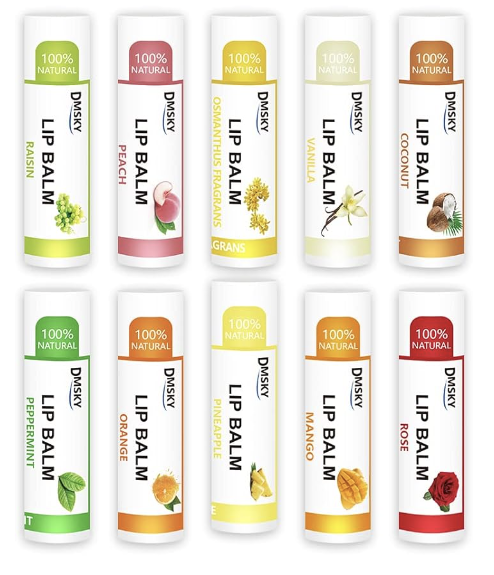 (6) Dr. Bronner's
Dr. Bronner's says that all of its products are gluten-free. The lip balms are made with organic beeswax, avocado oil, hemp oil, and jojoba oil for added moisture, cooling, and hydration. Find them on Amazon. I also spotted a few flavors at Sprouts.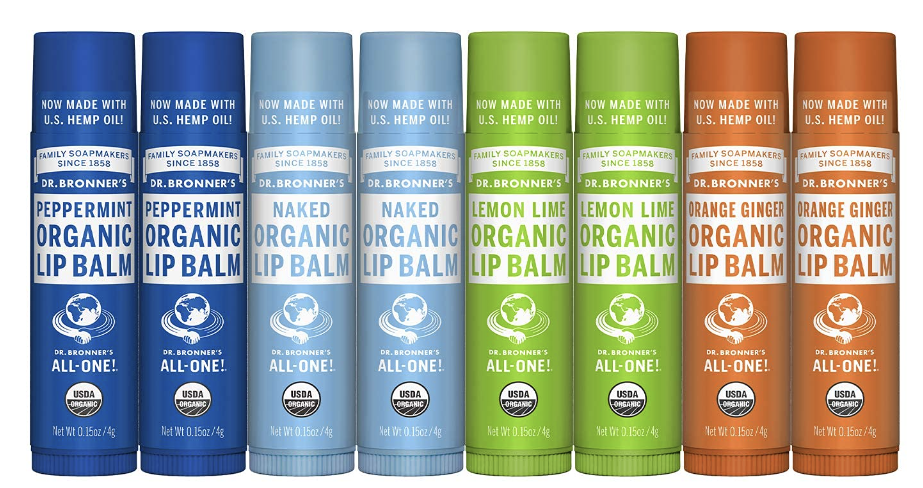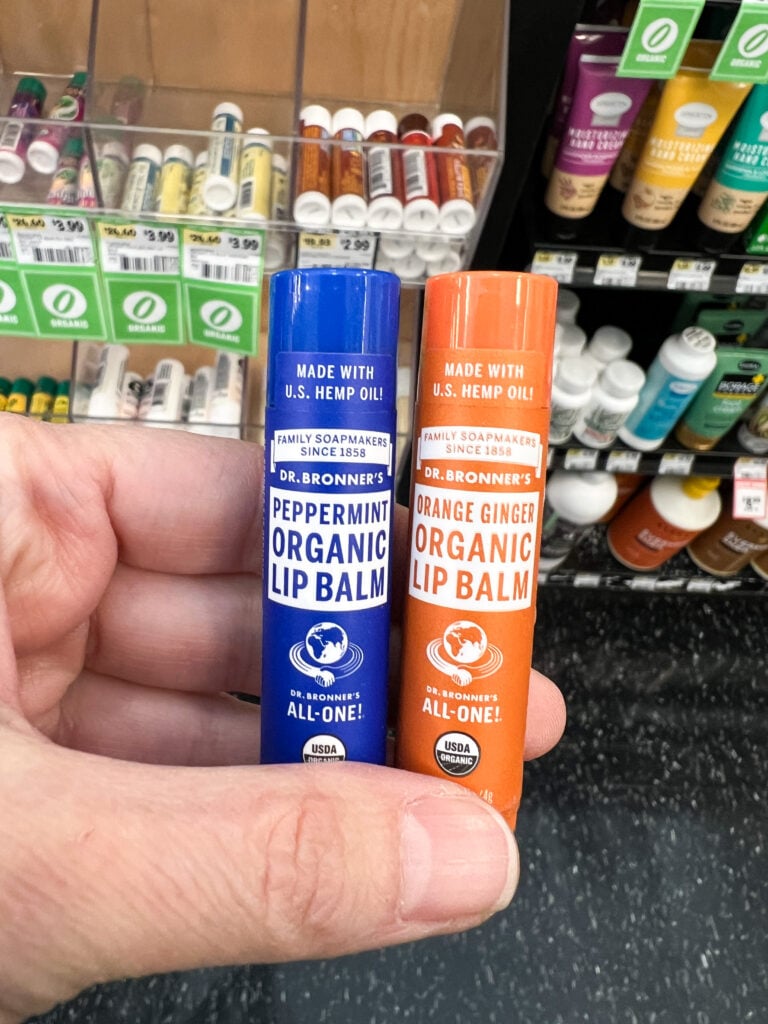 (7) Earth's Daughter
Earth's Daughter organic lip balms are gluten-free and non-GMO and come in various flavors, including Vanilla Bean, Creamy Coconut, Eucalyptus Mint, Bing Cherry, Citrus Blast, and Strawberry Breeze.
The gluten-free lip balms are made with sunflower oil, beeswax, coconut oil, Vitamin E, rosemary extract, and calendula extract.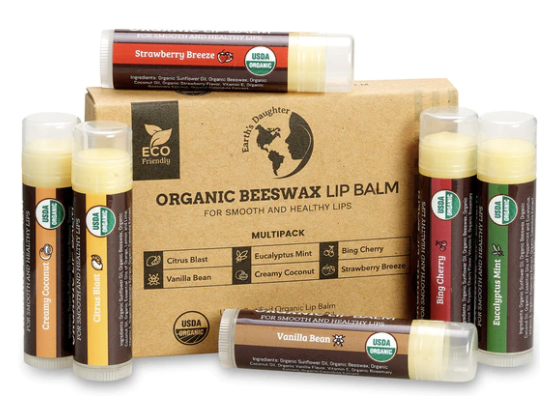 (8) Honeybee Gardens
Honeybee Gardens makes regular and tinted lip balms that are vegan, gluten-free, and cruelty-free. The company even boasts that its balms are "celiac friendly."
With many flavors to choose from, including Cherry Crush and Watermelon Mist, chances are you'll find something you love, and of course, you'll know it's safe to use.
(9) Hurraw! Lip Balm
Hurraw! Lip Balms are made with all-natural ingredients. They're also gluten-free, vegan, raw, and made with premium fair-trade ingredients too. The company says its lip balm goes on smooth, and it comes in various flavors and tints. This Green Tea "flavor" looks most intriguing to me. I just added it to my cart on Amazon.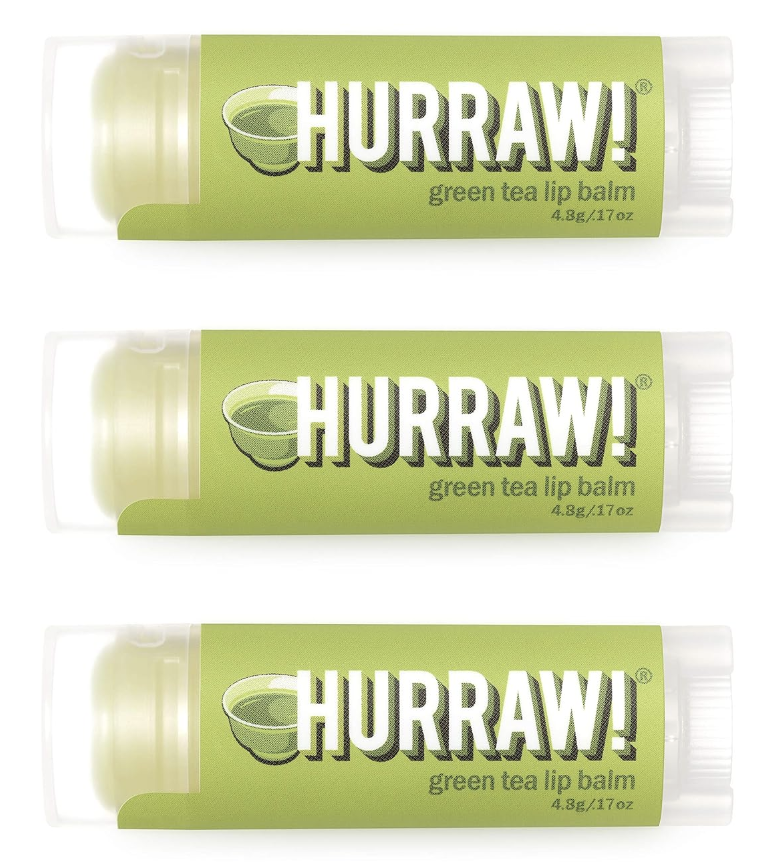 (10) Jack Black Lip Balm
Jack Black is a men's skincare brand that offers several flavored lip balms that are gluten-free. All the lip balms are made with shea butter and Vitamin E, offering broad-spectrum sun protection (SPF 25).
You can find Jack Black lip balm on Amazon. You'll see that they have garnered more than 21,000 reviews; they must be doing something right!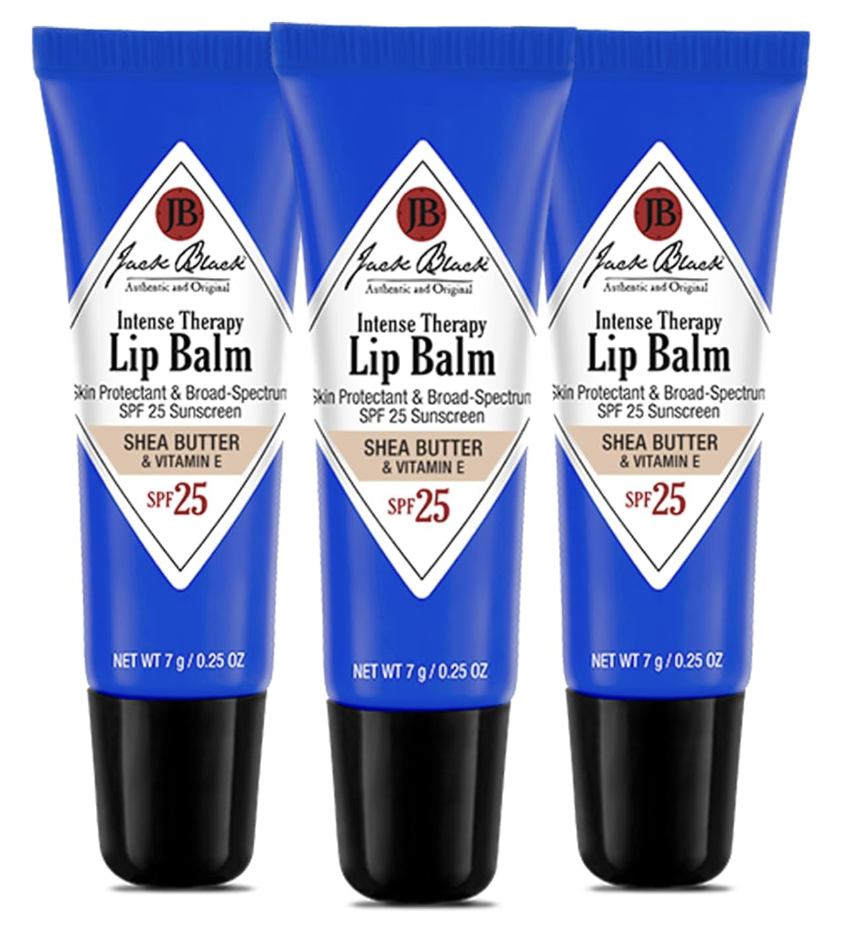 (11) Kind Lips
Kind Lips are made with coconut oil, beeswax, olive oil, shea butter, jojoba oil, and vitamin E to nourish and protect lips. All Kind Lips flavors are certified organic, non-GMO, gluten-free, and chemical-free.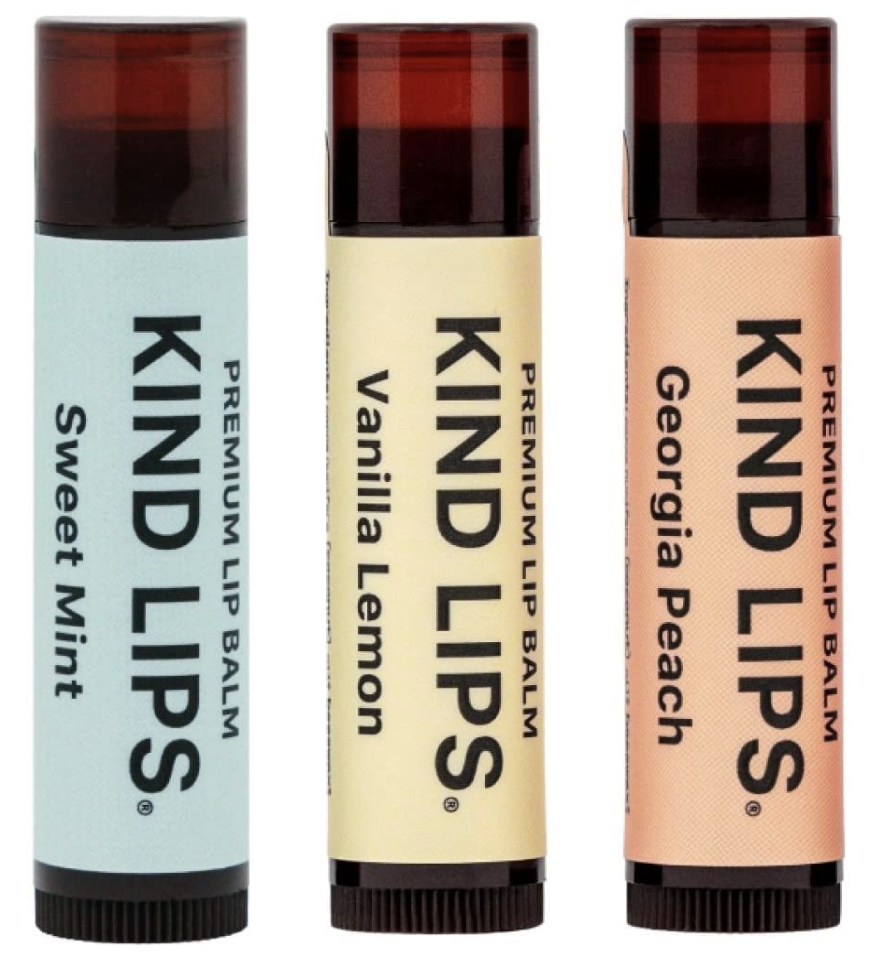 (12) Kiss My Face
Kiss My Face says all its products are gluten-free, including its lip balms. Unfortunately, it looks like Kiss My Face no longer makes lip balms, or there's some pause in supply. I've reached out to the company to confirm – stay tuned.
(13) Moroccan Magic
Moroccan Magic is a boutique brand that offers organic lip care and skincare products. The company's lip balms come in various flavors and tints, including Peppermint Eucalyptus, Rose, Coconut Almond, Lemon Thyme, Lavender Vanilla, and more.
Each balm is made with organic argan oil, essential oils, coconut oil, calendula extract, rosemary extract, and vitamin E for soothing and protecting chapped lips.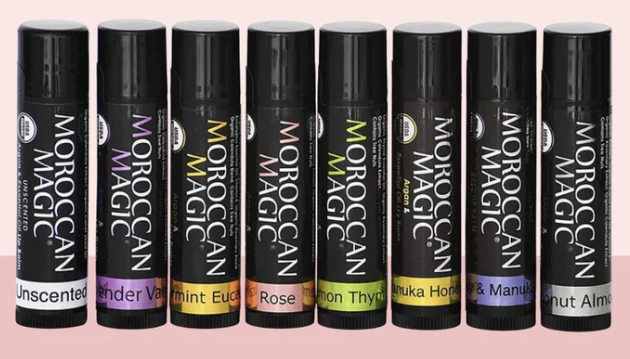 (14) Palmer's Lip Balm
Palmer's makes a coconut oil-based lip balm free of parabens, phthalates, mineral oil, gluten, and dyes. The company says its lip balm is creamy and protects against chapping, cracking, and environmental damage from the sun or wind.
However, many of Palmer's website reviews say it smells good but tastes terrible. Buyer beware.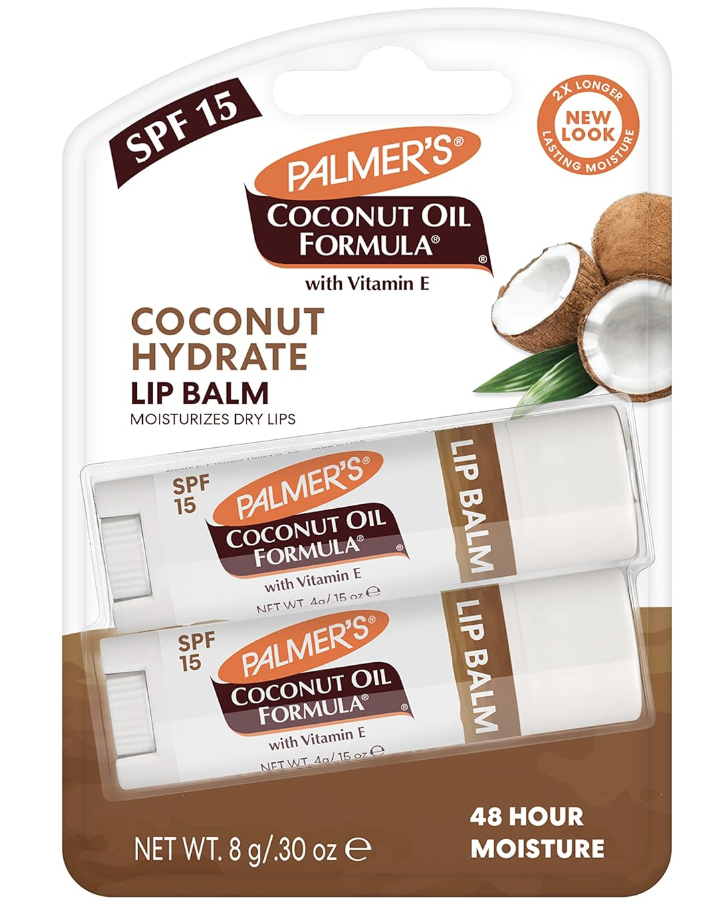 (15) Rocky Mountain Sunscreen
Rocky Mountain Sunscreen is a beloved brand based in Colorado. The company's lip balm (and sunscreen) are all gluten-free and contain plenty of sun protection.
The lip balms come in various flavors, including Tropical, Alpine Ice, Kiwi, and Vanilla Mint. I always carry one of these when skiing and hiking at high elevations.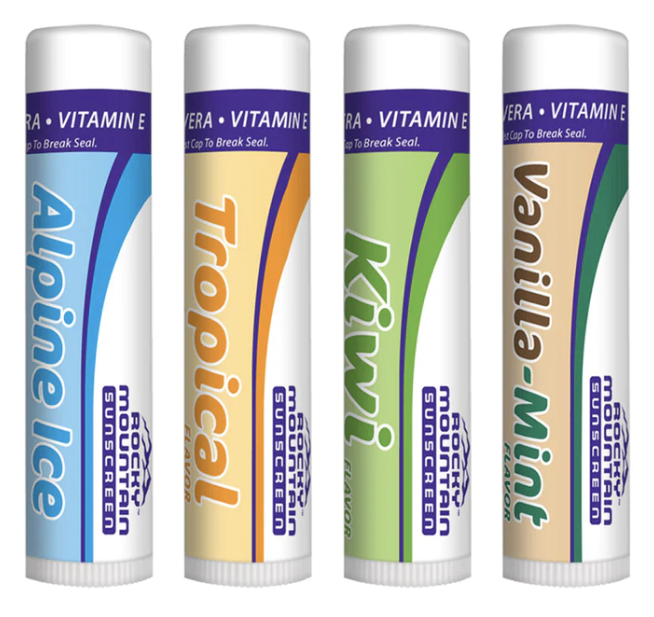 (16) Sun Bum
Sun Bum Lip Balm offers broad-spectrum UVA/UVB protection and is hypoallergenic, paraben-free, gluten-free, and vegan. It also contains aloe and Vitamin E to protect and moisturize chapped lips.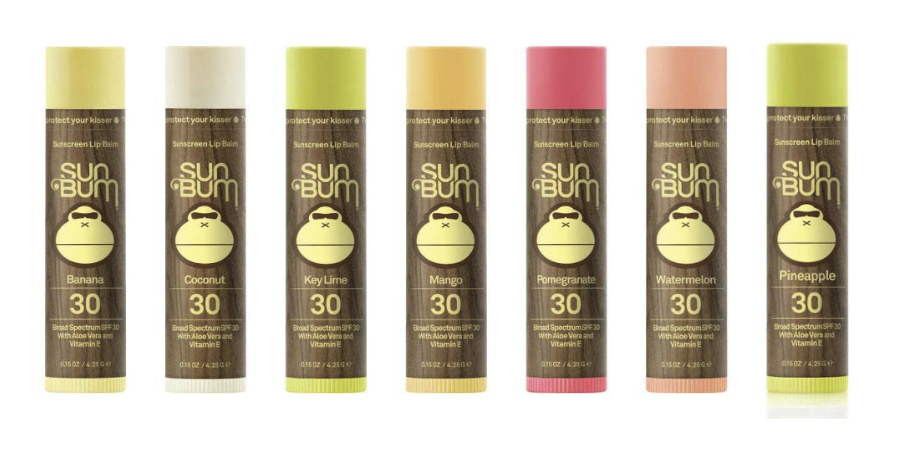 There you have it – 16 gluten-free lip balm brands that will protect your chapped lips without sabotaging your gluten-free diet.
Are These Popular Lip Balms Brands Gluten-Free?
Many of the 16 lip balm brands listed above are not widely available in stores and must be purchased online. This might leave you wondering if any of the mainstream lip balm brands are gluten-free, or at least wondering what each brand says about gluten.
I researched the following mainstream lip balm brands to figure out if they're gluten-free or full of gluten. Here's a summary of my findings:
Aquaphor
Aquaphor manufactures a lip balm that doesn't appear to contain any gluten ingredients. However, Aquaphor does not list allergens on its website, so it's impossible to know for sure.
I emailed Aquaphor and got the same reply as I did for the Nivea inquiry (see below) since the same parent company owns the two companies. Please see "Nivea" below for more details.
Aveeno
AVOID all Aveeno products because most of the brand's products are made with oats. In fact, "Avena sativa" means "wild oats" in Latin. I suspect Aveeno got its name by combining "Avena" and "oats" – hence Aveeno.
While naturally gluten-free, oats are generally unsafe for someone on a gluten-free diet to consume UNLESS they're labeled gluten-free. (Read: Are Oats Gluten-Free? Unpacking Confusing and Contradictory Information for more information on oats.)
Burt's Bees
Burt's Bees is one of the most popular lip balm brands, and you can easily spot the big Burt's Bees displays in most grocery stores and big box retailers nationwide.
Unfortunately, despite Burt's Bees's "natural" appeal, the company says it can't guarantee its products are free from gluten and, therefore, safe for someone on a gluten-free diet.
Burt's Bees writes on its website, "We cannot provide a list of Burt's Bees products that are safe for use with your [gluten] allergy because our products may have been manufactured on a shared line with products containing gluten, or raw materials used in our products may have been processed in a facility that also processes products containing gluten. Please carefully review the ingredient list of any product prior to use, particularly because the listed ingredients for a product may change. If you have a known allergy to gluten, you should always consult your physician if you have questions regarding whether it is safe to use a particular product."
Based on this information, proceed cautiously when using Burt's Bees lip balm. However, please note that Burt's Bees lip balm doesn't appear to contain gluten, and I sheepishly admit it's still one of my preferred lip balm brands.
Carmex
I reviewed the Carmex ingredient list and did not see any gluten-containing ingredients. I emailed the company to confirm, and here's what a company representative said, "Thanks for reaching out. Carma Laboratories does not use gluten to manufacture our Classic and Daily Care lip balms. The colloidal oatmeal in Comfort Care may contain some gluten (as a result of inadvertent contamination when processed)."
Some Carmex might be gluten-free, but I think it's too risky to include on my list of gluten-free lip balms since the brand's Comfort Care line isn't gluten-free.
ChapStick
On ChapStick's FAQ page, you'll find the following information about gluten: Does ChapStick lip balm contain any oats, rye, or barley? No
Here's the strange part … ChapStick's FAQs address oats, rye, and barley but not wheat, and wheat is by far the most common source of gluten in the U.S.
I emailed the company (twice) to get to the bottom of it but did not get a response. ChapStick is the only company that did not reply to my inquiry.
Lip Smackers (not gluten-free)
Lip Smackers lip balms are not gluten-free nor safe for anyone following a gluten-free diet. The company states on its FAQ page that its products contain gluten, and you can clearly see wheat germ on the product label as well.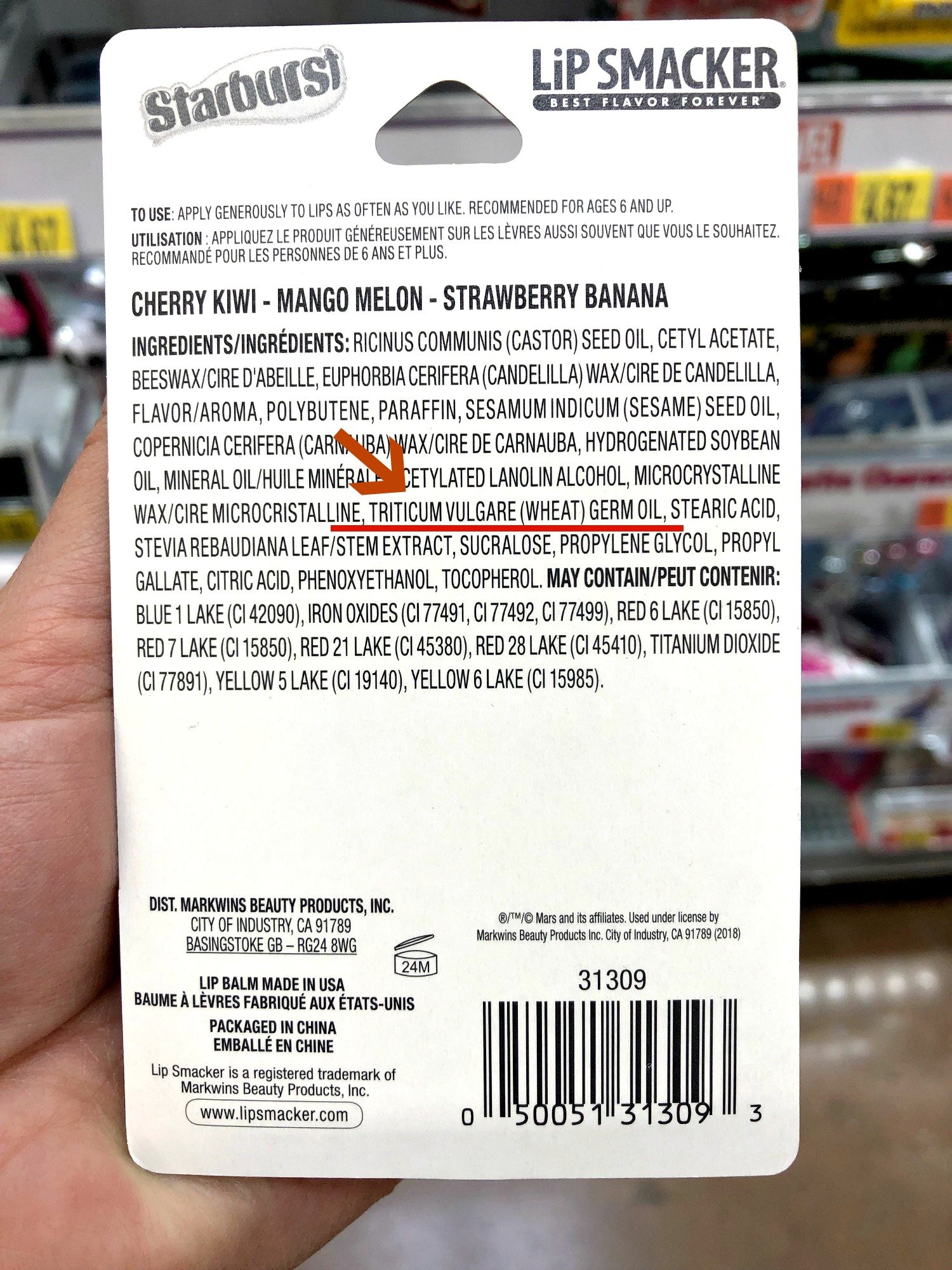 Nivea
I did not spot any gluten ingredients in Nivea's lip balm, but I emailed the company to verify. Here's what a company spokesperson said in an email, "Thank you for contacting us as to whether or not our products have gluten-derived ingredients. If you have concerns about gluten and its derivatives, we recommend avoiding all products with ingredients derived from wheat, rye, barley, and oats. The ingredient names are TRITICUM VULGARE (wheat bran), SECALE CEREALE (rye seed extract), HORDEUM VULGARE (barley), and AVENA SATIVA (oat bran).
I didn't have time to review every Nivea product for such ingredients, so I refuse to include them on my safe gluten-free lip balm list.
Vaseline
Vaseline is made of 100 percent pure petroleum jelly, and the brand's lip balms are made from a blend of mineral oils and waxes along with tocopheryl Acetate.
As you might recall, tocopheryl Acetate is Vitamin E, and Vitamin E may be (but not always) derived from wheat germ. Mineral oil is also derived from petroleum, so don't be fooled by the pretty name.
I emailed Vaseline to find out the source of its vitamin E, and here's what the company said, "We do not specifically test our products for the presence of gluten. Gluten may be present in products that contain derivatives of wheat, oat, rye, and barley. In labeling our products, we follow the guidelines established by the International Nomenclature for Cosmetics Ingredients (INCI) process. Therefore, those names will appear on the label if we use an ingredient derived from a grain such as wheat, oat, rye, and/or barley."
Was this information helpful? Not really. Read those labels carefully!
The Bottom Line on Gluten-Free Lip Balm
When selecting a gluten-free lip balm, it's important to read ingredient labels carefully. Gluten goes by many names, not just wheat, barley, rye, and oats. The best and most accurate ingredient information will be on the label itself.
Remember, great gluten-free lip balm options are available, mainly online, so you don't have to settle for mainstream, cheap brands that don't test their final products for the presence of gluten.
When possible, support certified gluten-free lip balm brands. How you spend your money will dictate how other brands treat allergens in the future.
One brand that is always certified gluten-free and has my complete seal of approval is the Rallye Balm by Red Apple Lipstick.
Use my coupon code, GOODFORYOUGF, for 20 percent off your entire Red Apple purchase. The code cannot be combined with other offers.
Additional Reading