Is pudding is gluten-free? In this article, I share what each brand says about gluten, and I independently tested Jell-O chocolate pudding and another popular brand for hidden gluten. This post contains affiliate links. Please see my disclosures.
The other day at the grocery store, I eyed the Jell-O Instant Chocolate Pudding box and wondered if it was gluten-free and safe for me to eat.
"Wouldn't it be lovely to have a shortcut way of making chocolate pudding for my family?" I thought.
When craving chocolate pudding, I usually make my cookies and cream chocolate pudding recipe, microwave chocolate pudding, or even my gluten-free pudding cake. While each recipe is delicious, it requires extra effort in the kitchen.
I'm worried about gluten, a protein found in wheat, rye, barley, and sometimes oats, because I have celiac disease, an autoimmune disease that requires me to follow a strict gluten-free diet. Gluten hides in many packaged foods, which makes labeling reading a necessity in gluten-free land.
In this article, I discuss which pudding brands are safe and which you should avoid altogether.
Is Jell-O Chocolate Pudding Gluten Free?
The Jell-O Instant Chocolate Pudding box does not make any "gluten-free" claims, and the ingredient list also appears to be free from gluten.
According to the Kraft Foods website, if any of its products contain wheat or gluten, it would explicitly say so on the label per Kraft's allergen labeling policy:
"Please note our products are produced and labeled in compliance with the FDA. When labeling products, we consider – and label for – all possible sources of the 8 major allergens recognized by the FDA. These are eggs, fish, crustaceans, shellfish, milk, peanuts, soy, tree nuts, and wheat. Kraft Heinz also labels for additional allergens or substances of interest, including celery, mustard, lupin, mollusks, sesame seeds, sunflower seeds, poppyseeds, cottonseed, all sources of gluten, and sulfites in levels over 10 ppm. If any of these substances are added to the product, they will be listed in the Ingredient Statement."
Based on this information, I safely assume that Jell-O Instant Chocolate Pudding does not contain gluten or wheat ingredients.
However, not all Jell-O flavors are free of wheat, rye, and barley. In fact, a reader alerted me that the Jell-O Cheesecake-flavored pudding was not gluten-free.
Flip to the ingredient label, and there you'll see "contains barley" on the ingredient label. Now, that's a scary sight as it's rare that natural and artificial flavors contain gluten, but alas, it might!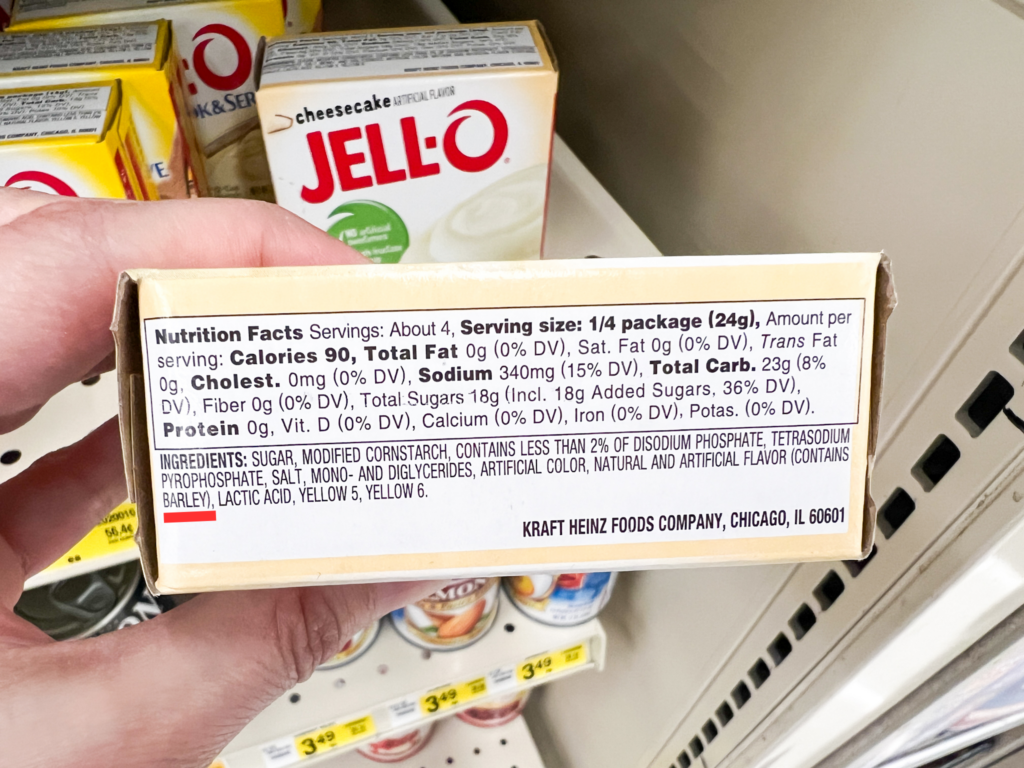 Putting Jell-O Chocolate Pudding to the Nima Sensor Test
Even though the Cheesecake-flavored Jell-O clearly contains gluten, none of the other pudding flavors had that same disclosure in the ingredient listing.
I decided to further my research by independently testing Jell-O chocolate pudding with my Nima Sensor. This portable device enables you to test a small piece of your food for hidden gluten.
I added a bit of the powdery Jell-O mix and a couple of drops of water to the single-use Nima test capsule. I then placed the test capsule inside the device. Nima displayed a smiley face, which means it did not find gluten.
To learn more about Nima, I encourage you to read What You Need to Know About Nima Sensor Before You Buy – Perspective from a Celiac & Nutrition Professional.
Are Jell-O Pudding Cups Gluten Free?
Like the instant chocolate pudding, I didn't see any gluten disclosures on the ingredient label of Jell-O pudding cups. Even the Oreo-flavored pudding cups don't appear to contain wheat or gluten.
That said, check labels whenever you purchase any product because many once gluten-free products might now contain gluten. Read my article, Formerly Gluten-Free Products that Now Contain Gluten, to see my growing lists of companies and products that used to be gluten-free but now are not.
Other Brands of Pudding
I also want to share what other brands of instant pudding and pudding cups have to say about gluten:
Kozy Shack: Kozy Shack says all of its products are "gluten-free," and the company goes on to say that every product has undergone an "extensive evaluation of ingredients and manufacturing processes to ensure compliance with the FDA threshold of < 20 ppm gluten."
All Kozy Shack products are labeled "gluten-free" on the packaging, which adds an extra level of assurance to the gluten-free community.
Organics Chocolate Pudding: Organics instant chocolate pudding is found in Whole Foods and Sprouts and has a clean ingredient list that does not appear to contain gluten. That said, the product is not labeled "gluten-free."
I tested Organics pudding with my Nima Sensor. After eating it, I experienced dull bloating and didn't feel well. I thought it was just the dairy from the pudding, but after eating it a second time, I still felt sick.
Sure enough, Nima displayed a wheat symbol, which means it found gluten in Organics pudding. I conducted this test in 2017 and have avoided the brand since.
Royal Instant Pudding: Royal instant pudding doesn't bear a gluten-free label, but like Jell-O, it doesn't appear to contain any gluten ingredients.
Simply Delish: This keto-friendly brand of instant chocolate pudding is labeled "gluten-free" and is free from the top eight allergens, which include wheat, tree nuts, peanuts, dairy, soy, shellfish, and soy.
Snack Pack: Some Snack Pack puddings bear a gluten-free label on the back of the packaging, which means it has been verified to contain less than 20 ppm of gluten.
Swiss Miss: While Swiss Miss puddings are not labeled gluten-free, they do not appear to contain any gluten ingredients.
However, the company's parent company, Conagra, says that only products labeled "gluten-free" have been verified to contain less than 20 ppm of gluten.
The Bottom Line
While instant pudding and pudding cups are unlikely to contain gluten, some exceptions exist.
For example, a flavoring added to the pudding may contain gluten, as in the case of Jell-O's cheesecake-flavored pudding, which contains barley in its natural and artificial flavors.
There is also a risk of gluten cross-contamination in packaged products.
For example, while the Organics brand of chocolate pudding bears a clean ingredient list free from gluten ingredients, it still contains detectable levels of gluten. This could be due to shared manufacturing facilities, although I don't know enough about the Organics manufacturing process to say for sure.
The most accurate information about whether a pudding brand contains gluten will always be on the label itself. Please read labels carefully, never become complacent, and check directly with the manufacturer or put the item back on the shelf when in doubt.
Pin this Article
If you enjoyed this article, please pin it and help spread the word.
More Articles
You might enjoy these articles: