This post discusses whether ranch dressing is gluten free, as well as lists all the salad dressings I've tested for hidden gluten with my Nima Sensor. This blog post is updated often as I test new salad dressing brands for hidden gluten. This post contains affiliate links. Please see my disclosures.
A lot of people in the gluten-free community know that I love to use my Nima Sensor to test products for hidden gluten.
The Nima Sensor is a portable gluten-detecting device that enables you to test a small sample of a food item for hidden gluten, a protein found in wheat, rye, barley and sometimes oats.
It's a highly-sensitive device with some limitations, which I talk about in detail in this article, What You Need to Know About Nima Sensor Before You Buy.
Over the years, several people have asked me to test ranch dressing for hidden gluten; I've been reluctant, mainly because I personally dislike ranch dressing. I have an aversion to anything white and creamy like mayonnaise, sour cream and, of course, ranch.
Ranch dressing is typically made with a combination of creamy ingredients such as buttermilk, sour cream, and mayonnaise, along with a combination of herbs, onions, garlic and pepper.
That said, so many people love ranch dressing and want to know if they can safely enjoy it on the gluten-free diet. If you're one of those people asking, Is ranch gluten free?", I've got answers for you.
Is Ranch Dressing Gluten Free?
While I can't say all ranch dressing is gluten free, I can tell you that the leading brand, Hidden Valley Ranch, is labeled gluten free.
When a product is labeled gluten free, it means (a) it doesn't contain any gluten ingredients, and (b) the company has verified that the product contains less than 20 parts per million (ppm) of gluten per the FDA's gluten-free labeling guidelines.
Please note that Hidden Valley Ranch is not "certified gluten free," which would mean a third-party had independently verified the product contained less than 20 ppm (sometimes less than 10 ppm) of gluten.
A few questionable ingredients in Hidden Valley Ranch include food starch and monosodium glutamate, two ingredients that may contain gluten.
However, under the ingredient list, only milk, soy and egg are listed as allergens, not wheat. Remember, allergen disclosure statements disclose only the top eight allergens, which includes wheat; however, gluten is also found in barley, rye and oats, so allergen disclosure statements aren't always the most helpful in decoding whether or not a product contains hidden gluten.
I independently tested Hidden Valley Ranch with my Nima Sensor, and Nima displayed a smile, which means no gluten found. Nima would display a wheat symbol if it found any gluten.
Please note not all Hidden Valley dressings are gluten free. The company says on its website, "Most of our products do not contain gluten. Products and ingredients made from grass-related grains containing gluten – notably wheat, rye and barley – will be clearly listed in the ingredient statement on the package label per new FDA guidelines.
"If the product does not contain wheat, rye, or barley, it probably does not contain gluten. Only products that have been verified to be gluten free will have a "Gluten Free" statement. However, not all products that are gluten free will have this statement while we are in the process of updating our labels. Please always refer to the ingredient statement on package labels or contact us for clarification.
"We have a program in place to support the use of the "Gluten Free" statement. Products listed as "Gluten Free" undergo scheduled testing. All suppliers provide assurance that there are no ingredients that contain or are derived from gluten-containing grains. Our products are manufactured in facilities with stringent allergen control programs to prevent cross contamination."
More Salad Dressing Tested for Hidden Gluten
I decided to keep a running list of salad dressings I've independently tested for hidden gluten with my Nima Sensor. Please leave a comment if you would like me to test another dressing as I'll be adding to this list over time.
Is Panera At Home Fuji Apple Dressing Gluten Free?
Panera's Fuji Apple bottled dressing is not labeled gluten free, but it does not contain any gluten ingredients. Plus, the Nima Sensor did not find any hidden gluten.
Please note the Panera At-Home website says the dressing is gluten free too. I love this dressing!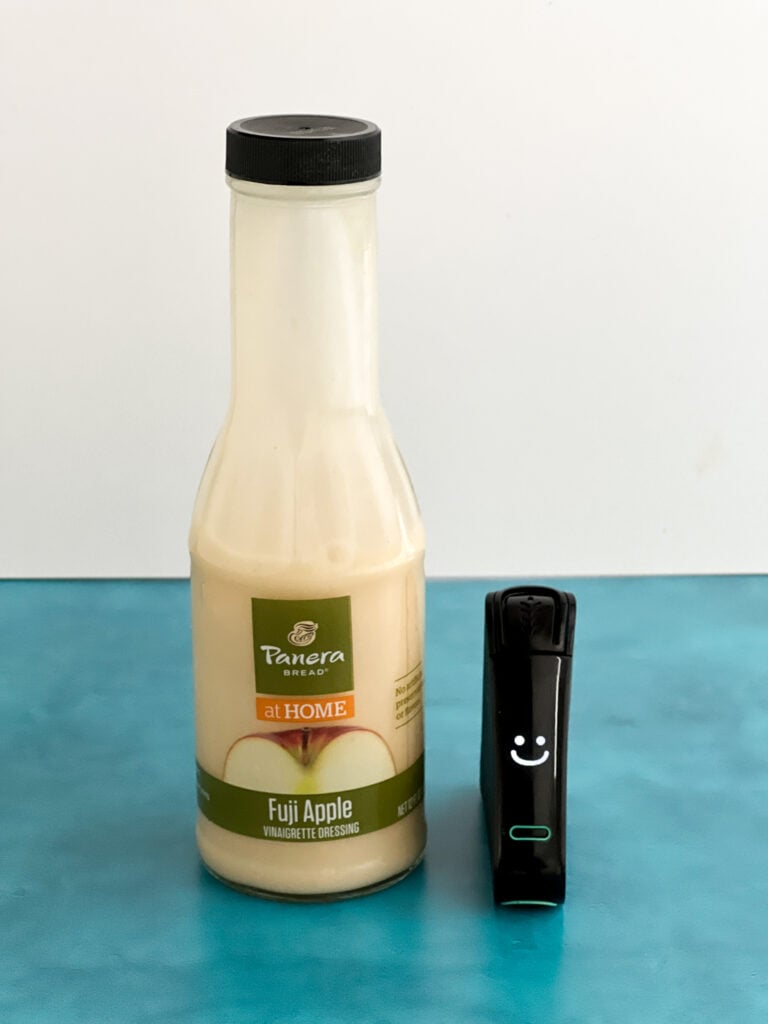 Eating gluten-free at Panera is another story and I encourage you to read more about how to navigate Panera's gluten-free offerings if you must eat there. (Editor's Note: I personally don't feel comfortable eating at Panera).
Is Olive Garden Italian Dressing Gluten Free?
I tested a bottle of the Olive Garden Italian dressing for hidden gluten using my Nima Sensor. The bottle is labeled gluten free, and I'm happy to report that Nima did not find any gluten either.
I also tested the Italian dressing while dining at the Olive Garden, among other dishes, and share my experiences – and challenges – with eating gluten-free at the Olive Garden in this article.
Is Annie's French Dressing Gluten Free?
I also tested Annie's French Dressing for hidden gluten with my Nima Sensor.
Before I reveal the results, it's interesting to note that, while Annie's offers several gluten-free labeled products, I don't think any of its dressings are labeled or noted as gluten free (at least the dressings listed on the Annie's website; I have not check in-stores).
Annie's says its products are labeled for allergens, particularly if they contain any of the top eight allergens (peanuts, tree nuts, milk, eggs, soy, wheat, crustaceans, and fish) and/or sesame.
Annie's says you'll see allergens noted directly on the packaging either as a "contains" or "may contain" statement. Annie's says its ingredients may vary from one package to another due to product reformulation.
I tested Annie's French Dressing for hidden gluten, and Nima didn't find any.
Additional Dressing Tests to Come
I'll test additional dressing brands for hidden gluten soon. Please bookmark this page and check back often.
And please be sure to leave your requests for salad dressings you'd like me to test for hidden gluten in the comments below. I'll try to accommodate as many requests as possible.
Additional Reading
You might enjoy these articles: