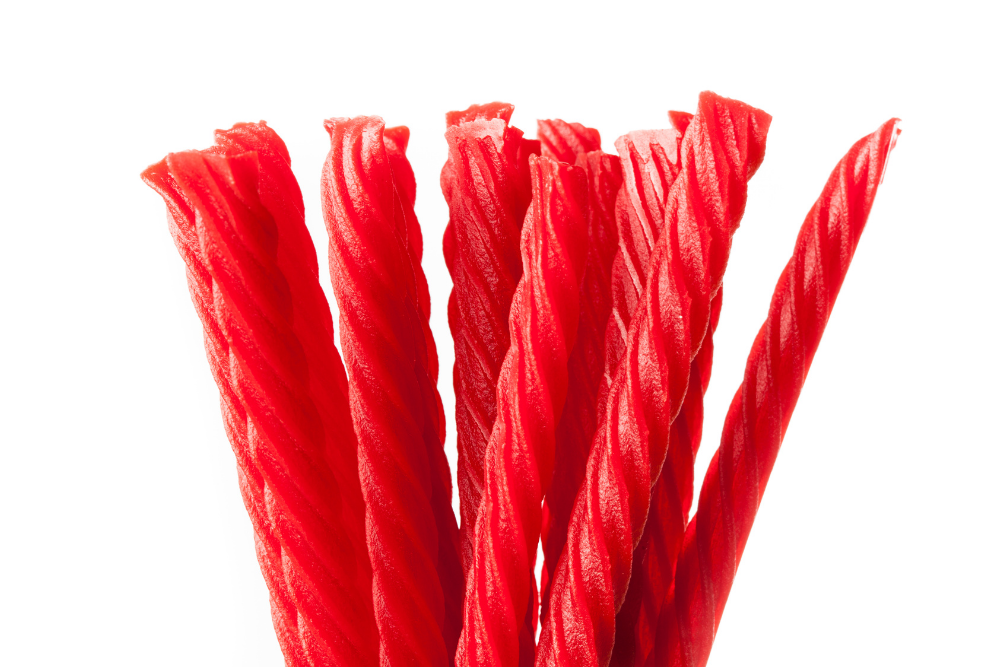 Is licorice is gluten free? It looks like it should be gluten free, but most people are surprised to learn that the main ingredient in licorice is wheat flour. In this article, I'll discuss why licorice, including Red Vines and Twizzlers, isn't gluten free as well as share a list of brands that are making gluten-free licorice options. This post contains affiliate links. Please see my disclosures.
My friend had a party at her house with a beautiful spread of desserts. Since the desserts contained gluten, a protein found in wheat, barley, rye and sometimes oats, she thought she would do something special for me. She bought me a large pail of licorice from Costco so I wouldn't feel left out.
I was fairly new to the gluten-free diet at the time, so I didn't know off-hand if licorice was gluten free. What I did know, however was to turn over the pail to check the ingredient list before I ate anything. Sure enough, wheat flour was the first ingredient in licorice.
My friend and I were both shocked. And while I couldn't enjoy her kind gesture, we both had a big learning moment to never judge a book by its cover, or in this case, never evaluate a food for gluten based on the way it looks.
Are Twizzlers Gluten Free?
I hate to say it, but Twizzlers are not gluten free as they contain enriched wheat flour. Sorry gluten-free friends.
On the Twizzlers website, its parent company, Hershey's, clearly states that Twizzlers contain wheat flour (gluten) as well.

Keep in mind that Nibs, also made by the Hershey company, contain gluten as well and should be avoided.
Bottom Line: Twizzlers are not gluten free.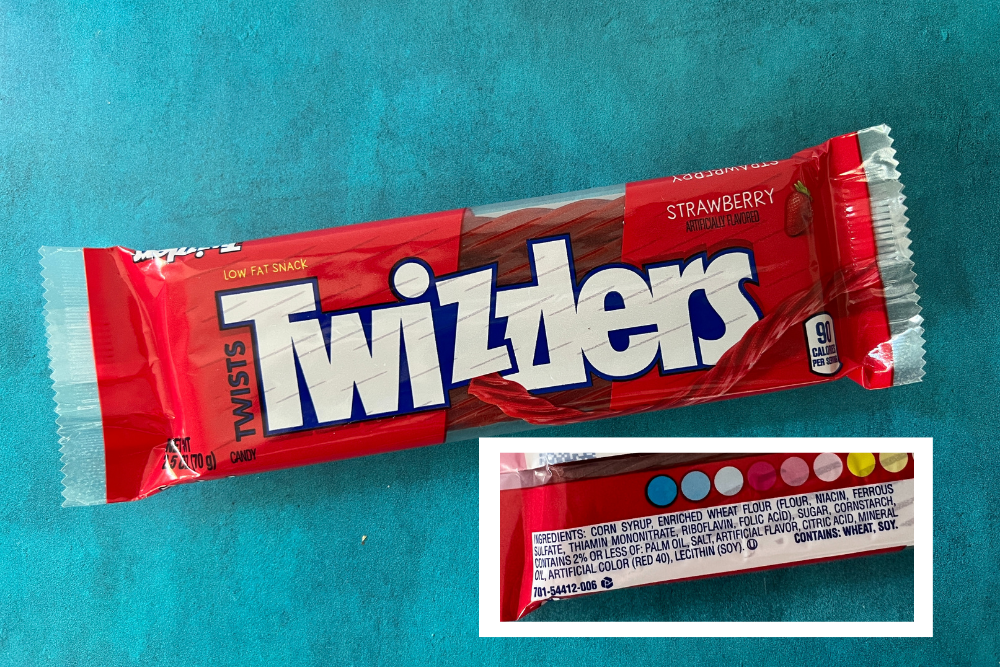 Are Red Vines Gluten Free?
Again, I hate to say it, but just like Twizzlers, Red Vines are not gluten free either.
When you look at the Red Vines ingredient list, you see the following ingredients: Corn syrup, high-fructose corn syrup, wheat flour (aka gluten), citric acid, artificial flavor and Red 40.
There's nothing much to see except a bunch of not-so-fantastic ingredients anyway.
Bottom Line: Red Vines are not gluten free.
Gluten-Free Licorice Alternatives
Despite the fact that you can't enjoy Twizzlers or Red Vines, not all hope is lost because there are several brands of gluten-free licorice ready to satisfy your craving for the chewy and sweet candy of your childhood. No wheat or gluten required!
Below is list of some of the brands of gluten-free licorice worth checking out. I will add to this list as I learn about new gluten-free licorice alternatives.
(1) YumEarth Gluten-Free Licorice
YumEarth makes organic, vegan and gluten-free licorice in a variety of flavors, including its original flavor, pomegranate, peach and black licorice.
All YumEarth products are allergy friendly and free from peanuts, gluten, tree nuts, milk, eggs, fish, shellfish and soy. You also won't find high fructose corn syrup or artificial dyes in these babies.
The licorice looks more like bite-sized nibs than ropes or laces, but the taste is near perfect.
You can purchase YumEarth licorice on Amazon, and I've also seen them in Marshall's and TJ Max at a steal in the past.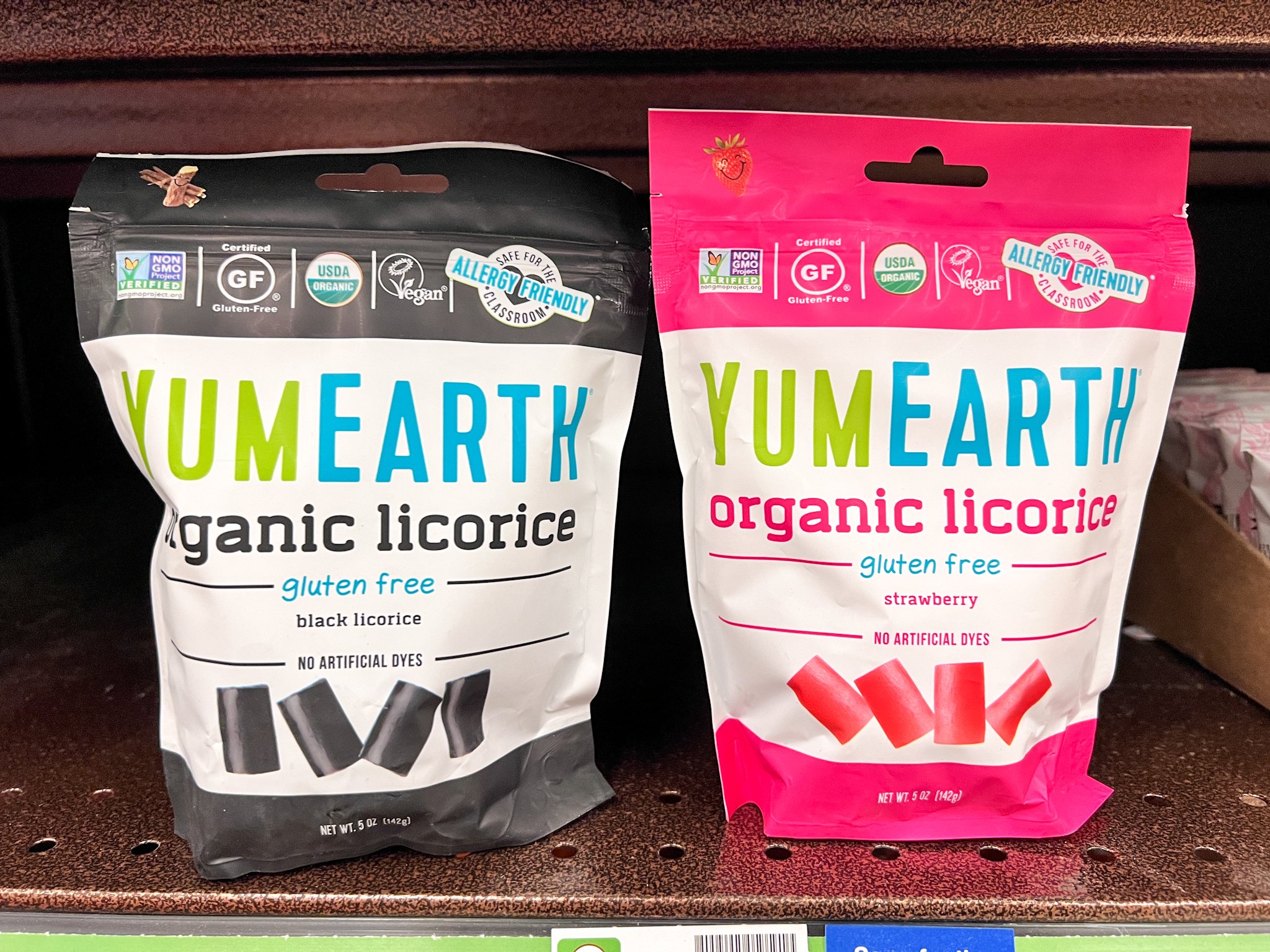 (2) Wiley Wallaby Licorice
I recently discovered Wiley Wallaby licorice. I'm impressed with the taste and texture. It's soft and chewy and has a great flavor and no strange aftertaste.
I also love that Wiley Wallaby licorice contains only one gram of sugar and is certified gluten free by the GFCO.
It's important to note that ONLY the Very Berry flavor is gluten free despite the fact that it comes in other flavors. And unfortunately, you can only find this flavor on the Wiley Wallaby website. It's not listed on Amazon yet. Bummer, I know!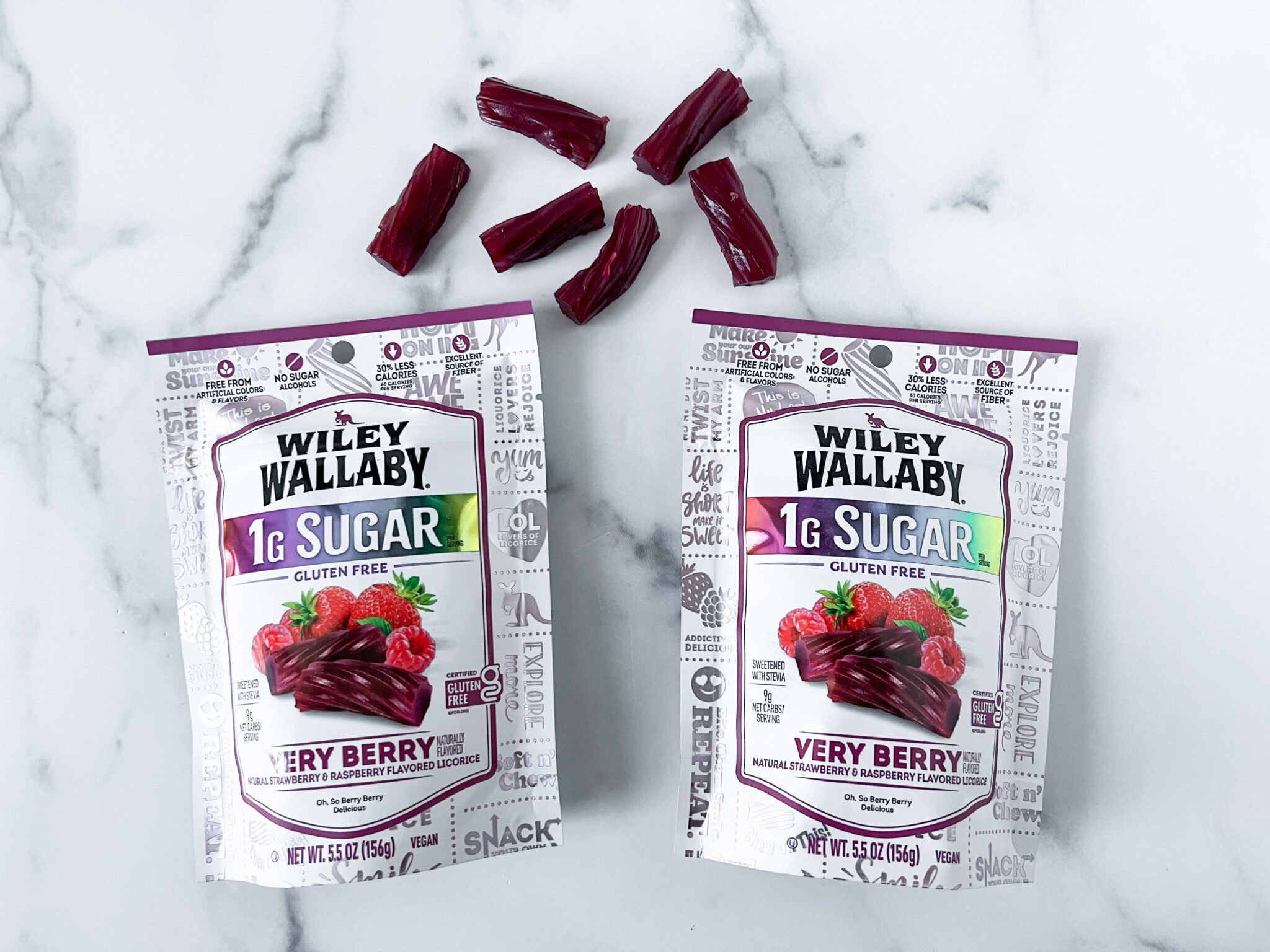 (3) Mom's Place Gluten-Free Licorice
Mom's Place Gluten Free sells handmade gluten-free licorice along with tons of baking mixes and other gluten-free products and essentials. Everything is certified gluten free.
The company describes the red licorice as "soft and tender to the bite" and they're shaped like little dogs – so cute! You can purchase them on Amazon or the Mom's Place website.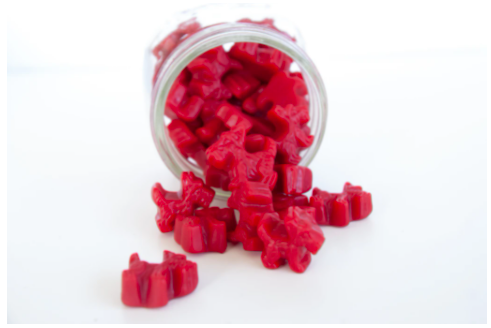 (4) Gimbal's Licorice
After publishing this article, several people messaged me to look into Gimbal's gluten-free licorice. The company makes gluten-free black licorice in the shape of cute Scottie dogs.
Gimbal's original black licorice is also allergy friendly as they are also peanut-, soy-, dairy-, and egg-free.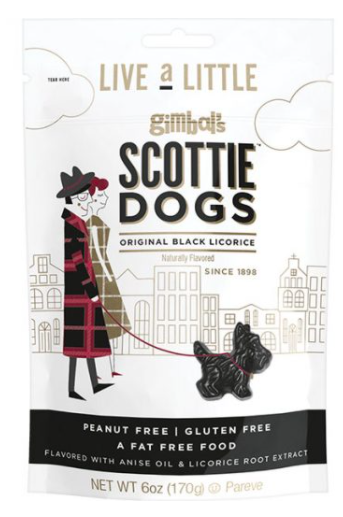 (5) Candy Tree Gluten-Free Licorice
Candy Tree, a small family-owned business from Holland, makes organic, GMO-free and gluten-free red and black licorice. It comes in strawberry, cherry and raspberry flavors, in both ropes, laces and bites.
Candy Tree licorice is way overpriced on Amazon, but it's priced well on the Gluten-Free Mall website.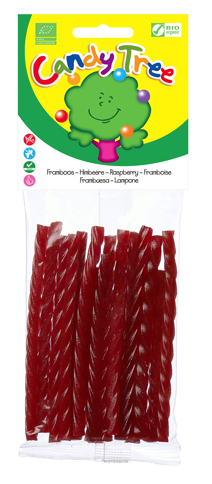 (6) Smart Sweets Gluten-Free Licorice
Another brand of gluten-free licorice is known as Smart Sweets. Not only are the red twists free from gluten, but also they contain only 2 grams of sugar per bag.
They're also vegan, GMO free, free from artificial flavors and contain no food dyes. On top of that, the product is loaded with soluble plant-based prebiotic fiber and contain 38 percent less calories than other licorice brands.
I encourage you to read the reviews on Amazon before buying. It's a mixed bag, with many people saying they don't like the taste.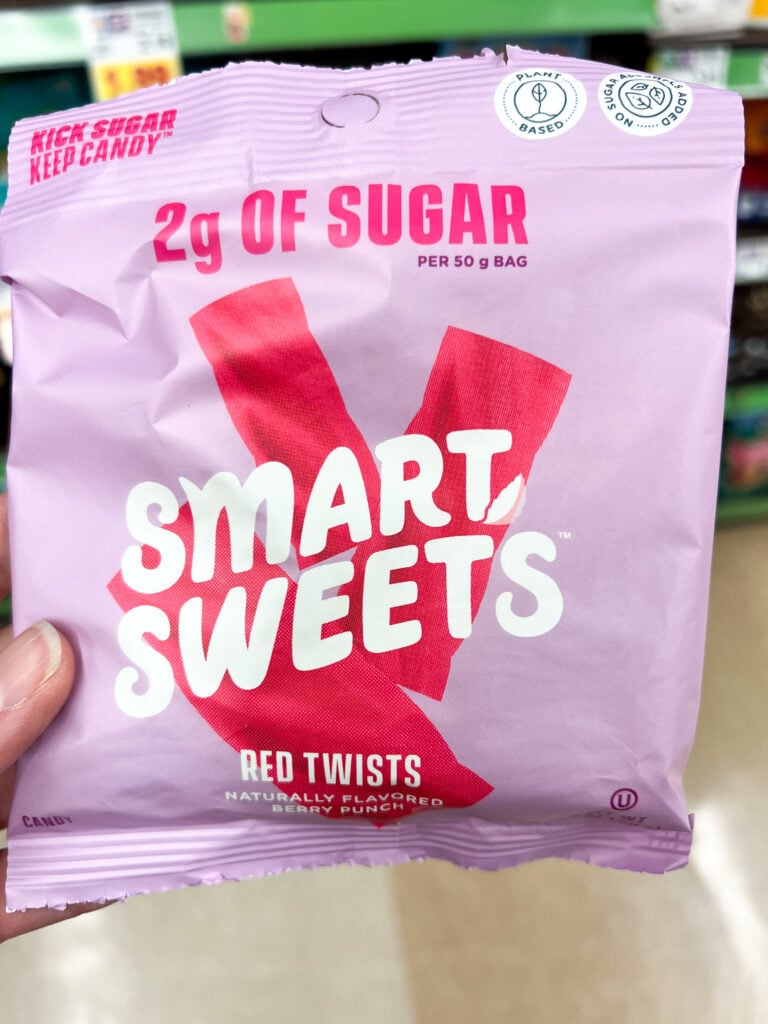 (7) See's Candies Licorice
See's Candies says that the vast majority of its candies are gluten free unless they're made outside of a See's Candies facility.
Products made outside of the See's Candies facilities do not contain gluten per se, but they may be manufactured in shared facilities or in shared equipment. These products include candy canes, peanut butter bites, lemon drops, apple pie bites, Hanukkah hard candy, hot cocoa, chocolate covered coffee beans.
See's Candies makes both black and red licorice medallions, and if you read the reviews on the See's Candies website, you'll see that these products are well loved.
Gluten-Free Licorice Can Be Hard to Find
As you can see from the list of licorice brands, there aren't any "mainstream" gluten-free licorice brands to be had.
If you can't find a gluten-free licorice brand you like, and you're brave enough to try your hand at making yoru own, my friend Nicole at Gluten Free on a Shoestring, will show you how. Nicole says her gluten-free licorice recipe is easy to make, although I think it's looks pretty involved. Good luck and let me know if you try it.
Have you found other brands of gluten-free licorice? If so, please leave a comment to share. I will update this article as I learn of more options.
Additional Reading
You might enjoy these articles too: