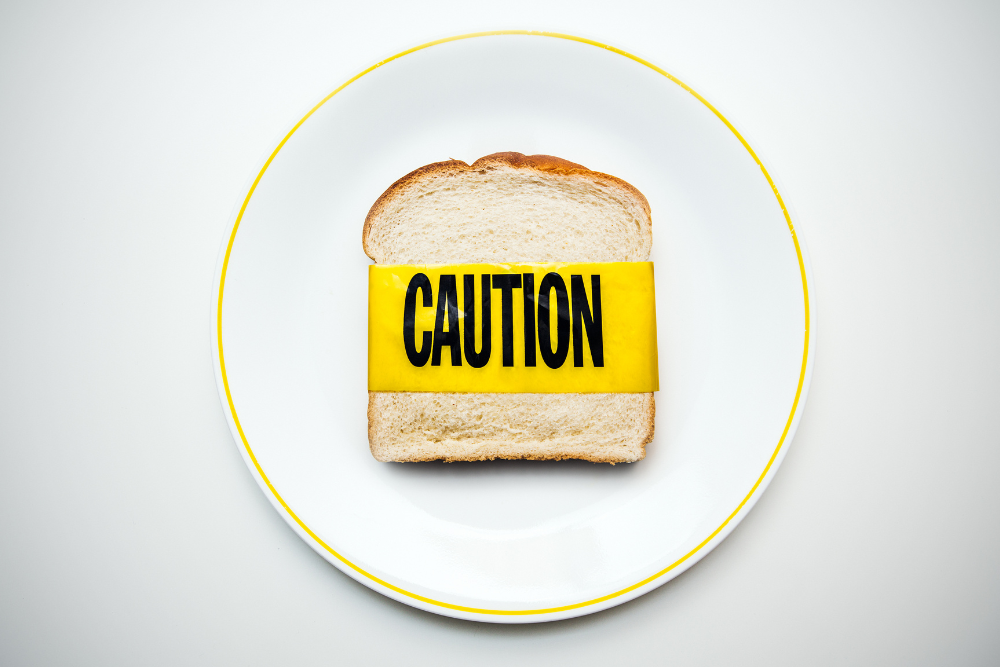 Gluten is everywhere – but it's not always called gluten, nor does it always go by its conventional names, wheat, rye, and barley.
In fact, gluten goes by many names and is found in many seemingly innocuous products.
If you're following a strict gluten-free diet – either because you have celiac disease or gluten sensitivity – it's important to know all the potential places gluten may lurk.
To help you, I created this list of 100+ foods that contain gluten (or may contain gluten).
Some products and ingredients are obvious and specifically say wheat, rye, and barley; other ingredients are not so obvious and take a little more detective work to figure out.
When in doubt, consumers should contact the manufacturer or put the product back on the shelf. There is almost always a safe, gluten-free labeled option for your favorite products.
For easy printing and saving, please CLICK HERE to download the following list as a PDF.
100+ Foods that Contain Gluten
Below are 100+ foods and ingredients that contain (or may contain) gluten. Beware!
Abyssinian Hard (a form of wheat)
All-Purpose Flour
Alternative Meats (veggie burgers) – read Are Impossible Burgers, Beyond Meat and Other Plant-Based Meats Gluten Free?
Bacon bits
Barley
Barley malt – read Beware of Malt and these 21 Potential Sources of Barley (Gluten)
BBQ sauces (may contain gluten)
Beer (contains wheat and barley) – read Dedicated Gluten-Free Breweries
Blue cheese (check labels)
Bouillon cubes (check labels) – read Gluten-Free Bouillon – Testing for Hidden Gluten
Bran (outer layer of wheat grain)
Bread, Breading, Breadcrumbs
Brewer's Yeast
Broths (check labels)
Brown rice syrup (may contain barley malt – check labels)
Buckwheat noodles (buckwheat is gluten-free; however, buckwheat noodles often contain gluten)
Bulgur (wheat)
Caramel Color (may contain barley malt)
Cereal extract
Churros (fried dough) – although I make my own gluten-free churros
Coffee substitutes (may contain barley) – read Is Coffee Gluten Free?
Communion wafers
Corn Flakes – read Are Corn Flakes Gluten-Free?
Cracker Meal
Cream of Mushroom Soup (check labels)
Croutons
Dairy substitutes (creamers)
Deep-fried foods (cross-contamination)
Dextrimaltose (made from barley)
Dextrin (may be derived from wheat)
Dry Smoke Flavor
Durum (a form of wheat)
Einkorn (a form of wheat)
Emmer (a form of wheat)
Farina® (type of semolina)
Farro (wheat grain)
Fu (dried wheat gluten)
Gluten-Removed Beer
Gnocchi (potato pasta usually contains wheat)
Groats (cereal grain)
Graham flour
Gravy (often thickened with wheat)
Gummy bears (some contain wheat, including Haribo™)
Hydrolyzed vegetable protein (may contain wheat or barley – OK if made from soy)
Imitation crab
Imitation seafood
Kamut (wheat)
Maida (wheat flour)
Malt Balls
Malt Flavoring
Malt Vinegar
Maltodextrin (may contain wheat)
Marinades
Matzo (unleavened wheat cracker)
Matzo Meal
Meatballs (typically made with breadcrumbs) – get my gluten-free turkey meatball recipe
Milkshakes
Miso (check labels, it may contain barley)
Monosodium glutamate (MSG)
Naan (flatbread) – get my gluten-free naan recipe
Oats (typically contaminated with wheat; use GF-labeled oats only) – read Are Oats Gluten Free? Unpacking Confusing and Contradictory Information
Onion soup mix
Orzo
Panko (breadcrumbs)
Pastina – read Gluten-Free Pastina is Here!
Pearled Barley
Pearled Couscous
Pita (flatbread)
Pita chips
Play-Doh™
Pumpernickel bread (contains rye)
Ramen (check labels) – read Guide to Gluten-Free Ramen Noodles
Rice Krispies® (contains barley) – read Are Rice Krispies Gluten Free?
Roti (round flatbread)
Rye
Salad dressings (may contain gluten) – read Is Ranch Gluten Free? And Other Gluten-Free Salad Dressing Brands
Seitan (tofu-like gluten meat substitute)
Semolina (wheat)
Sopapillas (fried dough)
Shoyu (another name for soy sauce)
Soup bases
Sourdough bread – read Is Sourdough Bread Gluten Free?
Soy sauce (unless marked GF)
Spelt
Surimi (paste used in imitation fish)
Tabbouleh (made with bulgur) – get my cauliflower tabbouleh recipe
Tabouli
Tempura (check labels)
Textured vegetable protein
Triga (another name for wheatgrass)
Triticale (wheat hybrid)
Triticale (wheat and rye hybrid)
Triticum (wheat)
Udon (wheat noodles)
Vegetable gum
Veggie burgers (all Morningstar™ products contain wheat)
Wheat and all derivatives of wheat
Wheat Germ
Wild Emmer (wheat hybrid)
Wine Coolers
Worcestershire Sauce (some brands are GF)
Vital wheat gluten
Yeast Extract
Am I missing a food that contains gluten? Please leave a comment to share; I update this list regularly.
Wondering what you can eat when you're on a gluten-free diet? Be sure to check out my list of 200+ Foods You Can Eat on the Gluten-Free Diet.
If you're new to a gluten-free lifestyle, be sure to check out the SIGNATURE Gluten-Free Course to help you go gluten-free fast and get it right from the start!