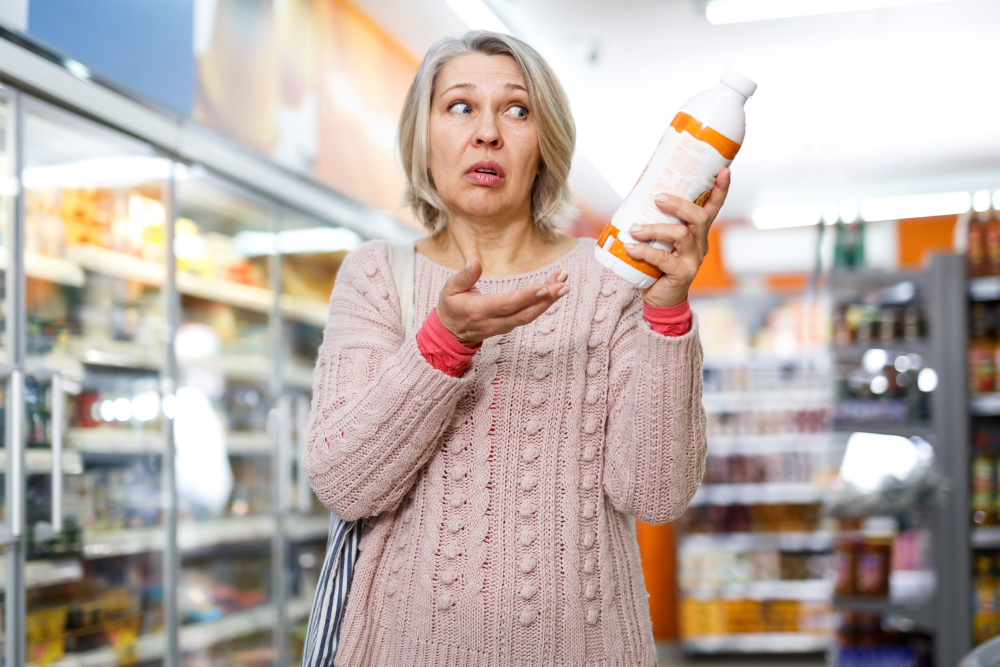 Unfortunately, from time to time, a product changes its formula to – gasp! – add gluten! In this article, I share 8 brands that have added gluten, changed labels, or otherwise confused the gluten-free community with their about-face moves. Please read my disclosures.
This post includes a running list of products that were once gluten-free but are no longer gluten-free.
It serves as a stark reminder of the importance of continuously checking ingredient labels, even if it's a product you've bought a hundred times.
Labels, ingredients, and formulations are subject to change anytime and without any notice.
Please send me a note if you hear or know of a product that should be included on this list. Last updated September 2023.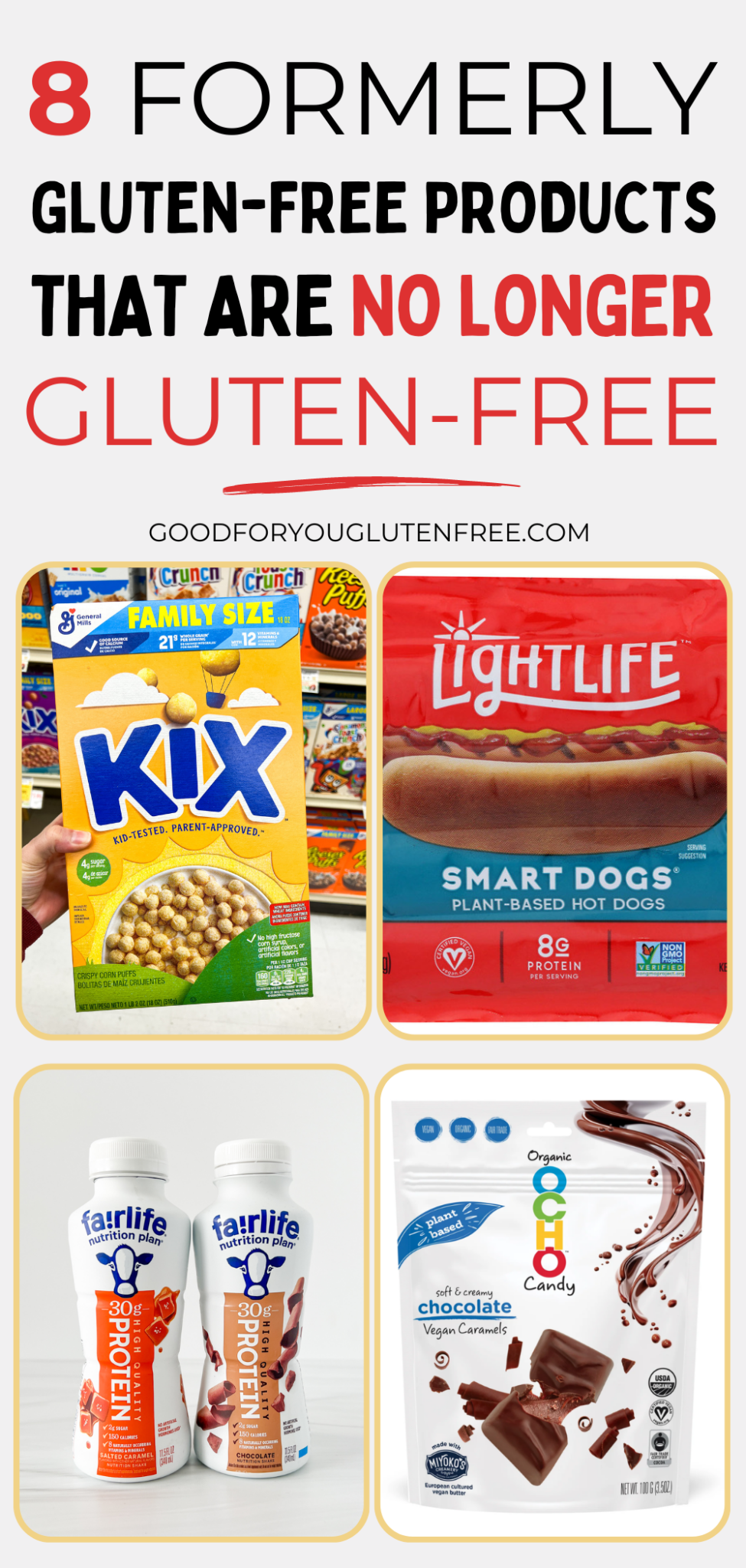 (1) PopCorners Removes Gluten-Free Certification
PopCorners was once a trusted brand by the gluten-free community as its entire line was certified gluten-free by the GFCO.
However, sometime in 2022, the company changed its formula and removed the "certified gluten-free" label from several varieties.
My friend, Casey the College Celiac, shared these changes on her Instagram page, along with a response from the company, where a spokesperson confirmed that the White Cheddar and Sweet Chili flavors no longer meet the FDA's requirement for gluten-free labeling.
This sleight of hand has left many people in the gluten-free community confused about why PopCorners would add gluten to a line-up of products that prided itself on being 100 percent certified gluten-free.
Flavors that are NO LONGER Gluten Free:
Sweet Chili
White Cheddar
If you want to enjoy PopCorners, the Cinnamon Crunch, Sea Salt, Kettle Corn, Spicy Queso, and Sour Cream & Onion flavors are still certified gluten-free by the GFCO.
(2) LightLife Adds Vital Wheat Gluten, Then Removes It
You might get whiplash following the LightLight Smart Dogs saga. It all started when my friend Wendy told me she had been buying these plant-based hot dogs for years and even had a "gluten-free" Smart Dogs package in her freezer.
Then, while shopping at the grocery store, something compelled her to check the label before adding it to her cart. Sure enough, she stared at the package in disbelief! LightLife changed its formula and added vital wheat gluten as an ingredient!
LightLife fielded a ton of complaints from consumers (including me). Here's what LightLife said in a Tweet dated February 12, 2021: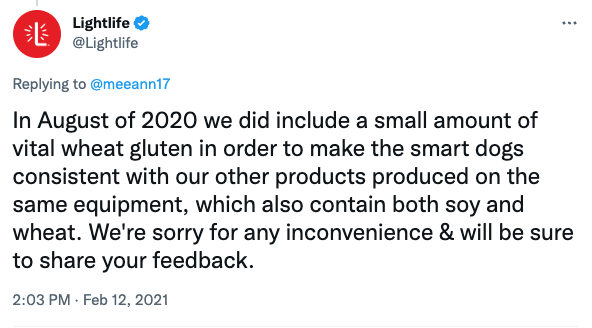 Since then, LightLife Smart Dogs have returned to the original formula, saying on its website, "Our customers talked, and we listened! We learned our fans enjoy our old Smart Dogs recipe, so we've changed back to the recipe our fans know and love."
The Smart Dogs are not labeled "gluten-free," which is an issue in of itself, but as you can see from the ingredient list, they removed the vital wheat gluten:
Ingredients as of January 2023: Water, Soy Protein Isolate, Soybean Oil, Raw Cane Sugar, Salt, Contains 2% Or Less Of Pea Protein, Tapioca Starch, Yeast Extract, Natural Flavor, Garlic Juice Concentrate, Sunflower Oil, Glutamic Acid, Xanthan Gum, Carrageenan, Garlic Powder, Guar Gum, Hardwood Smoked Sugar, Red Rice Flour (Color), Canola Oil, Oleoresin Paprika (Color). Contains: Soy.
The company says products labeled "gluten-free" are produced in a gluten-free facility. Such products include Plant-Based Burgers and Ground.
However, the company says its products that don't contain wheat but are not labeled gluten-free are likely produced in a shared facility and are exposed to potential gluten cross-contamination.
LightLife also tells consumers to consult their physicians before consuming any of their products, as if my physician knows what LightLife puts in its products. The monkeys in charge should reconsider the wording on the company's website.
The bottom line is that LightLife Smart Dogs are not consistently gluten-free. Read labels for the latest information.
(3) Better than Bouillon No Longer Gluten-Free
While researching my gluten-free bouillon article, I found an article from The Celiac Scene about Better than Bouillon.
The author said that Better than Bouillon had been labeled "gluten-free," but in 2012, she noticed the product no longer contained the "gluten-free" label.
She contacted the company, which confirmed that Better than Bouillon was no longer labeled gluten-free because the company doesn't "test" its products for gluten and, therefore, cannot make claims about it.
(4) Pizza Hut Discontinues Partnership with GIG
If you've been a part of the gluten-free community for a while, you might recall when Pizza Hut offered "certified gluten-free" pizzas in partnership with the Gluten Intolerance Group Gluten-Free Food Service Program.
Unfortunately, as of May 2019, Pizza Hut terminated its relationship with the Gluten Intolerance Group and no longer offers certified gluten-free pizza options.
While Pizza Hut still offers non-certified gluten-free pizza options, the restaurant chain no longer recommends its gluten-free pizza for people with celiac disease. In fact, none of the five pizza chains recommend their gluten-free pizza for people with celiac disease. What a shame.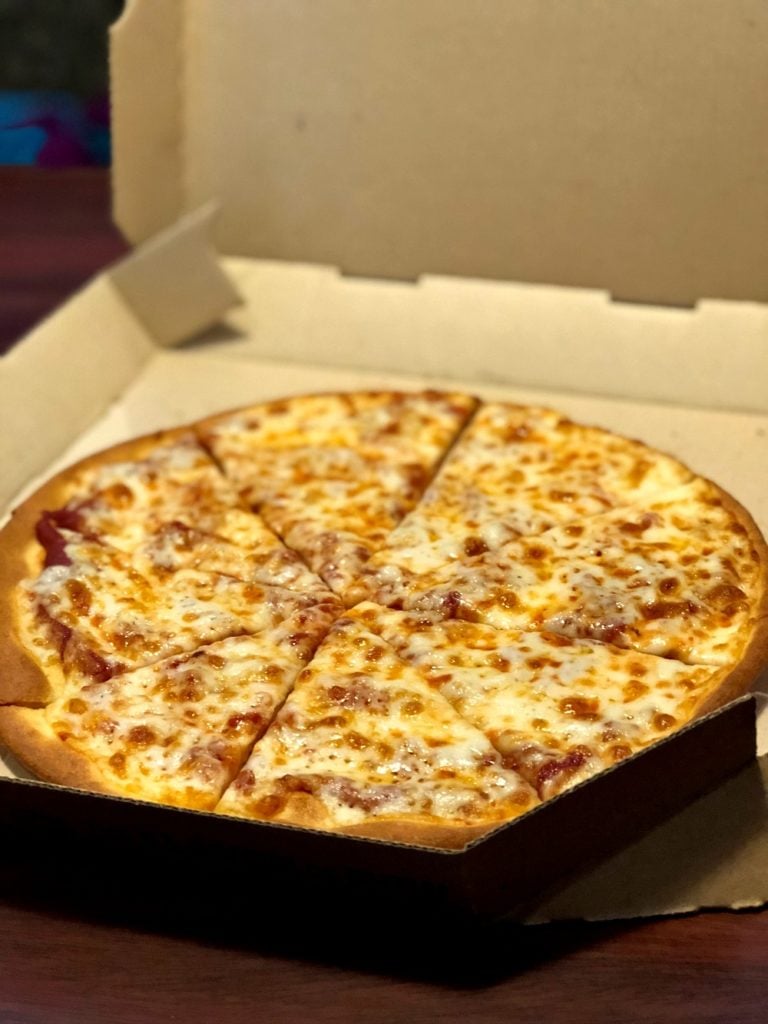 (5) Fairlife Milk Adds Oat Fiber
Fairlife milk beverages used to contain carrageenan as a stabilizer, but in July 2022, it quietly began rolling out bottles of its protein beverage that contained oat fiber instead of carrageenan. Depending on where you buy Fairlife products, some bottles contain carrageenan, and others contain oat fiber.
Oat fiber may contain gluten given that oats are highly cross-contaminated with wheat when they're grown and processed. Only oats labeled "gluten-free" are safe for the gluten-free community. (Read: Are Oats Gluten Free? Unpacking Confusing and Contradictory Information.)
While my Nima Sensor didn't find any gluten in a bottle of Fairlife milk that contained oat fiber, the company warns the gluten-free community against consuming its products.
A spokesperson said, "Some minor ingredients in these products are manufactured from plants that gluten-sensitive people could react to, so we are unable to state categorically that they are totally gluten-free even though they may have undetectable levels of gluten in them. However, extremely gluten-sensitive individuals should discuss the consumption of these products with their healthcare provider."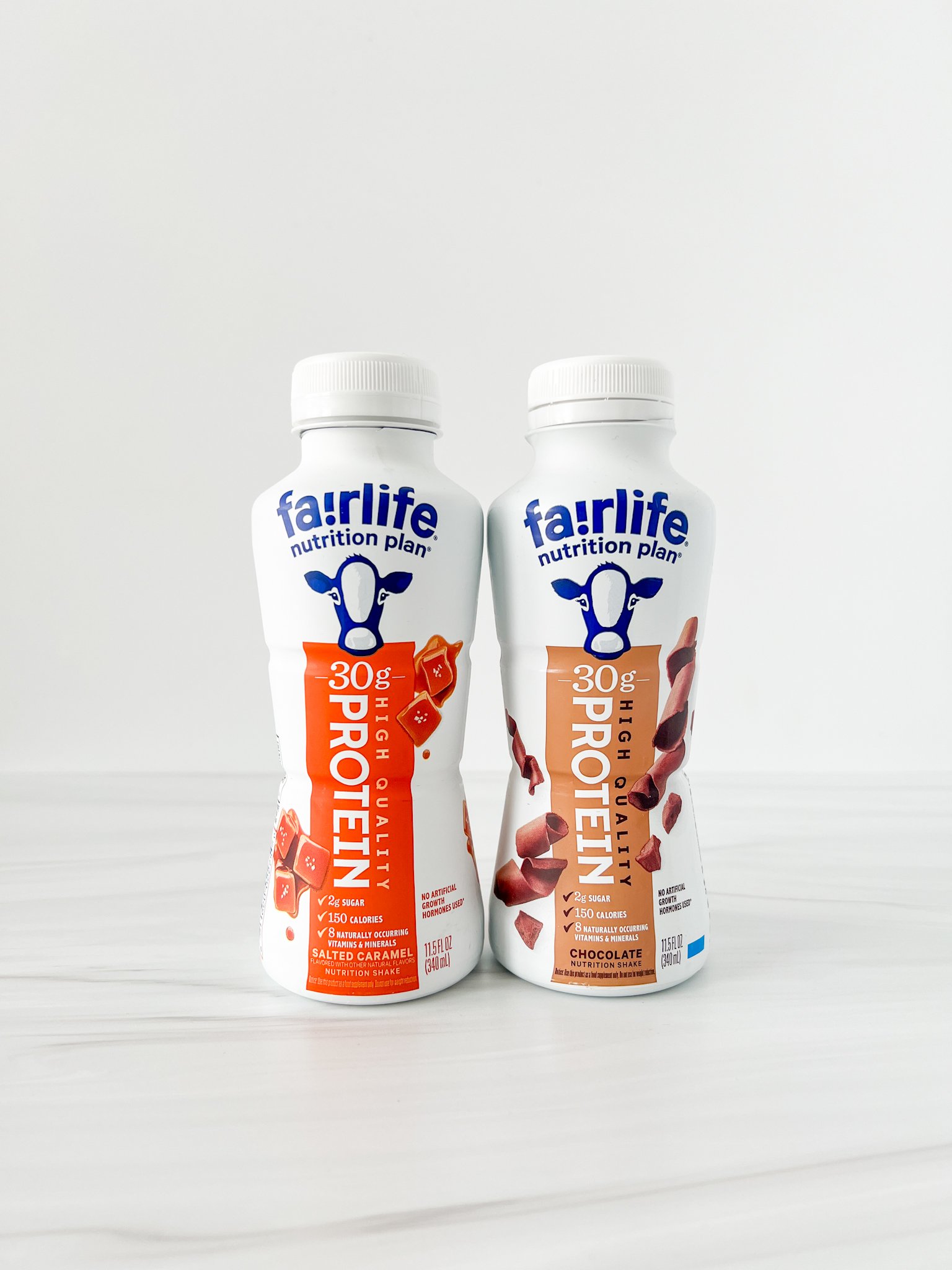 (6) OCHO Candy No Longer Gluten-Free
OCHO Candy is a boutique organic and fair trade candy company that used to offer certified gluten-free products. However, sometime in early 2023, the company said its products are no longer gluten-free.
"For over 10 years, we made our candy in Oakland, CA. In 2021, we decided to move production to the Islands of Trinidad & Tobago in the Caribbean. We wanted to make chocolate candy in an equatorial region to be closer to our ingredients and worldwide trade, thereby helping to keep more income opportunities in those origin countries," says the company.
Today, all of OCHOs candies are made on shared equipment, which the company says, "in the near future," will include wheat.
While the product does not contain gluten-containing ingredients, the company says it plans to make some non-gluten-free candies in the future and has "chosen to be no longer gluten-free certified."
Looks like it's time to say "Adios" to OCHO.
(7) Utz Cheese Balls Removes GF Claim
Utz Cheese Balls used to be labeled "gluten-free," but if you look at the ingredient label today (March 2023), you'll notice the company removed the GF claim. What gives?
A reader contacted Utz to find out why the gluten-free claim is no longer on the packaging, and a spokesperson said the company hadn't changed its process, recipe, or sanitation methods.
However, he said because there are "no current scientifically valid analytical methods effective in detecting and quantifying with precision the gluten protein content in fermented or hydrolyzed foods," the company is removing the gluten-free claim out of an "abundance of caution" so it's in compliance with the FDA gluten-free labeling ruling.
The ingredient in question is autolyzed yeast extract, which can be derived from spent brewer's yeast and may contain gluten in some cases.
Read more about why autolyzed and hydrolyzed ingredients are not detectable by current gluten testing methods in my article, Beware of Malt and these 21 Potential Sources of Barley (Gluten).
There's a good chance Utz cheese balls are gluten-free, but no one can know for sure. Utz was justified in removing the claim, and consumers can decide for themselves if they feel comfortable consuming this product.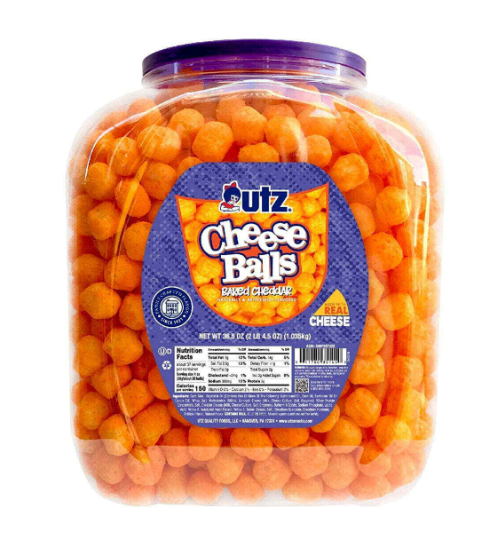 (8) Kix Adds May Contain Wheat Warning
While Kix was never labeled gluten-free, it didn't contain gluten ingredients. I even tested it for hidden gluten with my Nima Sensor, and Nima didn't find any gluten.
However, in 2023, Kix added a warning to the front of its cereal boxes, saying, "Now May Contain Wheat Ingredients."
The good news is that Kix is being as transparent as possible about this change, adding a red warning label on the FRONT of its packaging.
The bad news is that I suspect they added this warning after changing ingredient suppliers or manufacturers, but I can't say for sure.
Regardless, if you're following a gluten-free diet, heed this warning. It's too risky to eat Kix, and there are better and safer options anyway. Check out my list of gluten-free cereals.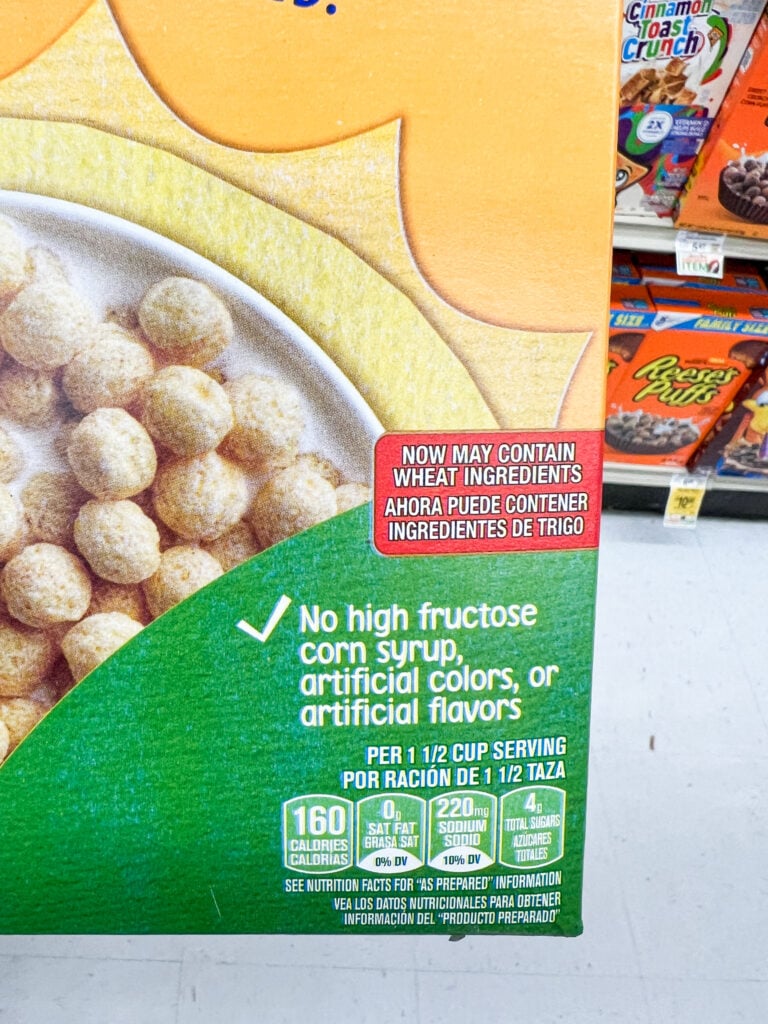 Vigilance is Key
Unfortunately, brands will be brands. They do what they want to do. If they want to suddenly change a product's formula or recipe, supplier, manufacturer, or labeling, they don't owe anyone an explanation or advance notice. However, such changes bring with them great mistrust in the gluten-free and allergen communities.
Use these cautionary tales as reminders to always read labels, even when buying something from a brand you know and trust. Stay vigilant, friends. The devil is always in the details.