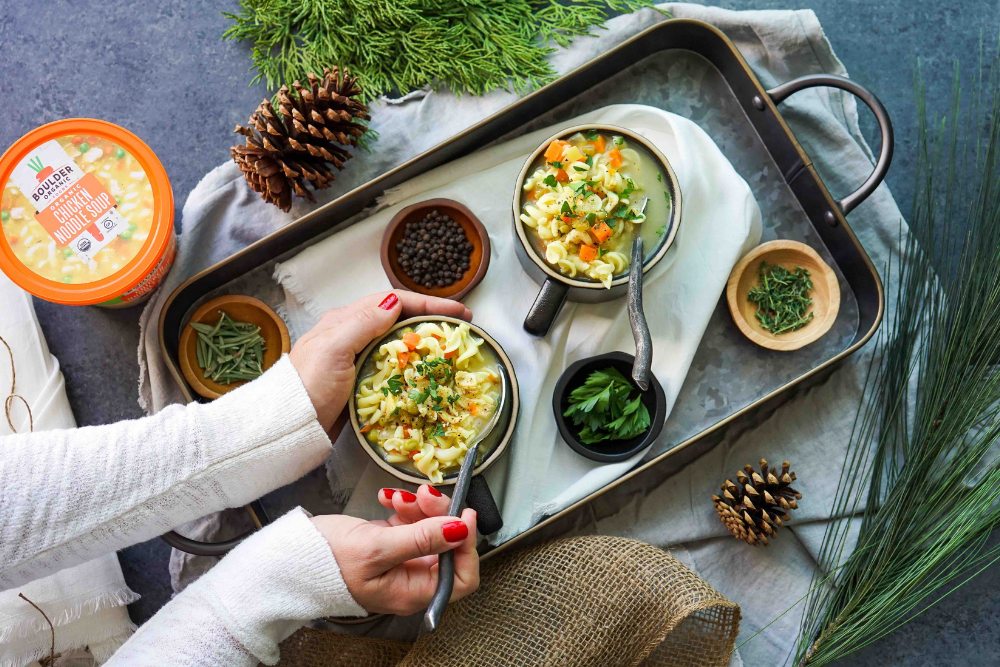 Are you looking for a list of gluten-free canned soups? I tested several brands of canned soup for hidden gluten and reveal the results in this article. This post contains affiliate links. Please see my disclosures.
Soup season is on, and I love nothing more than soup to warm me from the inside out. While homemade soup is the best, including my roasted tomato soup and chicken enchilada soup, it's nice to turn to a can of ready-made soup on nights when I don't feel like cooking.
However, many canned soups contain gluten, a protein found in wheat, rye, barley, and sometimes oats. Gluten causes an autoimmune attack in people with celiac disease and inflammation in people with non-celiac gluten sensitivity.
If you're avoiding gluten, you want to know which brands of canned soup are safe and which contain the sticky protein.
I researched the top canned soup brands to determine which contain gluten and which are gluten free. I also tested several brands for hidden gluten using a Nima Sensor, a portable gluten-detecting device that enables you to test your food for hidden gluten.
Are Progresso Soups Gluten Free?
Progresso makes a variety of canned soups that the company says are gluten free, and you can view the most up-to-date list of gluten-free selections on the company's website.
Please note that the Progresso website says many of its soups are "certified" gluten free, and the brand says it is a "proud partner of the Celiac Disease Foundation." (See the screenshot below from the Progresso website.)
However, upon inspection of individual cans of Progressive, I could not find any gluten-free certifications or logos. I reached out to the brand for comment, and a spokesperson for the company sent me the following response:
"Only products that can be verified to be gluten free will be declared as gluten free on the label. It is important to check the product label each time you purchase a product because it has the most accurate information about the product in the package."
"For products not labeled gluten free, we will always declare gluten-containing ingredients if they are added to the product. If the ingredient declaration lists wheat, barley, rye, or derivatives of these grains, then the product contains gluten.
"Examples of derivative ingredients include malt, barley malt, semolina, Durham, triticale, and spelt. We do not include gluten in other ingredients; for example, it would not be part of 'Natural Flavors' or 'Spices.' If there are gluten ingredients in our products, those ingredients are always clearly listed.
"If there are no gluten-containing ingredients listed in the product ingredient label, but the product does not make a gluten free claim, it is because we cannot fully assure that this product is gluten free. While we have not added gluten-containing ingredients, factors such as sourcing, conditions of manufacture, etc. do not allow us to provide the full level of assurance that a gluten free claim requires."
This information is helpful, but not what I was asking about; instead, I asked why they claim some of their soups are "certified" gluten free yet fail to put a certified gluten-free logo on their cans.
I replied to the spokesperson, reiterating that the company says some of its products are "certified" gluten free on the website. I asked who is the certifying agency. They replied again but failed to produce the name of a third-party gluten-free certifying agency.
In the meantime, if you're looking for Progresso soups labeled gluten free (not certified as far as I can tell), the following 18.5-19 ounce cans of soup with the signature blue label make a gluten-free claim on them:
Beef Pot Roast
Beef Pot Roast with Country Vegetables
Broccoli Cheese with Bacon
Butternut Squash
Chicken and Rice
Chicken and Wild Rice
Chicken Cheese Enchilada Flavor
Chicken Corn Chowder
Chicken Tortilla
Creamy Mushroom
Creamy Potato with Bacon and Cheese
Creamy Roasted Chicken with Broccoli
French Onion
Garden Vegetable
Lentil
Lentil with Roasted Vegetables
Manhattan Clam Chowder
New England Clam Chowder
Potato, Broccoli and Cheese Chowder
Slow Cooked Vegetable Beef
Southwest Style Black Bean & Vegetable
Spicy Chicken Tortilla
Split Pea with Ham
Steak and Vegetables
Tomato and Roasted Red Pepper
Tomato Basil
Zesty Santa Fe Style Chicken
Check your local grocery store for the latest selections; again, the best and most current information will be on the product label itself.
I tested (twice) a can of Creamy Roasted Chicken with Broccoli for hidden gluten with my Nima Sensor. Nima displayed a "gluten found" message both times. I suspect Nima found less than 20 ppm of gluten, but without further testing, I cannot know for sure. (Nima can sometimes be "too accurate," identifying gluten below the FDA's 20 ppm threshold.)
After I shared the "gluten found" result with my community, many readers asked me to test different flavors. One flavor I was asked multiple times to test is the Chicken Rice with Vegetables.
I'm happy to report that the Nima Sensor smiled, which means it didn't find any hidden gluten.
Additionally, Progresso makes the following "gluten-free homestyle" soups, which the company told me in a statement that these soups "meet the FDA Gluten-Free standards." (Editor's Note: Does this mean the other soups labeled "gluten free" don't meet FDA standards?) The gluten-free homestyle soups include:
The soups are easily identifiable because they're packaged with white labels with "Gluten Free" in boldface on the front of the cans. They come in 14-14.3-ounce (small) and 18.5 oz (large) cans and are almost double the price of the Progresso blue cans. (Yes, gluten-free packaged foods are expensive!)
Nima Sensor didn't find any gluten in the Gluten-Free Homestyle Chicken soup, as pictured below:
Bottom Line: The Progresso Homestyle Soups (in the white cans) appear to be gluten free; however, "gluten-free" labeled cans of Progresso soup (in the blue cans) may contain detectable levels of gluten.
Are Amy's Kitchen Soups Gluten Free?
Amy's Kitchen makes more than 100 gluten-free products, including meals and soups.
While Amy's Kitchen is transparent in saying its foods are made in a "shared" facility (not a dedicated gluten-free facility), the brand says that it maintains "numerous safeguards" to ensure its products contain less than 20 ppm of gluten, the FDA's legal limit for a gluten-free product to be labeled "gluten free."
You can find a list of Amy's Kitchen gluten-free products on the Amy's Kitchen website.
Specifically, Amy's Kitchen has several soups that are labeled gluten free (not certified gluten free), including:
Organic Tortilla Soup
Organic Quinoa, Kale & Red Lentil Soup
Organic Black Bean Vegetable Soup
Organic Lentil Soup
Organic Lentil Vegetable Soup
Organic Split Pea Soup
Organic Fire Roasted Southwestern Vegetable Soup
Organic Chunky Vegetable Soup
Organic Cream of Tomato Soup
Organic Chunky Tomato Bisque
Mushroom Bisque with Porcini
Organic Indian Curried Lentil Soup
Organic Hearty Rustic Italian Vegetable Soup
Organic Hearty French Country Vegetable
Organic Hearty Spanish Rice & Red Bean Soup
Italian Golden Lentil Soup
Thai Coconut Soup
Thai Curry Sweet Potato Lentil Soup
Organic Carrot Ginger Soup
Organic Red Bean & Vegetable Soup
Organic Vegan Butternut Squash Soup
Look for the "gluten free" label on individual cans. Amy's Kitchen says its products are marked if they're gluten free.
I also tested Amy's frozen entrees for hidden gluten. See the results in my article, Guide to Gluten-Free Frozen Dinners (Nima Tested!).
Are Imagine Foods Soups Gluten Free?
I'm not as familiar with Imagine Foods soups, but according to the brand's website, all of its soups – except for its Chunky Style Soups – are gluten free.
Imagine Foods soups are packaged in cartons vs. cans and if the product is gluten free, the back of the packaging will be marked with an upside-down triangle that says "gluten free."
Are Pacific Foods Soups Gluten Free?
Another soup brand that packages its soups in a carton vs. a can is Pacific Foods. Several of its soups are labeled gluten free on the front of the packaging, but none are certified gluten free.
The labeled gluten-free soup varieties currently available include:
Organic Red Pepper and Tomato Soup
Butternut Squash Soup
Creamy Cashew Carrot Ginger Soup
Roasted Red Pepper and Tomato Bisque
Organic Creamy Tomato Soup
Organic Chicken and Wild Rice
Organic Hearty Tomato Bisque
Organic Thai Sweet Potato Soup
Organic Vegetable Quinoa Soup
The brand also makes several gluten-free condensed soups, which are clearly labeled gluten free on the front of the can, including:
Organic Cream Of Cauliflower Condensed Soup
Organic Cream Of Chicken Condensed Soup
Organic Cream of Mushroom Condensed Soup
Are Swanson Soups & Broths Gluten Free?
Swanson offers a range of gluten free broth and stock products, and according to the Swanson website, each product undergoes a "rigorous testing process before being verified gluten free."
The company says that it first verifies that each ingredient used is gluten free, then analyzes all finished products to ensure they don't contain gluten. You can safely consume any of the products listed here and labeled gluten free.
Are Healthy Valley Soups Gluten Free?
One of the few brands that make "certified gluten free" soups is Healthy Valley, a Hain Celestial brand.
There is little information available about this brand online; however, if the soup is gluten free, you'll see the GFCO-certified gluten-free label on the front of the can as pictured.
What Great Value (Walmart) Soups are Gluten Free?
Walmart has several certified gluten-free products as part of its Great Value brand, including the following condensed soups:
Cream of Mushroom Soup

Tomato Soup

Cream of Chicken Soup
I tested the Cream of Mushroom soup with my Nima Sensor. Nima smiled, which meant it didn't detect gluten. You can find these cans of soup at most Walmarts across the U.S.
I tested other Great Value products for gluten, and shared more gluten-free finds at Walmart in this article, What's Gluten Free at Walmart?
Are Boulder Organic Soups Gluten Free?
I love soup from Boulder Organic Foods, and I feel good knowing that every soup variety is certified gluten free. These handmade soups are found in the grocery store's refrigerated section near the deli.
The only issue is that this brand is hard to find. I've seen them in Colorado (the brand's home state), but even in Colorado, you can only find a few varieties and never the one I want (I want the chicken noodle soup!). You can also find them in select cities in California, New Mexico, Wyoming, and Utah.
Does Trader Joe's Carry Gluten-Free Soups?
Trader Joe's offers a couple of canned soups that are labeled gluten free, including:
Organic Lentil Vegetable Soup
Organic Split Pea Soup
Look for the "gluten-free" label; otherwise, Trader Joe's says it cannot verify the product is gluten free.
For a list of other gluten-free products at Trader Joe's (all Nima tested), read Testing Trader Joe's Gluten-Free Products for Hidden Gluten.
Avoid these Brands of Soups
There are several popular brands of canned soups that are not gluten free, nor safe for anyone on a gluten-free diet to consume, including:
Campbell's: Campbell's canned soups contain gluten and should not be consumed by anyone on a gluten-free diet. I looked at several Campbell's cans, and most say either "Contains Wheat" or "May Contain Wheat" in the ingredient disclosure section.
UPDATE: In July 2023, Campbell's launched two gluten-free condensed soups: Cream of Mushroom and Cream of Chicken.
Healthy Choice: Healthy Choice brands will disclose, on the label, if any product contains one of the top eight allergens (wheat, soy, dairy, fish, peanuts, tree nuts, eggs, and shellfish), but it does not disclose for all sources of gluten, which, in addition to wheat, includes rye and barley. After inspecting several cans of Healthy Choice soups at the grocery store, I could not find any marked gluten free.
Gluten-Free Soup Recipes
Are you now craving warm and cozy soup? Instead of opening up an expensive can of soup and eating all those questionable ingredients, I encourage you to make your own.
Here are a few gluten-free soup recipes to get you started: