People with celiac disease and gluten intolerance inspect food labels religiously for hidden gluten. But ingredients like natural and artificial flavors often leave them scratching their heads. Are these vague ingredients gluten-free? In this article, I discuss whether or not natural and artificial flavors contain gluten and how to detect this potential hidden gluten source. Please see my disclosures.
If you've been gluten-free for a while, chances are you've come across natural and artificial flavors on an ingredient label and quietly wondered if these innocuous ingredients are safe to consume on a gluten-free diet.
Gluten is a protein found in wheat, rye, and barley and must be strictly avoided by those with celiac disease and gluten intolerance.
In this article, I'll discuss what you need to know about natural and artificial flavors and whether or not they're safe to consume when following a strict gluten-free diet.
What Are Natural and Artificial Flavors?
Both natural and artificial flavors are used in food and beverages to replicate specific flavors and enhance the taste of a product. These flavorings are found in most packaged foods, including candies, soups, cake mixes, cereals, and more.
According to the Environmental Working Group, "natural flavor" is the fourth most common ingredient, found in more than one-fifth of all packaged foods in the U.S. Only salt, water, and sugar are mentioned more frequently on food labels.
Using natural or artificial flavors can save a manufacturer money, especially when using a real ingredient may be problematic due to its seasonal nature or high cost.
Flavors also make for a more predictable manufacturing process and help manufacturers extend the shelf-life of a product without sacrificing taste.
Natural vs. Artificial Flavors
While natural and artificial flavors work the same in packaged food, they're different ingredients.
Natural flavors must be derived from real food sources such as fruits, vegetables, herbs, or spices. These ingredients undergo an extraction process to capture the essence of the ingredient's flavor.
Artificial flavors are chemical compounds synthesized in the lab that mimic the taste of various flavors found in nature.
In other words, natural flavors are flavors extracted from real foods. Artificial flavors are manufactured chemicals.
Manufacturers looking for a cleaner ingredient label would opt for natural vs. artificial flavors.
For example, the following Yoplait yogurt label prominently states that it contains "no artificial flavors." However, the company still lists "natural flavor" inside the ingredient listing.
Are Natural and Artificial Flavors Gluten-Free?
Unfortunately, when searching "Are artificial flavors gluten-free" online, one of the first search results is from the National Celiac Association. They say artificial flavors are gluten-free and offer little explanation.
While natural and artificial flavors, in general, are gluten-free, there are some exceptions to the rule.
That's why the question, Are natural and artificial flavors gluten-free? can't be answered with a yes or no.
Below are two products that contain natural and/or artificial flavors that are NOT gluten-free.
Example #1: In August 2023, a reader told me she spotted barley in one of the flavored Jell-O pudding mixes, so I went to the grocery store to investigate.
Sure enough, the cheesecake-flavored Jell-O pudding mix listed natural and artificial flavors that contained barley.
Thank goodness Kraft disclosed such information because the truth is, they didn't have to since manufacturers are not required to disclose barley on an ingredient label. More on that in a bit.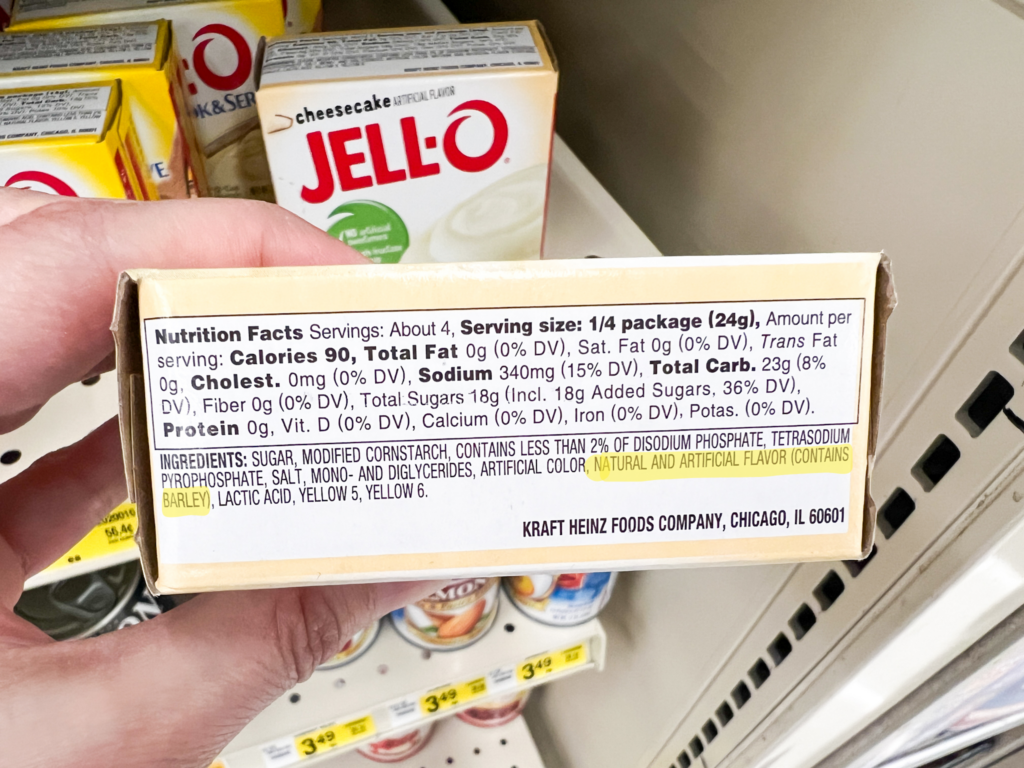 Example #2: McDonald's says the "natural beef flavor" in its famous French fries contains hydrolyzed wheat and milk. Again, this is a clear-cut example of a natural flavor containing a source of gluten.
Food Manufacturers Don't Have to Disclose Barley
While I'm grateful that Jell-O (owned by Kraft) voluntarily disclosed that its cheesecake-flavored pudding contains natural and artificial flavors derived from barley, the truth is food manufacturers don't have to disclose the presence of barley in a food label.
The Food Allergen Labeling Protection Act (FALCPA) of 2004 only requires manufacturers to disclose the presence of the top eight allergens – wheat, eggs, dairy, shellfish, fish, peanuts, tree nuts, and soy. It will soon require the disclosure of sesame, too.
In 2023, the Food Labeling Modernization Act was introduced to Congress. Should the bill pass, it will require manufacturers to disclose all sources of gluten on a food label. For now, this law doesn't exist.
Malt (typically derived from barley) can be classified as a natural flavor. However, it's more likely to appear on an ingredient label as malt or malt extract, a red-flag ingredient that signals the presence of gluten (barley) in a product.
How to Determine If Natural and Artificial Flavors Contain Gluten
Unfortunately, natural and artificial flavors are vague umbrella terms that make knowing the ingredient's source impossible.
This means the gluten-free community must look for other clues to help them decode an ingredient label.
(1) Wheat Will Always Be Disclosed on a Label
Thanks to FALCPA, if any ingredient – including natural and artificial flavors – is derived from wheat, it will be disclosed on a food label.
Look for "Contains" and "May Contain" statements and scrutinize the ingredient listing.
Remember, a product can be wheat-free but not gluten-free. While knowing a product doesn't contain wheat is helpful, it says nothing about whether it contains other sources of gluten (e.g., barley or rye).
(2) Look For a Gluten-Free Claim
If a product is labeled "gluten-free" or "certified gluten-free," and it contains natural or artificial flavors, then the flavoring is gluten-free. The proof is in the pudding.
In the following image of Snack Pack pudding, the ingredient label clearly states that it contains natural and artificial flavors. However, the gluten-free label offers assurance that the flavors come from gluten-free sources.
(3) Contact the Manufacturer
If a product is not labeled "gluten-free" or "certified gluten-free" and it contains natural or artificial flavors, contact the manufacturer to determine the source of these ingredients.
I've done this repeatedly and rarely get a straight answer. Be prepared for the manufacturer to tell you they cannot guarantee their product is gluten-free because it has yet to test the individual ingredients or final product.
(4) Avoid the Product
If you can't determine the source of the natural and/or artificial flavors, and the manufacturer is wishy-washy about it, then put the product back on the shelf.
(5) Buy Real Foods
The best way to avoid natural and artificial flavors is to avoid packaged foods and opt for whole foods as much as possible.
Fresh fruits, vegetables, meats, cheeses, nuts, and seeds are all one-ingredient products that manufacturers can't fudge with. Read 10 Naturally Gluten-Free Foods Every Celiac Should Be Eating for a list of safe foods.
(6) Buy Unflavored Foods
I recommend choosing your favorite foods' unflavored or plain varieties and adding flavors yourself.
For example, you could buy plain yogurt and swirl in raw honey, fresh berries, and whatever you like to ensure the flavoring comes from whole food sources.
I also recommend buying plain [gluten-free] oatmeal and adding maple syrup or brown sugar, along with plain dried fruits.
If you like flavored rice, buy plain white or brown rice and add broth and spices to jazz it up. You could even make my homemade gluten-free Rice-a-Roni copycat recipe.
And instead of buying store-bought cookies and treats, make your own using clean ingredients. Chocolate chip cookies require only flour, sugar, eggs, butter, vanilla extract, baking soda, salt, and chocolate chips.
When you flavor your foods yourself, you'll avoid potential sources of hidden gluten, preservatives, excess sugar, chemicals, and natural and artificial flavors.
The Bottom Line
Gluten is hidden in many ingredients, and natural and artificial flavors, albeit rare, are no exception.
While most natural and artificial flavors are free from gluten, there are exceptions to the rule shown by Jell-O and McDonald's, which contain natural and artificial flavors derived from gluten sources.
Read labels carefully, look for gluten-free claims, and eat whole foods without an ingredient label whenever possible.
If you enjoyed this article, please share this pin and help spread the word:
Additional Reading
You might enjoy these related articles: