I've been eating lentils all my life, but recently I've been questioning whether lentils are gluten free. In this article, I'll discuss why the gluten-free community is concerned about lentils, and how you can safely enjoy them while staying true to your gluten-free diet. Please see my disclosures.
If you're following a gluten-free diet and have been enjoying lentils from time to time, you may not have realized that gluten may be lurking inside that innocent bag of lentils, but it just might be!
Today, most brands of lentils contain warning labels that will definitely make you question everything you thought you knew about lentils.
Of course lentils are naturally gluten free. They're low in fat and high in protein and fiber. They're a great addition to the gluten-free diet.
However, similar to oats, the way lentils are grown is a cause for concern, especially for people with celiac disease or gluten sensitivity who cannot eat wheat.
Lentil Brand Warning Statements
I visited various grocery stores to research lentil labels. What I found confused and disturbed me.
One Degree
One Degree brand green lentils boasted this warning, "Product may contain trace amounts of other legumes including wheat kernels."
Ironically, I have an old bag of One Degree lentils in my home (old packaging) and it doesn't contain any warning labels about wheat. This is new.
Sprouts
Sprouts brand green lentils contained a similar cautionary label. It says on the back of the packaging, "May contain traces of wheat due to crop rotation."
Walmart Great Value
Walmart's Great Value brand also included a warning label that reads, "May contain traces of wheat." Disturbing, I know!
Trader Joe's
Trader Joe's brand of whole green lentils contains a warning statement that says, "May contain wheat." Further down on the packaging it says to carefully sort and rinse the lentils before consuming.
La Preferida
La Preferida brand lentils, which I've been using recently, didn't have a warning that made me too concerned (ignorance is bliss!).
It only says, "Lentils are a natural agriculture product. Despite use of modern cleaning equipment, it is not always possible to remove all foreign material. It is recommended that the beans are sorted and rinsed before cooking."
There's nothing to see here about possible gluten contamination, unless you read between the lines and classify wheat kernels as "foreign materials."
It didn't matter that La Preferida brand didn't have a wheat warning label because I had the sudden realization that even without a warning, most lentils are likely highly cross contaminated with wheat. This could potentially lead to serious damage to the intestines of people with celiac disease and gluten sensitivities.
How Worried Should You Be?
In 2022, researchers tried to determine how worried the gluten-free community should be when it comes to stray gluten grains in their otherwise naturally gluten-free bags of lentils.
Researchers inspected 25 bags of dry lentil products from 24 brands. They hand-sorted each bag and found that two of the 25 bags contained a foreign gluten grain. One bag contained a grain of wheat, the other bags contained a grain of barley. Another six bags contained foreign material such as split peas, mallow seeds, stones, and/or grains of rice.
How to Protect Yourself
The good news is that lentils are naturally gluten free and good for you. You can still enjoy them if you take the following precautionary measures.
1. Visually Sort Lentils Before Cooking
Lentil consumers should visually sort the lentils to remove any foreign grains or materials. You can do this by spreading out the lentils on a plate or platter and looking to see if any of the lentils look odd, unlike the rest of the bag.
I started visually inspecting my lentils and have yet to find any potential cause for concern, but there's always a chance one day I will.
By chance if you find a stray grain, here is what wheat and barley grains look like. They look very different from the lentils pictured above.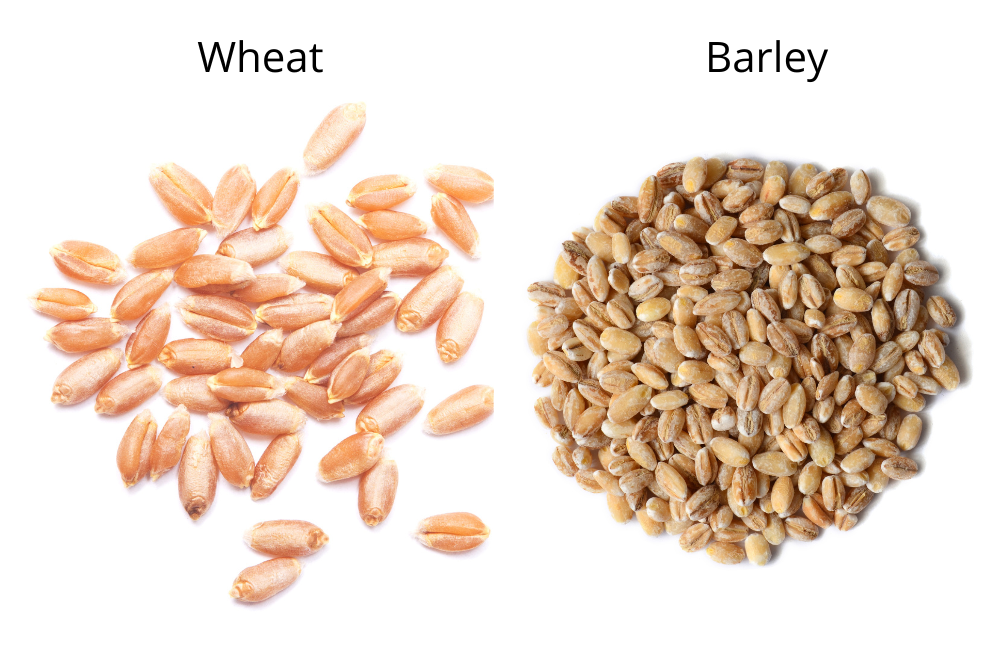 2. Rinse Lentils Well
Rinsing the lentils will remove any gluten dust that remains on the lentil from the manufacturing facility. While gluten is a sticky protein, water will wash off of the smooth lentils with a good rinsing.
3. Soak Your Lentils
It's always good etiquette to soak your lentils for 24 hours before cooking for two reasons.
First, soaking removes the phytic acid, which prevents your body from absorbing minerals such as iron, zinc, and calcium.
Second, soaking breaks down the starches, making the lentils easier to digest. Your body will thank you for pre-soaking your lentils and you'll be less likely to suffer from bloating and gas after consumption.
4. Rinse Again
After an overnight soaking, rinse your lentils again before adding them to your pot to cook. This will wash off remaining phytic acid as well as remaining dust from foreign grains, if any. You can now safely enjoy lentils without worry of gluten cross contamination.
Should You Buy Certified Gluten-Free Lentils?
While it's always a good bet to buy certified gluten-free products, keep in mind that foreign grains have been found in certified gluten-free brands, too.
In fact, the Gluten-Free Watchdog received complaints of foreign grains, which are likely wheat, barley or oat grains, found in Edison Grainery French Green Lentils (certified GF), Beluga Lentils (certified GF), and Simply Nature Organic Green Lentils from Aldi (labeled as a "naturally gluten-free food").
This means, regardless of what lentils you buy – gluten-free labeled or not – be sure to sort, rinse, soak and rinse again to protect yourself from getting accidentally glutened.
Bottom Line
Lentils are a naturally gluten-free food full of fiber and protein and low in fat. They also make for a cheap, filling meal.
While most lentil brands contain a wheat warning statement on the product label, if you visually sort, rinse, soak and rinse your lentils again, you should be in the clear to enjoy lentils without worry of gluten exposure.
And if you feel comfortable eating lentils, here are a few recipes to try:
Gluten-Free Cholent Recipe – I make this recipe every week for Shabbat. Most people use barley in their cholent, but I use green lentils instead.
Easy Breezy Gluten-Free Lentil Soup – This is a tasty winter soup that fills you up on the cheap.
More gluten-free lentil recipes to come!