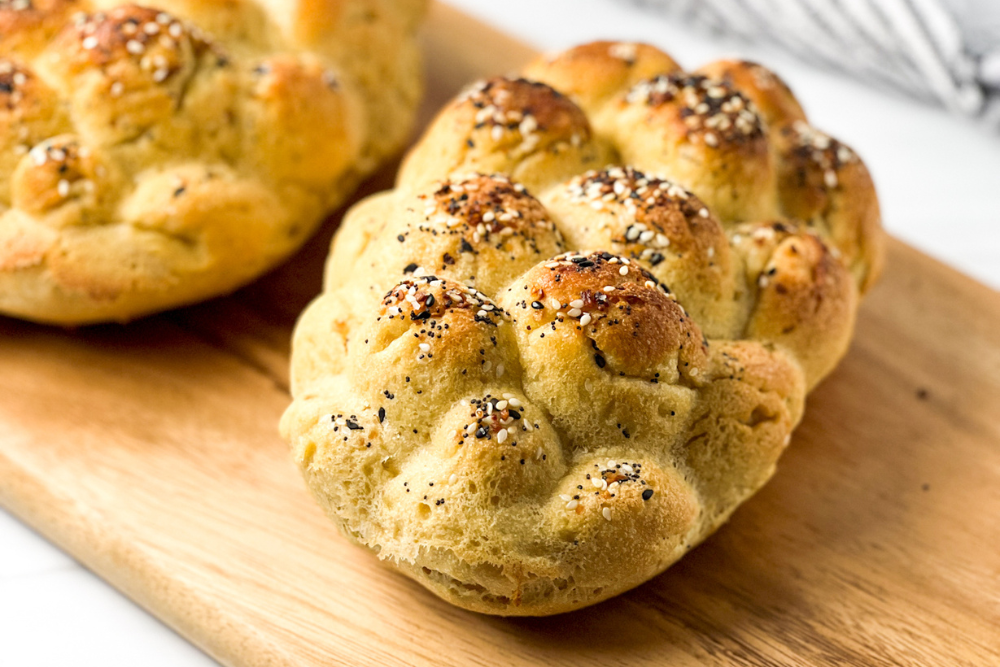 I can't wait for you to bite into this moist, fluffy, and doughy gluten-free challah. Challah is a yeast-leavened bread enjoyed by Jews on the Sabbath. This recipe is dairy-free (pareve) and can be made egg-free too. Enjoy this wonderful Jewish bread again, only this time without the gluten. This post contains affiliate links. See my disclosures.
If you love challah bread but have struggled to make it gluten-free (and kosher for Shabbat), allow me to be your guide. I make gluten-free challah weekly for Shabbat and have been playing with this recipe for 7+ years.
This gluten-free challah recipe results in a doughy and eggy bread, similar to traditional challah made with wheat flour. And while it's not quite the same because it's missing wheat flour (gluten), it's a worthy opponent and delicious in its own right.
I love making challah every week and participating in this important Jewish ritual. Here are some of the many reasons why my family and I love this recipe:
The Texture is Amazing: This challah turns out doughy and stretchy. I love the pillowy-soft inside. Don't worry; it won't crumble; rather, it stretches when you rip it apart.
It's Hamotzi-Worthy: Hamotzi is the Jewish prayer over bread, but it can only be said if the bread contains at least 51 percent of one of the grains mentioned in the Torah. These grains include wheat, barley, rye, spelt, and oat.
The only grain mentioned in the Torah that a gluten-free person can eat is oats. When using oat flour, make sure it's labeled gluten-free.
Not all oats are safe for people with celiac disease and gluten sensitivities. Read Are Oats Gluten Free? Unpacking Confusing and Contradictory Information.
It's Sweet and Savory: The honey gives the bread a rich sweetness that I love. And when you top the bread with Everything Bagel seasoning, you add a savory touch too.
It's Beautiful: Thanks to my silicon challah-shaped mold pan, my challah looks like it's been braided. It may not be as beautiful as wheat flour challah masterfully braided by hand, but it's a close second. (Please note that I now use two small silicon challah-shaped mold pans vs. one large pan.)
There's No Gluten, Baby! Gluten, a sticky protein found in wheat, rye, barley, and spelt, is missing from this recipe, and with good reason. Gluten makes people with celiac disease and gluten sensitivities extremely sick.
It's not easy to create yeast-bread recipes without gluten. Gluten is the "glue" that holds bread together and gives it its signature texture and taste.
However, this gluten-free challah works with the right combination of gluten-free flour, starches, and binders, all of which mimic the properties of gluten.
How to Make Gluten-Free Challah
Here's how to make this wonderful gluten-free challah recipe:
Step #1: Gather Your Ingredients
Like any gluten-free bread recipe, this recipe requires a variety of flours, starches, and binders to mimic the taste and texture of gluten.
You cannot use a one-to-one gluten-free flour blend; rather, you must use the ingredients specified as follows. You can find all of these flours in my Amazon store:
Gluten-Free Oat Flour: Oat flour contains a high-protein content and adds elasticity to the challah. More importantly, oat flour is what makes this recipe hamotzi-worthy.
The hamotzi is the Jewish prayer over bread. Not all oat flour is gluten-free. Look for ones labeled gluten-free.
Bob's Red Mill Oat Flour is labeled gluten-free and made in a dedicated gluten-free facility. You can also make your own oat flour using ground gluten-free rolled oats.
Tapioca Starch: Tapioca starch (also called tapioca flour) comes from the cassava plant and works as a starch in the flour blend. It has a similar texture to potato starch; in a pinch, you can swap tapioca for potato starch.
Brown Rice Flour: Brown rice flour offers some protein content, again helping give the bread a doughy texture. You can substitute sorghum flour for brown rice flour. Sorghum flour has a medium-high protein content and is similar in flavor and texture to brown rice flour.
Xanthan Gum: Only a small amount of xanthan gum is needed in this recipe, but a little goes a long way to give gluten-free bread elasticity and flexibility. Without it, bread crumbles vs. stretches. You can substitute guar gum for xanthan gum.
Step #2: Activate the Yeast
To activate the yeast, combine the warm water, yeast, and honey in a small bowl. Let the mixture sit at room temperature for 5-6 minutes.
The frothy top is a dead giveaway that the yeast is activated and ready. New yeast will froth more than old yeast. I store my yeast in my fridge to keep it fresh longer.
Step #3: Make the Dough
While the yeast is activating, combine the oat flour, brown rice flour, tapioca starch, xanthan gum, and salt in the bowl of your standing mixer fitted with a paddle attachment.
Then add the yeast mixture, eggs, oil, and apple cider vinegar to the dry ingredients. Mix the ingredients on low speed until semi-combined, then mix at medium-high speed for two minutes until the ingredients are well combined, scraping the sides as needed. The dough will be sticky and should be well blended.
Step #4: Rise
Lightly grease your challah mold pan(s) with vegetable oil. Then add seasonings directly inside the challah mold pan, such as the Everything Bagel Seasoning.
Alternatively, you can add sesame seeds or poppy seeds or leave the challah as-is (plain).
(If you don't have a challah pan, you can use two metal bread loaf pans instead.)
Add the dough into the pan(s) and spread it evenly with a spatula.
Cover the dough with a clean dish towel, and set it in a warm place to rise for two hours until it about doubles in size.
Step #5: Bake
Once the challah has about doubled in size, preheat your oven to 375º F, then bake the challah for 23-25 minutes for two small pans or 25-26 minutes when baking one large challah pan. The top of the challah will be brown. That's when you know it's done.
If using a metal pan, the challah may need less time. Adjust as needed. I always err on slightly undercooked (and doughy) vs. overcooked (and crumbly).
Allow the challah(s) to cool in the pan for five minutes before flipping it onto a wire rack. The bottom of the challah is now the beautiful faux braided top!
Suggestions, Substitutions, and Variations
Egg-Free: To make this recipe egg-free (and vegan), substitute flax eggs for real eggs. One flax egg is 1 Tbsp of flaxseed meal + 3 Tbsp of warm water. Mix them together and allow them to sit for five minutes to gel. You'll need two flax eggs for this recipe.
Round, Sweet Challah for Rosh Hashanah: You can easily transform this recipe into a round, sweet challah for Rosh Hashanah. Simply add an additional 1/4 cup of honey or 1/4 cup of applesauce and 1 teaspoon of cinnamon to the batter and mix well. Then fold in 1/2 cup or more of raisins.
To make it a round challah, add the dough to a round bundt pan instead of a challah mold pan to rise and bake.
Don't have a challah mold pan? Anyone making gluten-free challah with any sort of regularity should invest in a challah mold pan, but if you don't have one, simply divide the dough and place it in two greased 8½ x 4½ inch loaf pans.
Is this challah kosher? Yes, all the ingredients I recommend are kosher. Check labels carefully. This recipe is pareve, meaning it can be enjoyed with dairy and meat meals.
Why can't I braid this challah? You cannot braid this challah because it's too sticky. Gluten-free flour requires more moisture (liquid) than wheat flour. I've tried adding extra flour and braiding it, but I fear this results in dry challah. If you're going for moist, fluffy, and stretchy challah bread, the dough will be too sticky and wet to braid.
Pre-made challah mixes: There are two gluten-free challah mixes I've tried. One is by Blends by Orly, which is braid-able. I think the challah is a bit dry. Below is what it looked like:
Another kosher gluten-free challah mix is Rories Gluten-Free Oat Dough Mix. My friend gave me one as a gift, and they stock it at East Side Kosher Deli in Denver as well. You need to bake Rorie's mix in a muffin tin pan. I think the challah turned out a bit dry, so next time, I might add more liquid and honey than recommended. The ingredients in Rorie's mix are quite similar to my recipe.
Time-Saving Tip: If you're going to make challah every week, I suggest creating your pre-made challah mixes filled with all the pre-measured dry ingredients (oat flour, tapioca flour, brown rice flour, xanthan gum, and salt). I measure eight bags of challah mix at once, so I'm set for two months.
Measuring the flour each week is messy and time-consuming. I make the mess at once, then all I have to do is add the pre-measured bag of flour to my mixer, then add the yeast-water mixture, eggs, oil, and apple cider vinegar. It takes only a few minutes to make the dough each week.
Mini Challah Loaves: If you're the only one enjoying gluten-free challah each week, make mini challah loaves or muffins instead of making one big challah.
To do this, divide the dough into 8-10 greased cavities of a mini loaf pan or 10-12 greased muffin cavities, allow the dough to rise, and then bake it for about 15 minutes in the oven or until the tops brown. You can freeze the loaves and take one out each week to enjoy on Shabbat.
Remember, you can find all the ingredients you need to make this recipe in my Amazon store.
This recipe was inspired by and adapted from Kveller.com.
Other Recipes for Shabbat
You might enjoy these other recipes for Shabbat.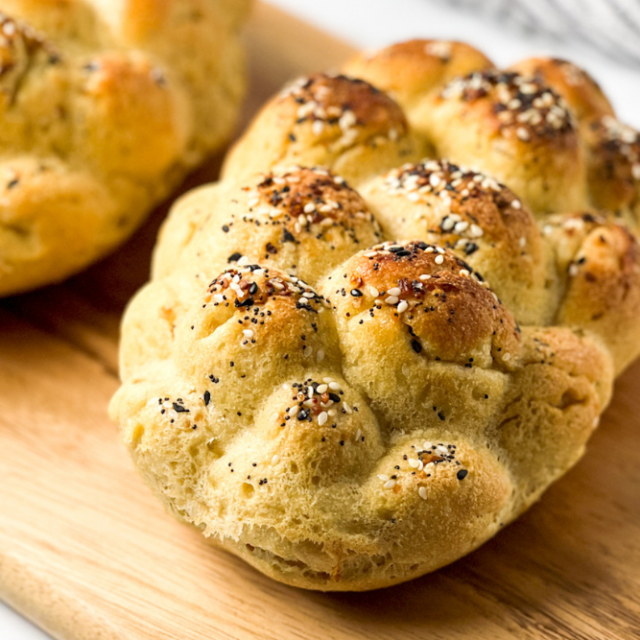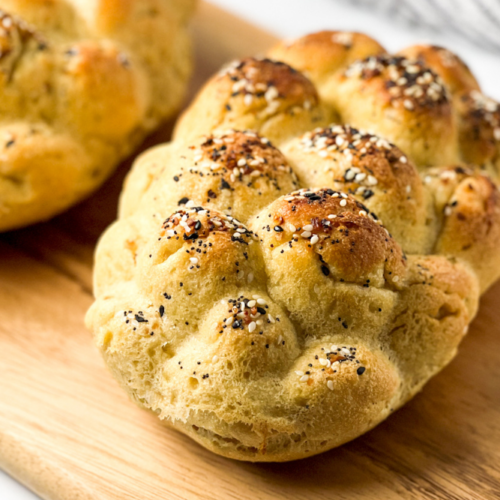 Gluten-Free Challah Recipe
You no longer have to miss out on challah because you're on a gluten-free diet. My gluten-free challah bread is eggy, doughy, and slightly sweet, and it allows you to participate in the Shabbat celebration with a bread worthy of hamotzi (Jewish blessing over bread).
Print
Pin
Rate
Equipment
1 Challah mold pan (large)

or 2 small mold pans or loaf pans

1 Standing mixer

fitted with paddle attachment
Instructions
Activate the yeast by combining warm water, yeast, and honey in a small bowl. Mix it together and allow it 4-6 minutes to begin to froth. If it doesn't froth on top, your yeast may be expired.

While the yeast is activating, mix together the oat flour, tapioca flour, brown rice flour, xanthan gum, and salt in the bowl of your standing mixer fitted with the paddle attachment.

Add the yeast mixture, eggs, oil, and apple cider vinegar. Mix on low for 30 seconds, then mix on medium-high speed for 2 minutes. You cannot overmix the dough because it doesn't have gluten. Gluten-free dough needs to be mixed thoroughly.

Lightly grease the challah mold pans with vegetable oil, then sprinkle the challah pan with any seasonings you'd like on top of the challah (optional). I add Everything Bagel seasoning, others like poppy seeds or sesame seeds. Add the dough to the pans and spread it out evenly. Cover the dough with a clean dish towel and let it rise for two hours to double in size. (Remember, the bottom will become the top of the challah after baking.)

Preheat the oven to 375º F and bake the challah for 23-25 minutes if baking in two small silicon challah pans or 25-26 minutes if baking in one large silicon challah pan until the top of the bread is lightly browned.

Note: Metal pans may require less baking time. See notes.

Remove the challah from the oven. Let the challah mold pan cool for 5 minutes before flipping them onto a wire rack to continue cooling. Shabbat shalom!
Video
Notes
Do Not Braid: Please note that gluten-free challah will be sticky and cannot be braided. Instead, you'll need to purchase a large silicon challah mold pan (or two small silicon challah pans) to get the desired challah shape. If you do not have a challah mold pan, two loaf pans (dough divided) or a bundt pan will work.
Honey:  My original challah recipe called for 1/4 cup of honey. Over the years, I found the challah to rise and taste better with more honey, but it is a bit sweeter. I recommend using anywhere between 1/4-1/2 cup of cup of honey. Experiment to see what you like better. You can't go wrong!
Vegan / Egg-Free Version: To make this recipe egg-free, swap two eggs for two tablespoons of flaxseed meal combined with 6 tbsp of warm water. Allow the mixture to gel for five minutes, then add it to the recipe as you would add the eggs. 
For a Sweet, Round Challah for Rosh Hashanah:  Add 1/4 cup of applesauce or an extra 1/4 cup honey + 1 tsp cinnamon to the dough while mixing it, then fold in 1/2 cup of raisins (or more). Place the dough in a rounded challah silicone pan or bundt pan to rise and bake. 
Flour Substitutes: You can use sorghum flour instead of brown rice flour. You can use potato starch in place of tapioca flour. The oat flour cannot be swapped as it is essential to getting hamotzi-worthy challah (read the full article for details).
No Egg Wash: You don't need to brush the dough with an egg wash.
Seasonings: After I grease the challah pans with a little vegetable oil, I sprinkle Everything Bagel seasoning on the pan, then place the dough on top of the seasoning and let it rise, then bake. You could also use poppy seeds, sesame seeds, or any topping of your choice. The seasonings will be on the top when you flip over the challah.
Freeze:
This challah freezes well in a large zip-top bag. Please bring it to room temperature to defrost. Once defrosted, heat it in your oven or microwave for a few seconds to bring it back to life. Without reheating, it may be crumbly.
Mini Loaves: Because I'm often the only one eating the gluten-free challah for Shabbat, I like to make myself mini loaves in a mini loaf pan or muffin pan. If making mini loaves, shorten the baking time. Freeze the loaves/muffins in a zip-top bag, then defrost a mini challah before Shabbat.
Challah Box Mixes:
Try these excellent
gluten-free challah mixes.
Cooking Time: Cooking time may vary depending on your baking pan. You will need less time in a narrow metal pan and more time in a deep silicon pan. 
This recipe was adapted from Kveller.com.
Nutrition
Calories:
175
kcal
|
Carbohydrates:
36
g
|
Protein:
4
g
|
Fat:
2
g
|
Saturated Fat:
1
g
|
Polyunsaturated Fat:
1
g
|
Monounsaturated Fat:
1
g
|
Trans Fat:
0.003
g
|
Cholesterol:
27
mg
|
Sodium:
427
mg
|
Potassium:
100
mg
|
Fiber:
2
g
|
Sugar:
12
g
|
Vitamin A:
40
IU
|
Vitamin C:
0.1
mg
|
Calcium:
15
mg
|
Iron:
1
mg