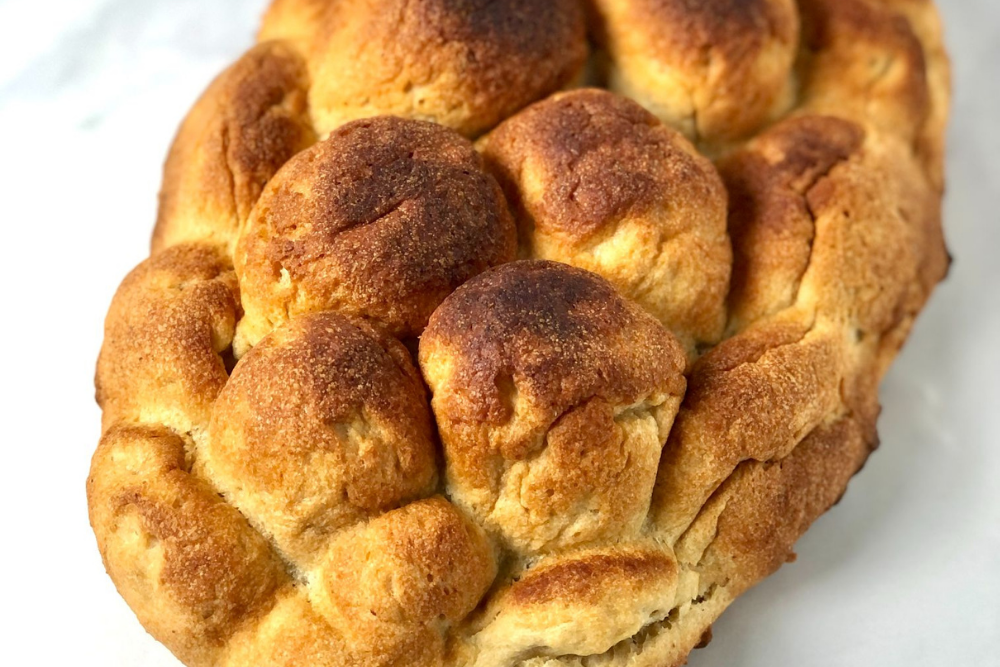 Shabbat Shalom! This gluten-free challah recipe is dairy free and can be made egg free (vegan) if needed. The recipe calls for 51 percent oat flour. Read this article for details on why oat flour is an essential ingredient in gluten-free challah. This post contains affiliate links. See my disclosures.
The wait is over. If you love challah but have struggled to make it gluten free and kosher for Shabbat, you're in for a real treat!
Let's say "amen," because I have figured out how to make a delicious gluten-free challah recipe that everyone will love … even your gluten-eating friends.
You can finally say "Shabbat Shalom" with a hamotzi-worthy challah bread made without the sticky gluten protein (and without the tummy aches and urgent bathroom runs too).
Please note that my recipe is free from gluten, corn, dairy, soy and can easily be made egg free (vegan) too.
Note: If you're not in the mood to make gluten-free challah from scratch, take a look at these gluten-free challah mixes.
Challah Recipe Origins
On my quest to find a good gluten-free challah recipe, I found an article on Kveller.com about how challah can only be "taken" if made with one of the five grains mentioned in the Torah. The five grains mentioned are barley, rye, wheat, oat, and spelt.
As you can see, the only gluten-free grain of the five is oat.
Apparently bread made from other gluten-free grains (like rice and buckwheat) can be kosher, but you cannot say, "hamotzi" or call it a challah.
Verid Meir, the author of the article, says she consulted with her rabbi who told her that the oat flour must be at minimum 51 percent of the total flour content in the bread in order for it to be considered a challah.
That's what Meir, and many Jews like me, have attempted to do. Make a challah that contains at least 51 percent oat flour.
Gluten-free flour isn't always easy to find as not all mainstream grocery stores carry it. Thank goodness for Amazon! Here is the exact gluten-free oat flour I use.
You Need a Challah Mold Pan
This recipe is sticky so you cannot braid it let alone handle it without it sticking to your fingers.
And that's why you need a challah mold pan.
I may not get to eat "real" challah, but I still want my challah to look like a braided challah! That's why I bought the following challah–shaped mold pan.
I simply put my dough into the pan after mixing it and allow the dough to rise inside the challah mold pan. Once the dough rises, I bake it.
You can see my pan has been used a lot as it's starting to show some wear and tear. It may look funky, but it still works like a charm!
Alternatively, I found this beautiful stainless steel challah mold pan and love too! It doesn't show the same wear and tear as the silicon version. You can find it here.
It's more narrow and shallower than the other pan, but it has held up much better. If using the stainless steel pan, you'll need to shave about 10 minutes off the baking time.
Don't Have a Challah Pan
Don't worry, if you do not have a challah-shaped pan, or don't want to invest in one, you can simple bake the dough in two loaf pans (dough divided) or a bundt pan (for a round-shaped challah).
How to Make Gluten-Free Challah
Here's how to make this wonderful gluten-free challah recipe:
Step #1: Gather Your Ingredients
The first thing you'll want to do is assemble all your ingredients. In addition to the challah-shaped mold pan, you'll also need a few different flours. Remember, you cannot substitute any old rice flour for wheat flour, rather you need to combine a variety of starches and flours to get the just-right texture.
Also, in order for it to be hamotzi-worthy challah, you must use gluten-free oat flour vs. a 1-to-1 gluten-free flour blend.
Here are the flours you need to make this recipe:
Step #2: Activate Yeast
Combine warm water, yeast and honey in a bowl, mix together, and allow the yeast to activate for 3-4 minutes. The yeast will activate more quickly in warmer temperatures.
Do not use expired or old yeast. If the yeast doesn't bubble as shown in the above picture, it may be dead. (Yeast is a living food, and yes, yeast is gluten free.)
Step #3: Make Challah Dough
While the yeast is activating, combine the oat flour, brown rice flour, tapioca flour, xanthan gum and salt in a large bowl. Set aside.
Next, combine all your wet ingredients – the oil, eggs (or flax eggs – see below for making it egg free), apple cider vinegar and the activated yeast mixture – in a large bowl. It's easiest if you use the bowl attached to your standing mixer if you have one as the dough is sticky and hard to mix by hand (doable, but it's easier with a standing mixer.)
Finally, slowly add the dry ingredients to the wet ingredients while mixing on medium-high speed for one minute or until everything is well combined, scraping the sides to ensure the all the flour is well incorporated. The dough will be very sticky!
Step #4: Rise Time
Add your dough to your lightly greased challah mold pan and flatten it into shape with a spatula. Cover the dough with a clean dish towel and allow it about two hours to rise. It will rise faster in warm conditions.
To ensure a good rise, which is essential to a light and doughy bread (don't skip this part!), place the challah pan (with dough) on a warming mat. This is the exact warming mat I use and it gives my challah a beautiful rise every time!
Step #5: Bake the Challah
The bread should rise and look like it's about doubled in size as pictured.
Put the pan in a 375º F preheated oven and bake for 23-28 minutes until the top is slightly browned. If you bake it in the metal pan, it will need less time. When the top browns, it's done. Watch challah carefully to ensure it doesn't burn or overcook.
Leave the challah in your pan for five minutes to cool before flipping it upside down onto a wire rack.
Here is what a fully baked challah looks like when baked in the stainless steel pan:
Here is what the challah looks like when baked in the silicone challah pan. Please note I added an extra 1/4 cup of honey to the following challah and it made it puff up nicely!
Step #6: Shabbat Shalom
Now that you have your wonderful challah, you are ready for Shabbat. You will love how doughy this challah is on the inside. It's truly the perfect gluten-free challah recipe and it will immensely compliment your Shabbat and Jewish holidays.
Challah Variations
Here are a few variations to making the gluten-free challah to your liking.
Vegan Challah (without eggs)
Yes, you can make this a gluten-free and vegan challah by using flax eggs instead of eggs. I've made this recipe both ways and both offer a light, chewy texture. The flax egg version results in a bit denser of a challah, but it's still very doughy and tasty.
To make one flax egg, simply combine one tablespoon of ground flaxseed meal with three tablespoons of warm water. Let the mixture sit for five minutes. (Note: You'll need two flax eggs for this recipe, so use two tablespoons of flaxseed meal + six tablespoons of warm water.) After five minutes, the flax will gel and voila, you'll have a flax egg to use in lieu of a regular egg.
Round, Sweet Challah for Rosh Hashanah
To make it a sweet challah for Rosh Hashanah, add an additional 1/4 cup of honey, 1/4 cup of applesauce and 1 teaspoon of cinnamon to the batter and mix well. Then fold in 1/2 cup or more of raisins.
To make it a round challah, add the dough to a round bundt pan instead of a challah mold pan to rise and bake.
Additional Information
Here are additional tips and tricks to making your gluten-free challah shine!
Don't have a challah mold plan? I think anyone making gluten-free challah with any sort of regularity should invest in a challah mold pan, but if you don't have one, simply divide the dough and place it in two 8½ x 4½ inch loaf pans.
Is this challah kosher? Yes, all the ingredients I use are kosher, but be sure to check labels carefully to meet your family's kosher needs. All the Bob's Red Mill flours used are labeled kosher.
Why can't I braid this challah? This is not a braidable challah because the dough is sticky. This is why I recommend buying a challah pan that will shape your bread like a traditional braided challah.
If you want to make a braided challah, you can try these gluten-free challah mixes by Blends by Orly. (Please note some of the mixes come in a box and others come in the pouch packaging.)
I made the Blends By Orly gluten-free challah mix and thought they turned out pretty good. The result isn't as doughy and stretchy as my challah, but it's still good. My family much prefers my homemade challah to this mix, but in a pinch, these mixes are great.
Please note that the Blends By Orly does not contain enough oat flour to be hamotzi-worthy. That said, it gives you that flavor and look of challah you might be going for.
How to Speed Up the Process
I get it, measuring out all the ingredients every week takes a lot of time and creates a huge mess. Because I make challah every week, I created a little trick to overcome the mess.
I create my own challah mixes, adding all the dry ingredients into zip top bags. I usually make six mixes at a time.
Then, when Friday rolls around, I simply combine my bag of dry ingredients and with the wet ingredients (yeast/water/honey mixture, eggs, apple cider vinegar, oil).
Each pre-made challah mix contains:
1.5 cups gluten-free oat flour
1 cup tapioca flour
1/2 cup brown rice flour
1 tablespoon xanthan gum
2 teaspoons Kosher salt
Pre-making the challah mixes has saved me so much time (and mess) over the years. I hope this trick helps you too.
Make Mini Challah Loaves
If you're the only one enjoying the gluten-free challah, instead of making one big challah, you can make mini challah loaves that will last you for several weeks, even months.
To do this, divide the dough into 9 cavities of a mini loaf pan. I double the recipe and fill all 18 cavities of my extra-large mini loaf pan. Alternatively, if you don't have a mini loaf pan, use a 12-cavity muffin pan instead.
Be sure to grease the loaf pan or muffin pan well.
Let the dough rise in the pan for 1-2 hours, then bake it up (it needs only 15 minutes in the oven – watch carefully so you don't overcook them).
Once cooled, you can freeze each mini challah in a zip top bag. Simply take 1-2 mini loaves out of the freezer on Friday morning and they'll be ready just in time for Shabbat dinner.
Ready to Make Gluten-Free Challah?
However you slice it, I hope you enjoy this gluten-free challah recipe as much as my family loves it. It truly is my go-to challah recipe and I've made is every Friday for the past 5+ years.
Enjoy and Shabbat Shalom!
Other Recipes for Shabbat
You might enjoy these other recipes for Shabbat.
Gluten-Free Cholent: A hearty-slow cooked stew ready to feed a crowd after Saturday Shabbat services.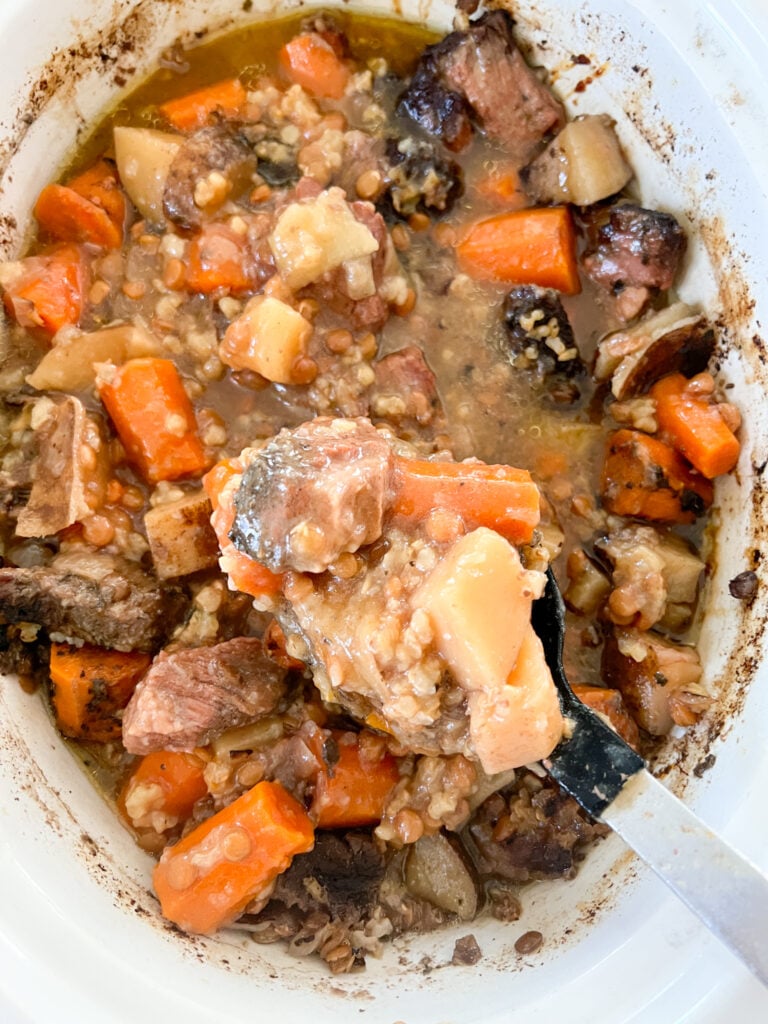 Savory Beef Brisket: A delicious brisket perfectly slow cooked and gedempt.
Gluten-Free Carrot Ring: This festive side dish is sweet but goes perfectly with any festive dinner.
Gluten-Free Challah Recipe
I can honestly say that challah bread is one of the foods I miss most since going gluten free. However, my health is too important to me to eat challah, even just one night a week, so I've come up with this delicious gluten-free challah alternative made with 51 percent gluten-free oat flour. This challah is hamotzi-worthy, baby! Now you can celebrate Shabbat with a delicious gluten-free challah. Can I get an, "Amen?"
Print
Pin
Rate
Instructions
Activate yeast by combining warm water, yeast and honey in a small bowl. Whisk it together and allow it 4-6 minutes to begin to bubble and froth. If it doesn't bubble, your yeast may be old or expired.

While yeast is activating, combine the oat flour, tapioca flour, brown rice flour, xanthan gum and salt in a large bowl. Whisk together and set aside.

In the large bowl attached to your standing mixer, add oil, eggs, apple cider vinegar and yeast mixture. If you don't have a standing mixer, simply add the ingredients to a large bowl. I recommend using a standing mixer as the dough is difficult to mix by hand.

With your mixer running on low, slowly add dry ingredients to wet ingredients until well combined or for about 30 seconds. Scrape the sides to ensure all flour is incorporated and mix on medium-high for 1-2 minutes.

Add the mixed dough to a lightly greased challah mold pan (recommend – see notes). Cover the dough with a clean dish towel and let it rise for at least two hours. It needs to rise in a warm environment for best results. The dough should double in size. If it does not rise, it may need more time, a warmer location, or it could mean your yeast is dead. I use a heating mat to ensure a consistent rise each time (see notes).

Preheat your oven to 375º F and bake for about 23-28 minutes until lightly browned on top. If using a metal pan, bake for less time. Watch challah carefully to ensure it doesn't burn. When it's brown on top, that is your signal to take it out of the oven.

Remove challah from oven and allow it 5 minutes to cool in the pan before flipping it onto a wire rack to continue cooling. Enjoy and Shabbat Shalom!
Notes
Extra Honey:  I add an extra 1/4 cup of honey (1/2 cup total) to my challahs from time to time. It adds a touch more sweetness and the honey gives the challah excellent rise. It's optional to do. Experiment and see what you think.
Vegan / Egg-Free Version: To make this recipe egg-free, swap two eggs for two tablespoons of flaxseed meal combined with 6 tbsp of warm water. Allow the mixture to gel for five minutes before adding to your mixture. I think both versions taste great!
For a Sweet, Round Challah for Rosh Hashanah:  Add 1/4 cup of applesauce, an extra 1/4 cup honey, and 1 tsp cinnamon to the dough and mix with your mixer until incorporated. Fold in 1/2 cup or more raisins by hand. Place the dough in a round bundt pan to rise and bake. 
Getting a Good Rise: A good rise is essential to getting a fluffy, light challah. Allow the dough plenty of time to rise in a warm place in your home. I place the challah atop a small heated seedling mat to ensure I get a good rise. You can also proof it in your warm oven.
Flour Substitutes: You can use sorghum flour or another gluten-free flour in lieu of brown rice flour. You can use potato starch in lieu of tapioca flour. The oat flour cannot be swapped as it is essential to getting hamotzi-worthy challah (read full article for details).
Do Not Braid: Please note that challah will be sticky and cannot be braided. Please use a challah mold pan to get the desired challah shape. If you do not have a challah mold pan, two loaf pans (dough divided) or a bundt pan will work just fine.
No Egg Wash: There is no need to brush the dough with an egg wash mixture. It browns well as is.
Toppings for the Challah: After I grease the challah pans, I sprinkle some Everything Bagel seasoning on the pan, then place the dough on top of the seasoning and let it rise, then bake. You could also use poppy seeds, sesame seeds or any topping of choice. You simply put the toppings into the bottom of the challah-shaped pan.
Freeze:
This challah freezes well. I freeze it inside a large zip top bag.
Mini Loaves: Because I'm often the only one eating the gluten-free challah for Shabbat, I like to make myself mini loaves in a mini loaf pan or muffin pan. Be sure to shorten the bake time and freeze loaves/muffins in a zip top bag. Defrost a mini loaf that day you're ready to enjoy it.
Challah Box Mixes:
Don't feel like making challah but want challah in your life? Try these awesome
gluten-free challah mixes.
Cooking Time: Cooking time may vary depending on your baking pan. You will need less time in a narrow, metal pan, and more time in a deep silicon pan. Less baking time will also net a more dough result.
This recipe inspired by an article in Kveller.com.
Nutrition
Sodium:
427
mg
|
Calcium:
15
mg
|
Vitamin C:
1
mg
|
Vitamin A:
40
IU
|
Sugar:
6
g
|
Fiber:
2
g
|
Potassium:
97
mg
|
Cholesterol:
27
mg
|
Calories:
193
kcal
|
Trans Fat:
1
g
|
Saturated Fat:
4
g
|
Fat:
7
g
|
Protein:
4
g
|
Carbohydrates:
30
g
|
Iron:
1
mg