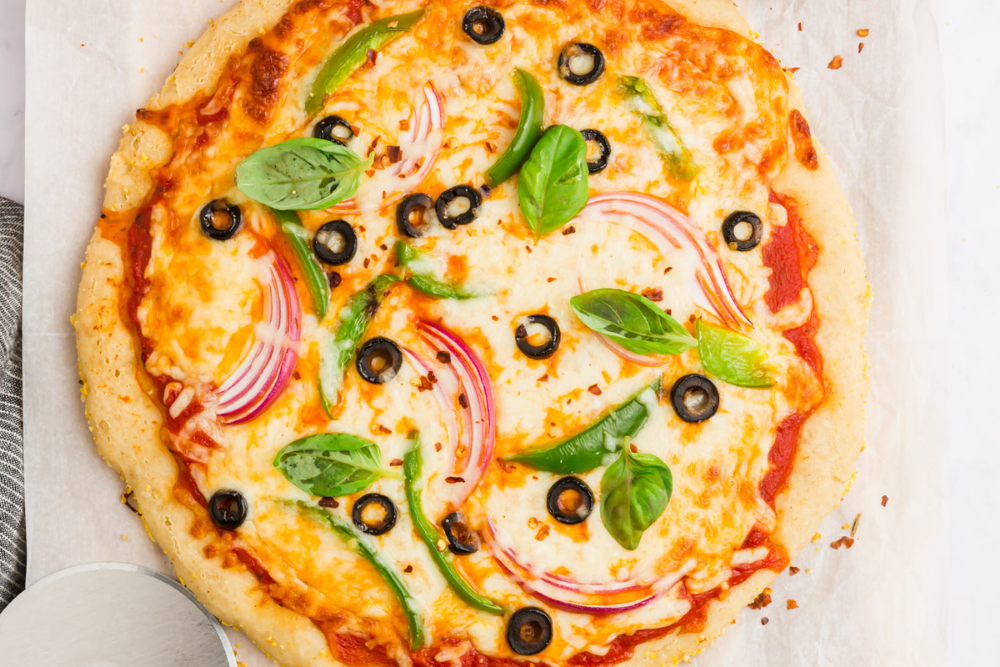 Pizza is a food many of us miss when we say goodbye to gluten. I have worked hard to make a delicious, simple, and doughy gluten-free pizza crust to help me enjoy this favorite food safely. This post about gluten-free pizza crust is sponsored by Bob's Red Mill and contains affiliate links. Please see my disclosures.
You're invited to join the Good For You Gluten Free community (free!) to get recipes (just like this) emailed to you every Friday. Join HERE.
Pizza is one of my favorite foods, and I must confess, I miss pizza dearly. I miss the taste of regular pizza. I miss the ease of putting supper on the table in minutes by ordering pizza. I miss that delicious soft pizza dough.
I won't lie to you, pizza just isn't the same when you follow a strict gluten-free diet after a celiac disease or gluten sensitivity diagnosis.
However, if you still want to enjoy a tasty pizza, you can make it yourself (preferable method) or purchase frozen gluten-free pizza you can heat and eat at home.
Remember, when you order pizza at a restaurant, even if the crust is gluten free, there is always a probable risk that it will come in contact with gluten somewhere along the line. I rarely eat pizza at restaurants anymore, with a few exceptions.
If you've decided you love pizza and are willing to learn how to make it yourself, you're going to love this pizza crust recipe. This results in a pizza crust that you can really sink your teeth into.
I've been playing around with different pizza crust recipes, and I keep coming back to this one. It tastes amazing, is easy to make, and my entire family loves it.
How to Make a Doughy Gluten-Free Pizza Crust
Here's how to make this delicious recipe in just a few simple steps.
Step #1: Gather Your Ingredients
You'll need a few easy-to-find ingredients to make this simple gluten-free pizza crust. You'll need:
I have not tested this recipe with other 1:1 flours. I've only tested it with Bob's Red Mill 1:1 gluten-free flour blend.
This flour blend is made up of a variety of flours and starches that work beautifully together to mimic the taste and texture of gluten. While we can never match the gluten texture with 100 percent perfection, a good 1:1 gluten-free flour can come close.
Step #2: Make the Dough
To make a soft and doughy gluten-free pizza crust, start by mixing the yeast with warm water and a little honey. The water and honey will activate the yeast and you should see it begin to bubble.
If the mixture doesn't bubble after a few minutes, it may mean your yeast is old and may not be as effective.
Next, add the 1:1 gluten-free flour, salt and oil to the mixture and mix well, by hand. No need to knead or overmix. Just mix until everything is well incorporated.
With regular pizza, you would mix (knead) the dough a lot to allow the gluten to develop. But with gluten-free dough, there's no need to mix it more than necessary.
Shape dough into a ball (add more flour if too sticky) and set aside.
Step #3: Shape the Dough
Now it's time to shape the dough on a baking sheet. To do this, sprinkle a little polenta (corn grits) onto a round 12″ pizza baking sheet. This will give the pizza crust a nice texture as well as prevent it from sticking to the pan.
Place dough ball in the center of the pizza pan and use the palm of your hand to gently flatten and shape the dough into place. The oil in the dough will prevent it from sticking to your hands so there's no need to flour your surface or your hands.
This is what it will look like when you've shaped the dough into place. Don't worry if the polenta gets onto the top of the crust. You'll be covering up the top with sauce, cheese and toppings.
Step #4: Allow Dough to Rise
Cover the dough with plastic wrap and allow it 1.5 to 2 hours to rise. It will rise better in a warmer setting. I often place it on a warming mat to help it rise. It won't rise a lot, but you will definitely see a little action.
Step #5: Par-bake the Crust
Once the dough has risen, it's time to par-bake the crust for 10-12 minutes in a preheated 400º F oven.
Here's what my par-baked gluten-free pizza crust looked like. It may shrink a little while baking.
Step #6: Add Toppings and Bake
Once your gluten-free pizza crust is par-baked, crank up the oven to 450º F and then add your sauce, cheese and toppings, leaving room around the edge of the crust.
Bake the pizza for 8-12 minutes or until cheese is bubbly and slightly browned.
Is your mouth watering yet?
Just wait until you take a bite. This crust is doughy and the polenta adds a nice crunch. Everything just tastes so good together!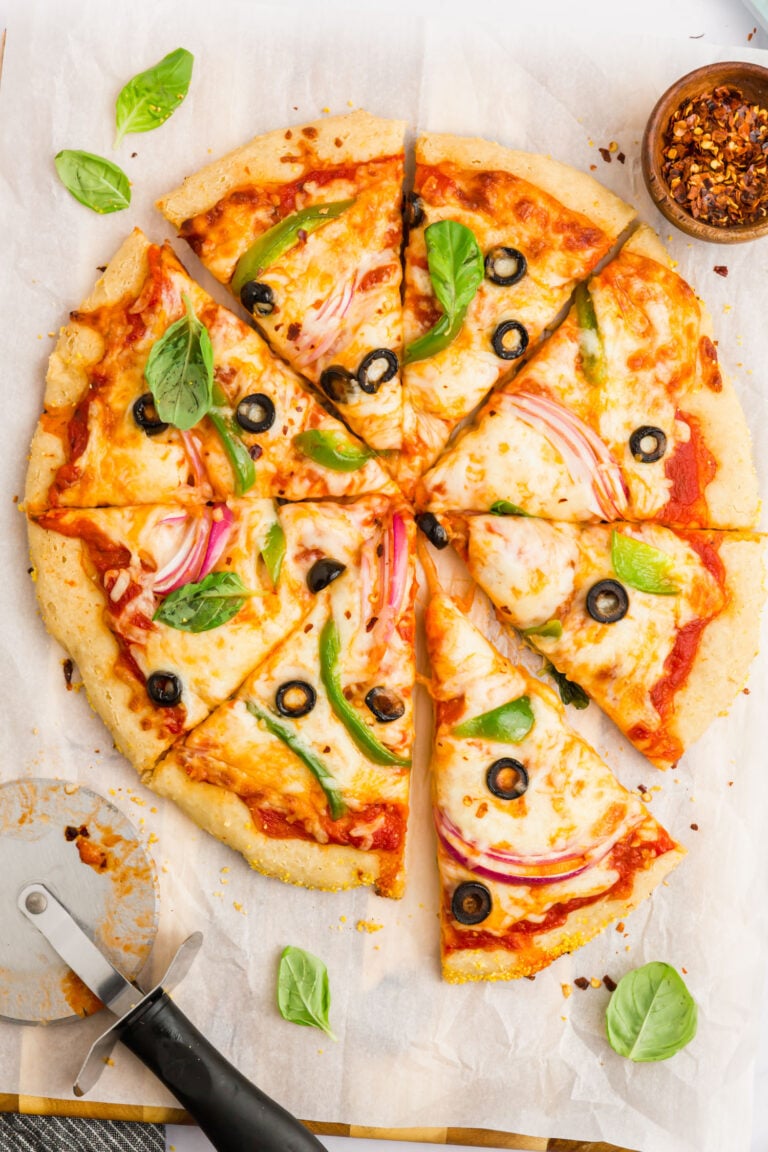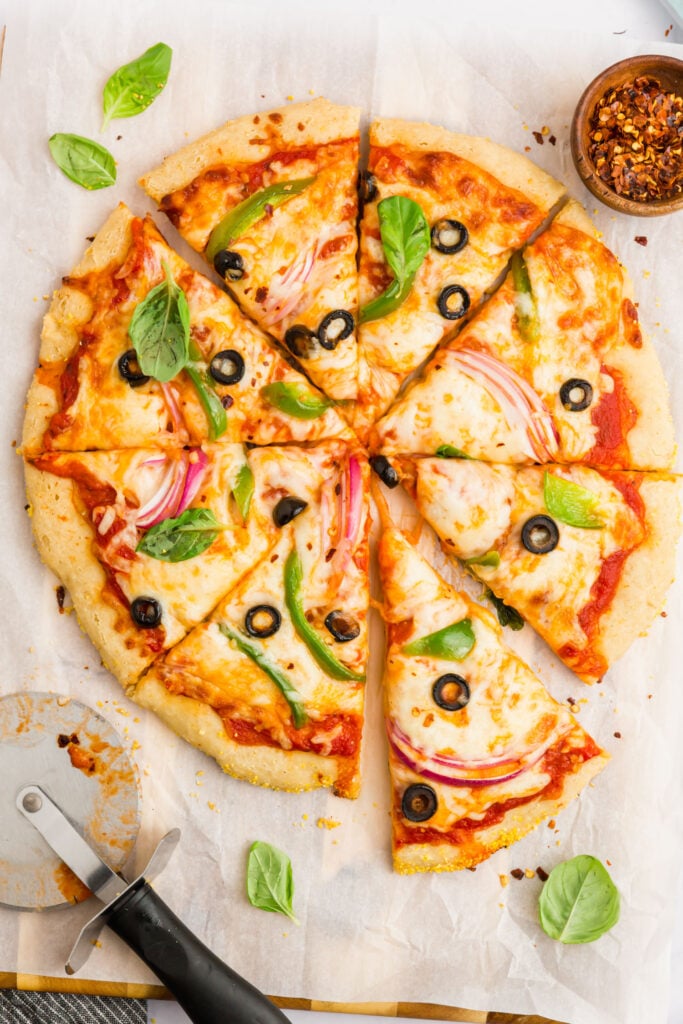 If you're ready to make homemade gluten-free pizza crust, I hope you'll give this recipe a go. You'll be shocked at how easy it is to whip up a delicious gluten-free pizza at home – you'll be kicking yourself for not doing this sooner.
Learn more about Bob's Red Mill's commitment to creating safe gluten-free products on the Bob's Red Mill website.
FAQs
Dairy-Free: The crust is dairy free as-is, but if you want the pizza to be dairy free, you'll want to use a dairy-free cheese like Daiya cheese shreds.
Polenta (corn grits) optional: I think the pizza tastes way better with the corn grits on the bottom, but it's completely optional and the recipe will work well without it too.
No Pizza Pan? If you don't have a pizza pan, just shape the dough into a 10-12″ pizza on a baking sheet. You can even make your pizza oblong.
Dough didn't rise? This means your yeast is probably dead (check expiration date), or the water you used was too cold or too hot. It might also mean your house is cold and therefore it will need more time to rise. The dough will rise quickly in warmer temperatures. It's why I place my pizza pan on a warming mat while it's rising. All my yeasty baked goods rise well when I use the warming mat.
Can You Use Other 1:1 Flours? Yes, you can, but please note I haven't tested this recipe with other flours so the measurements may not be as exact.
Additional Recipes
Enjoyed this recipe? You might also like the following recipes:
5-Ingredient Gluten-Free Bagels: Make these soft yet crusty homemade gluten-free bagels in minutes!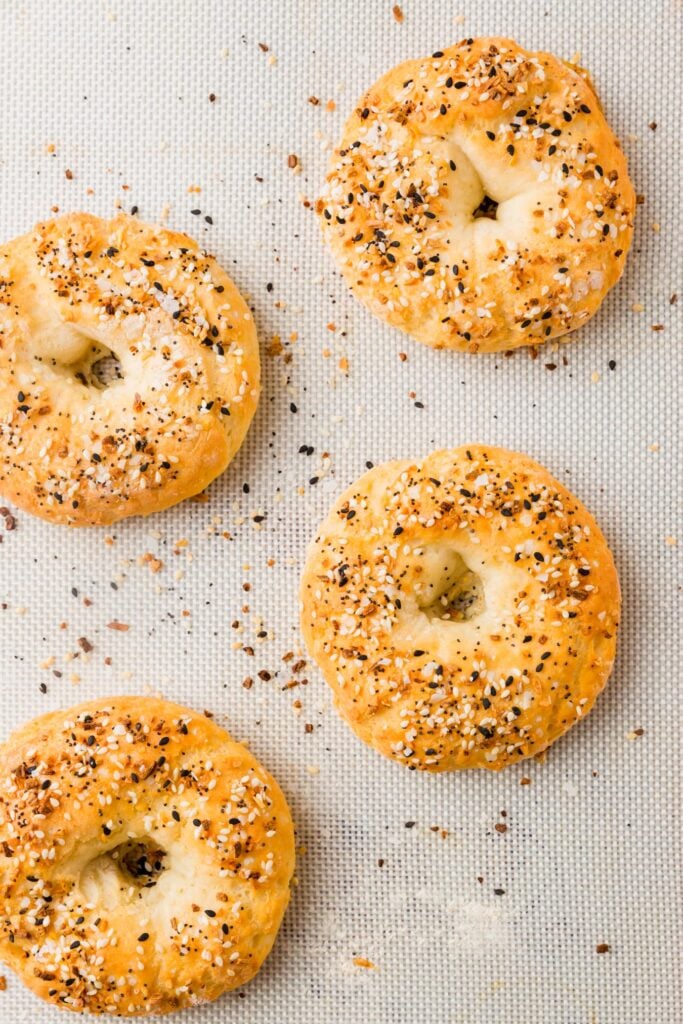 Pull-Apart Gluten-Free Dinner Rolls: These buttery gluten-free dinner rolls are perfect for your holiday feasts and special occassions.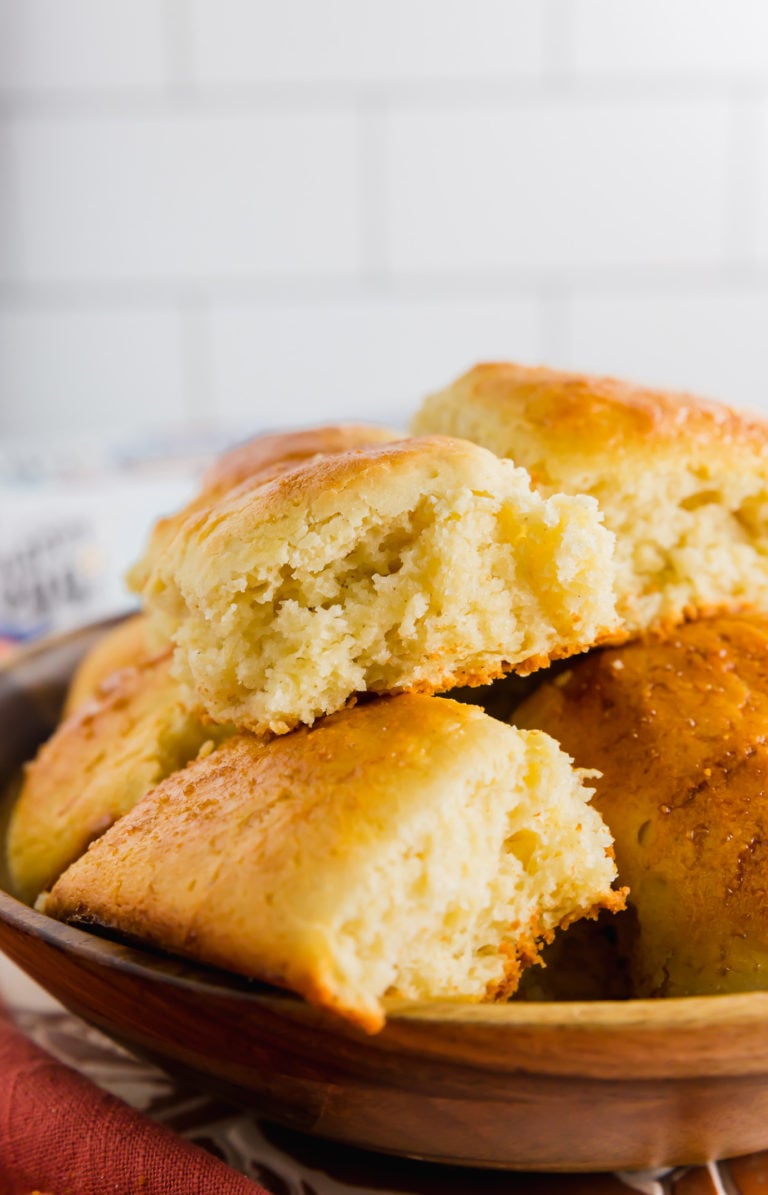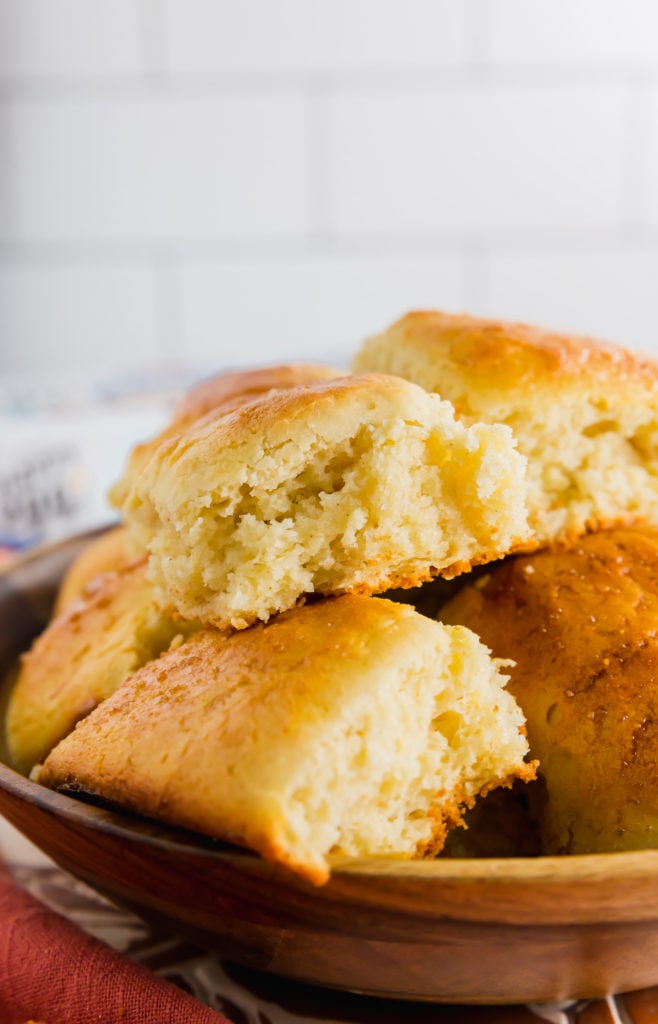 Homemade Gluten-Free Egg Noodles: Learn how to easily make your own gluten-free egg noodles at home, from scratch.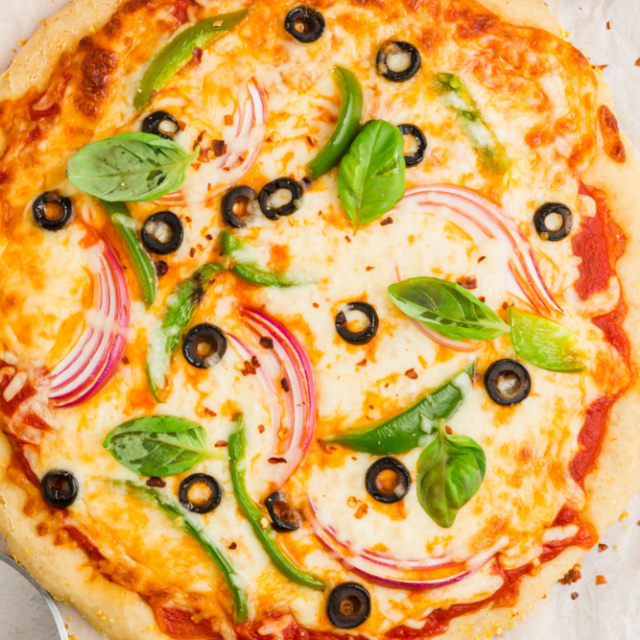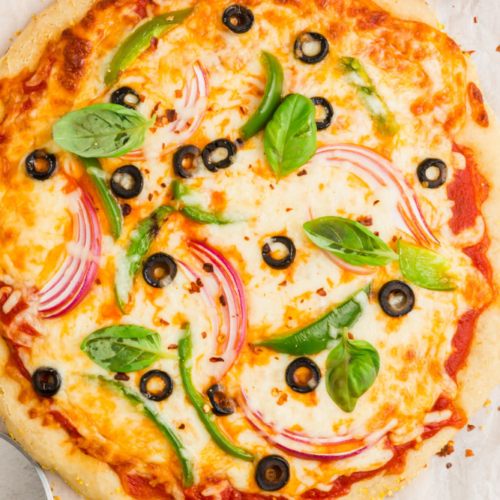 Soft & Doughy Gluten-Free Pizza Crust
This doughy gluten-free pizza crust recipe is simple to make and tastes fantastic too! Add crunchy polenta to the bottom of your crust for extra flavor and bonus fun texture.
Print
Pin
Rate
Equipment
12" round pizza baking sheet (see notes)
Instructions
Add water, yeast and honey to a mixing bowl. Gently whisk ingredients together and then let mixture sit to activate the yeast (about five minutes). The yeast will lightly begin to bubble, which shows it's working.

Add flour, salt and olive oil to yeast mixture. You can mix ingredients by hand or use your standing mixer and mix everything together into a nice, smooth dough. Do not overmix. Just mix until all the ingredients are well combined. Scrape down edges to ensure all ingredients get incorporated. Shape dough into a ball and set aside.

Add sprinkle of polenta to the surface of a 12" round pizza baking sheet and spread evenly.

Place dough ball in the middle of the pizza pan, then use the palm of your hand to gently flatten and push out the dough until it covers the pan and polenta. Shape dough as desired.

Cover dough with plastic wrap and allow it to rise for about 1.5 to 2 hours in a warm area of your house or on a warming mat (see notes).

Preheat oven to 400º F. Once oven is heated, par-bake pizza crust for 10-12 minutes, then remove it from the oven. Crank up oven temperature to 450º F.

Top par-baked pizza crust with sauce, cheese and toppings of choice, then bake for another 8-12 minutes until cheese begins to bubble and brown. Remove from oven and enjoy.
Notes
If your yeast doesn't bubble, it means it might be old or expired. Make sure you use fresh yeast and allow the dough to rise in warm environment. The warmer your home the faster the rise. I use a warming mat to keep the dough warm and to encourage it to rise more quickly.
You could use a different sized pizza baking sheet or simply shape the pizza on a baking pan. You can make the crust as thick or thin as you like, just be sure to adjust baking times to prevent crust from browning too soon or burning. 
Nutrition
Calories:
158
kcal
|
Carbohydrates:
23
g
|
Protein:
3
g
|
Fat:
6
g
|
Sodium:
241
mg
|
Potassium:
13
mg
|
Fiber:
3
g
|
Sugar:
1
g
|
Calcium:
20
mg
|
Iron:
1.2
mg