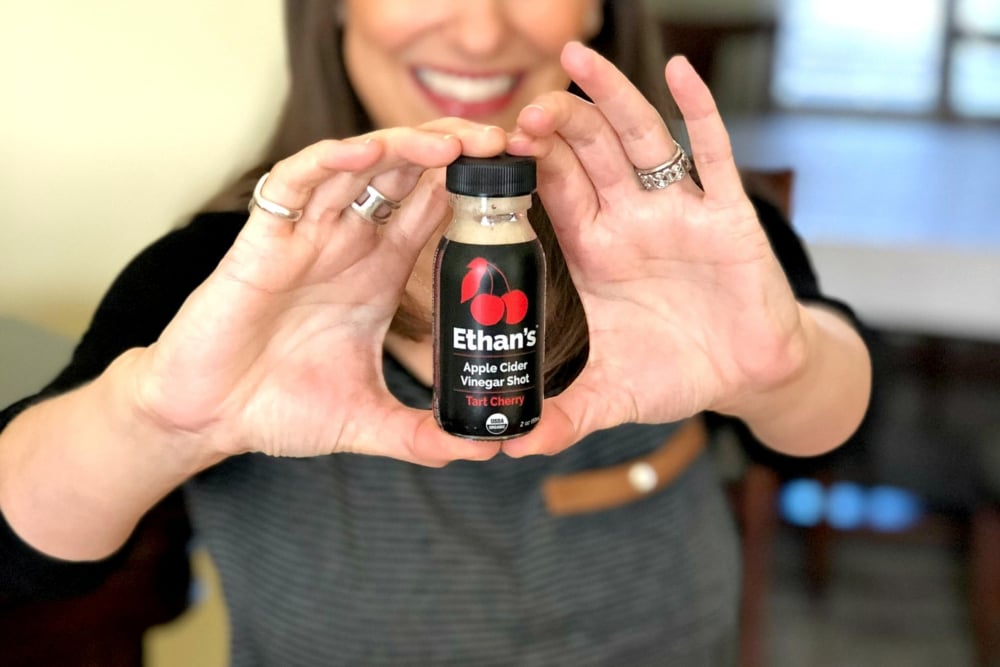 Has someone ever told you to try apple cider vinegar to soothe your sour tummy? Does it work? In this post, I talk about what happened after I took a shot of apple cider vinegar for seven days. This post was originally sponsored by Ethan's but has been updated to reflect new information. Please see my disclosures and disclaimers.
A few months ago I wrote about the 8 surprise benefits of apple cider vinegar. I discussed how ACV has been used for centuries as a natural elixir, yet I also expressed frustrations with the lack of research to back these centuries old health claims.
For the past seven years, since my celiac disease diagnosis, I've been on a journey to understand how I can not only improve my health, but also how I can promote health and deter disease.
If you've followed my journey, you know I've been vocal about how I've put my celiac disease into remission and healed my body. But it's a daily struggle, and I have to work on my health every day. It's not something that comes easy to me or most people.
Over the years I've heard good things about apple cider vinegar. I wanted to put it to the test to see if it lived up to the hype.
Got Tummy Woes? Take my Free 7-Day Heal Your Gut Challenge
My ACV Experiment
I decided to do a little experiment on myself by taking a shot of apple cider vinegar each day for seven days. At the end of seven days, I'd assess how I felt and if I believed the shot resulted in any improvements in my health.
Mind you, I didn't expect to experience major breakthroughs; rather, I wanted to give it a try and see how it made me feel and if it was worth continuing my efforts to take a daily shot. Plus, I had a variety of fun apple cider vinegar flavors on tap thanks to my collaboration with Ethan's.

Why I Took A Daily Apple Cider Vinegar Shot
I decided to do a daily apple cider vinegar shot-a-day challenge for several health-promoting reasons:

Weight Loss
I don't know about you, but I definitely packed on a few pounds over the holidays. I had fun (too much fun) whipping up holiday recipes to share on this blog. Like most Americans, come January, I was done with eating junk and ready to put in the hard work to shed a few of the excess holiday pounds.
When I researched my article about apple cider vinegar last month, I learned that acetic acid, a key component of apple cider vinegar, suppresses body fat accumulation in animal studies. Researchers concluded that a daily intake of vinegar might just prevent metabolic syndrome and reduce obesity.
In other words, research shows that a little ACV each day may help you shed a few pounds. It sounded like an easy and natural way to promote weight loss. I'm in!
Detoxify
On top of feeling like I packed on a few excess pounds, I also felt like I needed to detoxify my body from sugar. I wanted to flood my body with healthy nutrients now that the New Year was here and I was feeling ready to clean up my diet. I've always been a little skeptical of detoxes, however I figured taking a swig of ACV to help detoxify my body couldn't hurt.
Related Reading: 10 Tips to Breaking Your Sugar Addiction
Apple cider vinegar contains a polyphenol called quercetin, which is an antibacterial agent known to help treat infections. If there were any infections budding inside of me (as a result of my poor eating in December), I figured ACV would stop those infections from growing and detoxify my body from the inside out.
Check Out this Book: Dear Gluten, It's Not Me, It's You
Settle My Tummy
December was not a great tummy month for me either. Like I said, I ate too many sweets (and fried foods for Hanukkah) and my tummy was definitely unsettled. I was bloated and gassy and just not feeling great.
I went into my seven-day challenge with the hope that it might help settle my tummy. While there is no research on this topic (likely because there is more money to be had researching pharmaceuticals than natural remedies), anecdotally many holistic practitioners have prescribed apple cider vinegar to help ease gas and bloating.
It's important to note that apple cider vinegar, in its unpasteurized form, contains natural probiotics that can help populate the gut with beneficial bacteria.
Related Reading: The Benefits of Probiotics
However, Ethan's apple cider vinegar shots are pasteurized and therefore do not offer beneficial bacteria like the raw stuff does (ie, the ACV that has the "mother" intact).
Stave of Cold & Flu
Staying free from the common cold and flu should be something we do year-round, not just during cold and flu season. As you can't wrap yourself in bubble wrap, you are likely going to catch some sort of cold or flu virus, especially during cold season.
While I work hard to achieve health in my own world by taking a daily probiotic, eating right and exercising regularly, I know that no one is immune from getting sick. We must, however, always work towards building our immune systems to lessen the severity and symptoms of cold and flu. When sickness strikes, we can more quickly and efficiently fight off illness if we're healthy.
Related Reading: How Not to Get Sick
Apple cider vinegar (mixed with honey) as been prescribed for hundreds of years as a natural remedy to the common cold. I figured taking an apple cider vinegar shot prophylactically each day might just increase my chances of quickly fighting off any nasty bug that decided to come my way.
ACV is also known to restore the body's pH balance. Disease thrives when the body's pH level is too acidic (things like sugar make the body more acidic), and the beauty of ACV is that it alkalinizes the body, keeping it in a slightly alkaline, healthy state.
My 7-Day Apple Cider Vinegar Challenge
I started my 7-day apple cider vinegar per day challenge in January with hopes of shedding a few pounds, detoxing my body from sugar, settling my gassy tummy, and keeping cold and flu at bay.
My husband, Darren, did the challenge with me (if I was getting healthy, he wanted to be healthy too!). Before we began, we came up with a few ground rules:
(1) We would take the shot when we craved sugar most.
Instead of grabbing a chunk of chocolate when that sugar monster craving overcame us, we agreed instead that we would drink an apple cider vinegar shot.
This "ground rule" is reminiscent of something my friend, Andrea, does. She said every time she craves something sweet, she first eats a carrot. This helps to curb her cravings and nourish her body before indulging.
(2) We would treat our ACV shot as a snack.
Instead of grabbing something from the pantry when we felt hungry, we would instead replace our typical snack grab with our daily apple cider vinegar shot.
The Ethan's apple cider vinegar shots are slightly sweet because they are infused with fruits like pineapples, beets and blueberries. The shots still make you pucker when you drink them, but they are way more tolerable than plain ole' apple cider vinegar!
(3) We would sip and savor our shot.
I think it's a bad idea to treat an apple cider vinegar shot like you would treat a shot of hard alcohol. Apple cider vinegar burns a bit as it goes down.
We decided to sip and savor the two ounces of liquid vs. rush through the process of choking it down in one fell swoop.
(4) We would enjoy variety.
We decided that even when it comes to a daily apple cider vinegar shot, variety is the spice of life. There are six flavors of Ethan's apple cider vinegar shots to choose from (tumeric apple, cinnamon maple, ginger pineapple, beet, blueberry and tart cherry). This ensured we never got bored with our daily shot.
With these ground rules set, my husband and I embarked on our daily apple cider vinegar shot challenge.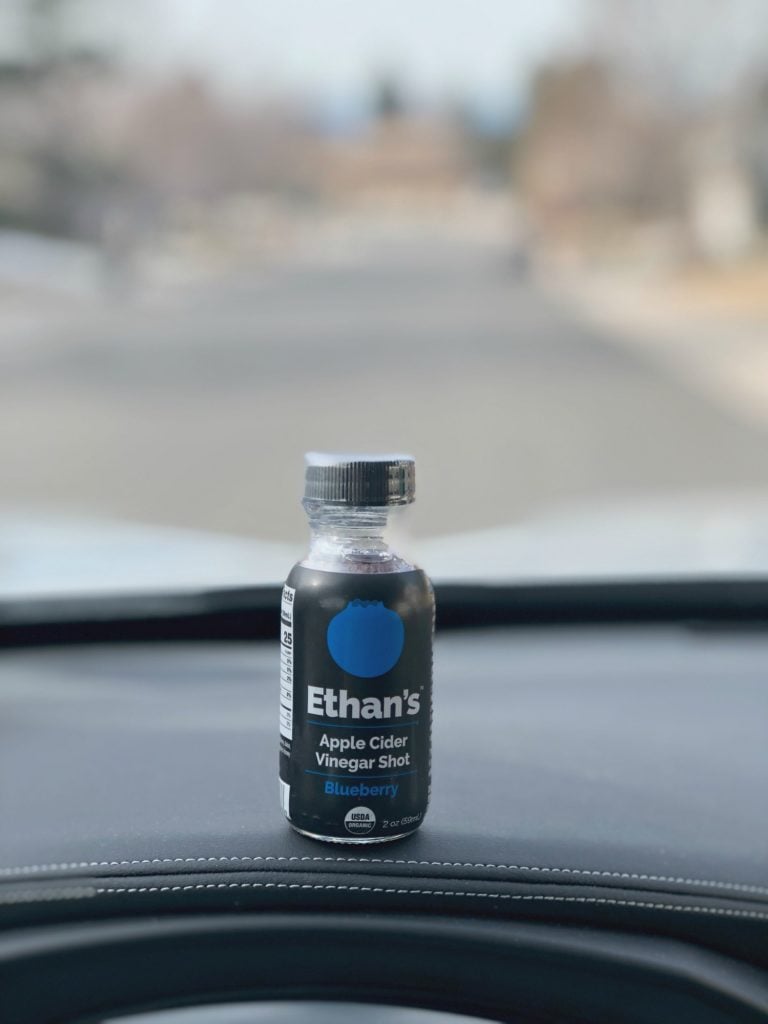 Observations & Results
Each day my husband and I enjoyed our apple cider vinegar shot, sipping it slowly and really taking in all the flavors.
My husband loved the tumeric apple most, and I enjoyed the beet flavor best (I think it's the sweetest and least tart). We both enjoyed blueberry and ginger pineapple as well, but I must admit, I had a little difficulty drinking tart cherry. The vinegar already makes me pucker, and the tart cherry makes me pucker even more!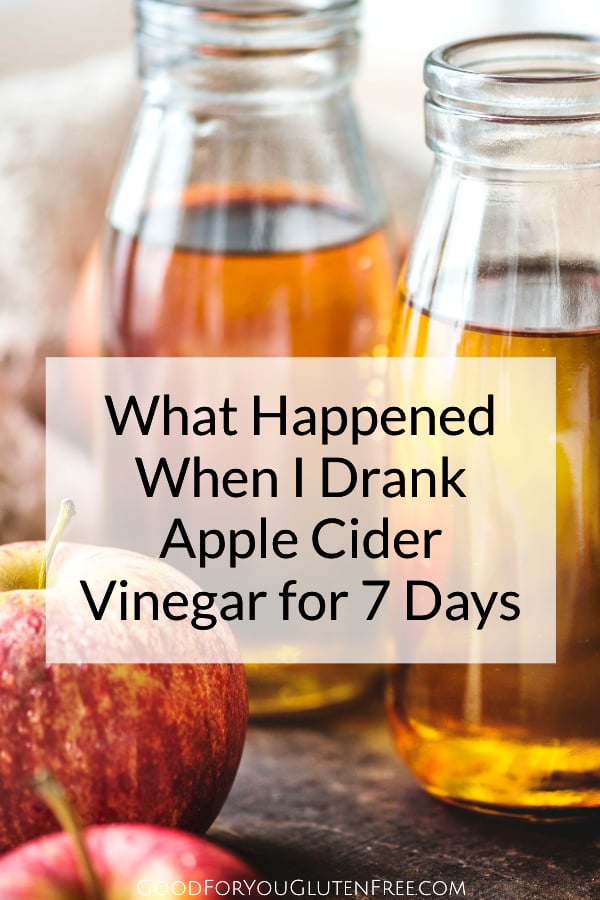 I'd like to share some of my observations and results from my daily apple cider vinegar shot challenge:
Weight Loss?
If you're hoping to lose weight by drinking apple cider vinegar, you may have to do it longer than seven days. I didn't notice any rapid weight loss, but I did feel better and lighter. I was definitely eating less now that I was focused on taking a shot in lieu of reaching for something sweet.
Detoxify?
My husband and I worked hard to avoid sweets and eat right. When those sugar cravings came over us, we would sip and savor our daily apple cider vinegar shot.
While we have no idea how to measure if we've detoxified our bodies, I can tell you that we both felt better doing it. I think the act of doing something healthy makes you feel healthier, whether it's working or not.
Indigestion?
The apple cider vinegar absolutely helped with my indigestion! We went out to dinner and I was definitely accidentally glutened. Ug! You know the feeling. Your tummy hurts so bad and you have to urgently use the bathroom. I haven't had that happen in awhile, but of course it happened the week I was doing my ACV challenge.
Related Reading: 7 Ways to Recover from an Accidental Gluten Exposure
With a roaring tummy, I turned to my daily apple cider vinegar shot for relief. My stomach was seriously bubbling and turning upside down. I was desperate for some relief. After taking my daily apple cider vinegar shot, my stomach finally settled. No more bubbling. I truly felt better. Ah, relief!
Cold & Flu?
I'm happy to report that I have not been sick despite so many people around me falling victim to cold and flu. In fact, I heard that half the kids at a neighboring school have been out sick with the flu for the first half of January; fortunately it has not hit our school or home… and hopefully won't.
If cold and flu is gunning for me, I'm hoping that my health promoting activities, including my daily probiotic, healthy eating habits, and daily apple cider vinegar shot will lesson the severity of any symptoms that come my way.
And just in case that doesn't work, I'm going to knock on wood now…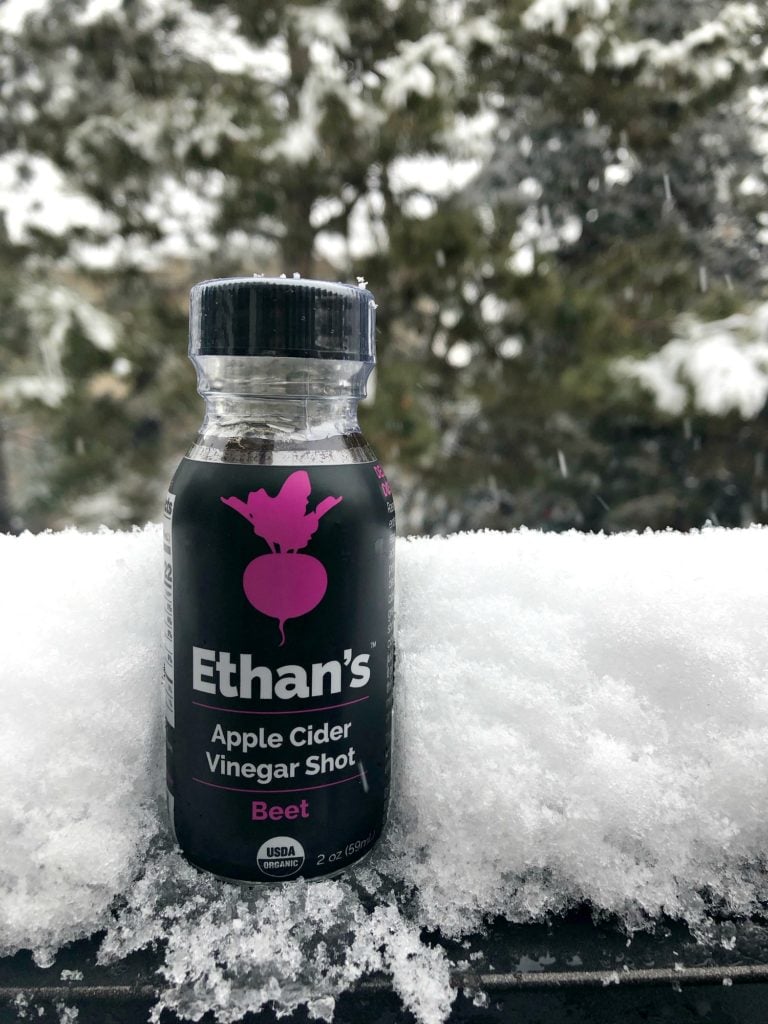 Conclusions & Musings
The results of my 7-day apple cider vinegar shot a day challenge aren't earth-shattering. I didn't go down a dress size and I still have three more months of cold and flu season ahead of me.
However… there are TWO key things that DID happen:
(1) My Tummy Settled
I felt like the shot of apple cider vinegar helped to settle my roaring stomach. My stomach was bubbling like mad after an accidental glutening episode. I usually just drink plenty of water and rest until it passes, but after taking my daily apple cider vinegar shot, the bubbling stopped and my digestive stress came to an easy end.
I will definitely take ACV the next time I feel indigestion either from an accidental glutening or simply when my tummy doesn't feel so great. I'll come back to this article and update it as I have more data points about whether ACV can help with an accidental glutening episode or other indigestion in the future.
(2) I Snacked Way Less
Taking a daily apple cider vinegar shot made me more mindful. Instead of reaching for a snack, I reached for my daily shot. I sipped and savored the shot. I credit my daily ACV shot with reminding me to snack less. I believe it helped to curb my sugar cravings as well. After my shot, I was fine until mealtime.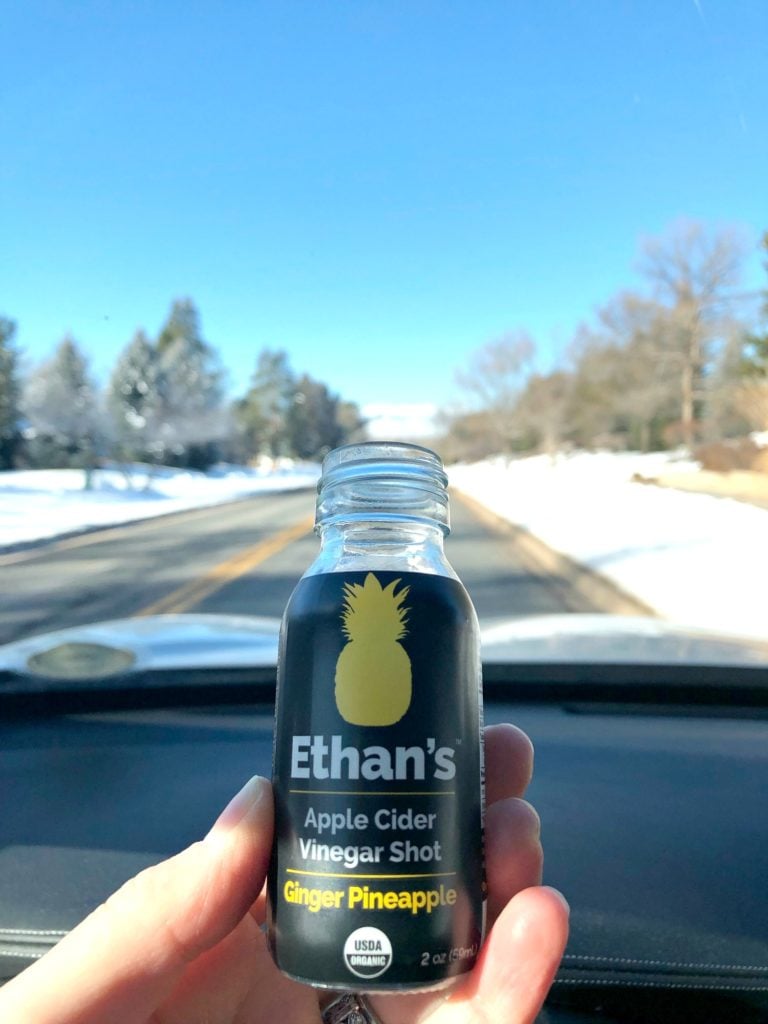 Remember, taking a daily apple cider vinegar shot can't hurt you. It has literally been used for centuries to help people naturally manage a slew of ailments.
I say drink up, toast your continued good healthy, and savor your daily apple cider vinegar shot without worry or guilt. Who knows? You just might feel better!
Related Articles
10 Surprising Myths about Celiac Disease: Let's sort fact from fiction in this article about commonly held myths about celiac disease.
Gluten Sensitivity vs. Celiac Disease: What are the differences and similarities between the two gluten disorders.
Is Apple Cider Vinegar Good For You? In this article, we discuss the eight most common health claims about ACV and determine if they're true.