This post discusses whether gluten intolerance is a precursor to celiac disease and contains affiliate links. It is not a substitute for medical advice. Please see my disclosures.
Have you ever wondered if gluten intolerance is a precursor to celiac disease? In other words, does a person with gluten intolerance eventually get full-blown celiac disease?
While this is an interesting question, it's not easy to answer. So before I get to the "meat" of the article, I want to give some background information first.
What Causes Celiac Disease?
First, it's important to know what causes celiac disease. For celiac disease to develop, three factors must be present:
A person must carry one of the two celiac genes (HLA-DQ2 or HLA-DQ8).
A person must be eating gluten, a protein found in wheat, rye, and barley.
A person must experience intestinal permeability (leaky gut). This is the last "straw" that activates the dormant celiac genes.
While most diseases have a genetic component, it's essential to understand that genes don't predict disease.
Instead, genes identify the weak link(s) in someone's genetic makeup. This weak link is where a person is most prone to disease.
What is Autoimmunity?
Second, it's important to understand how the medical community classifies celiac disease.
Celiac disease is an autoimmune disease. An autoimmune disease occurs when a person's immune system becomes confused and mistakenly attacks the healthy tissue at a genetically weak spot in a person's body.
In people with celiac disease, the genetically weak spot is the small intestine. In other autoimmune diseases, the genetically weak spot is located elsewhere.
For example, the immune system attacks healthy thyroid tissue in people with Hashimoto's. In people with multiple sclerosis, the immune system attacks the protective tissue surrounding nerve cells, known as myelin sheaths.
Celiac disease is the only autoimmune disease in which the trigger (gluten) is known. No one knows, with certainty, the trigger behind Hashimoto's or MS, for example.
Is Gluten Intolerance a Precursor to Celiac Disease?
Now that I've discussed the basics of what causes celiac disease and the mechanisms that trigger autoimmune disease, I'm ready to discuss the original question: Is gluten intolerance a precursor to celiac disease?
In people genetically predisposed to celiac disease, yes, gluten intolerance is a precursor to celiac disease.
Gluten will cause inflammation, intestinal permeability (leaky gut) will ensue, and the once dormant celiac genes will likely activate at some point as long as the person continues to eat gluten.
However, gluten intolerance is not a precursor to celiac disease in people who don't carry one of the celiac genes.
Instead, gluten intolerance is a precursor to autoimmune disease.
How Gluten Intolerance Leads to Autoimmune Disease
Gluten sensitivity is a strong predictor of impending autoimmune disease. Why? Because gluten – or another food sensitivity – can manifest as inflammation, which can occur in any tissue of the body, according to Dr. Tom O'Bryan in his bestselling book, The Autoimmune Fix.
Dr. Tom says that gluten pours "gasoline on the fire" and triggers a cascade of symptoms that can lead to autoimmune disease, including celiac disease, Hashimoto's, MS, or any of the hundreds of disorders classified as autoimmune disease.
Most people don't know autoimmune disease is brewing inside of them since they take time to develop.
A person with one of the celiac disease genes could eat gluten for decades and not feel sick. Then, slowly but surely, they start feeling bloated and icky, or they have unexplained itchy skin rashes all over their body or debilitating joint pain.
Then bam!, at 42, they learn they have celiac disease. (Read: The Rise of Late-Onset Celiac Disease.)
This can happen in any disorder. A little ache or pain here doesn't matter much when you're 30, but then all of sudden, at age 50, you have full-blown rheumatoid arthritis, fibromyalgia, Hashimoto's, or lupus.
Autoimmunity works like a leaky faucet. The faucet drips, drips, drips for years until one day, the plumbing gives out and the floodgates open.
Biomarkers Can Predict Autoimmunity
Dr. Tom discusses predictive autoimmunity in the Autoimmune Fix, noting the long and complex incubation periods of autoimmune diseases.
The good news is that some of these incubation periods can be identified by testing for elevated levels of autoantibodies or antibodies the body makes to its own tissue.
In other words, elevated autoantibodies to this or that can alert a person that something is brewing inside their body.
If a doctor says someone has elevated antibodies, they must pay attention now or pay later. Some doctors are quick to write off this information if their patients don't have visible symptoms.
However, visible symptoms mean the disease has progressed and worsened. Most people want to catch and arrest the disease before it turns into full-blown autoimmunity.
There are plenty of examples in the Autoimmune Fix of how elevated autoantibodies predict autoimmune disease. Below are two:
(1) People with elevated thyroid antibodies have a positive predictive value of 92 percent of getting Hashimoto's thyroid disease within seven years.
On top of that, 43 percent of people with Hashimoto's also have gluten sensitivity. Is this sheer coincidence, or is gluten intolerance a precursor to Hashimoto's too? I'll let the researchers answer that.
(2) Also, people with elevated antibodies to yeast in the intestines (called Saccharomyces cervisae) have a 100 percent positive predictive value of getting Crohn's disease within three years.
This means doctors can predict Crohn's three years before it occurs and sometimes before any symptoms arise.
The Bottom Line
Gluten sensitivity can be a precursor to celiac disease in people who carry one of the celiac genes AND it can be a precursor to a slew of autoimmune diseases in others.
It's more important than ever to keep tabs on your body's weak link. If your doctor finds elevated levels of antibodies, chances are your body is telling you to make some serious lifestyle changes, like going gluten-free (or at least getting tested for gluten intolerance).
Don't write off elevated antibodies or minor symptoms as "normal" parts of aging. These are warning signs body before full-blown celiac disease or autoimmune disease ensues. Don't sleep at the wheel!
Also, the research on this topic is clear. Gluten is not good for autoimmune patients.
In 2022, the leading autoimmune researcher in the world, Dr. Yehuda Shoenfeld, and his colleagues published a study in Nutrition Reviews that concluded, "A gluten-free diet might represent a novel nutritional therapeutic strategy for classical non–gluten-dependent autoimmune conditions."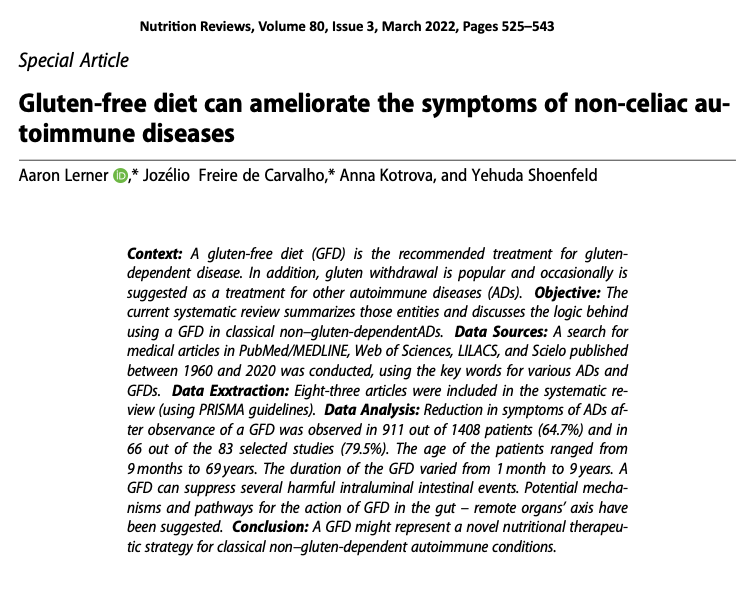 The study reported that nearly 65 percent of all autoimmune patients were able to reduce or resolve their symptoms just by implementing a gluten-free diet. The study examined 1,408 autoimmune disease patients ranging in age from 9 months to 69 years old.
Important Resources
Check out Dr. Tom's Gluten-Free Made Easy Course to learn more about going gluten-free fast.
To determine if you carry one of the two celiac genes, take this at-home Celiac Genetic Test.
To get tested for celiac disease, take this at-home Celiac Screening Test.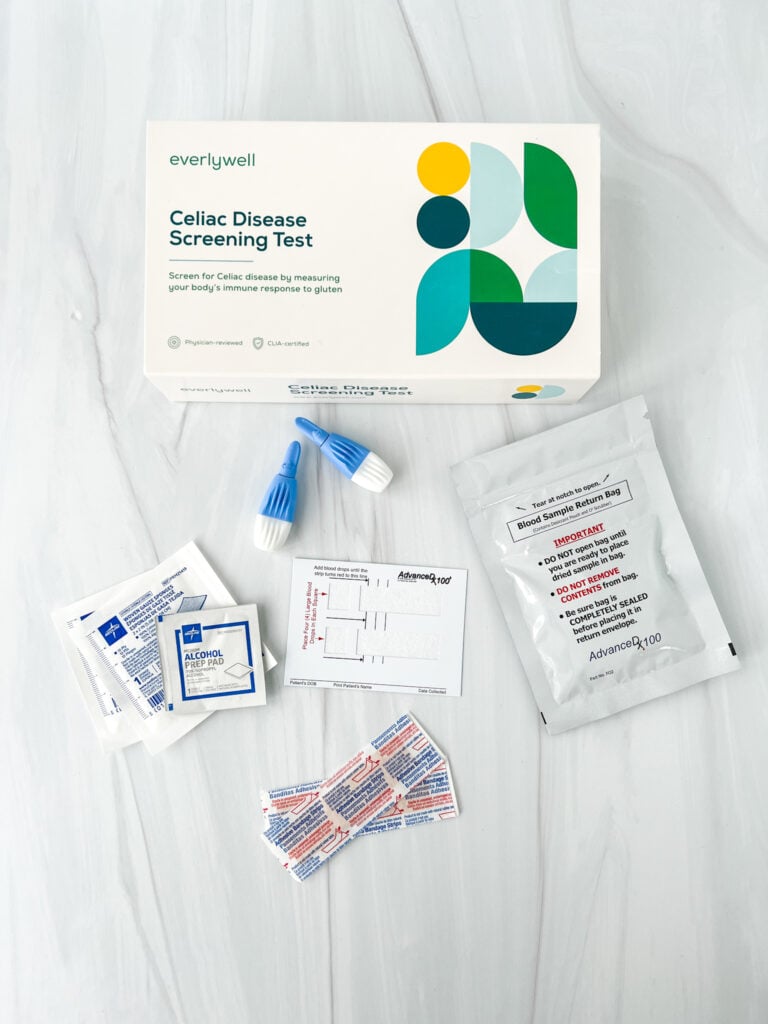 Learn more about how to get tested for gluten intolerance in my article, Do You Have Gluten Intolerance? How to Test for Non-Celiac Gluten Sensitivity.