People in the gluten-free community are concerned about the high price of gluten-free food and want to understand why gluten-free food is so expensive. In this article, I discuss why gluten-free food is so costly and offer tips for saving money. This post may contain affiliate links. Please see my disclosures.
An estimated 30 percent of all Americans are on a strict or partial gluten-free diet, according to this study. Yet, only one percent of Americans have celiac disease, an autoimmune disorder triggered by gluten.
This means a large percentage of the gluten-free population is either diagnosed (or self-diagnosed) with non-celiac gluten sensitivity, also known as gluten intolerance, and are following a gluten-free diet because they want to get healthy, lose weight, or relieve chronic symptoms associated with an autoimmune disease, leaky gut, skin rash, acne, acid reflux, and more.
Naysayers assume that people go gluten-free for attention or that they're just following a celebrity trend, but I say, based on the exorbitant costs associated with gluten-free food, no one is following a gluten-free diet just for the fun of it. No one in their right mind wants to pay $2 to $6 extra for smaller portions of subpar food.
A 2008 study found that gluten-free foods cost 242 percent more than wheat-based foods. A decade later, another study found the costs had come down a bit, albeit gluten-free foods still cost 183 percent more than their wheat-based counterparts.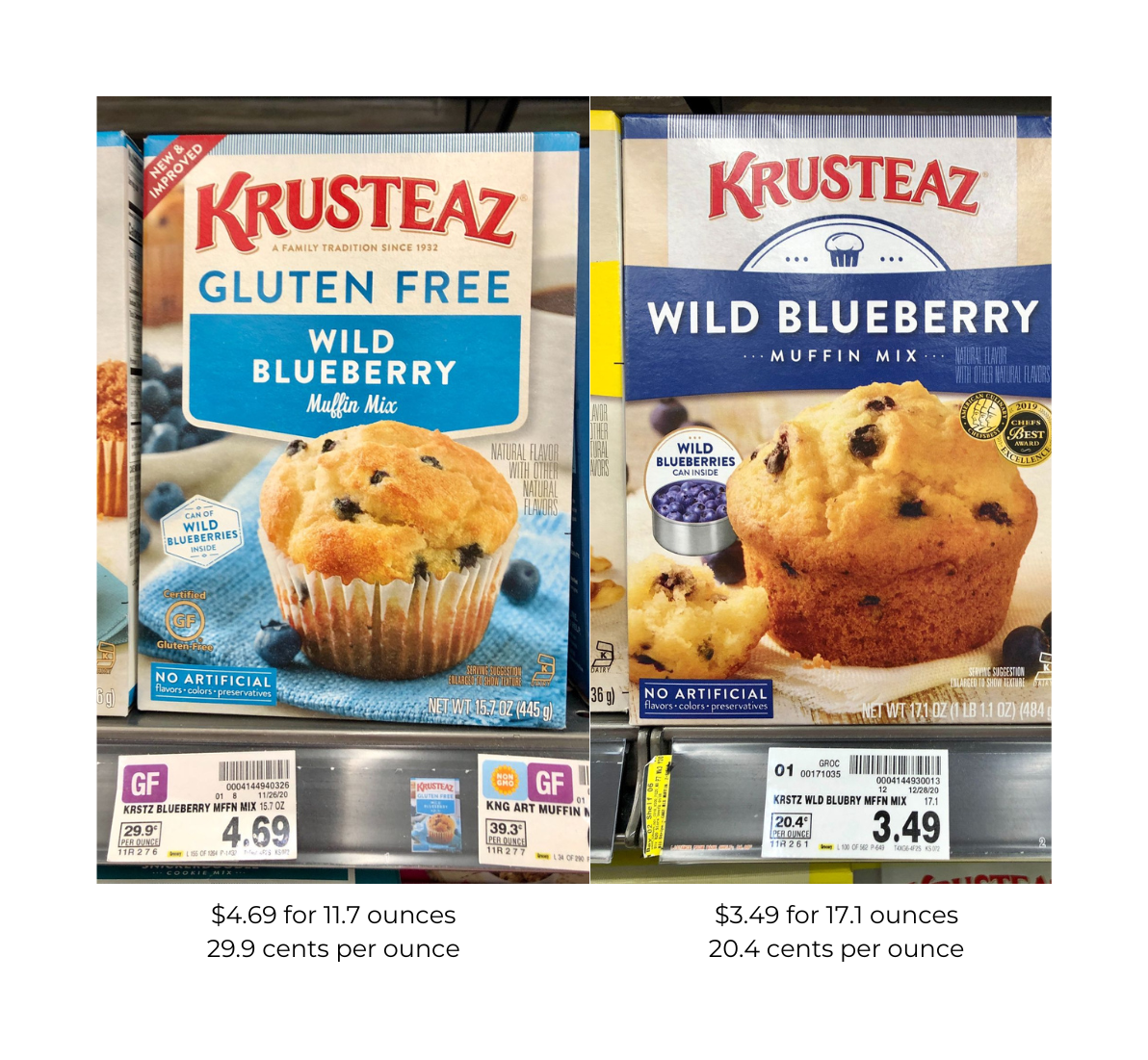 Furthermore, the American Medical Association found that families with food allergies spend an additional $4,184 per person yearly. Again, who would volunteer to pay more for less food just because a product is allergen friendly?
The truth is the vast majority of individuals following a gluten-free diet are doing it because they seek to improve their health. And when they see results, which a large percentage of them do, they're willing to pay more.
Why Is Gluten-Free Food So Expensive?
Below I share six reasons gluten-free food is so expensive and offer tips for eating gluten-free on the [sort-of] cheap.
Reason #1: Less Demand Due to Smaller Market
While millions of people follow a gluten-free diet, it still remains a small portion of the overall population. Less demand for gluten-free foods means manufacturers can't achieve the cost savings of buying gluten-free ingredients in the same bulk quantities as non-GF ingredients.
Reason #2: Complex Production Requirements
Gluten-free food is often made in dedicated gluten-free manufacturing facilities and on dedicated gluten-free equipment, both of which can be difficult to find. This leaves many manufacturers with less choice regarding who to work with to produce their products. Less competition often translates into higher costs.
Furthermore, gluten-free foods require manufacturers to take various precautionary measures to ensure that both the raw ingredients and the final product meet the strict gluten-free labeling guidelines set forth by the FDA.
Plus, many gluten-free products become certified gluten-free by a third-party agency, like the GFCO or Beyond Celiac. The cost of vigilance, coupled with paying a third-party certification agency, no doubt results in a product costing more.
Reason #3: Higher Cost of Raw Ingredients
Wheat is a cheap ingredient that works well in baked goods. However, gluten-free baked goods require a blend of grains, flour, and starches just to [semi] mimic the taste and texture of gluten. Items such as brown rice flour, corn flour, tapioca flour, and xanthan gum come at a higher cost than plain wheat flour.
Additionally, many gluten-free products contain specialty ingredients like buckwheat, sorghum, quinoa flour, and oat flour, all of which cost more.
Even gluten-free beer costs more. For example, Holidaily Brewing Company in Golden, Colorado, uses various gluten-free grains and special equipment to brew its gluten-free beers.
Reason #4: Shorter Shelf Life
Gluten-free foods don't contain the sticky gluten protein that helps prolong a product's shelf life, so many gluten-free foods, such as gluten-free bread, must be stored in the freezer to preserve their freshness.
Grocery stores charge a premium for freezer space, making it more costly for a gluten-free manufacturer to sell its bread at the same price as its non-GF competitors.
On top of that, grocery stores charge shelf fees to display a manufacturer's product. This means a big manufacturer like Wonder Bread or Kraft has more negotiation power than smaller gluten-free specialty brands like Canyon Bakehouse or Aleia's.
Additionally, due to the lower shelf life associated with gluten-free foods, there is often more food waste. Such costs ensure that gluten-free foods will be more expensive.
Reason #5: Higher Restaurant Costs
Want a gluten-free bun with your burger? That'll be a $2 upcharge. Want a gluten-free pizza? Expect to pay $4 more.
These upcharges come as a result of the higher costs associated with gluten-free specialty ingredients, training staff to handle food allergies, extra staff time required to make an item gluten-free safe, and the additional costs associated with purchasing and maintaining dedicated gluten-free equipment, such as a dedicated gluten-free pasta station, dedicated toaster oven, dedicated waffle iron, and a dedicated gluten-free fryer.
Did you know a woman once sued PF Chang's for charging her a $1 surcharge for ordering a gluten-free dish? She said the surcharge violated the Americans with Disabilities Act, noting that other customers weren't charged extra for modifying their meals. The woman later dropped the suit, not without first causing a stink.
Some people in the gluten-free community didn't like that she sued a restaurant because it might discourage restaurants from offering gluten-free options.
However, as long as restaurants aren't charging people extra money to use wheelchair ramps or high chairs, it seems like a double standard that they can get away with charging their gluten-free patrons more for less food.
Reason #6: Because They Can
Unfortunately, manufacturers know that people on a gluten-free diet are desperate for foods that taste good and make them feel normal. Restaurants, too, know how desperate the gluten-free community is to eat out and feel normal. Such psychological factors influence how manufacturers and restaurants price their gluten-free foods.
Plus, there's less competition in the gluten-free space, so gluten-free consumers aren't as price sensitive. When there's only one gluten-free mac and cheese brand on the shelf, gluten-free consumers cannot shop for the best price; they take what they can get.
7 Ways to Save Money on the Gluten-Free Diet
I also want to share some tips for saving money on the gluten-free diet so you can mitigate the rising costs of gluten-free foods and still eat well.
Tip #1: Eat at Home
It's nearly five times more costly to eat out or order delivery from a restaurant than to prepare a meal at home. Plus, when you eat at home, you have less risk of accidentally getting glutened due to gluten cross-contamination. You'll also consume fewer calories and have more control over the quantities of sugar, fat, and salt added to your food.
Tip #2: Skip Meal Kit Services
Did you know that meal kit services, such as Green Chef, a certified gluten-free meal service, cost three times as much as cooking from scratch? I also find that I rarely have leftovers when I use a meal kit, meaning I need to spend money the next day on lunch.
Tip #3: Make Homemade Baked Goods
You can save considerable time by making gluten-free sandwich bread from scratch (and freezing it so it stays fresh) and your gluten-free cookies and other gluten-free treats.
Store-bought gluten-free bread costs 150 percent more than gluten-free bread made from scratch. One of my gluten-free friends did the math and found that a batch of 36 homemade gluten-free cookies cost just over $6 to make at home but about $16 to buy at the grocery store.
The costs are even higher when buying baked goods from gluten-free bakeries. (Please continue to support your local, gluten-free bakeries from time to time if you want them to survive.)
One thing I found is that the cost of buying a store-bought all-purpose gluten-free flour blend vs. making your gluten-free flour blend is nil. Bob's Red Mill 1-to-1 Gluten-Free Flour Blend and Walmart all-purpose gluten-free flour are affordable gluten-free flour blends. That said, it's cheaper to make your gluten-free oat flour vs. buying store-bought gluten-free oat flour.
Tip #4: Plan Your Meals
Planning your meals for the week may save you money by encouraging you to buy only what you need, helping you plan ingredients that can be used for multiple meals, creating less food waste, and helping you create planned leftovers to enjoy the next day.
Read my 15 meal planning tips to learn how to start with meal planning and its many benefits. Also, check out my done-for-you gluten-free meal plans.
Tip #5: Utilize Supermarket Apps
Couponing might be [soon] gone as newspaper subscriptions dwindle, but there's a new form of couponing, and it's found inside grocery store apps.
Download grocery store apps and sign up for their loyalty programs. You can watch for sales and find tons of digital coupons.
Safeway often offers a $10 off coupon in its app, and Sprouts regularly offers $10 off the purchase of $75. You have to use the app to clip such digital deals.
Tip #6: Eat Naturally Gluten Free
Naturally gluten-free foods, such as eggs, apples, and cashews, will be the same price regardless if you're on a gluten-free diet. And often, a bag of apples is cheaper than a package of granola bars (and it's way more nutritious and filling!).
Keep in mind that meat is naturally gluten-free but is very expensive, especially organic meats. I recommend eating less meat and adding more beans and lentils to your meals instead.
I make a wonderful beef stew (which I call cholent) with just a pound of chuck but with lentils, potatoes, and rice to make it more hearty and filling. Plus, eating less meat is a more sustainable way to live.
Tip #7: Preserve Your Gluten-Free Foods
Because gluten-free foods have a shorter shelf life, it's important to store them properly to avoid food waste. Gluten-free bread should be stored in the freezer, and any near-stale bread can be turned into breadcrumbs or croutons to save money.
Gluten-free flours should be stored in airtight containers. High-protein flours, like coconut, quinoa, almond, and other nut flours, should be stored in airtight containers in the fridge for 8-12 months.
Tip #8: Shop Around
Many grocery stores offer amazing gluten-free selections, but some are more expensive than others. I've found stores like King Soopers (Kroger) and Whole Foods to be costly in general, but stores like Walmart, Super Target, Trader Joe's, Aldi, and even Costco offer great prices on many of your favorite gluten-free brands.
Walmart even has a line of Great Value certified gluten-free products. This bag of gluten-free all-purpose flour is just $3.43 for 22 ounces!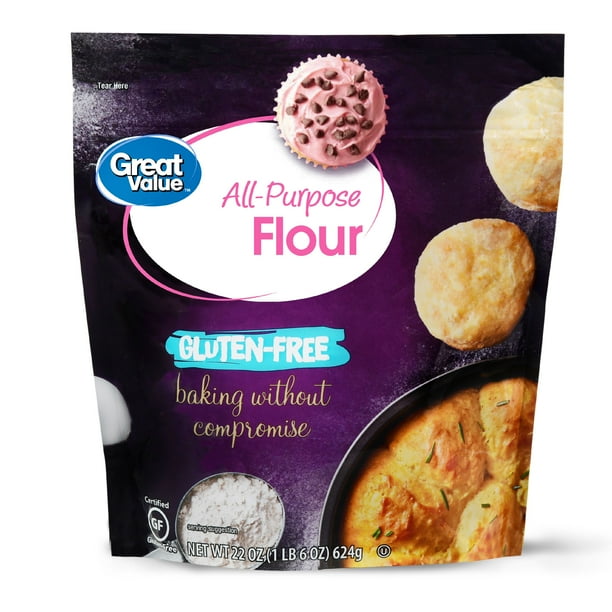 The Cost of Being Healthy
While the gluten-free diet is expensive, alas, it comes with some hidden cost savings.
For those lucky enough to live in Italy, the government offers vouchers for up to 140 euros per month to help offset the costs of buying gluten-free food.
In the U.S., the added expense of gluten-free foods is tax deductible for people with celiac disease, although the tax-deductible part is only the savings between the cost of a wheat-based and gluten-free food. For example, if a loaf of gluten-free bread costs $6, and the wheat-based bread is $2, the tax deduction would be $4.
However, the most significant cost savings associated with the gluten-free diet comes with being healthy. Every time you eat, you're either feeding disease or promoting health.
If only most people were willing to "treat" their conditions with food, they would require less medical attention, be less dependent on prescription drugs, and overall, be less of a burden on the already taxed healthcare system.
Long-term health is wealth, and the truth is most people will either pay now or pay later. The decision is yours.
Additional Reading