There is a growing number of gluten-free celebrities, many of whom are diagnosed with celiac disease. Below, I list the 50+ most famous people with celiac disease or gluten intolerance. While I've made every effort to source information from reputable sources, I have not independently verified this list. This post contains affiliate links. Please see my disclosures.
Regardless of why someone eats gluten-free – celiac disease, gluten sensitivity, wheat allergy, or other reasons – these celebrities share the joy and challenges of following a strict gluten-free diet.
Most people will agree that the gluten-free lifestyle can be isolating at times. With this list, I hope you see that you're not alone on this crazy journey.
Without further ado, here is a list of gluten-free celebrities who would invite you and your special "diet" to break gluten-free bread with them.
Gluten-Free Celebrities With Celiac Disease
Annaleigh Ashford – Broadway actress Annaleigh Ashford confirms she has celiac disease in Women's Health magazine, where she poses nude. Ashford is best known for her role as Betty DiMello on Showtime's Masters of Sex and on Broadway as Lauren in Kinky Boots.
Kristen Bell – Actress Kristen Bell told Women's Health Magazine she has a "genetic marker for celiac." She decided to go gluten-free with her husband, Dax Shepard, who also suffers from an autoimmune condition.
Cedric Benson – Cincinnati Bengals running back Cedric Benson told a reporter at NBC-Chicago that he has celiac disease.
Arturo Chacón-Cruz – Chacón-Cruz is a Mexican-born Opera singer and Beyond Celiac ambassador. He, his mom, and his son all have celiac disease.
Heidi Collins – CNN News anchor Heidi Collins says she has celiac disease and was once a spokesperson for Beyond Celiac.
Beatie Deutsch – Israeli marathon runner Beatie Deutsch told Shape Magazine she has celiac disease. She's also featured in the book Dear Gluten, It's Not Me, It's You.
Ty Dellandrea – The Dallas Stars NHL player says he has celiac disease, which commentators discuss in a video during the 2018 NHL draft. (Skip to 3:55.)
Dylan Dreyer's son – Today Show personality Dylan Dreyer revealed in May 2023 that her son, Calvin, has celiac disease.
Tarek El Moussa – HGTV reality star Tarek El Moussa discovered he has celiac disease while taping his latest show, Flipping 101. Read the full article to watch a snippet that shows the exact moment his doctor tells him he has celiac disease.
Jennifer Esposito – Actress Jennifer Esposito famously wrote a book about celiac disease and openly discussed her diagnosis in an interview on The Daily Show with Jon Stewart.
Susie Essman – Comedian Susie Essman opened up to the New York Times about her celiac disease diagnosis.
Shannon Ford – Former Mrs. United States, Shannon Ford, served as a spokesperson for celiac disease during her reign and is featured in the book Dear Gluten, It's Not Me, It's You.
Elisabeth Hasselbeck – Former The View and Fox News anchor Elisabeth Hasselbeck wrote a book, The G-Free Diet, about celiac disease and openly discussed her diagnosis on The View.
Frances Haugen – Frances Haugen – aka the "Facebook whistleblow" – told the Washington Post she has celiac disease.
Jameela Jamil – British actress, feminist, and body-positive activist Jameela Jamil told her followers on Instagram that she has coeliac disease and has had it since she was a kid. Below is a screenshot of her famous confession on Instagram.
Gary Johnson – The 2016 Libertarian presidential candidate Gary Johnson confirmed to voters he has celiac disease.
Parker Kligerman – NASCAR driver Parker Kligerman revealed his celiac disease to Whole Foods Magazine.
Cameron Mathison – Hallmark Channel and General Hospital star Cameron Mathison says he has celiac disease but is not fully compliant with a gluten-free diet. He is also battling kidney cancer.
Dean McDermott – This reality TV star and husband of Tori Spelling says he only kinda has celiac (maybe that's like being kinda pregnant?)
Lisa "Kennedy" Montgomery – Fox News commentator and former MTV VJ known by one name, Kennedy, talks about her gluten-free diet on Twitter and confirms she has celiac disease in an interview.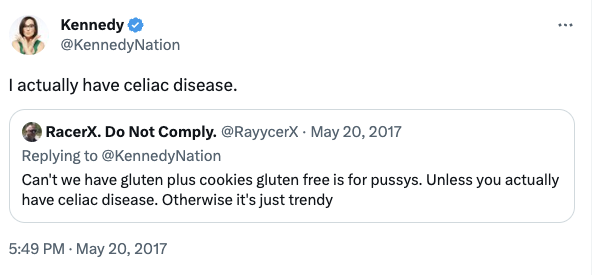 Mandy Moore – This Is Us actress and former pop singer Mandy Moore revealed her celiac disease diagnosis in an Instagram post and documented her upper endoscopy on Instagram, as reported in People.com.
Keith Olbermann – News broadcaster Keith Olbermann tweeted that he only "has the mildest touch of celiac."
Adrianne Palicki – GI Joe Actress Adrianne Palicki told Cosmopolitan Magazine she has celiac disease.
Julie Roberts – Country music star Julie Roberts told People she has celiac disease and multiple sclerosis.
Emmy Rossum – Actress Emmy Rossum admitted she doesn't eat gluten during an appearance as a guest judge on Top Chef. She said, "I'm allergic to gluten. I have a mild celiac."
Harnaaz Sandhu – After being crowned Miss Universe and being trolled about her weight gain, Indian model Harnaaz Sandhu confirmed to the press that she has celiac disease.
Jaden Smith – Jaden Smith, the son of Will Smith and Jada Pinkett Smith, has celiac disease, according to his Wikipedia profile. However, conflicting reports suggest he might suffer from gluten intolerance vs. celiac.
Patrick Staropoli – Professional stock car driver Patrick Staropoli revealed he had celiac disease to the Sun Sentinel. Staropoli's story is featured in the book Dear Gluten, It's Not Me, It's You.
Jon Stewart's son – Comedian and talk show host discusses his son's struggles with celiac disease in an interview with Jennifer Esposito.
Sharon Stone – Basic Instinct actress Sharon Stone told the New York Times in March 2018 that she doesn't eat gluten because she has celiac disease.
Nichole Thomas – Tulsa's NBA star Etan Thomas' wife, Nichole Thomas, told Tulsa World she has celiac disease. She also wrote this book about her family's path to wellness.
Anna Vocino – Actress and Eat Happy cookbook author Anna Vocino has celiac disease.
Casey Wilson's son – Actress Casey Wilson told People Magazine that her four-year-old son has celiac disease.
Deborah Ann Woll – True Blood Actress Deborah Ann Woll told Contact Music she has celiac disease.
Gluten-Intolerant Celebrities (Non-Celiac)
Victoria Beckham – It's been rumored that Spice Girl singer Victoria Beckham is gluten-free, but I haven't found a report where she outright confirms it. However, she told Hello Magazine that she follows a strict, clean diet that appears to be gluten-free.
Drew Brees – New Orleans Saints Quarterback Drew Brees says in a press release that he and his wife avoid gluten and dairy due to an "allergy."
Chelsea Clinton – Former first daughter Chelsea Clinton says she avoids gluten, as evident by her gluten-free wedding!
Simon Cowell – TV personality Simon Cowell told reporters he removed gluten, dairy, red meat, and sugar upon doctor's orders. He says he regained his energy and lost 20 lbs as a result.
Miley Cyrus – Singer Miley Cyrus told her fans she's "allergic" to gluten, although you can't technically be allergic to gluten. I assume she meant to say she has a gluten sensitivity.
Zooey Deschanel – New Girl actress Zooey Deschanel says she is gluten intolerant, yet she freely eats gluten on her 2023 show, What Am I Eating?
Dana Delany – Actress Dana Delany reveals that she has been diagnosed with gluten intolerance.
Novak Djokovic – Tennis sensation Novak Djokovic opens up about getting diagnosed with gluten intolerance and how the gluten-free diet made him a better player.
Bethenny Frankel – Reality star Bethenny Frankel tweeted that she was diagnosed with a wheat allergy and leaky gut.
Geri Halliwell – Spice Girl Geri Halliwell says she's gluten intolerant.
Mariel Hemingway – Actress Mariel Hemingway once told the now-defunct Living Without Magazine that she's gluten-sensitive. She has gone on to write a gluten-free cookbook.
Scarlett Johansson – Actress Scarlett Johansson talks about her wheat allergy here. While there are no confirmed reports where the actress says she's gluten-free, she is an investor in the popular gluten-free pizza roll company Snow Days.
Lucy Lawless – Xena: Warrior Princess actress Lucy Lawless told the AP that she's gluten-intolerant.
Debra Messing – Actress Debra Messing says she suffers from multiple food allergies and intolerances and avoids gluten.
Ryan Phillippe – Actor Ryan Phillippe spoke to Men's Health about his wheat intolerance.
Denise Richards – Actress Denise Richards credits the gluten-free diet with helping her manage her enlarged thyroid, later diagnosed as Hashimoto's.
Jessica Simpson – Actress and singer Jessica Simpson once told Elle Magazine she's allergic to wheat.
Maria Shriver – Journalist Maria Shriver once talked about her gluten-free diet with Matt Lauer during a "Trending" segment on Today. The video and article have been removed, and I haven't been able to confirm if she's still on a gluten-free diet.
Patti Stanger – Matchmaker Patti Stanger says she has been following a gluten-free diet since getting diagnosed with Hashimoto's.
Billy Bob Thornton – Actor Billy Bob Thorton says he's allergic to wheat and dairy.
Josh Turner – Country Singer Josh Turner is reportedly "highly sensitive" to gluten and even tweeted that he loves gluten-free cookies.
Dana Vollmer – Olympic swimmer Dana Vollmer says she is gluten intolerant and that going gluten-free helped her win gold. Vollmer's story is featured in the book Dear Gluten, It's Not Me, It's You.
Know of Other Gluten-Free Celebrities?
Leave a comment if you know of any other gluten-free celebrities. I keep this list as up-to-date as possible.
Editor's Note: While I've done my best to provide an accurate list of gluten-free celebrities with celiac disease and who eat gluten-free, I cannot guarantee the accuracy of this list.
PS: If you're new or struggling with a gluten-free diet, I encourage you to learn more about my SIGNATURE Gluten-Free Course.