If you miss ramen noodles now that you've said "goodbye" to gluten, you're in for a real treat with the invention of gluten-free ramen noodles! There are several ways to enjoy gluten-free ramen noodles today, and I even have a few recipes to share to keep your ramen obsession alive and well, sans gluten, of course. This post contains affiliate links. Please see my disclosures.
I thought ramen noodles were a thing of the past for me after getting diagnosed with celiac disease. However, I was sorely mistaken.
Sure, cheap brands of ramen, such as Top Ramen and Maruchan, are no longer for me, but the good news is that there are several gluten-free ramen noodle brands that enable me to enjoy the tasty noodles sans wheat and gluten.
As you may know, gluten is a protein found in wheat, rye, barley, sometimes oats, and in derivatives of these grains. Wheat is the primary ingredient in most ramen noodles you find in grocery stores today.
Gluten-free ramen noodles, however, are typically made from various rice flours and starches, and I'm happy to report that they are still as stringy and delicious as the real thing.
Below I share how you can still enjoy ramen noodles today while staying true to your gluten-free diet.
Gluten-Free Ramen Noodle Brands
There are several brands that make gluten-free ramen noodles. You'll find these brands have a few things in common:
They are made with rice flours and starches vs. wheat.
Few come with a seasoning packet, which you mainly find in the mainstream gluten-y ramen brands.
They contain a cleaner ingredient list and you'll rarely find ingredients such as MSG in a gluten-free ramen noodle brand.
They are harder in texture. Wheat-based ramen noodles can be easily broken and even enjoyed uncooked, but gluten-free ramen noodles are harder and cannot be enjoyed without boiling. (I remember crushing a package of ramen noodles and strewing it over a salad. You cannot do that with gluten-free ramen noodles.)
Let's take a closer look at the different brands of gluten-free ramen noodles available today.
(1) Lotus Foods Rice Ramen
The leading brand of gluten-free ramen noodles is Lotus Foods. The company makes a millet and brown rice ramen that tastes delicious in broths and as a stand-alone dish.
You can Lotus Foods ramen noodles in individually wrapped nests, complete with a soup packet, or, if you buy the millet and brown rice bag in bulk at Costco, you simply get the ramen noodle squares with no soup seasoning packet.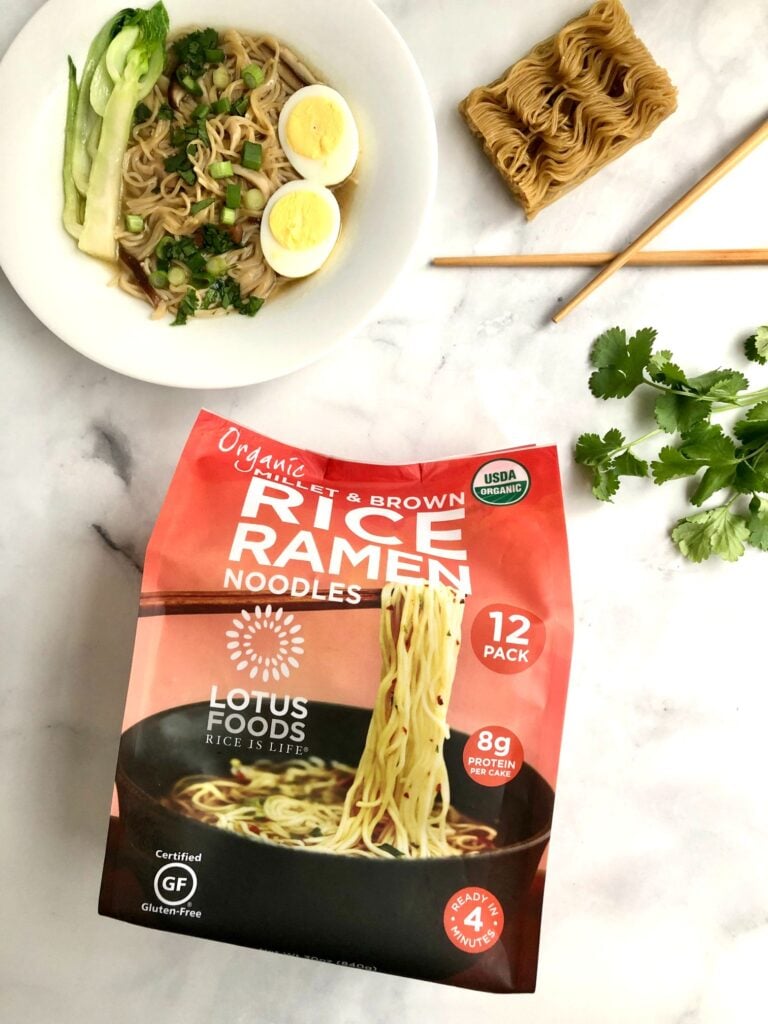 The individually wrapped noodles plus soup packets come in different flavors, including:
Millet and Brown Rice with a miso soup packet
Buckwheat Shitake with a mushroom soup packet
Forbidden Rice with a white miso soup packet
Jade Pearl with a wakame miso soup packet
Purple Potato with a turmeric curry soup packet
I have created a delicious Gluten-Free Ramen Noodles Soup recipe using Lotus Foods brown rice noodles. The soup is delicious and filling, and it definitely tastes better than anything you can dream up from a bag and seasoning packet.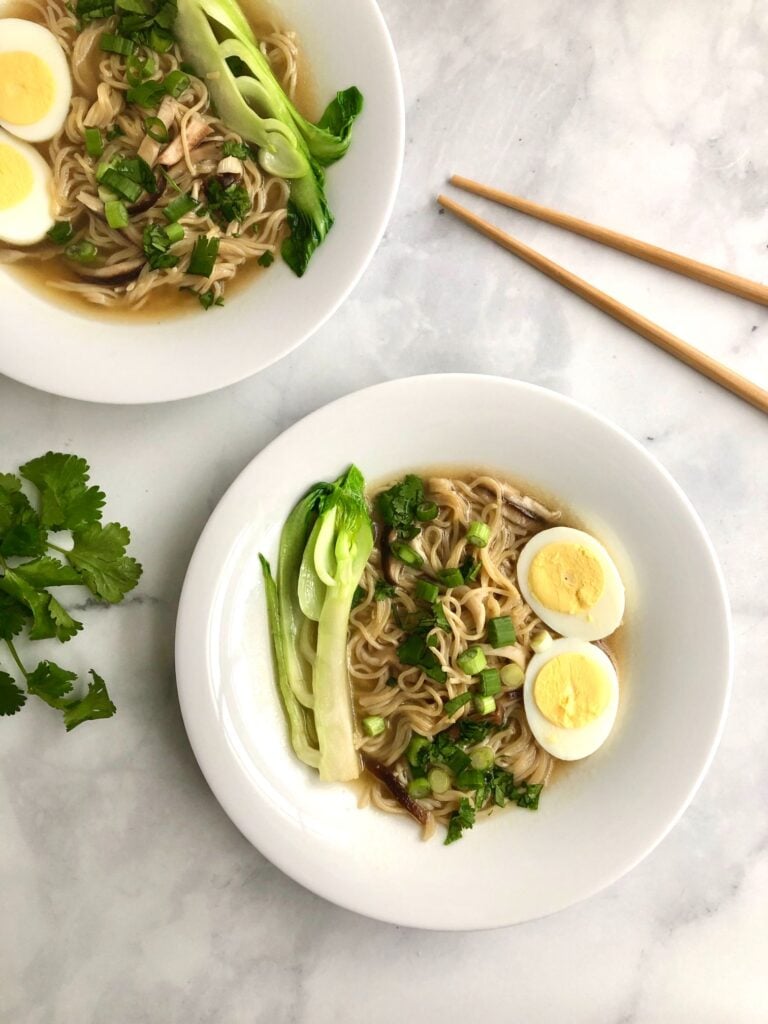 I also use the Lotus Foods brown rice ramen when I make my Crispy Tofu and Rice Ramen, which I smother in a savory Asian sauce. Delicious!
Lotus Foods also offers a rice ramen in a cup soup alternative in flavors such as spicy kimchi and garlicky veggie.
(2) Thai Kitchen
Another brand making gluten-free ramen noodles is Thai Kitchen. The company makes individually ramen soup packages to offer that instant ramen soup appeal.
These ramen soups come in a variety of flavors, including:
Lemongrass and Chili
Garlic and Vegetables
Spring Onion
All you have to do to prepare one is to add water and then microwave it for three minutes.
Thai Kitchen's packaging looks the most like the ramen noodle packages you've seen in the past, but you'll still need a cup or bowl + hot water in order to make it.
(3) Pamela's
You might remember enjoying Cup O'Noodles Soup from a brand called Nissin Foods. You'd simply fill the cup with hot water, and in minutes you have a ramen soup to enjoy on the go.
While you can't enjoy Cup O'Noodles anymore, per se, Pamela's makes a delicious gluten-free ramen soup in a cup. It's portable, tasty, and provides the perfect emergency or on-the-go meal.
Each cup contains dried rice noodles, a seasoning packet, and a dehydrated vegetable packet, and you can choose from three flavors:
You can purchase all flavors on Amazon and I recommend stocking up!
I think these are perfect for taking on vacation with you or enjoying them for lunch at work or school. All you need to add is hot water and a spoon.
(4) Big Green Organic Food
Big Green Organic Food makes a variety of gluten-free ramen noodles using a variety of gluten-free flours. One of the company's most popular products is its sorghum ramen, and it also produces millet ramen, brown rice ramen, black rice ramen, and buckwheat ramen.
Remember, buckwheat, alone, is a gluten free grain and it's often used to make Japanese soba noodles. Soba noodles made from buckwheat are gluten free, unless the manufacturer adds wheat flour too (which they often do). Read labels carefully.
(5) Mr. Lee's Noodles
Mr. Lee's Noodles are also an instant cup of noodles substitute made with gluten-free rice ramen and a variety of authentic Thai flavors, including:
Mr. Lee's noodles are not only free from gluten, but also free from artificial colors, preservatives, flavors, and MSG, and uses 100% recyclable packaging and no plastic seasoning packet (the seasoning is in the cup already).
How to Make Homemade Gluten-Free Ramen Noodles
I looked into how to make ramen noodles from scratch… and it left me scratching my head. I cannot imagine duplicating that process to make gluten-free ramen noodles – no way!
Ramen noodles are more alkaline than regular pasta. This means they have a higher pH, which gives the noodle the taste, color, and texture you're accustomed to.
To make wheat-based ramen noodles, you need a high-protein flour, which means a high-gluten flour. Alternatively, some people add additional vital wheat gluten to make their ramen noodles hold together well. Well, we can't do that in gluten-free cooking so the point is moot!
Additionally, you need sodium carbonate to alkalize the noodles. If you live near an Asian supermarket, you should be able to easily find some sort of alkaline salt (known as "kansui") to use.
Of course, will also need a pasta machine or cutter to cut thin spaghetti-like strands of the ramen.
This blogger attempted to make homemade gluten-free ramen noodles, and was successful. But man does it look like a lot of work!
I decided this arduous task was best left to the experts, and I simply buy gluten-free ramen at the supermarket without want or desire to make my own.
Recipes with Ramen
Here are a couple of recipes using gluten-free ramen noodles.
Gluten-Free Ramen Noodle Soup: Upgrade your ramen noodle soups with this delicious, filling and comforting gluten-free ramen noodles soup recipe.
Crispy Tofu and Rice Ramen: This delicious crispy tofu and rice ramen is topped with a savory Asian sauce. Yum!