Consider this post your ultimate guide to gluten-free tortillas and wraps. I'll dish on all the gluten-free tortilla brands as well as share some of my favorite blogger recipes with you should you decide to venture out and make your own tortillas or wraps at home. This post contains affiliate links. Please see my disclosures.
Many staple foods are made with flour tortillas including tacos, quesadillas, burritos, enchiladas, sandwich wraps, and more. It's hard to enjoy a Mexican meal without the presence of tortillas, and sandwich wraps aren't the same without the wrap.
While you can't eat wheat flour tortillas (aka, gluten) on the gluten-free diet, you can still eat tortillas; you just have to look for a gluten-free tortilla option instead.
In this post, I'll share with you the many gluten-free tortilla brands available at today's grocery stores (and which are the best!), as well as share several gluten-free tortillas recipes created by some of my favorite gluten-free bloggers.
Gluten-Free Tortilla Brands
This is a comprehensive list of gluten-free and grain-free tortilla and wrap brands. If this list is missing your favorite brand, please leave a comment and I will be sure to add it.
Mikey's (DISCONTINUED): Mikey's is my go-to grain-free tortilla brand. In full disclosure, I have partnered with this brand for the past year because I love these tortillas so much.
Mikey's grain-free tortillas are bendy and work well in sandwich wraps, burritos and as the "dough" in my shortcut gluten-free empanadas. They're made with cassava flour and other grain-free ingredients.
Just be sure to heat a tortillas before bending it so it becomes soft and stretchy.
Siete: Siete tortillas are comparable to Mikey's tortillas and also come frozen. They are made from a combination of cassava flour, almond flour, and other grain-free ingredients. I love this brand as well. Be sure to heat the tortillas to make them bendy and soft, although you can expect them to break under pressure.
Mission: Mission is a brand you might recognize from your pre-celiac or gluten-free days. The company also makes gluten-free soft taco tortillas that are shelf stable (whereas Mikey's and Siete brand are purchased frozen).
Mission tortillas are flexible with minor breakage when stressed. The spinach herb tortillas works well for a delicious lunch wrap. These tortillas are sold shelf-stable and found most commonly in stores next to their gluten-y Mission tortillas.
Toufayan Bakery: The reviews for Toufayan tortillas on Amazon are pretty good. These gluten-free tortillas are made from a combination of rice flours and starches. Most reviews say the wraps bend without breaking and that they taste good in sandwich wraps.
One reviewer noted that Toufayan didn't have a gluten-free after taste, like other tortillas, but that it definitely didn't taste like a wheat flour tortilla.
Food for Life: I have not tried Food for Life brown rice tortillas and am not sure I will. The reviews on Amazon don't shine the gluten-free tortillas in a good light. Have you tried?
Caulipower: Caulipower makes gluten-free cauliflower tortillas made from, you guessed it, cauliflower plus corn masa. The tortillas come frozen and must be heated before enjoying. A lot of reviewers say these tortillas break easily and taste more like corn tortillas vs. flour tortillas.
Potapus: Potapus tortillas are made from potatoes – clever right? They also include cassava flour and garbanzo bean flour in the full ingredient list. I found them in the freezer section at Sprouts. Reviewers say the potato tortillas are pliable and that you can taste the sweet potato.
The Real Coconut: The Real Coconut makes large gluten-free wraps made from organic coconut meat, coconut water, coconut flour and cassava flour. The reviews are a mixed bag – some say they like it while others commented that the wraps don't hold together well.
BFree: These BFree wraps come in three varieties – sweet potato, multigrain and quinoa – and work best as a sandwich wrap. I enjoy them and they work well if you smear them with avocado. Many reviewers on Amazon describe them as tasty. I could not find them at my local Sprouts. (no picture)
Rudi's: Rudi's also makes gluten-free tortilla wraps, but they are currently unavailable on Amazon. I have seen them at Costco, however. They are sold shelf stable but must be stored in the freezer to preserve their freshness once opened.
egglife: These "tortillas" by egglife are really egg whites with a little xanthan gum to make them bendy. You can find them in several locations, including in Sprouts and on Amazon. These are perfect for anyone looking for tortilla or wrap substitute that is free from gluten, dairy, and sugar, and is keto- and paleo-friendly too. Reviewers on Amazon suggest warming them up, and even making them crispy by frying them. Some reviewers say the egg wraps taste "eggy" while others say it doesn't at all. I guess you'll have to try them yourself to find out.
Gluten-Free Tortillas Recipes
If you love tortillas and want to try your hand at making your own, give one of these hand-picked recipes a try.
Before making your own tortillas from scratch, consider investing in a tortilla press. Using a press will make sure your tortillas are evenly flattened and perfectly circular in shape.
Cassava Flour Tortillas by Good For You Gluten Free: These simple cassava flour tortillas are super bendy and doughy thanks to the invention of cassava flour. They work perfect in tacos.
Gluten-Free Tortillas Made with King Arthur's 1:1 Gluten-Free Flour: You only need flour, oil and water to make these gorgeous gluten-free tortillas by Erin at Meaningful Eats.
Almond Flour Tortillas by Allergy-Free Alaska: Mēgan of Allergy-Free Alaska created these paleo and grain-free tortillas using nutrient-dense almond flour. The recipe requires a few more ingredients than a traditional tortilla, but it's worth the effort if you're following a paleo diet and still want to enjoy yummy tortillas.
Grain-Free Cauliflower Tortillas by Gluten-Free on a Shoestring: These savory cauliflower tortillas are made with just three ingredients: cauliflower, egg and grated parmesan cheese. They're low carb, grain-free and super bendy too.
Gluten-Free Tortillas Made with Bob's Red Mill 1:1 Flour by Gluten Free Palate: These soft and bendy gluten-free tortillas are made with a few simple ingredients and a tad of shortening to help hold the dough together.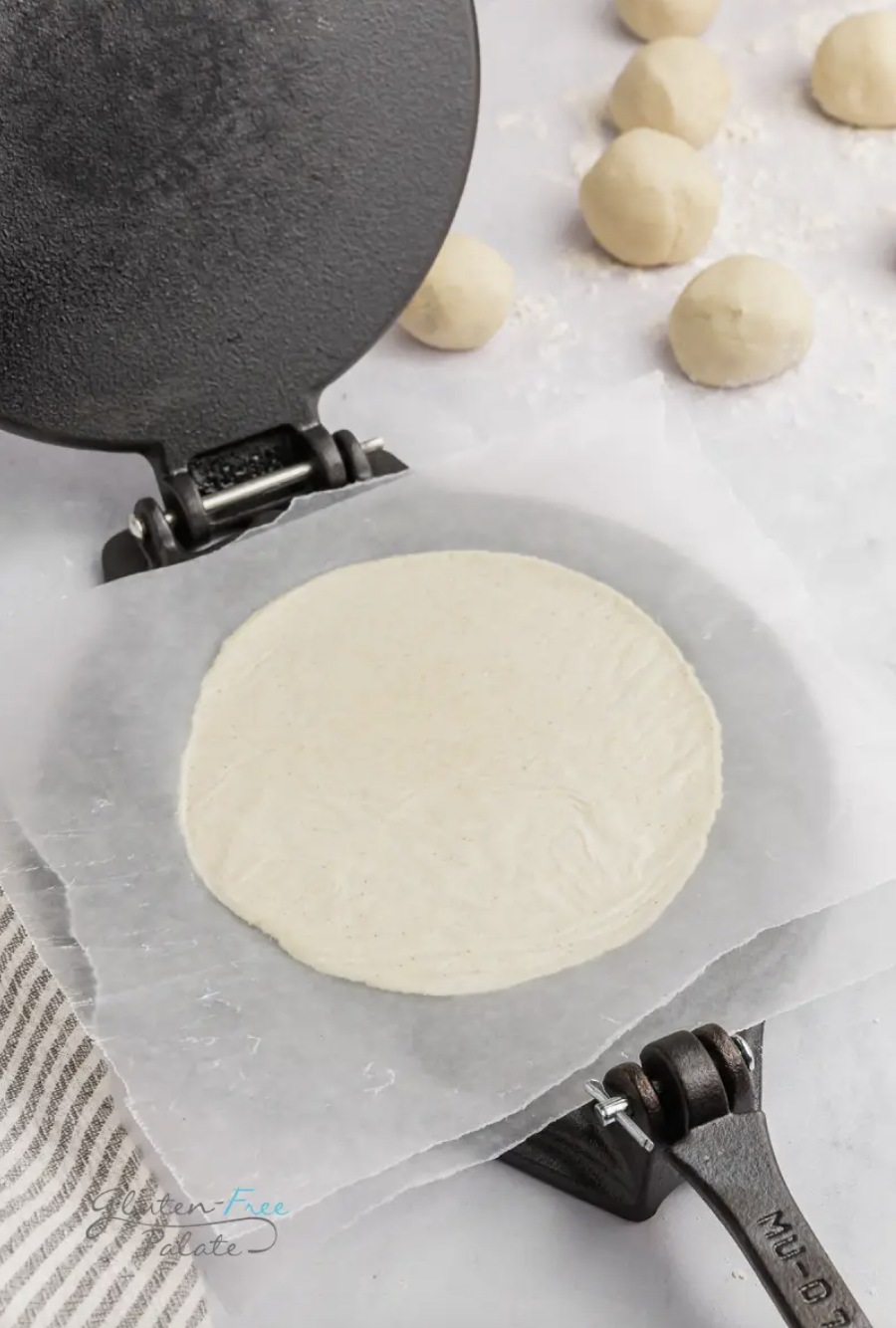 Coconut Flour Tortillas by Wholesome Yum: These tasty coconut flour tortillas are low-carb, made with only three ingredients, and are keto-friendly too. Recipe by Maya from Wholesome Yum.
Corn Tortillas by Muy Bueno Cookbook: My friend Yvette knows how to cook authentic Mexican cuisine, and has a successful blog and cookbook to prove it. Her corn tortillas are authentic and delicious and made with only three ingredients: masa harina (corn flour), salt, and warm water. (Muy Bueno is not a dedicated gluten-free blog.)
Simple Grain-Free Tortillas by A Clean Bake: A combination of tapioca flour, coconut flour, egg, salt and almond milk will net you this delicious grain-free tortilla to enjoy for your next taco night.
All photos used with permission.