In this post, I discuss how to determine if a cooking oil is gluten-free, as well as what to consider when it comes to an oil's smoke point, packaging, production, taste, and environmental impact. This post contains affiliate links. Please see my disclosures.
I've received a few questions from readers about cooking oils and whether or not they're safe for someone on a gluten-free diet. Gluten is a protein found in wheat, rye, barley, and sometimes oats and must be avoided by people with celiac disease and gluten intolerance.
Here's what you need to know about the potential for gluten in cooking oils:
(1) Cooking Oil is Almost Always Gluten Free: Natural cooking oils are derived from naturally gluten-free sources and are almost always gluten-free. Olive oil, for example, is derived from olives, and grapeseed oil is derived from grapes.
(2) Cross Contamination, While Rare, Can Occur: Due to the possibility of cross-contamination during production, some cooking oils could come in contact with gluten. While this is extremely rare, people with gluten disorders should check labels carefully. If there's a strange ingredient in the mix, avoid that oil and choose a pure, single-ingredient oil instead.
It's not clear if one oil brand, Spectrum, experiences cross-contamination during the manufacturing process since the company also produces products that contain wheat germ. Spectrum told me in an email that any allergens would be disclosed on the ingredient label and that the company employs good practices to separate allergens in its facility.
(3) Cooking Sprays are OK; Baking Sprays are Not: Most cooking sprays, like Pam, are gluten-free. You can watch me test Pam for hidden gluten in this article. However, Pam's Baking Spray and Baker's Joy Cooking Spray contain wheat flour. Read labels carefully.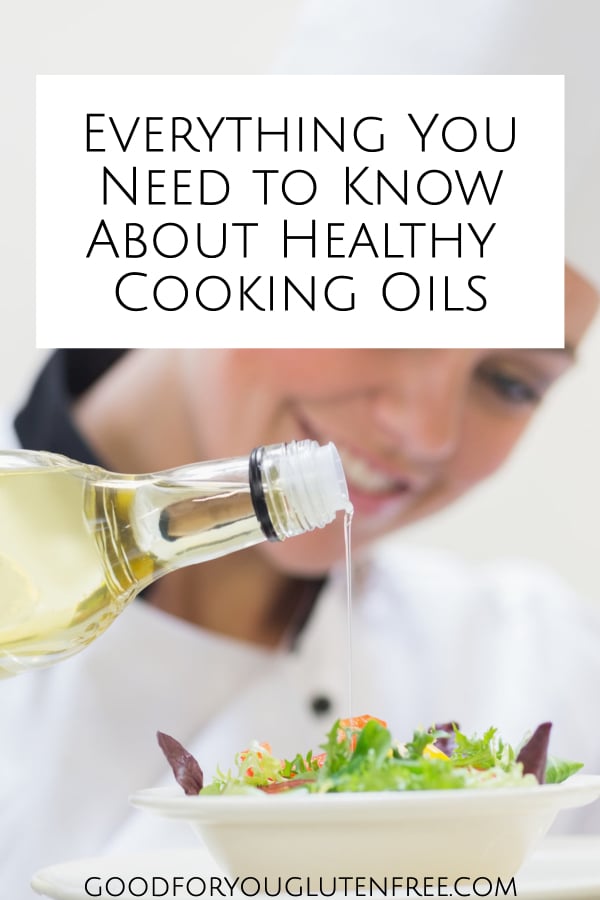 Oil Safety 101
It struck me that most people don't understand how to cook with various oils. Many oils have different smoke points, which means some are meant for drizzling on a salad, while others are safe for deep frying.
Below are five things to consider when purchasing cooking oil:
(1) Smoke Point: The smoke point is the temperature at which the oil breaks down and begins to smoke. When it smokes, the heat breaks down the fat and releases free radicals and toxic smoke that, when eaten or inhaled, can be considered carcinogenic. (Source: Business Insider). Canola and avocado oil have high smoke points, which means they're safe when frying foods at a high temperature. However, olive oil shouldn't be heated above 300º F.
Below is the smoke point of common gluten-free cooking oils: (Source: Huffington Post)
Avocado Oil: 500°F
Canola Oil: 400°F
Coconut Oil: 350°F
Corn Oil: 450°F
Extra Light Olive Oil: 468°F
Extra Virgin Olive Oil: 320°F
Grapeseed Oil: 392°F

Peanut Oil: 450°F

Rapeseed Oil (i.e., Canola): 400º F
Safflower Oil: 450°F
Sesame Oil: 410°F
Soybean Oil: 450°F
Sunflower Oil: 450°F

Virgin Olive Oil: 420°F

Walnut Oil: 320°F
I use avocado oil for frying foods, like my copycat Krispy Kreme donuts. Chosen Foods is one of my favorite gluten-free cooking oils. You can get it on Amazon or at some Costco locations. I use extra-virgin olive oil for drizzling over salads, pasta dishes, and inside dips, like my lemon dill hummus.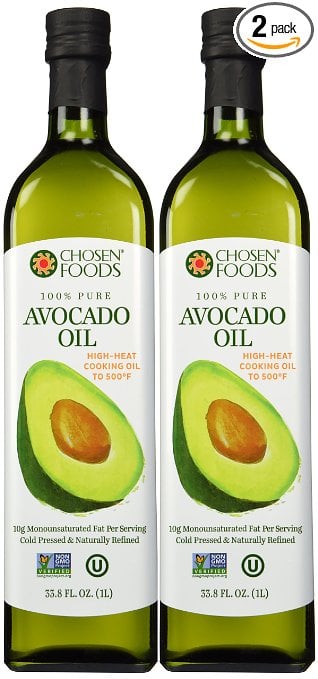 (2) Packaging: You'll also want to consider how the oil is packaged. Oil should be treated like a fine wine. The best cooking oils come in darkened glass bottles vs. clear plastic bottles. The glass deters plastic bits from leaching into your oil, and the darkened bottle protects the oil from going rancid. Light, heat, and oxygen will turn your oil rancid more quickly, so it's essential to store your oils in dark containers away from sunlight and heat.
(3) Production: When oil is cold pressed, the manufacturer uses pressure vs. heat to extract the oil. Some oils are expeller pressed. This process exposes the fruit or seed to extreme pressure (which may or may not involve heat). Remember, heat denatures the oil and alters its nutritional value. Cold-pressed oils offer the highest nutritional value.
(4) Taste: Oil can be a flavor enhancer in many foods. A drizzle of olive oil on pasta or a salad can make the salad sing, adding a distinct and delicious flavor to the dish. A lot of "healthy" baked goods recipes contain coconut oil. While it's an excellent oil for baking, I don't like the taste of it. Other oils, like sesame oil, have a deep nutty flavor and enhance the taste of Asian cuisine. However, I wouldn't add sesame oil to my raspberry cupcakes. The sesame oil would overpower the sweetness of the dessert.
(5) Sustainability: Any conscientious shopper should be aware of the impact food processing has on the planet. While I'm not an expert on this specific topic, I care deeply about the world and want to do what's right for the earth. Palm oil, for example, contributes to the deforestation of rainforests. Even beloved avocado, coconut, and olive oil have sustainability issues. Look for environmental claims, certifications, and guarantees from credible organizations on a product's label when shopping for various oils.
Will Cooking Oil Adversely Impact Your Health?
While gluten-free cooking oils (and all oils) come from seeds, nuts, vegetables, and fruits, all oils are considered fats. However, as we know today, not all fats are bad for you. Your body needs fat to function well.
Omega-3 fatty acids help control inflammation in the body and can help maintain good health. If you're on a gluten-free diet and suffer from various gut ailments, aches, pains, autoimmune diseases, or inflammation, I suggest consuming heart-healthy oils containing omega-3 fatty acids like olive oil and avocado oil. Unrefined coconut oil, while not a significant source of omega-3s, is also a healthy fat and offers a variety of nutritional benefits.
On the other end of the spectrum, omega-6 fatty acids, while they are also essential fats, are overconsumed by Americans, and too many omega-6 fatty acids in one's diet can lead to inflammation and disease. Oils high in omega-6 fatty acids include corn, sunflower, safflower, cottonseed, and soybean.
Avoid cheap, refined oils such as canola, corn, soy, and sunflower when cooking at home and eating out (these cheap oils are used in fast food restaurants).
The Bottom Line on Gluten-Free Cooking Oils
When shopping for gluten-free cooking oils, always check the labels and with the manufacturer directly to ensure it's gluten-free, especially if you're concerned about a specific ingredient or additive.
Use different oils for different purposes (frying vs. drizzling), and consider how the oil is packaged, produced, tastes, and impacts the environment.
Additional Reading