In this post about gluten-free cooking oils, you'll learn about various cooking oils, smoke points and which are and aren't gluten free. This post contains affiliate links. Please see my disclosures.
I've received a few questions from readers about cooking oils, and whether or not they are gluten free and safe for someone to consume on a gluten-free diet.
I'd like to take a little time in this article to share some of my research with you.
Natural cooking oils are derived from naturally gluten-free sources.
Olive oil, for example is derived from olives, which are naturally gluten free, and grapeseed oil is derived from grapes, which also are naturally gluten free.
However, in our over-processed, packaged-food era, cooking oils may not always be 100 percent gluten free. Reading labels has never been so important.
When reading a cooking oil ingredient label, be on the lookout for strange ingredients. For example, if you see a suspicious ingredient (particularly one you cannot pronounce), avoid the cooking oil altogether. Good, quality oils don't put in any fillers and will be minimally processed.
Related Reading: Decoding 8 Apple Cider Vinegar Health Claims
That said, I want you to be a good oil consumer, both from a gluten-free and health conscientious consumer perspective.
Below are some things to consider before cooking or baking with gluten-free cooking oils.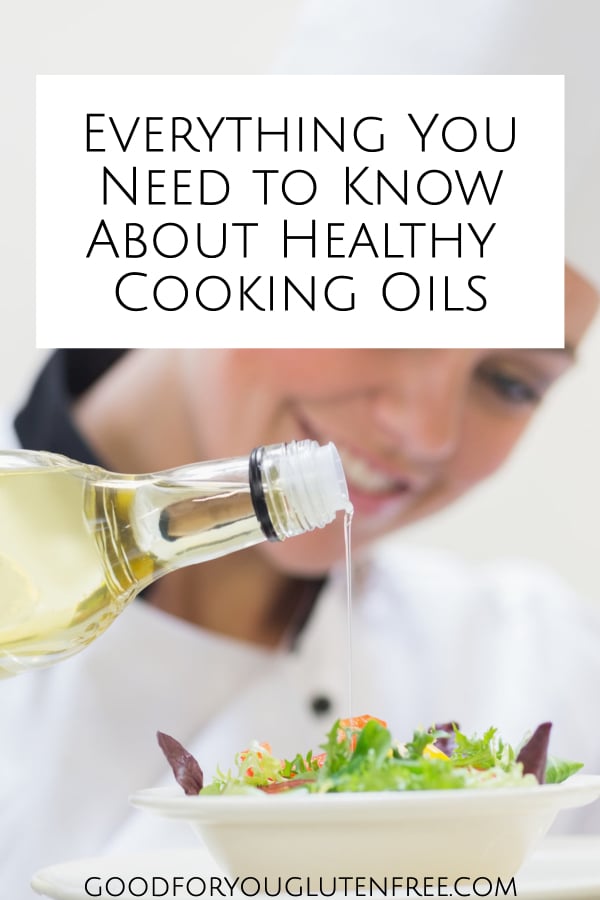 Is the Oil Gluten Free?
When looking at oils, first and foremost you want to make sure they are gluten-free cooking oils and produced in a clean way with no risk of cross contamination.
As I was doing a little research online on this topic, I found a forum on Celiac.com about some vegetable oils coming in contact with gluten during the manufacturing process.
Spectrum brand oils are often found in speciality grocers but it's not clear if there is cross contamination during the manufacturing process, as the company also produces wheat germ. Here is the response I got from Spectrum's (via email):
Thank you for taking the time to contact us regarding our Spectrum® Products. We consider gluten to be in the following, barley, bulgur, couscous, durum, graham flour, kamut, malt, rye, semolina, spelt, triticale and any other types of wheat. We do not consider oat products to be gluten free due to the fact that studies are needed to determine the long- term safety of oat consumption. The issue of cross contamination with oat and wheat remains a concern in North America.
Consumer health and safety is our number one concern. We do not have lists of products that are specifically considered to be gluten free. Reading the label is the best way to check for the presence of ingredients which contain gluten. If gluten is a major ingredient, it will be specified in the ingredient list. For consumers concerned about the presence of trace amounts of gluten, we suggest avoiding products that include natural flavors or spices.
Hain Celestial Group products that make a gluten-free claim will carry the triangular Gluten-Free symbol, be labeled gluten-free, or specify Gluten Free certification by GFCO. To learn more about the wide variety of gluten free foods we offer please visit www.glutenfreechoices.com. We hope you find the information, recipes and articles to be a useful resource.
While we do not have an allergen free facility, we do have very strict allergen controls and follow excellent manufacturing practices to minimize any cross contact possibilities.
The Hain Celestial Group's labeling declares major allergens (peanuts, soybeans, milk, eggs, fish, crustaceans, tree nuts, and wheat) and we follow the U.S. FDA's regulations. We recognize the serious nature of the allergen issue and we strive to minimize risk.
Both major and minor ingredients of all products, as well as all processing procedures and equipment, are closely scrutinized and all potential allergen issues as determined by the Hain Celestial Group are declared on our labeling.
We assure you that strict manufacturing processes and procedures are in place and that all of our manufacturing facilities follow rigid allergen control programs that include staff training, segregation of allergen ingredients, production scheduling, and thorough cleaning and sanitation.
I believe every gluten-free consumer can make their own decisions about how they want to proceed with products, especially after having a discussion with the manufacturer.
On top of worrying about gluten in cooking oils, also beware of gluten in some cooking sprays.
Pillsbury Baking spray and Pam Baking spray, for example, both contain wheat flour and/or barley flour – crazy, right?!? These definitely should be avoided, but you need to check the product label to know what's really inside these products.
Is the Cooking Oil Safe?
In this next section, I want to make sure you consume those gluten-free cooking oils in the most healthful way.
To do this, you much consider a number of factors when selecting your cooking oil.
First, consider the smoke point of the oil you want to use.
The smoke point is the temperature at which the oil breaks down. For example, canola and avocado oil have high smoke points, which means you can use these oils to fry your foods at a high heat.
Cold-pressed and raw cooking oils tend to retain their natural flavors, while unrefined oils have lower smoke points than refined oils and are better for drizzling over a salad than for deep frying.
You don't want your oil smoking because the heat breaks down the fat and then it starts to release free radicals and toxic smoke that, when eaten or inhaled, can be considered a carcinogen. (Source: Business Insider). Olive oil above 300 degrees begins to oxidize and decompose.
Related Reading: 19 So-Called "Healthy" Foods that Aren't Even Healthy
Here is the smoke point of a few commons gluten-free cooking oils that you might use at your house:
Olive Oil: Smoke point depends on type of olive oil. Extra virgin oil is 320°F, Virgin is 420°F, Extra Light is 468°F
Canola Oil: 400°F
Peanut Oil: 450°F
Grapeseed Oil: 392°F
Sunflower Oil: 450°F
Safflower Oil: 450°F
Coconut Oil: 350°F
Sesame Oil: 410°F
Corn Oil: 450°F
Walnut Oil: 320°F
Soybean Oil: 450°F
Avocado Oil: 500°F
(Source: Huffington Post)
I personally use avocado oil and don't mind the higher price point. I use it to fry, saute and as a substitute for butter in baked goods.
Chosen Foods brand is one of my favorite gluten-free cooking oils – you can get it on Amazon or at some Costco stores too.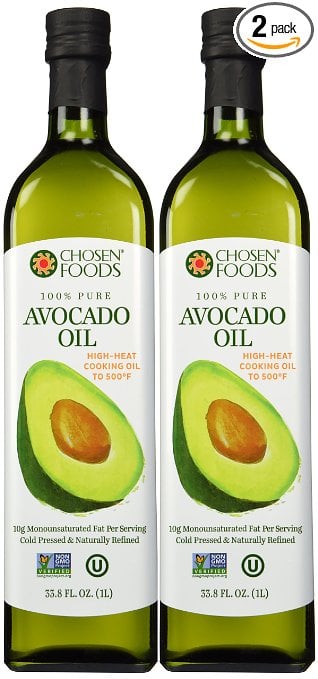 You may want to use a different oil when frying at a high heat than you'd use for drizzling over pasta. For example, you might want to use avocado oil for deep frying gluten-free donuts, coconut oil for baking baked goods at 350 degrees, and extra virgin olive oil for drizzling atop your salads (no heat).
Second, consider the oil's container.
Oil should be treated like a fine wine. The best cooking oils come in darkened glass bottles vs. clear plastic bottles. The glass deters plastic bits from leaching into your oil, and the darkened bottle protects the oil from going rancid.
Light, heat and oxygen will turn your oil rancid more quickly, so it's important to protect your oil if you want it to last.
Always store your oils in dark containers and away from sunlight and heat.
Third, consider how the oil was extracted from the seed, nut or fruit.
When an oil is cold pressed, the manufacturer used pressure vs. heat to extract the oil. Remember, heat will denature your oil and alter the nutritional value.
Some oils are expeller pressed. This process exposes the fruit or seed to extreme pressure (which may or may not involve heat).
Look for words like "cold pressed" when purchasing cooking oil.
Forth, consider the taste.
Oil can be a flavor enhancer in many foods. A drizzle of olive oil on pasta or a salad can make the salad sing, adding a distinct and delicious taste! It's important to find an oil that healthy, and one that you like the taste of.
Personally, I don't like the taste of coconut oil, so I don't use it (but I wish I liked it – it's a great choice). I find that avocado oil has a great flavor and can be used in high heat cooking, so it's quite versatile!
You may also want to experiment with something like sesame oil when making Asian food. It has a distinct Asian flavor to it.
Finally, consider the environment.
Any conscientious shopper should be aware of the impact food processing has on our precious planet. While I am not an expert on this specific topic, it is something I care deeply about.
For example, palm oil production is creating deforestation in rainforests, and most canola, corn and soybean oils are produced with genetically modified organisms.
Canola oil is made almost entirely of genetically alternated materials and is Roundup resistant.
Related Reading: Join the 7-Day Heal Your Gut Challenge
Will the Cooking Oil Adversely Affect Your Health?
While gluten-free cooking oils (and all oils) come from seeds, nuts, vegetables and fruits, all oils are considered fats. However, as we know today, not all fats are bad for you. In fact, your body needs fat to function properly.
Omega 3 fatty acids help control inflammation in the body and can be very helpful in maintaining your health. If you're on a gluten-free diet and suffer from various gut ailments, or even if you have aches and pains or any sort of autoimmune disease or inflammation, I suggest using oils with higher levels of omega 3 fatty acids. Your gut is already inflamed and you don't want to add to your digestive fire by using oils that fuel that fire.
Oils with omega 3 fatty acids include extra virgin olive oil, avocado oil and even butter. Many people take a fish oil supplement (I don't know anyone who cooks with fish oil though), which is a great way to enhance your health and ensure you get plenty of omega 3s in your diet. (I take this exact fish oil daily.)
Unrefined coconut oil, while not a significant source of omega 3s, is a healthy fat and offers a variety of nutritional benefits making it worthwhile to consider using in your gluten-free cooking and baking adventures.
Related Reading: 10 Tips to Breaking Your Sugar Addiction
Omega 6 fatty acids, on the other hand, are also essential fats, but Americans consume way too many of these fats.
Too many omega 6s fatty acids lead to the creation of inflammation in the body. Oils high in omega 6s include vegetable oils like corn, sunflower, safflower, cottonseed and soybean oils. Even canola oil contains way more omega 6s than omega 3s – and 90 percent of canola oil is genetically modified too.
I recommend avoiding all cheap, refined oils such a canola, corn, soy and sunflower oil. These oils are more often than not bleached and deodorized, rending these oils colorless, odorless, tasteless, and nutritionally devoid.
The Bottom Line on Gluten-Free Cooking Oils
When shopping for gluten-free cooking oils, always check the labels and with the manufacturer directly to ensure it's gluten-free (especially if you're concerned about a specific ingredient or additive).
As mentioned, look for gluten-free cooking oils that are appropropriate to what you're cooking, as well a oils that are cold pressed, come in dark, glass bottles and are unrefined.
Additional Reading