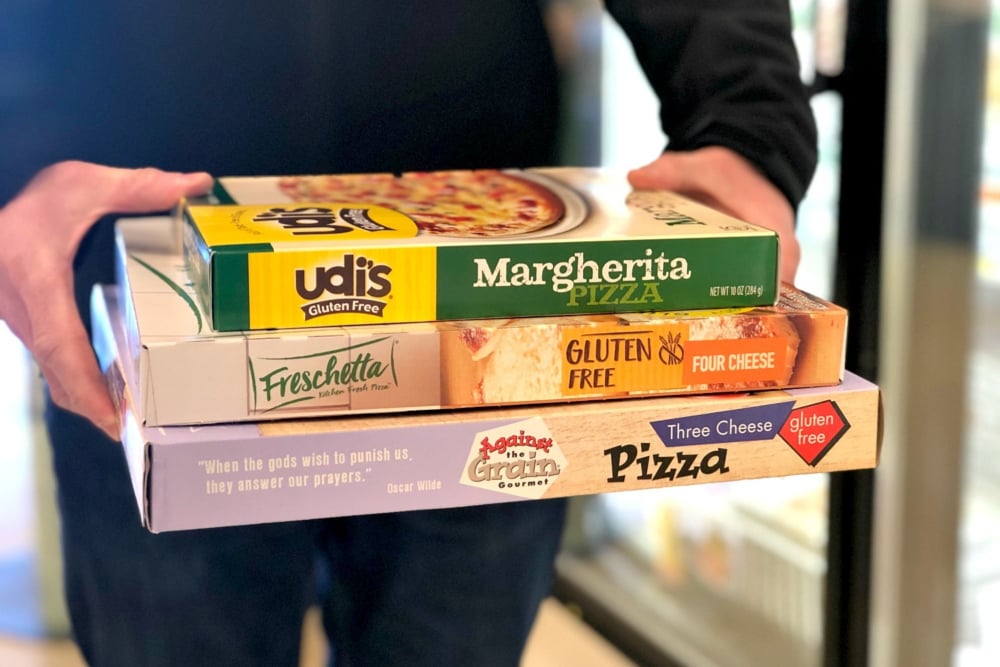 This post features a list of the best gluten-free frozen pizza. I rank the best by taste, and test every single gluten-free pizza for hidden gluten with my Nima Sensor. This post contains affiliate links and was last updated February 2022. Please read my disclosures.
If you have celiac disease or gluten sensitivity and can't eat gluten, chances are you dearly miss pizza.
Without gluten, a protein found in wheat, rye, barley and sometimes oats, pizza just isn't the same.
If you can't eat gluten, but you still want to eat pizza, you have few options:
Option #1: You can make your own pizza at home. I have two incredible pizza recipes on my website, including my simple gluten-free pizza crust that is made with Bob's Red Mill 1-1 Gluten-Free Flour. This is an easy-to-find flour and most people already have it on hand.
I also recommend two gluten-free pizza mixes that you can use to make your own pizza crust at home. The first one is the pizza mix from Lorraine's Gluten Free. This mix will result in a soft and doughy pizza crust, one that my family loves and I make time and time again.
The second pizza mix I recommend is Caputo's gluten-free pizza mix, which uses a gluten-free flour blend made with gluten-free wheat starch. It gives your pizza an incredible texture, feel and smell. If you have a wheat allergy, do not use Caputo's pizza mix.
I also love the book, No Gluten, No Problem Pizza, but the recipes are a bit complicated. That said, you'll learn how to make a variety of pizzas including New York, Chicago and Detroit-style pizza.
Option #2: You can eat pizza at a restaurant, but buyer beware, most restaurants don't know how to do gluten free right. In fact, few restaurants prepare their gluten-free pizzas in a manner safe for someone on a strict gluten-free diet.
Cross contamination is always a risk when eating pizza outside of your home. Cross contamination occurs when a gluten-free pizza comes in contact with gluten at some point during the preparation process.
One restaurant that offers certified gluten-free pizzas is California Pizza Kitchen, although even this restaurant gets gluten free wrong at times. I also found the pizza at Mellow Mushroom to be safe; it tested gluten free with my Nima Sensor too.
If you live in Colorado (like me), Beau Jo's makes a pretty good (and safe!) gluten-free pizza.
Option #3: The easiest way to enjoy pizza at home is by purchasing a frozen gluten-free pizza. There are many options these days, and some really do taste great. Gluten-free pizza has come a long way, baby!
I searched Safeway, King Soopers, Sprouts, Costco, Trader Joe's, Natural Grocers, Whole Foods and Lucky's Market to find 15 frozen gluten-free pizzas to try and feature in this article.
Please note I purchased, tested and ate them all (with the help of my family, of course). These are my honest opinions, which is, I admit, completely subjective.
What are the Best Gluten-Free Frozen Pizza Brands?
Below I share 15 gluten-free frozen pizzas, all which I tested for hidden gluten with my Nima Sensor. The Nima Sensor is a portable gluten detecting device that tests food for hidden gluten.
Please note that in May 2020, Nima Sensor went out of business (temporarily). It's now back in business (as of August 2021) and you can purchase a Nima Sensor at NimaPartners.com.
After eating 15 different pizzas with my family, I've ranked my favorite frozen pizzas below. All pizzas were judged based on taste, texture and visual appeal.
#1: Freschetta Gluten-Free Pizza
The best tasting frozen gluten-free pizza is Freschetta gluten-free pizza. This pizza is certified gluten-free by the National Celiac Association, so I had a feeling Nima would not detect gluten (it didn't).
I love the overall taste of this pizza. The sauce is savory and it has a wonderful pizza flavor. The crust is thin but still doughy. On top of it all, this pizza offered a generous portion of cheese.
I baked it according to the instructions on the box and it baked up perfectly in the oven. No complaints here – this pizza is the real deal.
#2: Etalia Pizza
The next pizza on my "best" list is Etalia. This pizza tastes the most like pizza you remember eating before you went gluten free.
The crust is fresh-rising, which means as the pizza bakes, it begins to leaven, making it soft and chewy (other frozen gluten-free pizzas do not have leavening agents, like yeast, to create this same effect).
Etalia is one of the best frozen pizzas I've had and feels most like an artisan pizza than the others. The dough comes raw dough with beautiful toppings from the start. Just look at how beautiful this pizza looks even before it's cooked!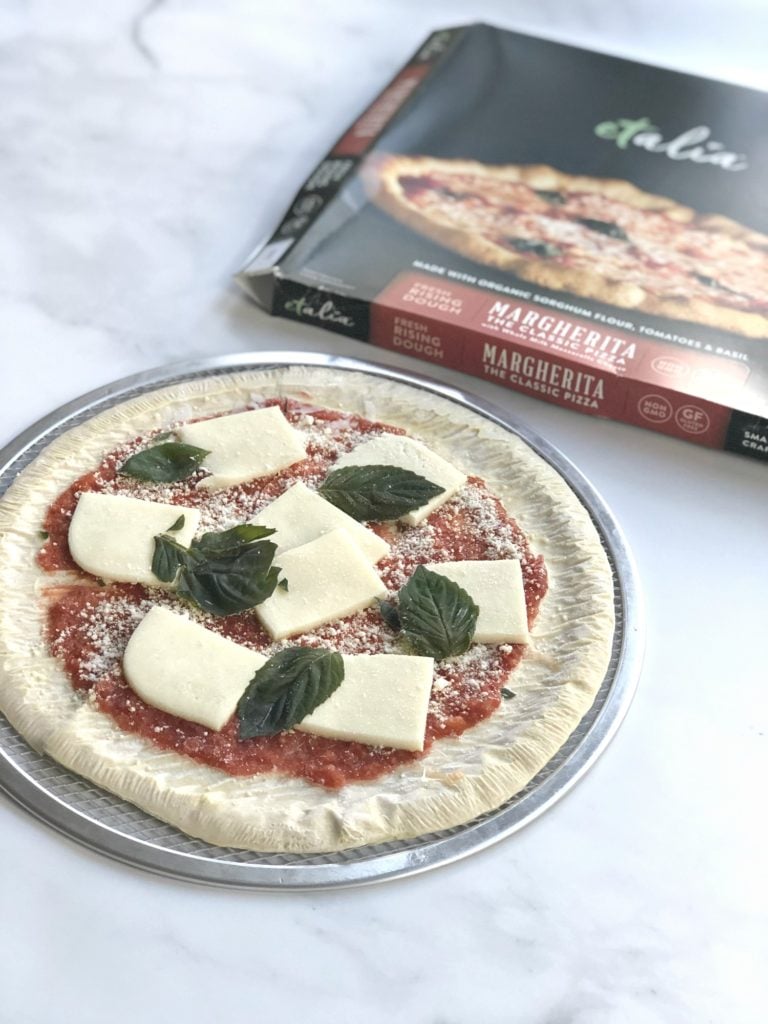 And here is what it looks like cooked. I think it looks like it baked in a legit wood-fired oven. The crust is extraordinary – truly!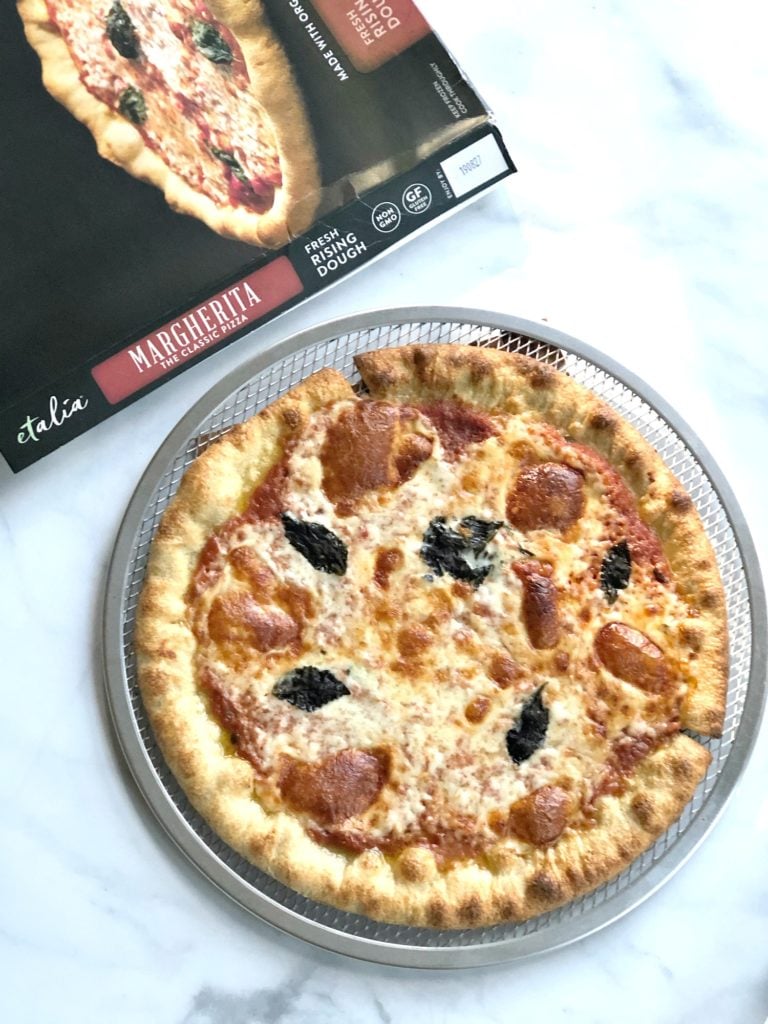 And of course, it passed the Nima Sensor test with flying colors.
#3: Sabatasso's Gluten Free
The next best of the best gluten-free frozen pizzas is by Sabatasso's. This pizza offers a generous portion of cheese and bakes up well in the oven. It tastes like I remember frozen pizza tasting without any weird textures or after taste.
On top of it all, it's priced the best. You can get a three pack of these pizzas at Costco for under $20. The price can't be beat and that is why it's truly one of the best of the best.
#4: Kroger Extra Thin Crust Gluten-Free Pizza
The generic Kroger brand frozen gluten-free pizza is surprisingly delicious and I highly recommend it.
After I first published this article, several people told me I had to try this pizza. I went to King Soopers (my local Kroger grocery store) and found the extra thin crust gluten-free pizza. I tried it and loved it.
The pizza baked up nicely, had a tasty sauce and generous amount of cheese. It, too, passed the Nima Sensor test.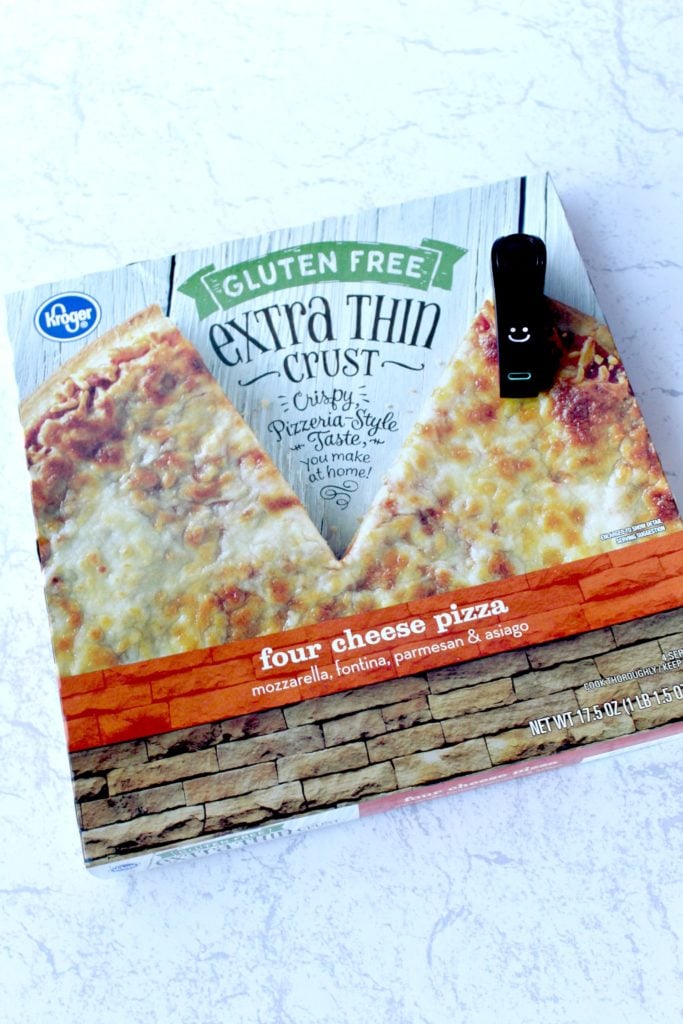 #5: Cappello's Gluten-Free and Grain-Free Pizza
This gluten-free and grain-free frozen pizza by Cappello's is tasty and also surprisingly good.
It's made from a blend of almond flour, arrowroot flour and cassava flour, all which work together to give the crust a wonderful, chewy texture.
#6: Sonoma Flatbreads Gluten-Free Pizza
Next on my best of gluten-free frozen pizza list is Sonoma Flatbreads. This company serves up a tasty and generously-sized certified gluten-free four cheese pizza.
This pizza has a ton of cheese and a pretty good crust, making it a contender as one of my top picks.
#7: Against the Grain
For a long time, Against the Grain was the only frozen pizza I would buy. I like the crust, a lot, however, it's unlike any pizza crust I've ever had. The crust has a buttery and flakey texture and isn't doughy like the other pizzas.
The texture of the crust is hard to explain, so you'll just have to try it and see what you think. Overall, it's a great pizza and is definitely in the running as a personal favorite. Nima approves of it too.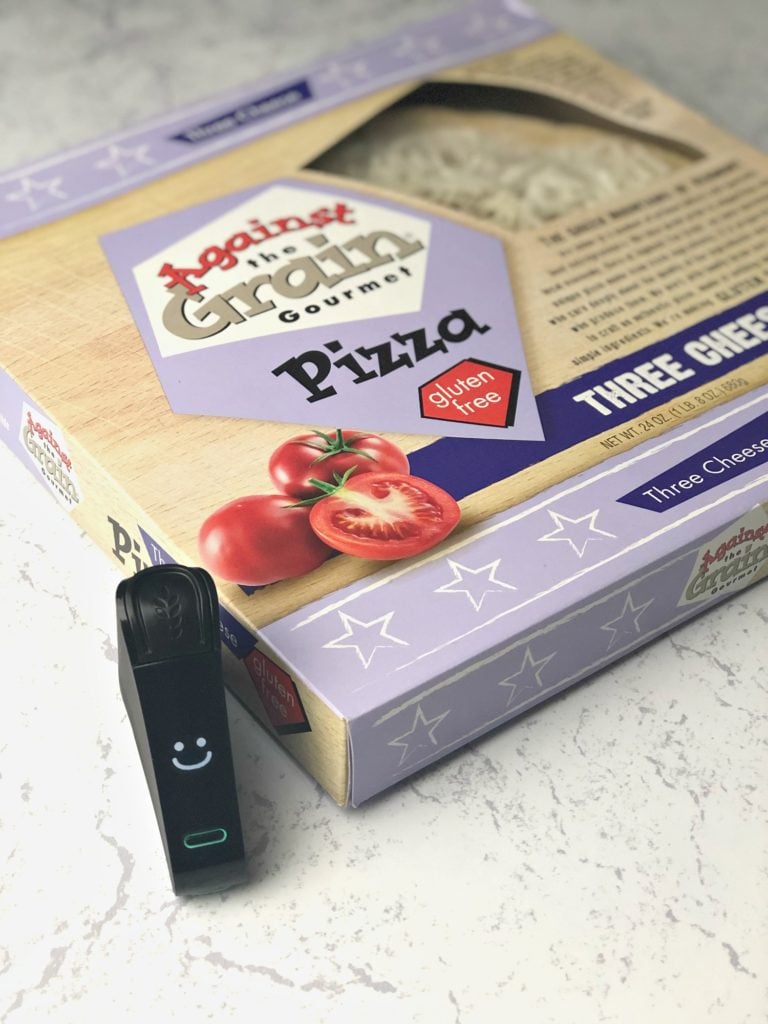 #8: Udi's Gluten-Free Pizza
I was surprised at how much I liked Udi's certified gluten-free frozen pizza as I've struggled with liking Udi's bread products in the past.
This is a good pizza with a crispy crust, plenty of cheese, and a flavorful sauce. On top of it all, it's Nima tested and Nima approved.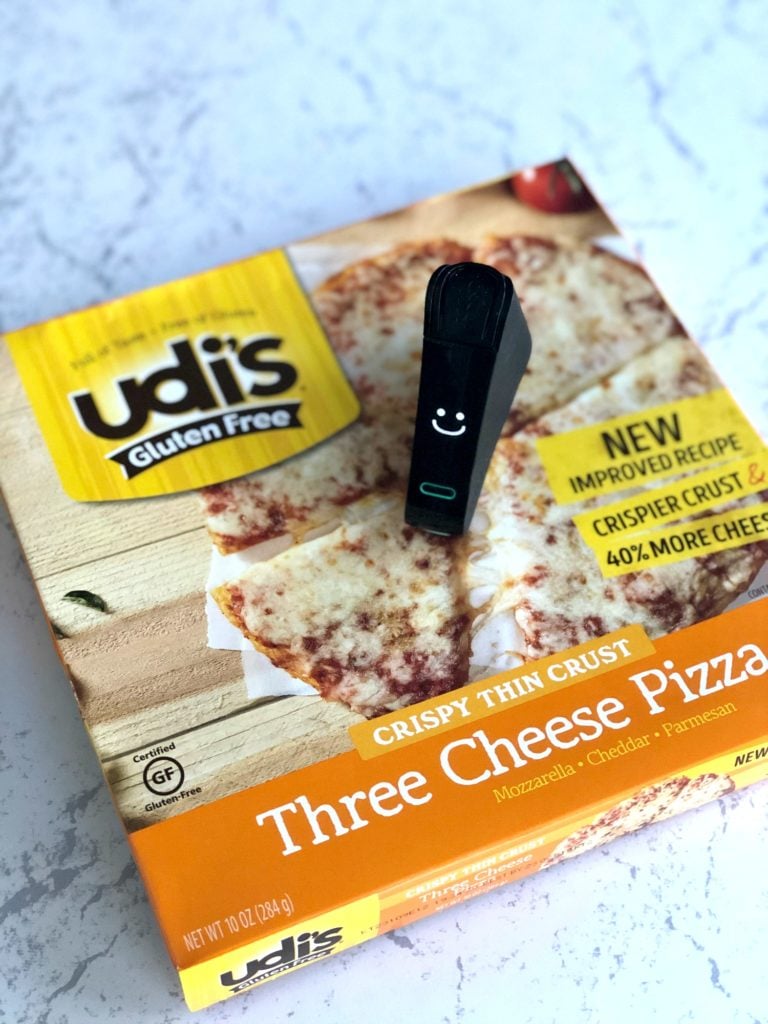 #9: Milton's Cauliflower Crust Pizza
The thin and crispy cauliflower crust pizza by Milton's is tasty, but I'm not loving the overall flavor of cauliflower crusts these days.
Out of all the cauliflower crusts I taste tested, this one is the best. The pizza is soft and generously topped with cheese. Nima is all smiles too. You can also find this pizza at Costco at a good price.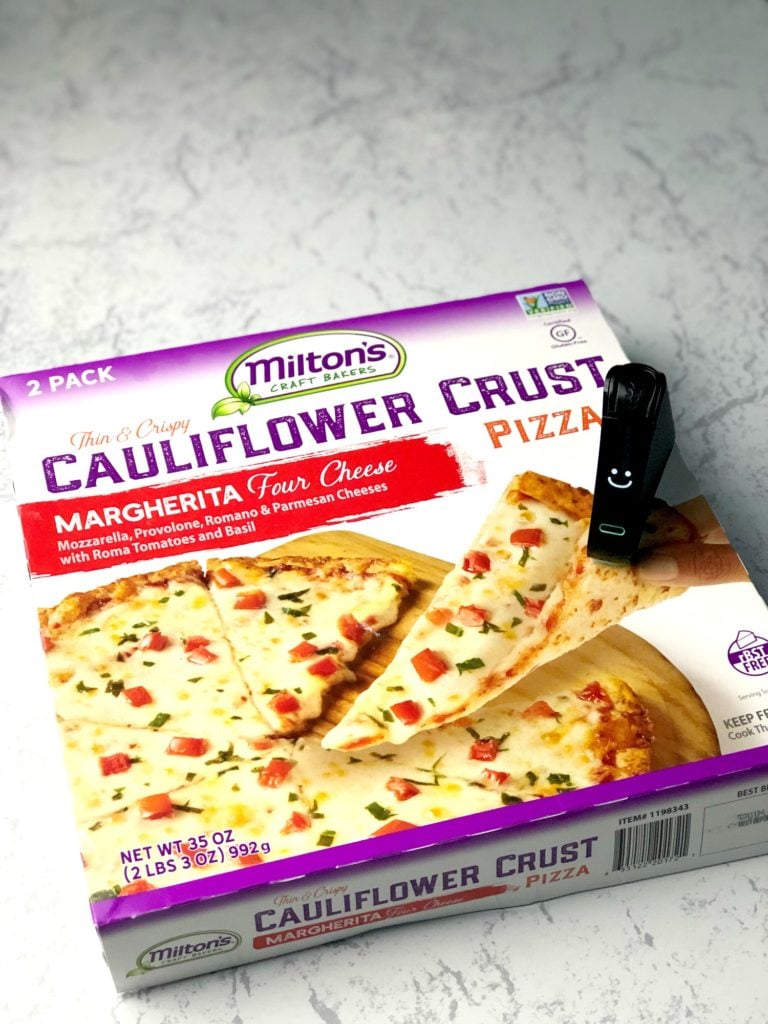 #10: Smart Flour Foods Pizza
Smart Flour Foods makes a certified gluten-free garden margherita pizza. The cheeses are good and I love the tomato and basil toppings.
That said, my kids didn't love the crust, and I have to admit that I agreed with them. Regardless, Nima approves of this pizza and is all smiles, which is the good news.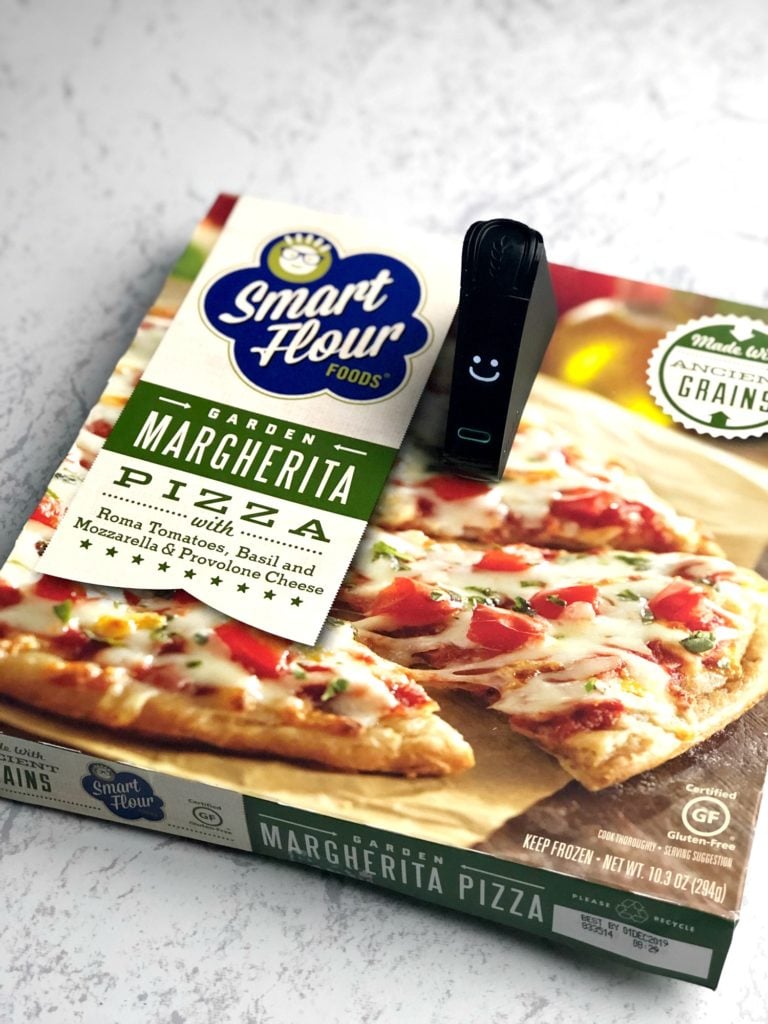 #11: DiGiorno' Gluten-Free Pizza (Thin Crust)
DiGiorno's gluten-free frozen pizza was only "okay" in my opinion. The crust is ultra thin, and I personally wanted something more substantial from my frozen pizza.
It has an overall delicious and savory pizza taste; I just wish it had a thicker crust. The Nima Sensor is all smiles, which means this pizza is definitely safe and gluten free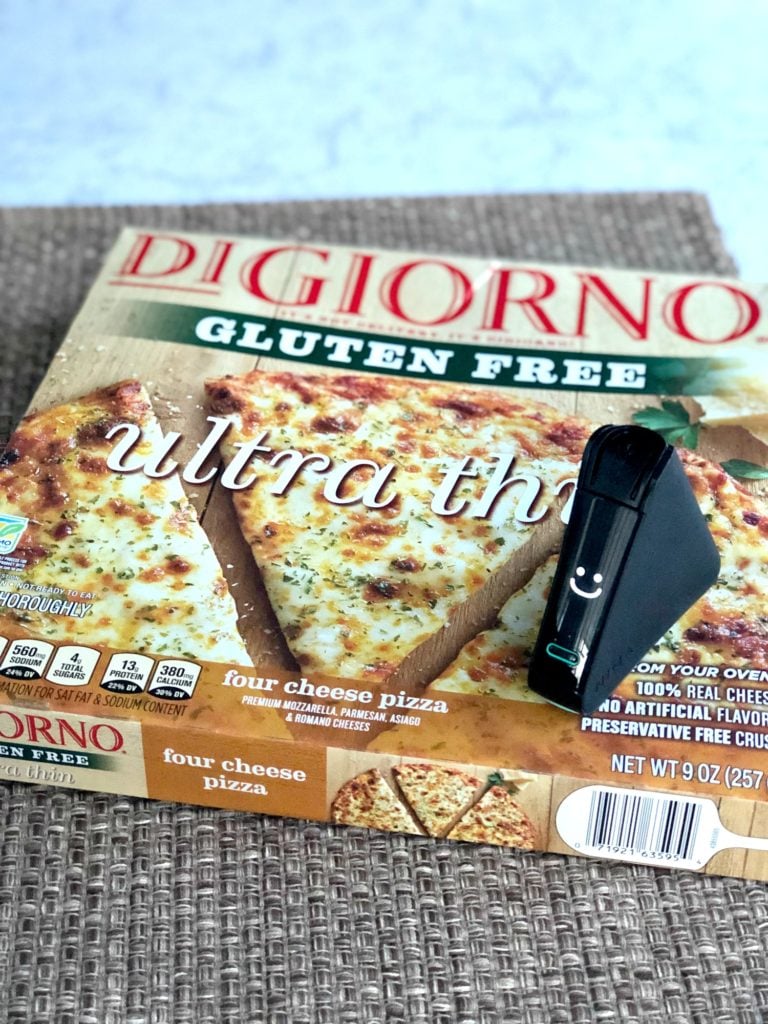 #12: Caulipower Pizza
Caulipower makes a gluten-free crust made from cauliflower. I love that the pizza is certified gluten-free pizza, but it only tasted fare to me and my family didn't like it. It also doesn't look good when baked (it looked kinda sad and pathetic).
I tested it with my Nima Sensor and it's definitely gluten free, which is the good news.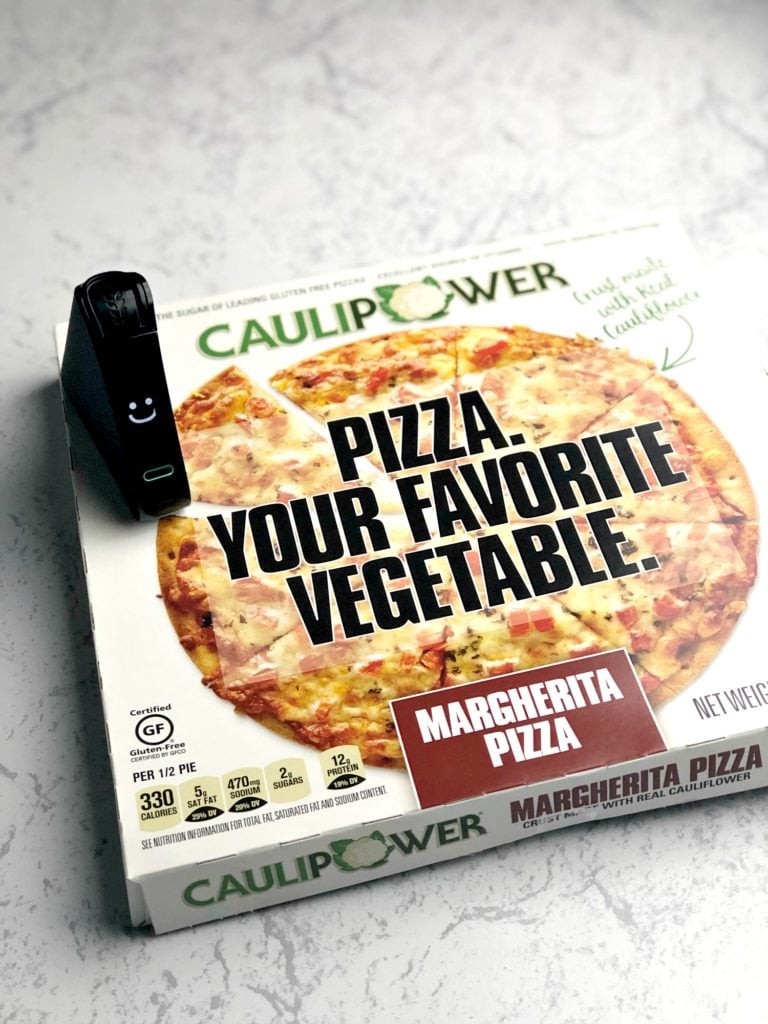 #13: Trader Joe's Gluten-Free Cheese Pizza
No one liked the Trader Joe's gluten-free cheese pizza made with a cauliflower crust. The crust fell flat and wasn't all that tasty; Trader Joe's really skimped on the cheese too.
Overall, the pizza looked sad and lacked any visual appeal. When all was said and done, it at least passed the Nima Sensor test.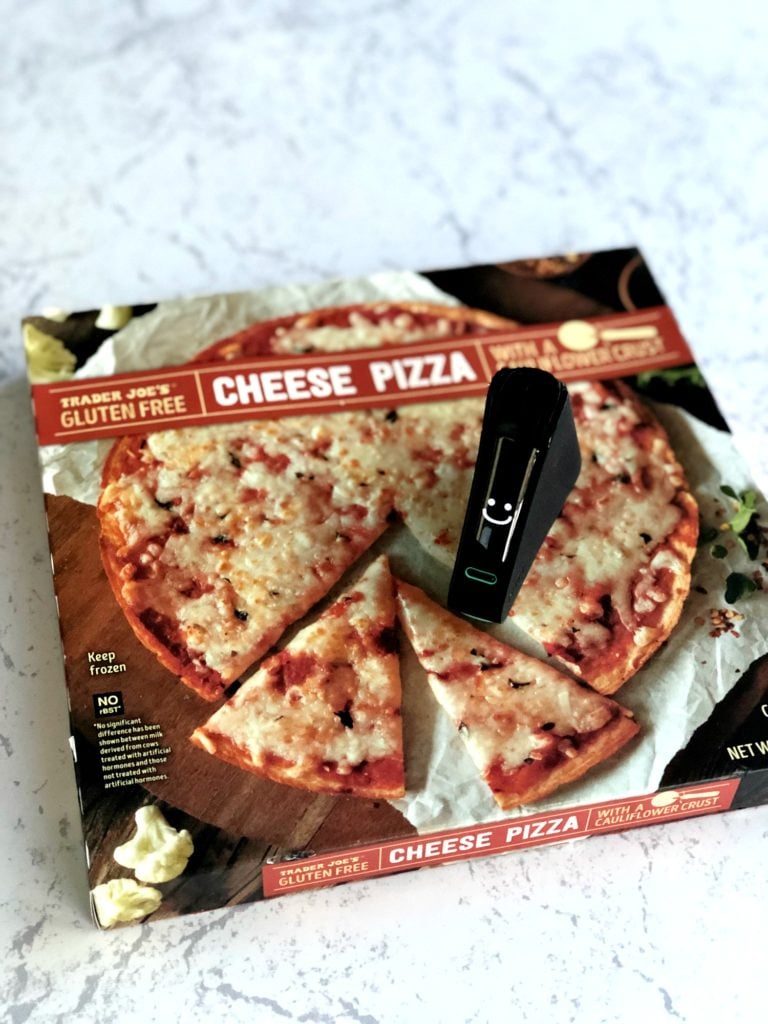 #14: DiGiorno's Gluten-Free Pizza (Regular Crust)
I also tried the DiGiorno's Gluten-Free Pizza (regular crust). It was not good at all and the crust had a funny taste and texture.
Also keep in mind that this pizza contains wheat starch, which can be gluten free if labeled gluten free. That said, the taste is not good so I don't recommend buying it.
The pizza, however, passed the Nima Sensor test. (Some people in my Nima Sensor Facebook group report that their Nima Sensors found gluten; mine did not.)
#15: Realgood Pizza Co
Finally, and last for a reason, was the gluten-free pizza by Realgood Pizza Co. I have to admit, I didn't read the box carefully enough when I bought it and I think that is why I was royally disappointed in this pizza.
This pizza is fowl, literally, because the crust is made from chicken and parmesan cheese. Oh man, why didn't I read the ingredient list more closely?
Once I realized I was eating a crust made of chicken, my stomach began to turn. I don't feel like ground up chicken bits works as a pizza crust, but maybe that's just me.
Regardless, the pizza passed the Nima Sensor test.
Love Pizza?
Have you tried any of these gluten-free frozen pizzas? Have a favorite to share? Please leave me a comment.
Also, if you've found other frozen gluten-free pizzas that you think I should try, please let me know.
I'm happy to test them with my Nima Sensor, as well as taste-test them. I love pizza, so you don't have to ask me twice!
Also, don't forget to make these awesome pizza recipes:
Additional Reading