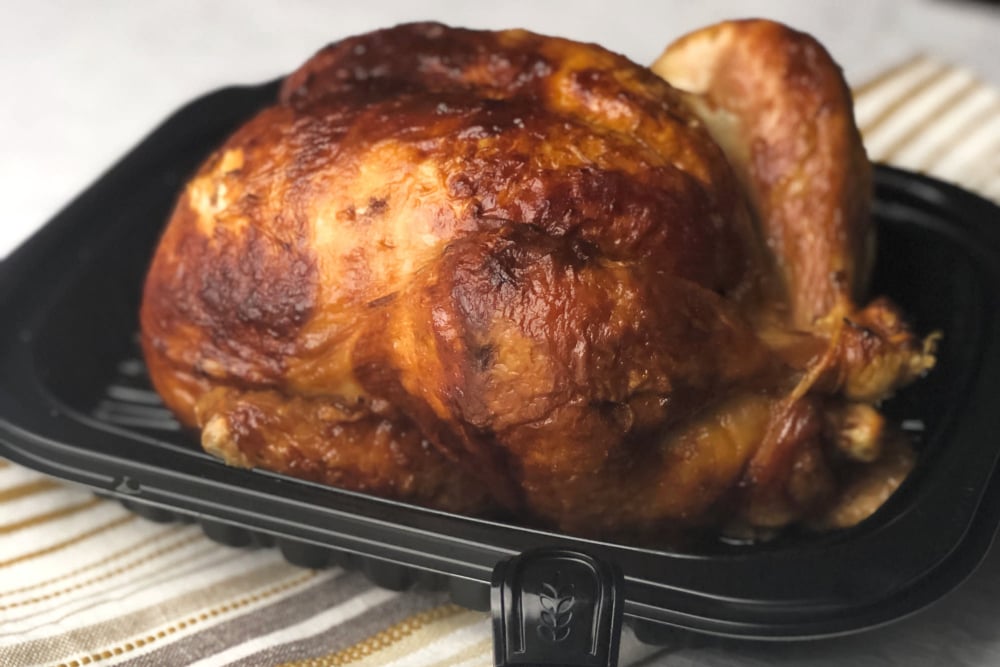 I often pick up a Costco Rotisserie Chicken for dinner, but you may be wondering, is Costco rotisserie chicken gluten-free? I'll share more about what's in Costco's rotisserie chicken, as well as share what other store rotisserie chickens are gluten-free and safe as well. This post contains affiliate links. Please read my disclosures.
Rotisserie chicken tastes good and makes for a quick and easy dinner on a busy night. Plus, the price can't be beaten at Costco as$4.99 each at Costco), and, most importantly, everyone in my family loves it.
Now that you eat gluten free, you're probably wondering if that convenient bird is safe for you to eat. I hope this post helps to set your mind at ease.
Related Reading: Are These 9 Kirkland Products from Costco Gluten Free?
Many store-bought rotisserie chicken are free from gluten. Of course, check ingredient labels carefully as ingredients can change.
For the purposes of this article, let's talk about if Costco's rotisserie chicken is gluten free, after all, Costco sold 91 million rotisserie chickens in 2018 alone and chances are you or someone you know has enjoyed one lately.
Is Costco Rotisserie Chicken Gluten Free?
Yes, Costco rotisserie chicken is gluten free… and here's why.
The first clue comes from the ingredient label. Costco rotisserie chicken ingredient list includes: Whole chickens, water, seasoning [salt, sodium, phosphate, modified food starch (potato, tapioca), and potato dextrin, carrageenan, sugar, dextrose, spice extractives].
There are two ingredients (modified food starch and dextrin) that could contain wheat.
Related Reading: Is it Gluten Free? Decoding the 20 Most Confusing Ingredients
The vast majority of modified food starch in the U.S. comes from corn or potatoes, and Costco clearly identifies the source of its modified food starch as potato and tapioca vs. wheat.
Dextrin also can be derived from wheat, but Costco clearly states on the ingredient label that it uses "potato dextrin."
The second clue comes at the bottom of the label where it says, "No preservatives, MSG, gluten, artificial flavors, or colors."
Again, Costco is giving the gluten-free community a reassuring nod that no gluten has been added to the bird.
The third clue that helps me know, with certainty, that Costco's rotisserie chicken is gluten free is that I put Costco rotisserie chicken to the Nima Sensor test.
The Nima Sensor is a tool I use to test my food for hidden gluten. I put a small sample of the chicken into the test capsule, and in about two minutes the Nima Sensor revealed a smiley face. A smiley face means the product is free from gluten.
You can learn more about the Nima Sensor in my article, 13 Things You Need to Know about the Nima Sensor.
Is Sam's Club Rotisserie Chicken Gluten Free?
You may be wondering if other rotisserie chicken brands are gluten free too, specifically Sam's Club rotisserie chicken, labeled as Member's Mark rotisserie chicken.
While I didn't personally test the Member's Mark bird with my Nima Sensor, I have done a little research for you to confirm that yes, Sam's Club Member's Mark rotisserie chicken is gluten free.
Sam's Club uses Lawry's Seasoning to flavor its chickens, which does not contain any gluten ingredients. The chicken also does not contain MSG or artificial flavors or colors.
How to Make Your Rotisserie Chicken Last for Two Nights
If you're like me, you're hard pressed to put a nutritious, filling dinner on the table every night.
When I bring home a three-pound Costco rotisserie chicken, we always have leftover chicken. It's just too much chicken for us to eat in one night.
Related Reading: Great Big List of Gluten-Free Products at Costco
And I hate wasting chicken. I always tell my kids, "An animal had to give its life to nourish us, so we need to enjoy every bit of that chicken and not let any of it go to waste."
So instead of wasting any chicken, I have figured out how to turn Costco rotisserie chicken into a brand new and completely enjoyable meal on night #2.
Of course, the first time we just eat the chicken along with roasted potatoes or rice, as well as a salad, steamed broccoli, and/or sauteed brussel sprouts.
But instead of letting everyone at the chicken, I pull all the meat off the chicken, reserving the carcass, bones, skins, and unwanted parts.
Then I prepare myself to make what I affectionately call Chicken Carcass Soup. I put all the bones, skin, carcass, and leftover parts in a large 10-quart stock pot filled with water.
I add carrots, celery, parsley, a whole onion, and Kosher salt and then bring the mixture to a boil.
Once the mixture is boiling, I reduce the heat and simmer the chicken parts, covered, for 6-24 hours.
If I don't feel like making the soup right then and there, I simply refrigerate the chicken parts until I'm ready to use them.
After the bones have been simmering for 6-24 hours, I use a slotted spatula to remove the chicken parts from the broth. I also remove the whole onion and discard.
What's left behind is a beautiful chicken soup. I sometimes find the broth needs a little extra flavor, so I throw in a few bouillon cubes to elevate the flavor.
I like the taste of the Not-Chick'N bouillon and typically add 2-3 cubes depending on the flavor and richness of the broth.
Serve your soup with any leftover shredded rotisserie chicken, along with some gluten-free noodles. Be sure to add the noodles directly to each serving of soup (not the stockpot) to ensure they don't get mushy or overcooked.
In my opinion, these are the best gluten-free noodles for chicken noodle soup. They have a good texture and don't get soggy the minute they hit the broth.
If you don't have rotisserie chicken, but still want to make a broth, you can simply follow my bone broth recipe here.
How Do You Enjoy Leftover Rotisserie Chicken?
I'd love to know how you maximize your rotisserie chicken?
Are there meals you make with the leftovers?
Please share your ideas in the comments below.