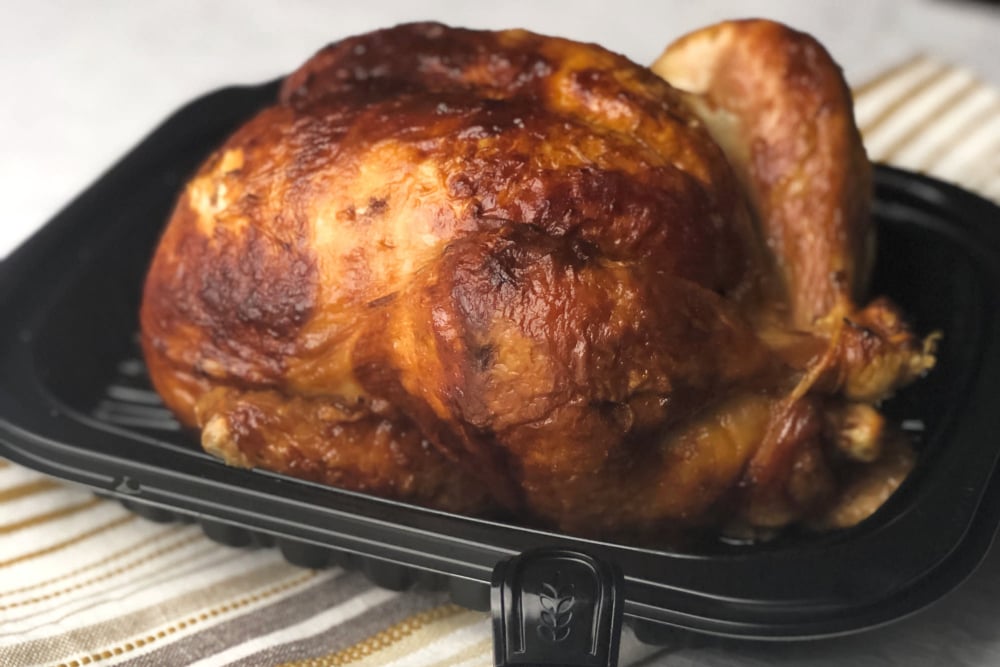 I often buy Costco Rotisserie Chicken for dinner, but you may be wondering, is Costco rotisserie chicken gluten free? I'll share more about what's in Costco's rotisserie chicken and what other brands of rotisserie chickens are gluten free and safe. This post contains affiliate links. Please read my disclosures.
Did you know that Costco sold 91 million rotisserie chickens in 2018 alone? That means there's a good chance you or someone you know has enjoyed this 3-pound bird for dinner this week.
Rotisserie chicken tastes good and makes for a quick and easy dinner on a busy night. Plus, the price can't be beat at Costco. Each bird costs only $4.99, and that price never seems to change.
In this article, I'll discuss which store brands of rotisserie chicken are safe for you to consume on a gluten-free diet. Remember to always check ingredient labels as ingredients can change without warning.
Is Costco Rotisserie Chicken Gluten Free?
Costco rotisserie chicken is gluten free, and here's why:
(1) The ingredients in Costco rotisserie chicken don't appear to contain any gluten. The ingredients include whole chicken, water, and seasoning [salt, sodium, phosphate, modified food starch (potato, tapioca), potato dextrin, carrageenan, sugar, dextrose, and spice extractives].
While modified food starch could contain wheat, the vast majority of modified food starch in the U.S. comes from corn or potatoes. Costco identifies the source of its modified food starch as potato and tapioca vs. wheat.
Dextrin also could be derived from wheat, but Costco clearly states on the ingredient label that it uses "potato dextrin."
(2) Notice the bottom of the label in red where it says, "No preservatives, MSG, gluten, artificial flavors, or colors." For a company to label a product "gluten free," it must contain less than 20 parts per million (ppm) of gluten per the FDA gluten-free labeling guidelines.
(3) I also put Costco's rotisserie chicken to the Nima Sensor test. The Nima Sensor is a tool many people in the gluten-free community use to test their food for hidden gluten.
I put a small sample of the chicken into the single-use Nima test capsule, and within two minutes, Nima displayed a smiley face. A smile means the product is free from gluten.
Is Sam's Club Rotisserie Chicken Gluten Free?
You may be wondering if other rotisserie chicken brands are also gluten free, specifically Sam's Club's rotisserie chicken, labeled as Member's Mark rotisserie chicken.
While I didn't personally test the Member's Mark bird with my Nima Sensor, I can confirm that Sam's Club Member's Mark rotisserie chicken is labeled gluten free.
How to Make Your Rotisserie Chicken Last for Two Nights
Like me, you probably feel hard-pressed to put a nutritious, filling dinner on the table every night. It's not always easy to do when you're on a gluten-free diet when the safest meals will always be the ones you prepare at home.
The Costco three-pound rotisserie chicken is too much food for my family to eat in one night, and I hate wasting food, so I try to make my money go further by turning the chicken into two meals for my family.
On the first night, we eat the chicken with a side of roasted potatoes or rice and either a salad, steamed broccoli, and/or sauteed Brussels sprouts.
Then I pull the leftover meat off the bones and place it in a storage container. I then wrap the bones, skin, and carcass and place them in my fridge too.
The next morning, I start making what I affectionately call Chicken Carcass Soup. I put all the bones, skin, and carcass into a large 10-quart stock pot filled with water.
I add carrots, celery, parsley, an onion, and Kosher salt and bring the mixture to a boil.
Once the mixture is boiling, I reduce the heat and simmer the chicken parts, covered, for 6-8 hours.
After the bones have been simmering for 6-8 hours, I use a slotted spatula to remove the chicken parts from the broth. I also removed the whole onion and discarded it.
What's left behind is a beautiful chicken broth with softened vegetables. If the broth needs extra flavor, I throw in a few bouillon cubes, such as the Not-Chick'N bouillon. This will add richness to the broth.
About 30 minutes before dinnertime, I bring the soup to a boil, add gluten-free brown rice noodles, and cook the noodles until al dente before turning down the heat to low. I then add the cold shredded chicken to the broth and serve up the soup hot.
PS: Also check out my bone broth recipe if you're looking to make bone broth (vs. carcass soup).