If you're looking for a fun way to experience the gluten-free diet, these 10 subscription boxes will introduce you to new foods, new experiences, and new recipes. The subscription boxes in this article have been carefully selected and include only the subscription boxes that I think are the best. This article contains affiliate links. Please see my disclosures.
Whether you have celiac disease or gluten intolerance, or you can't eat gluten, a protein found in wheat, rye, barley, and sometimes oats, for another reason, you might be looking for new products, recipes, and experiences to try each month that celebrate your newfound diet.
In this article, I share 10 of my favorite gluten-free subscription boxes that will help you master the gluten-free diet and have a little fun along the way.
Hint! These gluten-free subscription boxes also make the perfect gift for the gluten-free person in your life.
Please comment below to share your thoughts on which gluten-free subscription box you'd like to try, have tried, or recommend I add to this list.
(1) UrthBox
Urthbox is one of my favorite gluten-free subscription boxes for sampling and discovering new brands and products.
Urthbox sends a curated box of gluten-free products to your doorstep each month.
Most boxes include products from little-known brands or new products from known brands. Many of the products can't be found at big box stores, making discovering and trying new brands exciting.
Do I always love every product in each box? No. But I do always discover something new and different, which makes it fun.
To learn more or subscribe to UrthBox, visit UrthBox online. Use the code GOODFORYOUGLUTENFREE10 for 10% off any one-time purchase at UrthBox.com.
Photo: Here's a look inside the July 2023 Urthbox.
(2) Little GF Chefs
Little GF Chefs is the most adorable of all the gluten-free subscription boxes available today.
Each month, the company will send you a kid-friendly baking kit so you can enjoy making and eating fun treats with the gluten-free kiddo in your life.
You'll enjoy making anything from fun cut-out cookies and unicorn donuts to confetti cake pops, rainbow pop-tarts, and pizza. The company introduces new baking kits periodically to keep it fun and exciting year-round.
Gluten-free blogger Jereanne Zann founded Little GF Chefs to help kids with celiac and gluten intolerance "build confidence."
I had the opportunity to try several Little GF Chefs baking kits with my teen daughter. Even though she's older, we still had a blast making and eating unicorn donuts and soft-baked pretzels.
Order a single kit or sign up for a 3, 6, or 12-month subscription at Little GF Chefs. Use the code "goodforyou" for 10% off any subscription.
Photo: This Little GF Chef baking kit includes everything you need to make gluten-free soft pretzels.
(3) Green Chef
Green Chef is a wonderful monthly subscription service that will send you everything you need to create delicious gluten-free meals every week.
With a Green Chef subscription, you'll receive a delicious recipe and all the ingredients to make that recipe.
What sets Green Chef apart from the other meal subscription services is that it's the first (and only one I'm aware of) meal subscription service to be certified gluten-free. The company's is certified by the Gluten Intolerance Group's Gluten-Free Food Service (GFFS) program.
I had the opportunity to try a week's worth of Green Chef meals. They were all so tasty and fun to make, and I highly recommend them if you love making a fresh meal but don't have time to meal plan, shop, and prep. (Read my full review in Gluten-Free Meal Kits by Green Chef: Reviewed by a Nutritional Professional with Celiac Disease.)
Please visit Green Chef online to learn more or sign up for a Green Chef subscription.
Photo: Prepping the Tumeric-Spiced Chicken for tonight's Green Chef meal.
(4) Bread Srsly
Calling all sourdough lovers. Did you know that you can get loaves of gluten-free sourdough bread delivered to your doorstep each week or month via a Bread Srsly subscription?
Start by selecting your favorite gluten-free sourdough bread, then hit "Subscribe and Save" and choose your delivery frequency. Once you subscribe, you'll automatically save 15% on your monthly order.
Bread Srsly is based in San Francisco and bakes all loaves to order. It will be fresh and delicious when it arrives on your doorstep.
Subscribe and save on the Bread Srsly website. Use the code GOODFORYOU10 for $5 off any purchase as well.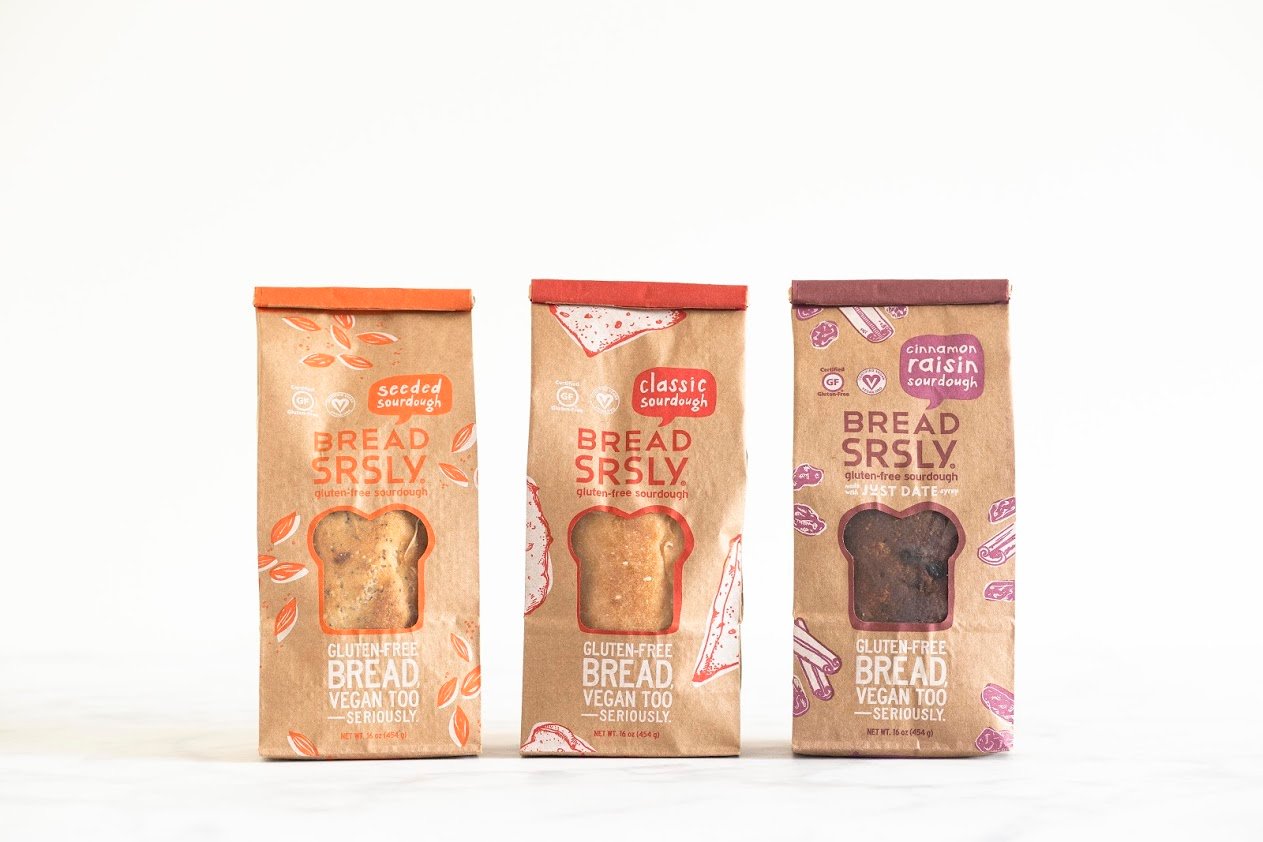 Photo by Bread Srlsy
(5) Hungry Root
Hungry Root delivers weekly boxes of healthy convenience foods that you can use to make various inspiring, delicious dishes.
Some might say the subscription box replaces meal planning, grocery shopping, meal prepping, and recipe finding at once!
All of the items included in a Hungry Root subscription box can be made gluten-free, and you can make the dishes according to the provided recipes or mix and match ingredients to make your own creations.
Use the code HR15 to get 15% off two Hungry Root boxes.
(6) SnackSack
SnackSack is a snack discovery box (like UrthBox) and can be customized to be gluten-free.
A SnackSack subscription includes 11-15 fresh snacks, a SnackSack tote bag, and the opportunity to try new brands and products each month.
You can subscribe online in just a few clicks – easy!
Photo: A sample SnackSack; photo by SnackSack.
(7) ButcherBox
I haven't tried ButcherBox personally because I don't eat a ton of meat, but so many of my friends have and love it.
ButcherBox allows you to choose specific cuts of meat and seafood and then delivers those proteins to your doorstep each month.
ButcherBox comes in two sizes to accommodate large and small families. Choose from the "Classic," which includes 9-14 lbs of meat, or the "Big," which contains 18-26 lbs of meat.
All ButcherBox beef is 100% grass-fed and grass-finished, all chicken is organic, and all fish is wild-caught. All products are humanely raised.
You might pay a little more for ButcherBox than you would for conventionally raised meat from the grocery store, but you can't beat the convenience and feel-good nature of the business.
Subscribe at ButcherBox.com.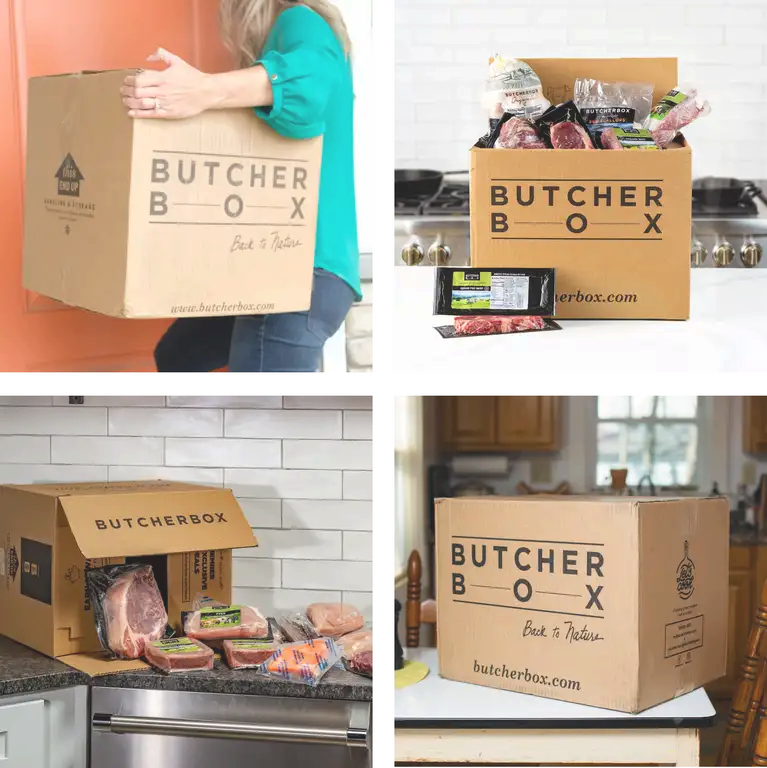 Photo by ButcherBox
(8) Gluten-Free Jerky Box
For jerky enthusiasts, I recommend trying a curated selection of delicious gluten-free jerky each month.
The company will send you six different flavors of jerky each month and constantly adds new flavors and brands to its vast jerky collection.
Sign up for a Gluten-Free Jerky Box subscription.
Photo by CrateJoy
(9) Pastreez
For French macaron lovers, Pastreez offers a macaron subscription box with one dozen seasonal macarons made daily by French Chefs in California.
Sign up for a Pastreez monthly French macaron subscription on the CrateJoy website.
(10) Tea Subscription by Sips By
You'll love getting a Sips By tea subscription if you love tea. Each month, the company sends you a carefully curated box of teas to try. Tea is naturally gluten-free, and Sips By ensures the teas match the taste and preferences you specify in your "taste profile."
Learn more or subscribe to Sips By online.
Photo by Sips By on Facebook
Discontinued Gluten-Free Subscription Boxes
Additional Reading
You might enjoy these articles too: