I love being Jewish, but I don't always love being gluten-free. Most Jewish holidays are filled with traditional foods, so I've been working hard to recreate my favorite foods with a gluten-free spin. Please bookmark this page and check back often for new gluten-free recreations of your favorite Jewish foods. This post may contain affiliate links. Please see my disclosures.
You've come to the right place if you love Jewish food but can't tolerate gluten, a protein found in wheat, rye, and barley.
I was diagnosed with celiac disease 11 years ago, and over the years, I've worked to recreate simple gluten-free versions of my favorite Jewish foods for myself and the gluten-challenged community to enjoy.
If you have celiac disease, non-celiac gluten sensitivity, gluten intolerance, or wheat allergy, you'll find something on this list that will meet your dietary restrictions and intense craving for foods you grew up with.
In fact, you'll find everything from gluten-free challah and homemade bagels to savory beef brisket and kreplach (Jewish dumplings).
Please note whenever possible, I use kosher ingredients and prepare the food according to kosher laws (no mixing meat and milk, for example). Most ingredients can be found at the grocery store or online. Check for gluten-free AND kosher certifications and claims, if necessary.
I will add to this post over time, so check back often if you're on a gluten-free diet and love Jewish food.
18+ Jewish Foods Made Gluten-Free
Below are 18+ gluten-free versions of the Jewish foods you love:
(1) Challah
My prize gluten-free recipe is for challah, as I have been making gluten-free challah every Shabbat for years. I can make this recipe with my eyes closed.
Challah is a braided bread with a spiritual significance. When I make gluten-free challah, I pray for peace and healing.
While traditional challah is made with wheat flour, mine is made with gluten-free oat flour, tapioca starch, and brown rice flour. I top it with everything bagel seasoning.
I also can't braid my challah because the dough is too wet and sticky, which is common in gluten-free baked goods that require more moisture. I use two small challah mold pans to get these beautiful challahs. Shabbat Shalom!
Get my Gluten-Free Challah recipe.
(2) Bagels
Bagels are the most famous Jewish food and are widely popular in America among Jews and Gentiles alike.
Bagels were brought to America by the Eastern European Jews who invented them. Did you know that Poland once banned Jews from baking bread? Because bagels are boiled, Jews found a loophole and still enjoyed bread. Bagels have been a popular breakfast treat ever since.
My gluten-free bagels are made with five simple ingredients, but they're not boiled. That would take too long and require a different recipe. But this one works, and I love it.
Get my Gluten-Free Bagel Recipe.
Can't eat grains? I also have a grain-free bagel recipe made with almond flour.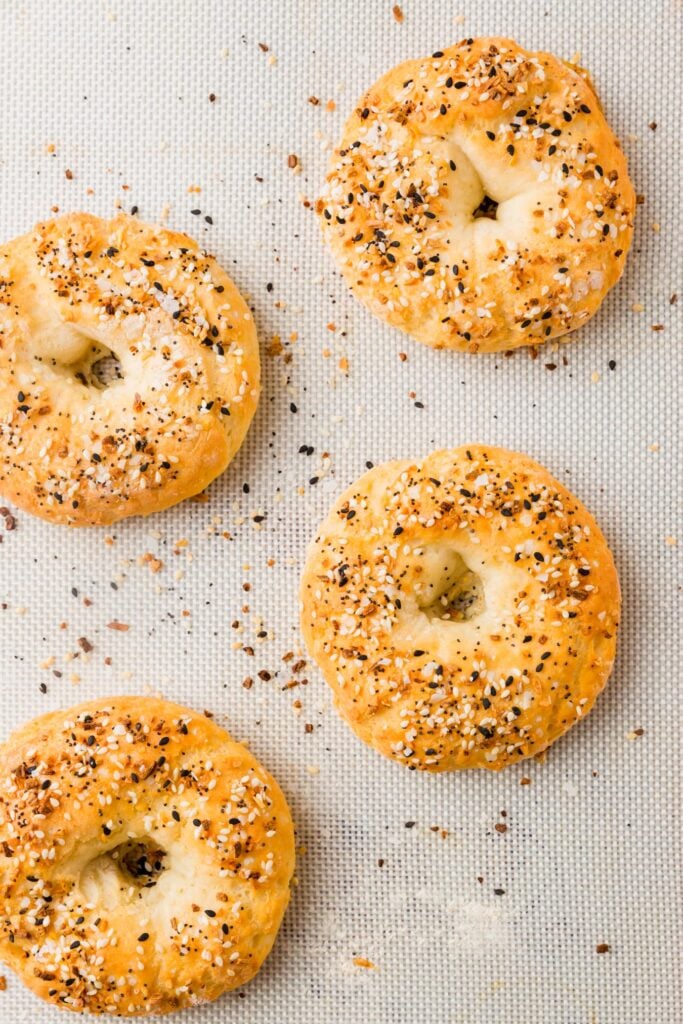 (3) Cholent
To be Jewish is to eat cholent, and most cholent recipes are made with barley, a no-go ingredient in gluten-free land.
Cholent is a slow-cooked Jewish stew enjoyed as a warm meal for Shabbat lunch. Jews are forbidden to cook on the Sabbath, so they usually prepare the cholent before Shabbat and keep it warm in their slow cooker until lunch the next day.
My gluten-free cholent contains lentils and rice instead of barley, and I love to use an extra portion of meat to make it extra savory. It also includes carrots, onions, potatoes, and various spices.
Get my Gluten-Free Cholent recipe.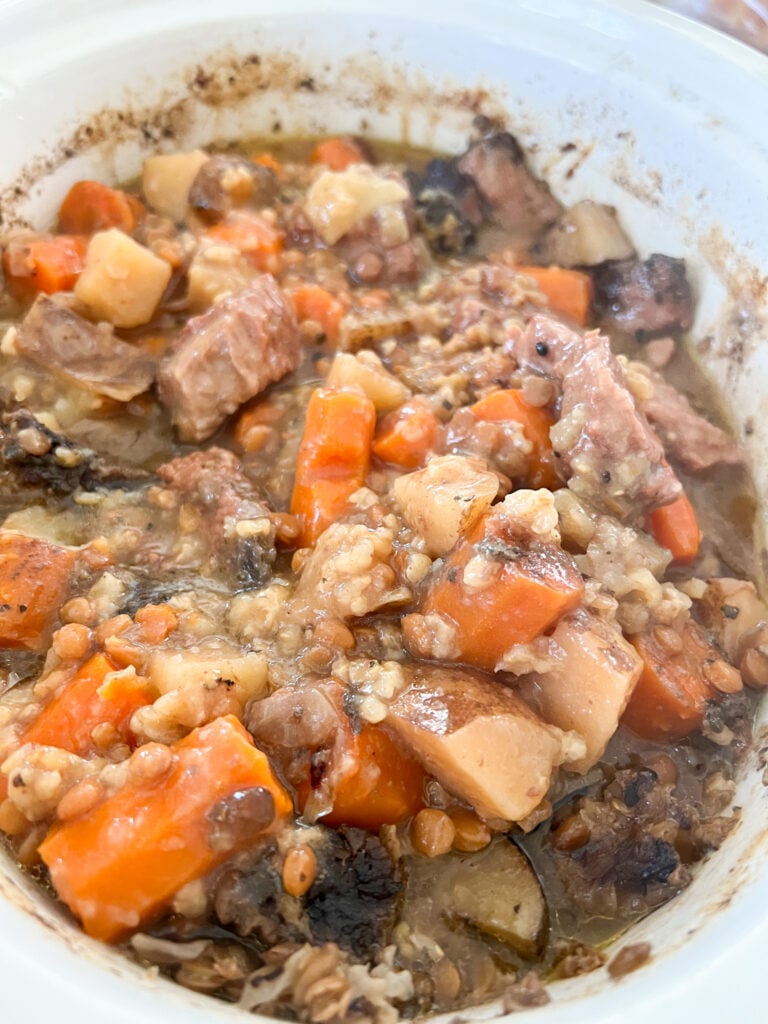 (4) Latkes
Latkes are potato pancakes fried in oil and served on the Jewish holiday of Hanukkah. My gluten-free latkes are made with potatoes, onions, salt, and gluten-free flour. The flour is an easy swap, and no one tastes the difference.
Hanukkah is a reminder of when the Greek ruling power outlawed Jewish practice in the holy land. The Jews rebelled against these antisemitic laws and won.
When Jewish rebels reclaimed their temple, they relit the menorah with a tiny amount of oil, which was all they could find. The oil should have only lasted one night but remained lit for eight nights. Jews eat foods fried in oil to celebrate the "miracle of the oil" and Jewish survival.
Get my Gluten-Free Latkes recipe.
(5) Jelly Donuts (Sufganiyot)
Jelly donuts are fried in oil to celebrate the miracle of the oil, as noted above (see latkes), and served on Hanukkah. It took me a while to come up with a from-scratch gluten-free jelly donut that I loved, but this recipe definitely hits the spot.
This recipe requires a lot of patshke (Yiddish for many messy steps) in the kitchen, but it is well worth the effort when you bite into a warm jelly donut.
Get my Gluten-Free Jelly Donut recipe.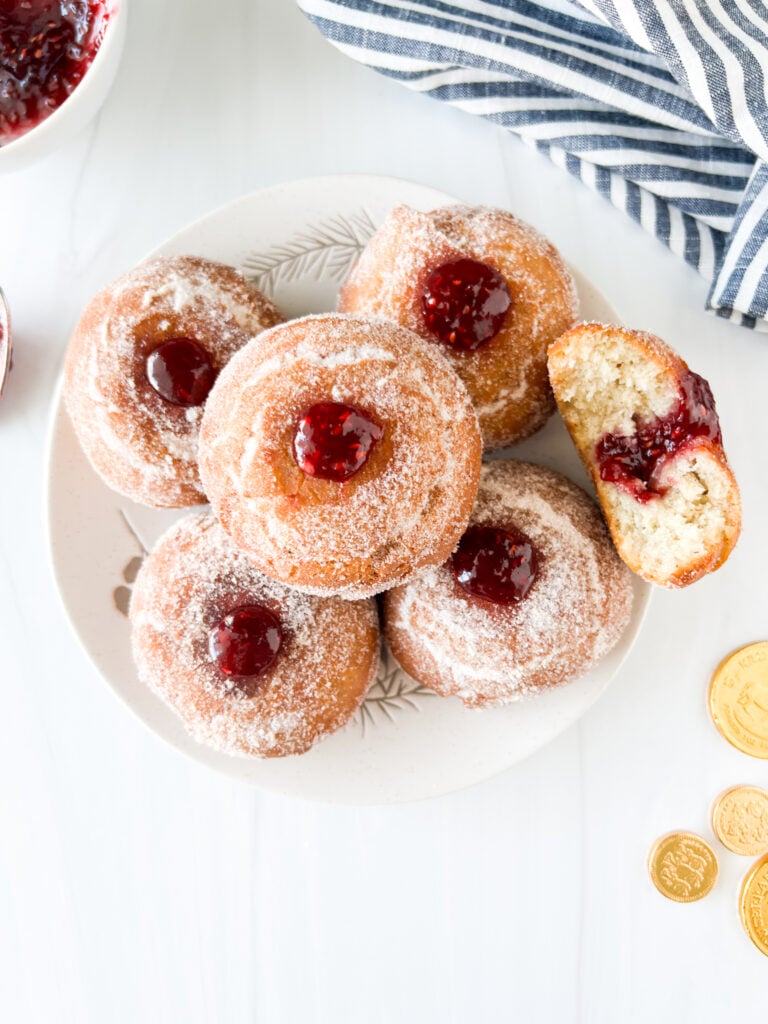 (6) Kreplach
Kreplach is a Jewish dumpling filled with meat and served in soup. I use my two-ingredient gluten-free pasta dough to make the dumplings.
Kreplach is traditionally served on Purim because the filling is "hidden" inside. If you know the story of Purim, it's filled with many hidden meanings, most importantly, that God is never mentioned in the Megillah (He's hidden) even though He's there orchestrating the whole thing.
Kreplach is also served on the eve of Yom Kippur and the final day of Sukkot.
Get my Gluten-Free Kreplach recipe.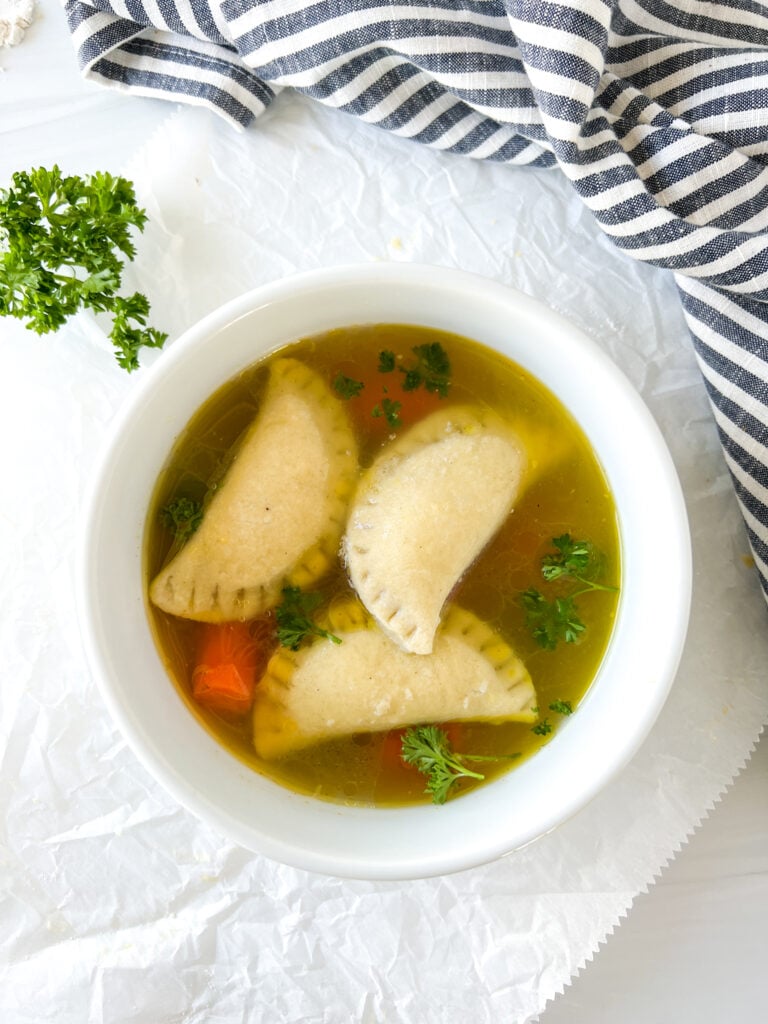 (7) Brisket
Brisket is slow-cooked beef seasoned in various ways, depending on the chef. Jewish people serve brisket to elevate their holiday meals. It's easy to make gluten-free brisket, although you must be careful to use only gluten-free ingredients.
Brisket is popular with Jews because it comes from a kosher part of the animal and historically was more affordable, although not so much today. The trick is to cook the meat slowly at a low temperature until it's gedempte (Yiddish for tender, fall-apart meat).
Get my Gluten-Free Brisket recipe.
(8) Black & White Cookies
Black and white cookies originated at Glaser's Bake Shop in New York and were (and still are) popular among American Ashkenazi Jews. Seinfeld even called them the cookie of coexistence.
I love these cakey cookies, and it took me nearly a decade with celiac disease to recreate this stunning and delicious gluten-free black and white cookie that I'm proud of.
Get my Gluten-Free Black and White Cookie recipe.
(9) Matzo Ball Soup
Matzo ball soup is synonymous with Jewish life, and matzo balls are firmly a part of American pop culture.
Matzo ball soup is served on Passover, a holiday celebrating freedom after Jews were enslaved for 400 years in Egypt.
While matzo balls are typically made with wheat matzo meal, I use a gluten-free matzo ball mix. Others use gluten-free matzo meal, but it's hard to find.
Tip from my friend, Shayna: Chill the gluten-free balls before boiling them to ensure they hold together in the soup. Garnish with fresh dill.
Get my Gluten-Free Matzo Ball Soup recipe.
(10) Hamantaschen
Hamantaschen are triangle-shaped cookies named for the villain of the Purim story, Haman, who wore a triangle-shaped hat. The story in the Megilla recounts Haman's efforts to exterminate all Jews in Persia.
The cakey cookies include a hidden filling, usually a jam. Like kreplach, eating foods with a hidden middle symbolizes the story of Purium and God's hidden hand.
My gluten-free hamantashen cookies taste close to the real deal, thanks to the advent of gluten-free 1-to-1 flour blends.
Get my Gluten-Free Hamantaschen Cookie recipe.
(11) Hummus
Hummus is a popular dish in the Middle East and throughout North Africa, including Israel, Turkey, Greece, Egypt, Jordan, etc. While the Middle Eastern countries can't agree on much, I think they would agree that they all love to eat hummus.
Hummus is made with chickpeas and served with pita. Its ingredients are kosher parve, meaning it can be served with both meat and dairy per kosher law.
I love hummus so much that I have created several recipes over the years, including a tangy Lemon-Dill Hummus (pictured), a Spicy Harissa Hummus, and a Sweet Beet Hummus.
I don't have a gluten-free pita recipe, but my gluten-free naan pairs perfectly with any hummus recipe, and you can buy gluten-free pita from BFree and MyBread Bakery as well.
(12) Falafel
Falafel is a deep-fried ball of chopped chickpeas, herbs, and spices. It's traditionally served inside pita and/or dipped in hummus. Although recipes vary among cultures, it's extremely popular amongst many Middle Eastern cultures, including Israel, Egypt, Lebanon, and throughout North Africa and the Mediterranean.
Some nations try to claim falafel as their own. The truth is that it's beloved by so many cultures – Jews, Arabs, Africans, etc. It should be food that unites vs. divides. Stop the nonsense debacle on who gets credit for this delicious food.
My falafel recipe is made with fresh chickpeas, fresh herbs, and Bob's Red Mill All-Purpose Flour, which contains chickpea flour. Don't forget the xanthan gum to hold the falafel patties together.
Get my Gluten-Free Falafel recipe.
(13) Babka
Babka is a lesser-known braided yeast bread filled with chocolate, cinnamon, fruit, cheese, or whatever filling the baker desires.
The sweet bread originated in Jewish communities in Poland and Ukraine and is popular in Israel and Jews worldwide.
Thanks to Lorraine's Sweet Dough Mix, I've been able to make gluten-free babka, although I'm still working on making it look pretty.
Get my Gluten-Free Babka recipe.
(14) Matzo
On Passover, Jews eat matzo, which is called "the bread of our affliction" in the Haggadah, a book that tells the story of Passover. Passover is a significant holiday for Jews, who are forbidden to eat leavened bread for the duration of the holiday.
When Jews were freed from slavery, the story goes that they needed to hastily bake bread to take along on their journey. They didn't have time for the bread to rise, so they ended up with an unleavened bread (more like a flatbread) known as matzo today. Jews eat matzo on Passover as a symbol of what our ancestors ate in the land of Egypt.
Matzo is traditionally made from wheat or spelt, which are not gluten-free. However, for matzo to be kosher for Passover, it must be made from one of the five grains mentioned in the Torah – wheat, rye, barley, spelt, and oats. Gluten-free oat flour would be the only gluten-free option.
I make gluten-free oat matzo from scratch. Does it taste good? That's a rhetorical question because matzo is not supposed to taste good.
Get my Gluten-Free Oat Matzo recipe.
(15) Charoset
Charoset is made from a mixture of shredded apples, crushed walnuts, cinnamon, and wine (or grape juice). The food symbolizes the mortar used by the Jewish slaves in Egypt who were forced to lay bricks as they built monuments for Pharaoh.
While the concoction might sound weird and looks like a brown mess, charoset is quite tasty and brings deep meaning to the Passover seder.
Get my Passover Charoset recipe.
(16) Apple Cake
Apples and honey are symbolic foods served on Rosh Hashanah, the Jewish New Year, which kicks off several important and widely observed high holidays. Eating sweet foods is like wishing for a sweet New Year.
My gluten-free apple cake is particularly tasty, although some people enjoy honey cake more. It's a toss-up for most, but I recommend going with the apple cake if you want a moist and sweet cake.
Get my Gluten-Free Apple Cake recipe.
(17) Chocolate Gelt
Chocolate gelt are round coins of chocolate wrapped in gold or silver foil. It's used as currency during Hanukkah when playing driedle.
I've rarely found gelt labeled gluten-free, so I made my own allergy-friendly version of this beloved treat. Get my gluten-free Hanukkah gelt recipe to see for yourself how easy it is to make homemade gelt.
(18) Warm Israeli Eggplant Salad
I don't know why eggplant is so popular in Israel, but it is. Whether served in a baba ganoush dip or warm tomato stew, you can't escape eggplant in the holy land.
My Israeli eggplant salad is reminiscent of the savory and spicy eggplant dishes I enjoyed during my travels to Israel, and it's the perfect side dish for brisket or chicken.
Get my Warm Israeli Eggplant Salad recipe.
More Jewish Recipes in the Works
I hope the recipes in this article make your Jewish holidays brighter and maybe even bring you closer to your Jewish faith. Food binds the Jewish people, and it doesn't matter if you're reform or orthodox; the food is the same.
I'm working on developing the following Jewish food recipes and always looking for ideas and requests. What else should I add to my list? Please leave a comment to share.
Gluten-Free Rugelach – coming soon
Potato and Noodle Kugel – coming soon
Gluten-Free Knishes – coming soon
Gluten-Free Kishke – coming soon
Shakshuka – coming soon
You might also like these articles: