Jews around the world celebrate Hanukkah for eight nights. To commemorate this important celebration, I've curated a handful of gluten-free Hanukkah recipes to help you eat well all eight crazy nights. This post contains affiliate links. Please see my disclosures.
I love hearing the story of Hanukkah. It's a story that celebrates the Jewish culture and shuns assimilation.
The Greek oppressors prohibited Jews from working and practicing the traditions that made them Jewish. They also converted their Holy Temple into a place of idol worship. While they didn't physically kill Jews as many other groups have over time, they instead "killed" the Jewish way of life.
A group of Jewish rebels, known as the Maccabees, led a rebellious fight against the Greeks, which eventually helped the Jewish people recapture the Holy Temple in Jerusalem.
When the Maccabees went to (re)light the Temple's menorah, they only found a small amount of oil that should have only lasted for one night. However, the miracle of Hanukkah is that the flame, lit by that tiny vial of oil, lasted for eight nights.
As you can see, oil plays a vital role in the Hanukkah miracle, and it's why Jews around the world eat foods cooked in that miraculous oil.
Ironically, the only remnant of the Holy Temple today is the Western Wall located in the Jewish Quarter in Jerusalem. As Islamic shrine, known as the Dome of the Rock, was built on top of the holiest Jewish site in the world, and Jews are forbidden, once again, to visit their sacred temple.
I hope you enjoy these traditional Hanukkah foods and some classic Jewish foods to celebrate the Hanukkah miracle and Jewish people.
Gluten-Free Jelly Donuts (Sufganiyot)
I made these gluten-free jelly donuts, known as sufganiyot, derived from the Greek word sufan, meaning "spongy" or "fried," using my trusty Bob's Red Mill 1-to-1 Gluten-Free Flour Blend.
These donuts require a little fuss, but they taste amazing when all is said and done. They taste best when enjoyed right away. Get my new and improved recipe here.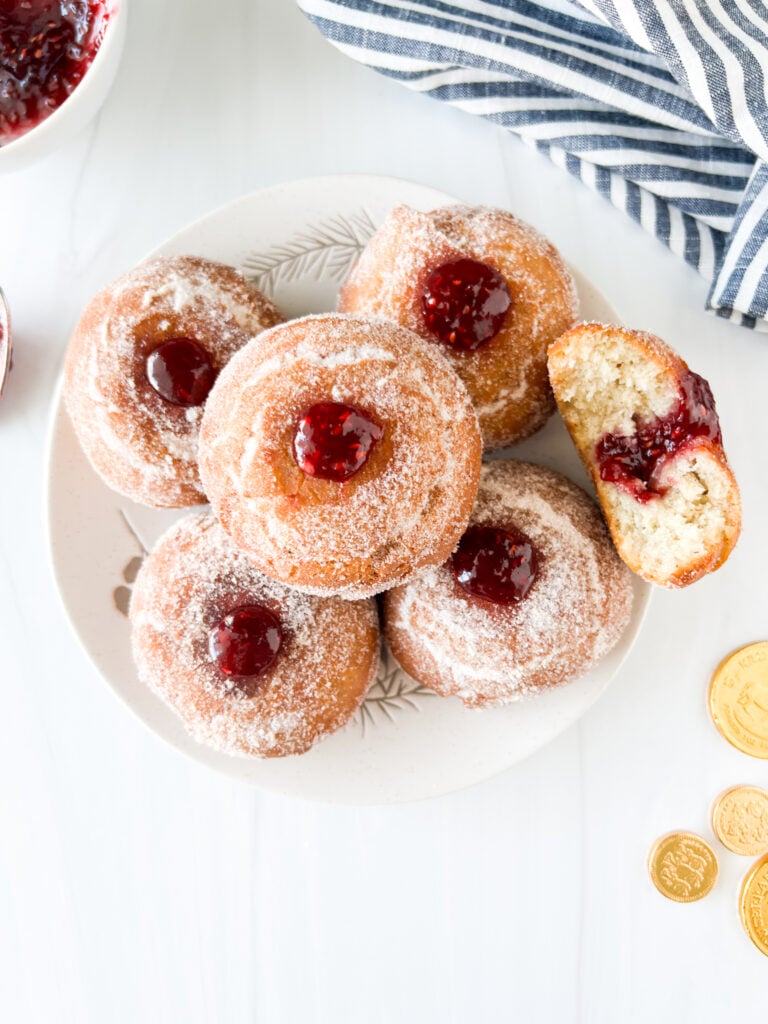 Gluten-Free Latkes
I created the most perfect and straightforward gluten-free latke recipe on the planet. My latkes are always the crispiest, most well-seasoned latkes around.
Get my recipe and secret tips for making my latkes extra crispy here.
Hanukkah Gelt
Children love playing with and eating Hanukkah gelt, a coin-shaped piece of chocolate wrapped in gold or silver foil.
For those of you on a gluten-free diet (like me), do you ever really know if Hanukkah gelt is gluten free? I have yet to find one labeled "gluten free."
I purchased a Star of David gelt mold plan and foil wrappers to make my gluten- and dairy-free gelt at home using Enjoy Life chocolate.
I melted 1 cup of Enjoy Life chocolate chips with a drizzle of avocado oil in my microwave in 15-30 second increments, stirring every 15-30 seconds.
I then added the melted chocolate to a piping bag and piped the chocolate into each mold. I gently tapped the mold against my countertop to remove any bubbles.
I refrigerated the chocolate for 1 hour, gently removed each gelt piece from the mold, and then wrapped each chocolate coin in gold foil.
My homemade Hanukkah gelt is dairy- and gluten-free, so everyone can enjoy them. Sweet!
Savory Beef Brisket
They say you eat with your eyes, and my eyes love a savory brisket with a brown gravy sauce. I'm not sure why Jews love brisket, but no Jewish holiday is complete without one.
Get my savory beef brisket recipe (along with step-by-step instructions) here.
Gluten-Free Challah
When Hanukkah falls on Shabbat, don't forget to add a tasty gluten-free challah to your table. And my popular gluten-free challah recipe gets rave reviews – always!
I used a challah-shaped mold pan, so the challah holds its shape. Gluten-free dough is sticky and impossible to braid.
I also love this menorah-shaped challah from Jamie Geller and could watch this video on autoplay all day!
Chocolate Babka
No Jewish holiday is complete without a chocolate babka on the table. A babka is a yeast-risen sweet bread that is braided and can be enjoyed for breakfast or dessert.
Thanks to Lorraine's Sweet Dough Mix, I can make a delicious gluten-free chocolate babka that everyone raves about. Lorraine's flour mix is the best for making sweet, yeasted recipes. Get the recipe here.
Holiday Cut Out Sugar Cookies
You don't have to feel left out of the Christmas cookie-decorating fun. Instead, you can make your own gluten-free cut-out sugar cookies and cut them into fun Hanukkah shapes using these Hanukkah-shaped cookie cutters I found on Amazon.
Get my no-spread gluten-free sugar cookie recipe.
Dill Roasted Salmon
If you're keeping your Hanukkah celebration parve, you might enjoy making my delicious dill-roasted salmon recipe. It's light and festive and perfectly compliments a celebratory Hanukkah meal.
Hanukkah-Themed Snack Board
This sweet and savory Hanukkah-themed snack board includes a bunch of items I had lying around my pantry.
You'll find the following products Dandies vegan & kosher mini marshmallows, Crunchmaster crackers, fresh blueberries, blue M&Ms, Lilly's hummus, apple slices, Hanukkah gelt, and dreidels (for decor, not for eating).
Matzo Ball Soup
While matzo ball soup is traditionally enjoyed during the Passover holiday, it's a beloved traditional Jewish dish that always has a place in my holiday celebrations.
I particularly enjoy serving matzo ball soup during Hanukkah since it's usually cold outside. Be sure to use gluten-free matzo meal when making this recipe.
I hope you enjoy these festive and fun gluten-free Hanukkah recipes. Chag Sameach!