Are you looking for Yom Kippur recipe ideas to serve on Yom Kippur eve or for break-the-fast? In this article, I'll share 18+ menu ideas made without gluten that you can enjoy before and after a meaningful fast. This post contains affiliate links. Please see my disclosures.
Yom Kippur is a Jewish holiday that requires Jews to repent, ask for forgiveness, and pray. It is also a day where Jews fast for 25 hours.
Fasting allows one to focus solely on one's spiritual vs. physical needs.
After the long fast, Jews are ready to eat! This meal is called a break-the-fast meal, and it usually contains light but delicious breakfast foods.
Of course, a traditional break-the-fast menu is loaded with gluten, a protein found in wheat, rye, barley, and sometimes oats, but my menu is entirely gluten-free and, dare I say, even more delicious because everything is made from scratch with love.
Yom Kippur Break-the-Fast Menu Ideas
Yom Kippur ends around 7:30 p.m. (check with your local rabbi for the exact time). Chances are you, your family, and your guests are famished and ready to eat!
Below are several typical break-the-fast menu ideas that offer substance after a meaningful prayer-filled day.
(1) Gluten-Free Quiche
No break-the-fast event would be complete without a gluten-free quiche, and my gluten-free spinach and onion quiche is light and tasty and packed with protein-rich eggs, savory cheeses, and plenty of good-for-you vegetables.
Trader Joe's, Sprouts, and Whole Foods sell Kosher parve gluten-free pie crust by Wholly Gluten-Free, or you could make your own with my simple gluten-free pie crust recipe.
(2) Gluten-Free Bagels and Cream Cheese
Jews love a good bagel, and there are many store-bought gluten-free bagels to choose from.
I often find myself buying Canyon Bakehouse gluten-free bagels, but honestly, I don't have a preference.
Remember, gluten-free bagels are not good unless they're heated. So warm the bagel in a toaster before schmearing it with jam, butter, or cream cheese.
And if you're feeling randy this year, you can make gluten-free bagels from scratch. I've got two recipes for you to choose from:
Recipe #1: My 5-Ingredient Gluten-Free Bagels are made with Bob's Red Mill 1-to-1 Gluten-Free Flour and require only five ingredients to get the job done.
Recipe #2: My Almond Flour Bagels are grain-free and made with almond flour and tapioca starch. They offer a delightfully doughy texture.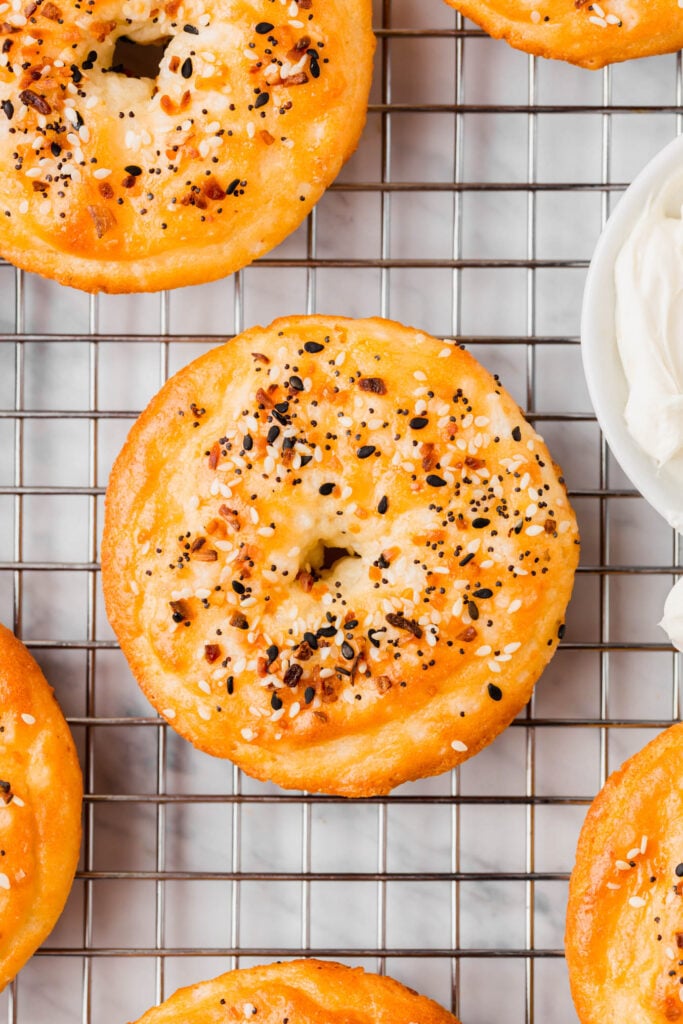 Both bagel recipes are topped with Everything Bagel seasoning, although you could keep them plain or add just sesame or poppy seeds.
Remember, you'll need a bagel (donut) pan to make them, which you can use to make donuts too (see below).
(3) Lox
A Yom Kippur break-the-fast will [almost] always include smoked salmon, called lox. Lox makes a tasty bagel topper and is parve so it can be served with my cheesy quiche and cream cheese bagel.
For the best deal, I purchase smoked salmon in bulk at Costco, as lox is much too expensive to buy at the grocery store.
(4) Vegetable Platter
Be sure to pile the veggies high on a veggie platter made just for Yom Kippur break-the-fast. My veggie platter usually includes vegetables that can be topped on a bagel and enjoyed as finger foods.
Here are some of the items you can include on your vegetable platter:
Lettuce
Tomato slices
Black and green olives
Baby corn
Marinated artichokes
Baby carrots
Cucumber slices
Red onions
Capers
Snap peas
Radish slices
Whatever else you like or have on hand.
(5) Lemon Dill Hummus & Crackers
I love to include a dip or two at my break-the-fast meal, and hummus is always a prime choice because of its Israeli roots.
My lemon dill hummus is a family favorite, and I always serve it with gluten-free crackers and veggies.
(6) Gluten-Free Noodle Kugel
I've been working on developing a gluten-free noodle kugel for some time but haven't found the right noodles for the job.
I recently discovered the new gluten-free tagliatelle noodles from Trader Joe's, so I'll experiment with these noodles in this recipe soon.
Check back later for an update.
(7) Gluten-Free French Toast Casserole
Another great food to serve at a Yom Kippur break-the-fast is my Gluten-Free French Toast Casserole.
You can use store-bought bread or leftover gluten-free challah from Friday night to make this casserole ahead of time and keep it warm until sundown.
(8) Gluten-Free Donuts
Everyone loves a sweet treat after a break-the-fast meal, and these gluten-free chocolate donuts seem to hit the spot. They're sweet, moist, and oh-so-chocolate-y.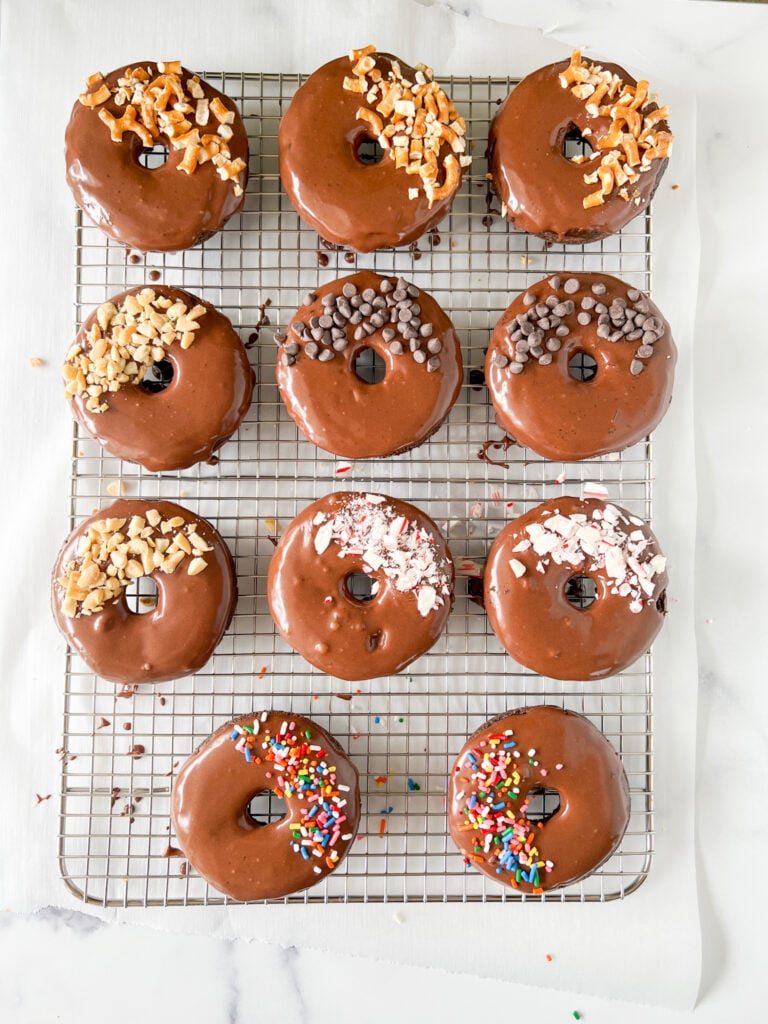 I also recommend my gluten-free pumpkin donuts if you're not feeling up for chocolate. These are delicious donuts in their own right.
(9) Gluten-Free Chocolate Babka
You can make gluten-free chocolate babka using Lorraine's Sweet Dough Mix. The bread comes out doughy (not dry), and even though my babka-making skills are developing, my gluten-free chocolate babka came out delicious.
(10) Fruit Platter or Salad
To top off my break-the-fast menu, I always prepare and serve fruit. You'll find cut-up melons, ripe strawberries, grapes, and whatever looks good at the grocery store that week.
(11) Egg Salad
While I'm not much of an egg salad person myself, I know my fellow Jews love egg salad. So whip up a batch to serve as part of your break-the-fast spread.
(12) Tuna Salad
I also don't like tuna salad (it's a mayonnaise aversion), but many of my friends make tuna salad that all break-the-fast guests love.
(13) Blintzes
Blintzes are traditional Jewish crepes with either a sweet fruit filling, cheese filling, or potato filling. For break-the-fast, make these delightful-looking gluten-free and dairy-free blintzes using GFJules All-Purpose Flour.
(14) Orange Juice
My family never drinks orange juice because it's loaded with sugar, but after a long fast, a glass of orange juice feels refreshing and nourishing.
Yom Kippur Eve Menu Ideas
You may be wondering what to eat before your 25-hour fast. Here are a few traditional Jewish foods enjoyed on Yom Kippur Eve:
(15) Gluten-Free Kreplach
Kreplach is a traditional dish served on Yom Kippur Eve (before the fasting commences). These are dumplings filled with meat, although some families fill them with potatoes.
My gluten-free kreplach is made with my two-ingredient gluten-free dough recipe and a savory meat filling. I usually serve it inside homemade chicken soup.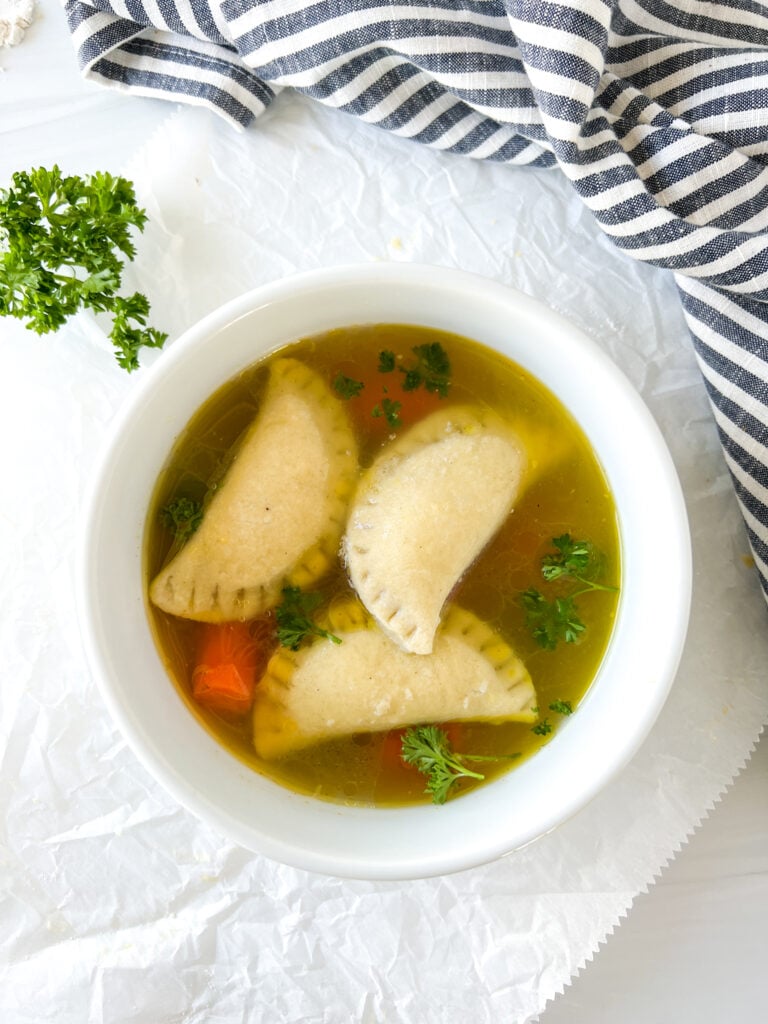 (16) Beef Brisket
No Jewish holiday is complete without a brisket; you can enjoy this gluten-free beef brisket recipe any time.
Make it a few days ahead of time and heat it before serving. The longer you cook it, the better it tastes.
(17) Gluten-Free Potato Kugel
Potato kugel is another traditional Jewish food. Kugel is basically a pudding or casserole, and Jews can't seem to get enough of it.
I'm in the middle of developing a gluten-free potato kugel recipe. Check back soon.
(18) Black & White Cookies
It's always nice to start your fast with something sweet, and these light and soft gluten-free black-and-white cookies perfectly complement my Yom Kippur Eve meal.
Gud Yontif
There you have it, 18+ gluten-free foods you can serve for Yom Kippur break-the-fast and eve.
Here's wishing you a meaningful and easy fast. And I hope your Yom Kippur "celebrations" are delicious, even without gluten.
And g'mar chatima tovah, may you be sealed in the Book of Life.
Cooking for Rosh Hashanah? Enjoy these 10+ Gluten-Free Rosh Hashanah Recipes.