This gluten-free apple cake recipe post contains affiliate links.
I've been gluten-free for five years and haven't once attempted to make a gluten-free apple cake for Rosh Hashanah… until, that is, this year.
For the Jewish people, Labor Day isn't the unofficial end of summer; rather, it's the official start of our most important holiday preparations. Every September, Jews around the world begin making plans – and baking up a storm – to commemorate the Jewish New Year (Rosh Hashanah), which is September 21, 2017 this year.
I'm lucky because I get to play in the kitchen for a living. Bob's Red Mill, a company that makes so many gluten-free products safe for those challenged by celiac disease and gluten sensitivities, sponsored this post. You can read more about how I approach sponsored content on my disclosures page.
Why Apples?
Last year, I successfully created a gluten-free Honey Cake recipe for Rosh Hashanah. The cake was a big hit. This year, I decided to go bigger and better and take a regular apple cake recipe and turn it into a gluten-free apple cake masterpiece.
You might be wondering why I'm so obsessed with creating a gluten-free apple cake. The reason is because apples are a symbolic food for the Jewish New Year. Jews will dip apples in honey to symbolize the hope for a "sweet New Year." Anything made with apples and/or honey is a prized food at the Rosh Hashanah lunch or dinner table. In fact, anything and everything sweet should be eaten on Rosh Hashanah.
On top of that, apples are in season right now. In fact, the best apples are harvested in September and October. I gotta hand it to the Jews, as they are commanded to eat a fruit that is in flow with nature and at its peak of deliciousness.
I almost always use Bob's Red Mill 1-to-1 Gluten-Free Baking Flour when attempting to convert a recipe full of gluten into a recipe that is gluten-free and just as delicious. The magic of this flour is that you can use it as a cup for cup measurement in any recipe that calls for wheat flour. So if your recipe calls for two cups of wheat flour, you simply use two cups of Bob's 1-to-1 gluten-free baking flour. It might not sound like a big deal to you if you're new to the gluten-free world, but just a few years ago flours like this didn't exist. You had to create your own flour blend and tinker in the kitchen for hours and days until you got the right consistency in your gluten-free baked goods. As it turns out, gluten is a much needed ingredient in baked goods, and mimicking that texture in gluten-free baked goods is hard to do.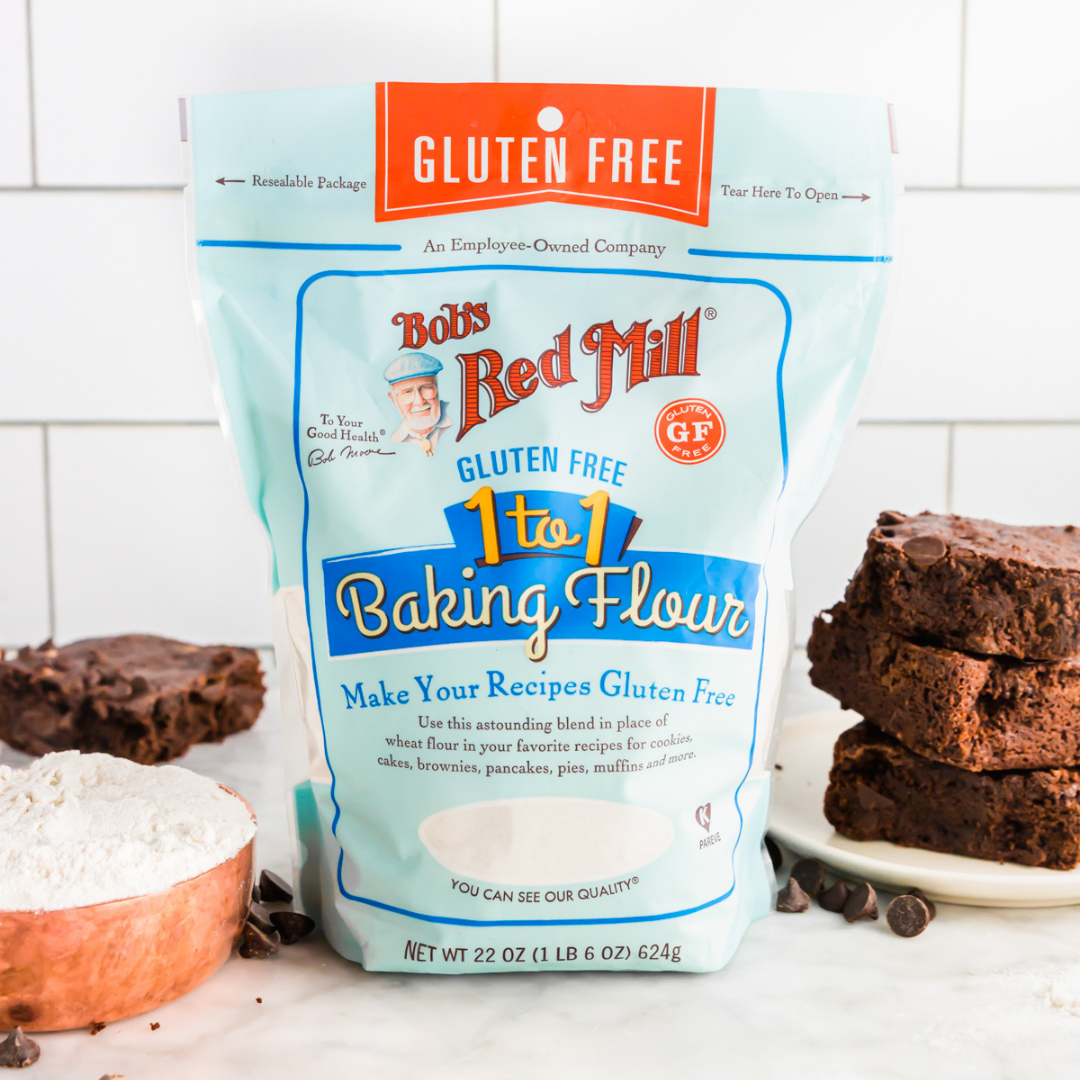 Bob's 1-to-1 flour has cracked the code to gluten-free baking. This 1-to-1 gluten-free flour is a blend of white and brown rice flours, potato, tapioca and sorghum starches as well as xanthan gum (a thickener that adds a gummy texture to gluten-free baked goods). If you avoid xanthan gum, Bob's makes an all-purpose baking flour without it.
With my 1-to-1 gluten-free baking flour in hand, I now needed a recipe. That's when I turned to the Internet for help (i.e., I asked my Facebook friends) with a plea for an amazing apple cake recipe (noting that it didn't have to be gluten-free as I would be attempting to make it gluten-free).
Thanks goodness for my cousin, Sharon, because she sent me a recipe that she swears by. The recipe she gave me was a picture of a handwritten recipe from her recipe box. It looked like it had been loved… a lot. (The recipe cards with the most wear and tear are usually the most treasured recipes, right?) I gave it a once over and thought, "Yes, I could totally make this gluten-free!"
How to Make a Gluten-Free Apple Cake
The first step is to cook the diced apples in butter (notice that I left the skins on – it didn't matter and saved me a whole lot of time by not having to peel them first). My kitchen smelled incredible while the apples sizzled in the buttered pan.
Then I added the brandy and spices. Holy cow. The incredible aroma grew in intensity. (I may have snuck a bite of cooked apple along the way, it's hard to resist!)
I then set aside the apples and began to prepare the batter. I added the yogurt, eggs and flours and mixed everything together. Everything was creamy and smooth – the way a batter should be. I then folded the cooked apples into the batter and then poured the batter in my greased bundt pan. Finally, I crossed my fingers (and toes) that this gluten-free apple cake recreation would work.
After about 45 minutes, I took the cake out of the oven. It didn't rise as high as I had hoped (I have a feeling Sharon's cake rises a lot more), but that's okay, because it still looked beautiful. Once it cooled for 10 minutes in the pan, I was able to turn it over and it came right out onto my wire rack for additional cooling.
Once cooled, I put it in a serving dish, sprinkled some powder sugar on top, and did what any good food blogger does, I snapped some photos before I even knew if it tasted good (I didn't want to ruin the cake by eating part of it before I took a picture).
You can see the apples bursting out of this cake. Seriously, every single bites includes an apple bit, which reminds me of the sweet New Year.
If you want to make your Rosh Hashanah a little sweeter this year, I highly recommend you make this cake. It doesn't disappoint whether you're gluten-free or not. (If you're not gluten-free, just use regular wheat flour in place of the gluten-free flour.)
Oh, and I have more good news to share. Sharon told me the cake keeps well and tastes even better on Day 2! To test her advice (someone has gotta do it…), I ate a piece (maybe two) on the first day. I then wrapped the cake and left it on my counter. The next day I ate another piece. The cake tasted even more moist and rich. Mmmm, so good! She was right. Just to ensure I was thorough in my experiment, I ate another piece on Day 3… yep, still delicious and moist! (It was gone by Day 4 – experiment over.)
To all my gluten-free friends out there, I wish you a sweet, healthy life… and for all my Jewish friends out there, I wish you a L'Shana Tova and sweet New Year.
Gluten-Free Apple Cake Recipe
Gluten-Free Apple Cake
This delicious, moist and light gluten-free apple cake is perfect for your Rosh Hashanah or fall celebration. Use fresh apples of your choice to create a cake you and your family like most.
Print
Pin
Rate
Ingredients
2

Tbsp.

unsalted butter

3

large

red apples, diced

1 1/2

Tbsp.

brandy (substitute white grape juice for non-alcoholic option)

1 1/4

cups

sugar + 1 Tbsp sugar (divided)

2

tsp.

cinnamon

Pinch

of ground cloves

Pinch

of Kosher salt

2/3

cup

plain unsweetened yogurt

3

large

eggs

1/2

cup

vegetable oil

2

cups

Bob's Red Mill 1-to-1 gluten-free baking flour

1

tsp.

baking soda

3-4

Tbsp.

powdered sugar (reserve for topping)
Instructions
Preheat oven to 350 degrees F

Butter or grease a 9" bundt pan and set aside.

Melt butter in saucepan over medium heat. Once butter is melted, add diced apples and cook for 10-12 minutes until soft.

Add brandy, 1 Tbsp sugar, cinnamon, cloves and salt to apples. Cook for another minute, remove from heat and set aside.

In a mixer, whisk yogurt and remaining sugar until smooth.

One at a time, add each egg to the yogurt mixture, then add the oil.

Slowly mix in the flour and baking soda until well combined. Do not overmix.

Fold in apple mixture to batter and then evenly pour the batter into the bundt pan.

Bake for 45-50 minutes until a toothpick inserted in the center comes out clean.

Cool in pan for 20 minutes, then flip cake onto a wire rack to fully cool.

Once cake is cool, top with sprinkle of powdered sugar and serve.
Nutrition
Sodium:
82
mg
|
Calcium:
29
mg
|
Vitamin C:
1.6
mg
|
Vitamin A:
105
IU
|
Sugar:
18
g
|
Fiber:
2
g
|
Potassium:
60
mg
|
Cholesterol:
32
mg
|
Calories:
191
kcal
|
Saturated Fat:
5
g
|
Fat:
8
g
|
Protein:
2
g
|
Carbohydrates:
28
g
|
Iron:
0.6
mg