Getting started on a gluten-free diet can feel overwhelming. There is a lot to learn and a lot to do. But armed with a bit of information, you can get started quickly and find success in your newfound lifestyle. This post contains affiliate links. See my disclosures.
Getting diagnosed with celiac disease or gluten sensitivity and then implementing a gluten-free diet can feel overwhelming to the millions of Americans that have to tackle this journey every year.
Gluten, a sticky protein found in wheat, rye, barley, and sometimes oats, is found in many standard foods and hidden in many foods that appear to be gluten-free but are not.
There is so much to learn and do, which can sometimes feel impossible. Even ten years into the gluten-free diet, I feel overwhelmed by seemingly simple activities like traveling and eating out.
The good news is that, over time, it will get easier. You'll figure out what products and restaurants you like best and what foods you can eat to help you feel nourished and satisfied.
Below I share ten tips for getting started on a gluten-free diet. Take it one step at a time, and go easy on yourself when you make a mistake.
If you prefer to learn everything you need to know about going gluten-free in a neatly packaged course, consider enrolling in my SIGNATURE Gluten-Free Course!
(1) Set Up Your Kitchen
You want to feel as safe as possible in your home, so you must set up your gluten-free kitchen immediately.
My home is one of the few places where I feel completely safe eating because it's free from gluten-y products.
You'll need to clean your pantry and fridge and invest in a few new kitchen items and appliances. Read my step-by-step guide to setting up a gluten-free kitchen.
(2) Learn How to Read Food Labels
Gluten is lurking in so many packaged products, so you'll want to brush up on how to decode a food label for hidden gluten. I've written extensively on this process and recommend you read, What Gluten-Free Labeling Laws and Certifications Really Mean.
The FDA says that products must contain less than 20 parts per million (ppm) of gluten to be labeled "gluten-free." The FDA adds that a product cannot contain a gluten ingredient unless the gluten is removed and the final product contains less than 20 ppm of gluten.
While many products are labeled "gluten-free" or "certified gluten-free," many are not. You'll need to be aware of confusing ingredients containing gluten, like yeast extract, and research individual brands online to determine if a product is safe.
(3) Check Medications for Gluten
You'll need to make sure all your medications are free from gluten, including cold, allergy, birth control, and thyroid medications, to name a few.
Unfortunately, there are no laws that require pharmaceutical companies to disclose gluten in a product, but I do discuss some strategies for decoding medication for hidden gluten in this article, Is There Gluten in Medications?
(4) Check Makeup, Toiletries, and Lotions for Gluten
Experts say the skin cannot absorb gluten, so touching gluten is okay without worrying about an autoimmune reaction. However, you should avoid touching anything with wheat if you have a wheat allergy.
While you'll probably be okay if your shampoo contains gluten, I think people with a gluten disorder should be careful about what products they apply to their bodies – particularly their face, lips, and hands as these products can easily get into the mouth.
I've written extensively on this topic, and I suggest you read the following articles:
I highly recommend Red Apple Lipstick for your makeup, lipstick, and lip balm needs. I also love Andalou's hand and body lotions. Both brands offer a full line of certified gluten-free products.
(5) Streamline Grocery Shopping
Grocery shopping can be one of the hardest things you do when you're new to the gluten-free diet. I was lucky to have a gluten-free friend take me grocery shopping and teach me what brands to look for and what to avoid.
Today's grocery stores carry plenty of gluten-free foods, but you'll need to shop around to find brands and stores you like best. Sprouts, Trader Joe's, Costco, Natural Grocers, Aldi's, Whole Foods, Safeway, Walmart, Sam's Club, and King Soopers (Kroger) all offer great selections of gluten-free foods.
Before heading to the grocery store, I recommend you do the following:
(1) Download my 100 Alternative Names for Gluten to understand all the names gluten goes by.
(2) Download and set up the Fig Food Scanner & Discovery app on your phone. It will enable you to scan the barcode of any food item found at the grocery store so you can quickly read the label and identify any sources of gluten.
Use the code "GOODFORYOUGF" at checkout for 10% off a Fig+ annual subscription once you download the Fig app.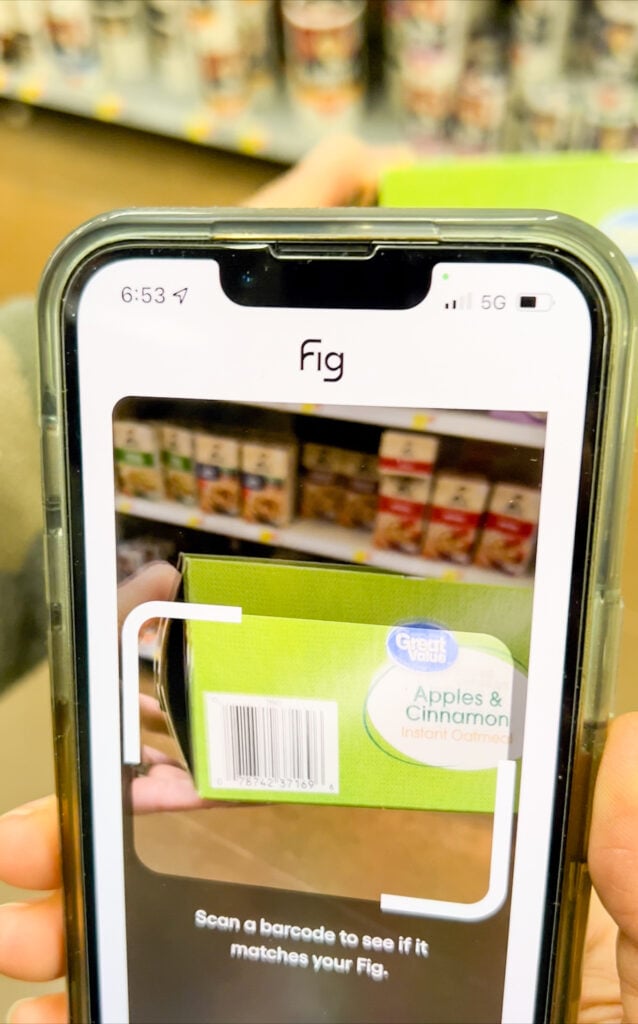 (3) Read 5 Hidden Sources of Gluten at the Grocery Store to understand how the bulk bins and salad bars can sabotage your gluten-free diet.
(4) Gluten-free food can be expensive, so you don't want to waste money on brands you don't like. Read The Best Gluten-Free Products, Brands, and Allergy-Friendly Foods for a list of my favorite brands.
A great way to try different brands before buying them is via a monthly gluten-free food subscription box. You'll get sample-sized gluten-free products sent to your doorstep each month so you can sample before you buy.
(5) Finally, it can be tempting to load up on junk food at the supermarket, but be careful not to go overboard. If you want to heal your body, you'll want be eating clean and healthy foods as much as possible.
Read 10 Naturally Gluten-Free Foods Every Celiac Should Be Eating to get familiar with foods that are naturally gluten-free and good for you.
(6) Plan Your Meals
The safest place to eat will always be in your home, where you control the ingredients and preparation. This is why I encourage people new to the gluten-free diet to eat at home as much as possible and only eat out at trusted restaurants when they venture outside of the home.
One of the most important and powerful tasks you can do is to plan and prep your meals for the week. Meal planning will add focus to your grocery shopping so you don't overspend, and meal prepping will ensure food is always ready and on hand when you're feeling hungry.
I find it particularly important to plan my dinners, so I know what I'm making each night and have all the ingredients ready.
I also find it helpful to prep my lunches ahead of time, particularly during busy weeks. This way, everything is ready to go when hunger strikes.
To help you plan your meals, download any of my gluten-free meal plans.
(7) Master Eating Out Gluten Free
Eating out is the top challenge faced by the gluten-free community. Restaurants struggle to get gluten-free right, and you're the one left suffering as a result.
Over the years, I've created a few tools to help you eat out more safely and confidently. I recommend you download the following resources.
(1) The Ultimate Guide to Eating Out Gluten-Free book. My ebook details everything you need to know about eating out safely while on a gluten-free diet. It's required reading for anyone who likes to eat out.
(2) Find Me Gluten Free App: I recommend downloading the Find Me Gluten Free app. While the app isn't perfect, it will help you identify potential restaurants near you. Just take the reviews with a grain of salt, as some people are less strict about what they eat than others.
(3) Additional Resources. Here are a few more resources you might enjoy to help you eat out safely:
(8) Learn to Travel While on a Gluten-Free Diet
Traveling presents another set of challenges for the gluten-free community, but I've compiled 27 tips to make this process much more manageable. Read 27 Practical Tips for Traveling Gluten Free before going anywhere.
(9) Become Educated on Gluten Disorders
Becoming educated on what a healthy, gluten-free diet looks like is important. My book, Dear Gluten, It's Not Me, It's You, or my SIGNATURE Gluten-Free Course will provide the information you need to become an educated gluten-free eater. It includes tons of practical advice and plenty of emotional support too.
(10) Make Healing a Priority
There's more to a gluten-free diet your body than simply swapping wheat-based cookies for gluten-free cookies. I write a lot about what it takes to heal your body in the aftermath of celiac disease or gluten sensitivity diagnosis.
You can read more about how I healed from celiac disease in this article and in my book, Dear Gluten, It's Not Me, It's You.
If you're struggling with your health despite eating gluten-free, I suggest you talk with your doctor, nutritionist, dietician, or health coach specializing in celiac disease or gluten disorders. I offer 1-to-1 gluten-free nutrition coaching too.
You Got This
Remember, a gluten-free diet can be life-changing for you. It's not easy to implement or maintain, and at times, you'll want to throw in the towel and give up.
Remember, health is wealth, and you're on a journey to improve your health, starting with the food on your plate. You got this!