This post features a list of the best gluten-free fast food restaurants, many of which I tested for hidden gluten with my Nima Sensor. I also include a list of popular fast food chains that don't do gluten free right – avoid! This post may include affiliate links. Please see my disclosures.
If you're following a gluten-free diet today, you're in luck because there are a lot of gluten-free fast food restaurants that can and will accommodate your special diet – and many do so with ease.
Mind you, these restaurants don't only serve gluten-free food; rather, they have added gluten-free options to accommodate people with celiac disease and gluten sensitivities. People with celiac disease cannot eat gluten, which is a protein found in wheat, barley, rye and sometimes oats.
While it's often easy to order something that doesn't contain any of those grains, the challenge with eating out – and in any restaurant – is the potential for cross contamination. Cross contamination is where a food that is inherently gluten free comes in contact with food that contains gluten, whether it be by breadcrumbs on a countertop or a shared deep fryer used to gluten gluten-free and gluten-y foods.
At many restaurants, staff are trained on how to handle "gluten allergy" orders. However, at fast food and fast casual restaurants, there is high turnover and you can never expect a staff member to know how to prepare a safe gluten-free meal for you.
You must convey the seriousness of your request, and employ a lot of safety measures every time you go out to eat. I write about how to eat out safely on the gluten-free diet in the Ultimate Guide to Eating Out Gluten Free ebook.
Top Gluten-Free Fast Food Options
Knowing that there is always a risk of getting accidentally glutened when you eat out, there are some fast food restaurants that tend to get gluten free right.
I have researched each of the following restaurants to determine if they have "safe" gluten-free options, and I independently tested many of he restaurants for hidden gluten using my Nima Sensor.
The Nima Sensor is a portable gluten-detecting device that you can use to test a small portion of your food for hidden gluten. You can learn more about it in this article, 13 Things You Need to Know About the Nima Sensor. Another portable gluten-detecting sensor option is the ALLIS Sensor, which is coming sometime in 2022.
Chipotle
You gotta hand it to Chipotle when it comes to catering to the gluten-free community. Every time I visit the restaurant, the staff knows exactly what to do after I disclose that I have a "gluten allergy."
They change their gloves, gather fresh ingredients from the back or from under the counter, and they work hard to accommodate my visit at record speed.
You can enjoy a rice bowl topped with grilled chicken, black beans, fajita veggies, salsa, lettuce and cheese – all gluten free. The chips and guacamole are also gluten free!
The only thing on the Chipotle menu that contains gluten is the flour tortillas, and they are easy to avoid.
I tested Chipotle for gluten using my Nima Sensor to see if the burrito bowl was really gluten free. The queso was another story.
Five Guys
I really enjoy eating at Five Guys. You can get a super juicy burger (lettuce-wrapped, of course) and hand-cut fries that are the bomb! The staff at Five Guys are usually careful about cross contamination, changing gloves and preparing my food separately from the buns.
Read about my gluten-free Five Guys experience and check out Five Guy's allergen menu.
Be sure to avoid Five Guys if you anyone in your family has a peanut allergy. The restaurants uses peanut oil and serves ballpark peanuts as an appetizer. Peanuts are everywhere!
Chick-Fil-A
Everyone needs to make a run through the drive-thru every once in awhile, and when you do, you can choose Chick-fil-a.
Chick-fil-a's grilled nuggets are gluten free, as are the fries (just double check with your local Chick-fil-a that it has a dedicated fryer). Chick-fil-a also has a gluten-free bun to house its grilled chicken sandwich, also gluten free.
Read more about my gluten-free Chick-Fil-A experience and see how the restaurant fared against my Nima Sensor. You can also check the restaurant's allergen menu for more details.
Pei Wei
Pei Wei is the fast-casual spinoff from PF Chang's (although the two companies are no longer related) and I love to eat there when I get a hankering for Asian-inspired food.
The restaurant has several dishes that can be prepared gluten free, including my favorite, the Kung Pao Chicken with rice (or you can do cauliflower rice instead – score!).
The staff knows exactly how to handle gluten issues and cooks everything separately. Read my article about eating gluten free at Pei Wei.
Qdoba
Like Chipotle, Qdoba can offer you a yummy Mexican-style lunch. Get a rice bowl (aka "naked burrito") with beans and grilled steak and dig into the guacamole and salsas too.
I'm a bit wary of the restaurant's chips, taco shells and tortilla strips because they are labeled "may contain gluten." I suggest avoiding those items to be extra cautious.
In the meantime, you can check out Qdoba's menu online for a complete list of Qdoba gluten-free items (click on "allergens" to view allergy menu).
Modern Market
Modern Market is only available in Colorado and Texas – but if you live in those states – you're a lucky gluten-free guy or gal.
Choose from a variety of salads, soups, pizzas and sandwiches – most which can be made gluten free to order with a few substitutes. (The Modern Market Denver airport location does not offer GF pizza.)
Modern Market knows how to accommodate you and your food allergies – and you'll feel totally satisfied and healthy after eating there! The menu is seasonal and can change from store-to-store.
Click here for a list of gluten-free items at one of its Colorado restaurants.
Noodles & Company
Noodles is a fun place to go with the kids – they'll love it! Try Noodles & Co.'s gluten-free noodles, zucchini noodles or cauliflower gnocchi. All are yummy and satisfying options.
Read the allergen menu carefully and ask the staff to avoid cross contaminating your items with gluten-y items. For example, the parmesan crusted chicken is not gluten free, but the grilled chicken is; however they are cooked in the same pan.
Inquire within about how they can accommodate you and it's likely they will (for example, they can bake the chicken in the oven vs. pan). Read about my gluten-free Noodles and Co. experience.
Jersey Mike's
I was really happy to hear that a sandwich chain – Jersey Mike's – is doing gluten free right.
Jersey Mike's uses Udi's bread and makes its gluten-free subs in a clean, dedicated area. The restaurant has even trained its staff on how to handle gluten-free requests.
The restaurant passed my Nima Sensor test too. Read my full report on what's gluten-free at Jersey Mike's.
Wendy's
I can't say Wendy's is my first choice in fast food dining, but when traveling, it's often an only choice. I would recommend forgoing the salads (you can't have chicken on them anyway) and burgers (risky cross contamination) and simply enjoy a baked potato with chili and cheese instead. Pair it with a Frosty too.
I find it encouraging that Wendy's has a dedicated section on its website for its customers living without gluten. I used my Nima Sensor to test Wendy's menu for gluten – see the results here.
Sonic Drive Thru
Sonic is a bit of a hit or miss restaurant when it comes to gluten free. At some locations, the fryer is a dedicated fryer and only cooks french fries. I tested the Sonic near me for hidden gluten. It tested just fine, but the food left much to be desired.
Read about my full Sonic experience in this article.
Five on Black
I had the opportunity to try this delicious fast-casual Brazilian restaurant, which has locations in Denver, Boulder and several in Montana too.
Almost everything on the menu at this fast casual restaurant is gluten free and pretty darn good too.
Larkburger
Larkburger offers burgers and fries and definitely knows how to do gluten free right. The fryer only fries up gluten-free foods. You can eat the fries and onion rings – nuff said! (Read my review here.)
Zoe's Kitchen
I'm a little obsessed with Zoe's Kitchen these days – ever since one opened not far from my house in Denver, Colorado (it has since closed – sad!).
So much of the menu is tailor made for us gluten-free folk, and the restaurant caters to all sorts of speciality diets – vegan, ketogenic, paleo, Whole 30 and more.
I personally love the chicken kabobs with tumeric rice, roasted veggies and the Israeli skhug sauce. Check out Zoe's Kitchen's menu here – and, as you can see, I tested it with my Nima Sensor too!
Panera
Panera offers a few gluten-free options that you can enjoy if you're avoiding gluten, from fresh salads to savory soups. I have tested some of the items for hidden gluten with much success (read my full article, Is the Panera Gluten-Free Menu Really Gluten Free?), so I would eat here.
In all honesty, however, I choose not to eat here unless I have to due to the high risk of gluten exposure (flour and breadcrumbs are everywhere!).
Also, avoid the gluten-free cookies altogether, which are on display right next to the gluten-y pastries.
Garbanzo Mediterranean Fresh
Garbanzo is a fast casual restaurant serving mediterranean foods like hummus, falafel and pita. Most of the menu at Garbanzo is fresh, and everything tastes great, especially if you love garlic. You can eat the falafel and they have gluten-free pitas too! Read more about what's gluten-free at Garbanzo.
Boston Market
I have not independently tested Boston Market for hidden gluten, but from my initial research, you can eat here In good conscious. According to Boston Market's Allergy Guide, you can order a variety of chicken, turkey and ham options, along with the vegetable, potato and apple sides.
What Didn't Make the List
These restaurants may offer some gluten-free options, but they are not trusted options so I cannot recommend them – avoid!
Burger King: There are only a few safe items to eat at Burger King that it's not worth my time to list them. Avoid this restaurant. If you must eat here, you can consult the Burger King Allergens guide.
Domino's: While Domino's is quick to point out it offers a gluten-free crust option that it says "doesn't taste like cardboard," it also says its gluten-free crust is prepared in a common kitchen and is not recommended for people with celiac disease. Ho hum.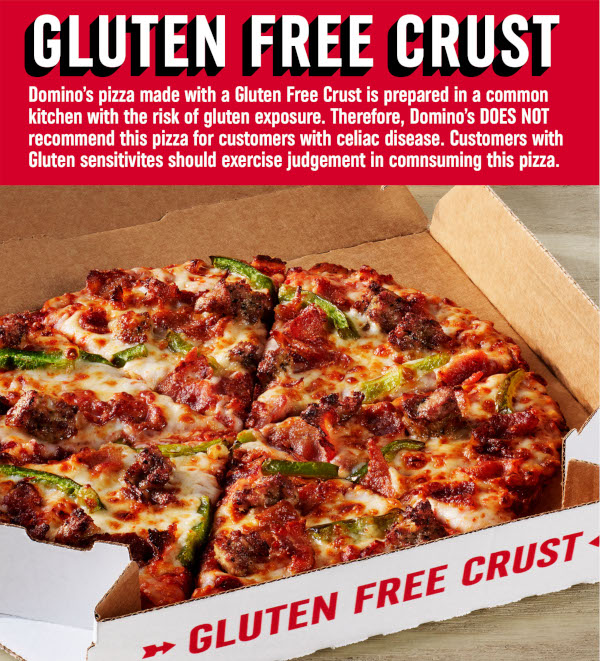 Dunkin Donuts: While you can enjoy most of the beverages at Dunkin, the restaurant chain offers no gluten-free donuts nor any gluten-free bakery items. You can read more about at time when Dunkin offered gluten-free donuts… but that ship has sailed.
Kentucky Fried Chicken: What's the point of eating at Kentucky Fried Chicken if you can't eat the breaded and fried chicken the restaurant is known for? However, if you must eat there, I suppose you could make a meal of the sides – the coleslaw, corn on the cob, green beans, mashed potato (no gravy), potato salad and sweet kernel corn are all gluten free. View KFC's Allergen Guide here. If you really want chicken, opt for Boston Market instead.
McDonald's: McDonald's clearly states on Its website that it does not offer any gluten-free foods. Even the French fries contain hydrolyzed wheat, not to mention they are cooked in a shared fryer. Skip!
Papa John's: Papa John's says on its website, "Papa John's does not recommend pizzas with Papa John's Ancient Grains Gluten-Free Crust for customers with celiac disease. Although Papa John's Ancient Grains Gluten-Free Crust is gluten free and Papa John's employs procedures to prevent contact with gluten, it is possible that a pizza with Papa John's Ancient Grains Gluten-Free Crust is exposed to gluten during the ordinary preparation process. Please use your best judgment in ordering a pizza with Papa John's Ancient Grains Gluten-Free Crust if you have a sensitivity to gluten."
Pizza Hut: Pizza Hut used to offer certified gluten-free options, but it has since changed to only offering certified gluten-free pizza crust, which is then prepared in a non-allergen friendly way. Avoid!
Subway: Some Subway restaurants have gluten-free bread, however, there is no training nor separate preparation area for handling such orders. Skip!
Taco Bell: I may need to give Taco Bell another look, but for now, it's on my no-go list. Taco Bell lists five menu items it recommends you order when you can't eat gluten in this article. Recommendations include the Power Menu Bowl, Black Beans and Rice, and its Crunchy Tacos. You can view Taco Bell's allergen menu here.
Love Gluten-Free Fast Food?
I love when fast food restaurants get gluten free right.
Remember, any time you eat out, you must check the most current menu information as information presented in this article may change. The best and most accurate information will always be on-site at the restaurant.
Some restaurants may offer gluten-free options, others may not. Remember, not all restaurants offer the same menu items or have the same allergen protocols. For example, some Sonic restaurants may have a dedicated gluten-free fryer, other Sonic restaurants may not.
Additional Reading
To help you eat out safely when you can't eat gluten, I recommend reading my ebook, The Ultimate Guide to Eating Out Gluten Free.
I also recommend investing in a portable gluten-detecting device, such as the Nima Sensor or the ALLIS Sensor.
Learn more about why French fries are only sometimes considered gluten free in this article, Are French Fries Gluten Free?
Learn more about healthy cooking oils in this article, Everything You Need to Know About Healthy & Gluten-Free Cooking Oils.