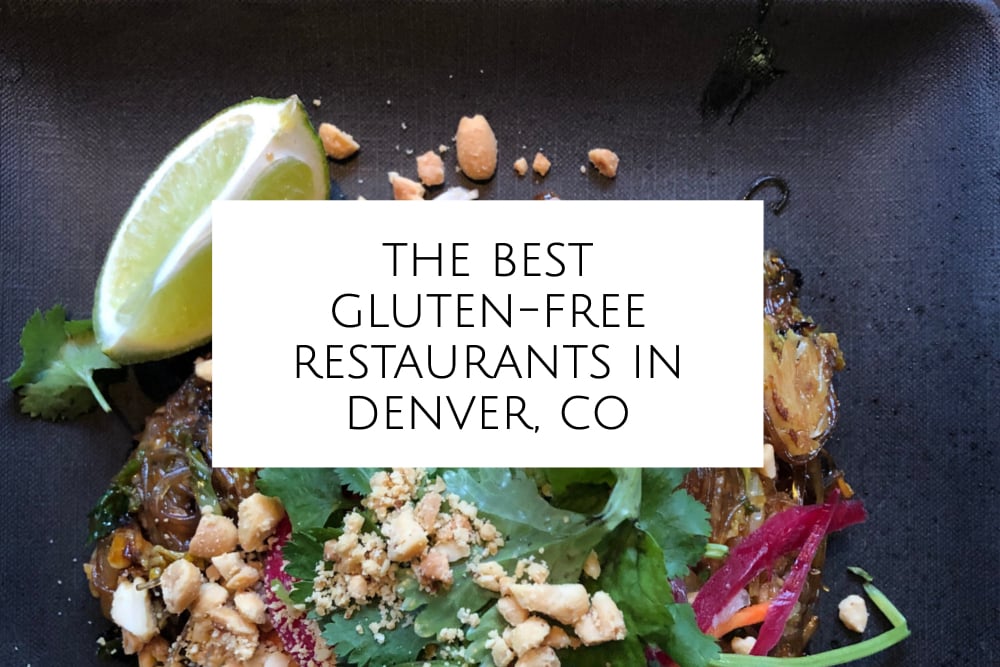 Visiting Denver and following a gluten-free diet? Read my comprehensive list of the best gluten-free restaurants in Denver and Boulder. This post was last updated in November 2022. Please inquire at each restaurant to ensure no details in this article have changed. The best information on each restaurant will be at each individual location.
I get emails and messages from people asking me for recommendations on things to do and eat (when they eat gluten free) while they're visiting Denver and Boulder.
That's why I decided to create this post. It features some of the best gluten-free restaurants in Denver, Boulder, and surrounding areas.
All establishments included on this list have been vetted either by me or strongly recommended to me by readers to confirm they are doing gluten free right.
Please note that I only recommend establishments I feel have good measures to offer a safe, gluten-free dining experience for you.
If you would like me to add your restaurant to the best gluten-free restaurants in Denver list or suggest a fantastic gluten-free establishment in Denver or Boulder, please contact me and let me know.
Also, read my list of the best gluten-free bakeries in Denver.
Please note restaurants are listed in alphabetical order.
Acova
There are so many places in Denver that offer gluten-free options, but if I had to settle in on a few gluten-free favorite restaurants in Denver, the very top of my list would be Acova Restaurant. Acova is located in the LoHi (Lower Highlands) neighborhood. The food is outstanding, and the owner (and her son) have celiac.
While Acova is not 100 percent gluten-free, it has a separate prep area for making its gluten-free items, as well as a dedicated gluten-free fryer. The food is approachable and crave-able. I seem to always get sucked into ordering the amazing fish and chips (so good!), but the fried chicken is delicious too, and my father-in-law swears by the chicken piccata.
Almost everything on the menu can be made gluten free, and the menu is well marked so you know what you can enjoy. And don't forget to top off your meal with delicious apple donuts – a favorite treat!
Aung's Bangkok Cafe
If you love Thai food, a great restaurant in Englewood is called Aung's Bangkok Cafe. Beware, this restaurant is a hole in the wall, and if you blink, you might miss it.
My friend who has traveled to Thailand said the food is as authentic as it gets without being in Bangkok. I always order the Drunken Noodle and love it. My husband loves curry and cashew chicken.
Beau Jo's Pizza
If you're craving pizza, I might compel you to mosey on over to Beau Jo's, a treasured Colorado restaurant serving up Colorado-style pizza. Unfortunately, you won't be able to enjoy the "Mountain Pie" (deep dish pizza) because it contains gluten. Still, I assure you that Beau Jo's is serious about making safe pizza for its celiac and gluten-free customers.
Beau Jo's gluten-free crust comes from the Sweet Escape Bakery and is really delicious – truly! It is a Colorado tradition to dip your pizza crust in honey. While your GF pizza crust will be much thinner than everyone else's crust, give it a try and see what you think. When in Rome… err, Colorado!
If you visit the Beau Jo's in Idaho Springs, which is in the foothills of the Rocky Mountains, take a tour of the Argo Gold Mining Mill and Tunnel. Beau Jo's recently opened a new location near Park Meadows Mall in Lone Tree. The location has a small dining room, and it is primarily for take-out orders.
The Buff (Boulder)
The Buff restaurant at 2600 Canyon Blvd in Boulder came highly recommended to me by one of my readers, and rightfully so; nearly all of the menu has the option to be gluten free.
For any meal, you can enjoy steak and eggs, french toast, omelets, skillets, griddle cakes (pancakes), breakfast tacos, fried chicken, gluten-free granola with fresh fruit, grilled cheese, and any burger.
There is truly something gluten free for everyone at The Buff, especially since the restaurant has a dedicated gluten-free fryer, separate gluten-free cooking spaces, and dedicated gluten-free utensils.
On top of it all, the owner of the restaurant has celiac disease, giving patrons that extra assurance in knowing that the staff is thoroughly trained in handling and serving its gluten-free guests.
Cavegirl Coffeehouse (Longmont)
I drove almost an hour to meet a friend at Cavegirl Coffeehouse, but I have to admit, I was glad I did. The coffee shop offers a good-sized menu with various sandwiches, soups, salads, expresso coffees, and sweet treats.
The coffee shop is beautifully designed inside and gives off a hip vibe. I went on a Sunday afternoon, and it was bustling. I couldn't find a seat when I first arrived!
I ordered the Veggie Panini, and it was good, but it definitely needed more cheese and filling. The housemade cucumber salad was excellent. I also ordered a Blackberry-Hazelnut Latte and a few sweets to sample. The coffee was great, but the donut was a bit dry. I did, however, love the peanut butter bar.
EAT! Food & Drink (Broomfield)
EAT! Food & Drink is an upscale brunch restaurant in Broomfield, just north of Denver near Boulder. I was blown away by the gluten-free menu at this restaurant. If you love pancakes, waffles, and French toast (pictured), this is the restaurant to be. You can also order sandwiches, eggs benedict, and many other brunch foods.
The restaurant prepares its pancakes on a dedicated griddle and its waffles in a dedicated gluten-free waffle iron. The restaurant is super trendy and fun – truly the perfect brunch spot for anyone that is gluten-challenged.
Edible Beats Restaurants (El Five, Linger, and Root Down)
As far as I'm concerned, you can't visit Denver without visiting an Edible Beats restaurant. All these restaurants – El Five, Linger, and Root Down – offer a romantic atmosphere, eclectic bites, cool vibes, and plenty of safe gluten-free options.
Be forewarned; you must make reservations weeks, even months, in advance if you want a prime-time seat. These restaurants are uber-popular and hard to get into.
If you go to any of these restaurants, stop by Little Man Ice Cream for dessert afterward. You can't miss it as the ice cream stand, and the facade looks like a bucket of ice cream. They will use a clean scooper when scooping ice cream for you to help minimize the risk of cross-contact with gluten (although there is still a risk). My husband loves this ice cream. We always have to stop here when we're in the neighborhood.
Federal Bar & Grill
Another casual and approachable restaurant to try is Federal Bar & Grill. The restaurant is located in the Jefferson Park neighborhood and offers all your favorite bar foods. In fact, the gluten-free options are flowing because the owner has celiac disease. And yes, there's a dedicated gluten-free fryer on site!
You can order burgers, sandwiches, and even fish and chips (although I think the fish needed more seasoning – pictured). There are plenty of options to fulfill all your bar-food desires.
Flower Child
I also found Flower Child cafe to be accommodating to my gluten-free diet, and I highly recommend it! Lots of locally sourced, healthy foods and plenty of GF options with locations near Cherry Creek Mall in Denver and Boulder.
Here's more of what I ordered and ate at Flower Child.
Fresh Thymes Eatery (Boulder)
Fresh Thymes Eatery said in a statement that it's closing its doors on December 17, 2022, after nine years of serving the Boulder community. The restaurant cited Covid-19, rising food costs, staffing woes, and an "increasingly difficult environment for small businesses in Boulder." I absolutely loved this restaurant. Unfortunately, I didn't live close enough to support it regularly.
The restaurant says it will keep its Bodega open, which will continue to offer grab 'n go meals and fresh-baked gluten-free desserts.
Gina's Kitchen
Gina's Kitchen is located in Aurora, Colorado inside the Parkside Eatery (a shared restaurant/bar space) near the Aurora Mall. Gina offers delicious sandwiches made on homemade millet bread, as well as soups, salads, and other hot plates. The cafe is also a bakery, serving up coffee and a variety of delicious baked goods, including copycat gluten-free DingDongs and Twix bars.
Watch this video to get a feel for the wonderful space and food available at this dedicated gluten-free cafe and bakery.
Hapa Sushi
Many sushi restaurants in Denver get gluten-free right, but one I love a lot is Hapa Sushi. There are several locations throughout Denver, but I always wind up at the one in the Landmark.
I think the presentation of food is beautiful at Hapa Sushi. They have a special gluten-free menu that is double-sided and full of options from traditional and quirky sushi rolls, poke bowls, sashimi, and entrees.
The food is delivered to your table with a gluten-free labeled toothpick, which adds confidence to the meal.
Holidaily Brewery Tap Room
While in Colorado, you must visit Holidaily Brewery (check taproom hours) to sample amazing craft gluten-free beer made exclusively from gluten-free grains. You can visit the HQ taproom in Golden, or the new taproom in the Denver Tech Center (Landmark).
Karen Hertz, a former Coors executive who loves craft beer but can no longer tolerate gluten after surviving thyroid cancer, founded Holidaily and has provided the best craft beer I've ever had. It's hard to believe it's all gluten free!
Holidaily often has gluten-free food trucks parked outside of its Golden location for you to enjoy along with your amazing craft beer. The brewery also carries my book, Dear Gluten, It's Not Me It's You, so pick up a copy while you're there!
UPDATE: The new Holidaily tap room in DTC is now a shared space with Just BE Kitchen (see below).
Humboldt Farm Fish Wine
Another fantastic restaurant if you're looking for a date night out is Humboldt Farm Fish Wine located in Denver's Uptown neighborhood. The flavorful dishes are plentiful, and it's hard to decide what to order because so many things sound good.
Humboldt boasts a dedicated fryer for gluten-free foods, and the staff is knowledgeable about gluten and takes all allergens seriously. Try the fried crispy broccoli as a starter and then make sure you order a fish dish – the restaurant's specialty – although they offer beef and pasta options as well. There is really something for everyone, whether you eat fish or not.
Just BE Kitchen
Just BE Kitchen is a must-try restaurant because it's 100% paleo and certified delicious (by me). Everything is gluten free in this charming, comfort-food restaurant. Just BE also offers plenty of Whole30 options as well.
Just BE Kitchen has two locations. Its first location is near downtown Denver (2364 15th Street, just past the Denver Aquarium and flagship REI store). The second location is in Greenwood Village inside the Holidaily DTC Taproom (5370 Greenwood Plaza Boulevard, Greenwood Village, CO).
Larkburger
If you've got burgers on your brain, stop by either of the two Larkburger locations – one is in Boulder, the other in Edwards. The burgers are great, and you can eat the crispy fries. Larkburger also makes gluten-free onion rings, the only restaurant I'm aware of in town that offers these delicious rings of fried joy!
Modern Market
Another great Colorado fast-casual restaurant worth trying is Modern Market. Modern Market uses only fresh ingredients and makes everything, including its dressings, in-house. The salads are hearty and delicious, and the green chili chicken soup is a personal favorite of mine.
Modern Market offers gluten-free pizza, too. If you order pizza, make sure you clearly communicate your allergy needs. I typically avoid the pizza due to the risk of cross-contamination, but by all means, give it a try if you feel comfortable with the process.
Next Door Eatery
For a more casual, family-friendly dining experience, check out one of the six Next Door restaurants based in Colorado. This local restaurant chain has a laid-back Colorado vibe that will ensure a good time for all (without breaking the bank).
The food is made with sustainable ingredients and is approachable, offering everything from delicious salads and soups to juicy burgers and tangy fish tacos. You can also order warm, fresh-baked gluten-free chocolate chip cookies for dessert – nice touch, right?
Old Blinking Light
If you find yourself in Highlands Ranch, you'll want to check out the Old Blinking Light restaurant. I love eating at this restaurant, and it has quickly become one of my favorites. Add this restaurant to your must-try restaurant list in Colorado.
Old Blinking Light offers seasonal American food influenced by Taos, New Mexico. You'll see plenty of clearly marked GF options on the menu, including fish tacos, red chili-crusted salmon, bacon-wrapped buffalo meatloaf, grilled mahi mahi, and vegan sweet potato and zucchini pasta. I think the salmon is so well seasoned – delish!
Plus, at the end of the meal, Old Blinking Light offers a warm gluten-free brownie that is rich and delicious. Watch me enjoy this restaurant in this video.
Quiero Arepas
You cannot visit Denver without trying Quiero Arepas. This restaurant (and food truck) serves only gluten-free foods.
If you've never had an arepa before, you're in for a real treat. An arepa is a cornbread-type sandwich stuffed with all sorts of pulled meats and fried plantains. Delicious!
Quiero Arepas is located inside Avanti F&B (a collective eatery) and has a quaint dedicated restaurant on Pearl Street near the University of Denver (DU).
River and Roads Coffee
River and Roads Coffee, located at 2539 E Bruce Randolph Ave in Denver, is a dedicated gluten-free coffee shop that includes plenty of delicious baked goods (the donuts are a must, as are the Thin Mint Brownies), along with a casual dining menu with avocado toast, french fries, and breakfast and lunch sandwiches. They also boast delicious house-roasted coffee to help you keep your energy levels high.
This cute shop offers indoor dining and a large patio with plenty of seating. River and Roads is perfect for a casual coffee or lunch with your favorite gluten-free pal. See what I ordered at River and Roads in this video.
Ted's Montana Grill
Ted's Montana Grill offers a dedicated fryer (and delicious French fries!) and employs many practices to limit cross-contamination. Enjoy a juicy bison burger – it's a great treat and what Ted's Montana Grill is known for.
The Urban Egg
For a great all-around brunch, skip Snooze (its gluten-free pancakes are not gluten-free according to my Nima Sensor) and seek out The Urban Egg instead. This DTC restaurant takes a lot of precautions to create a safe brunch experience for its gluten-free diners.
I personally enjoy the Huevos Rancheros with a side of Fred's Hawaiian pineapple pancake – gluten free, of course! The gluten-free pancakes are made with Cup4Cup flour and are fluffy and chewy – amazing mouth appeal.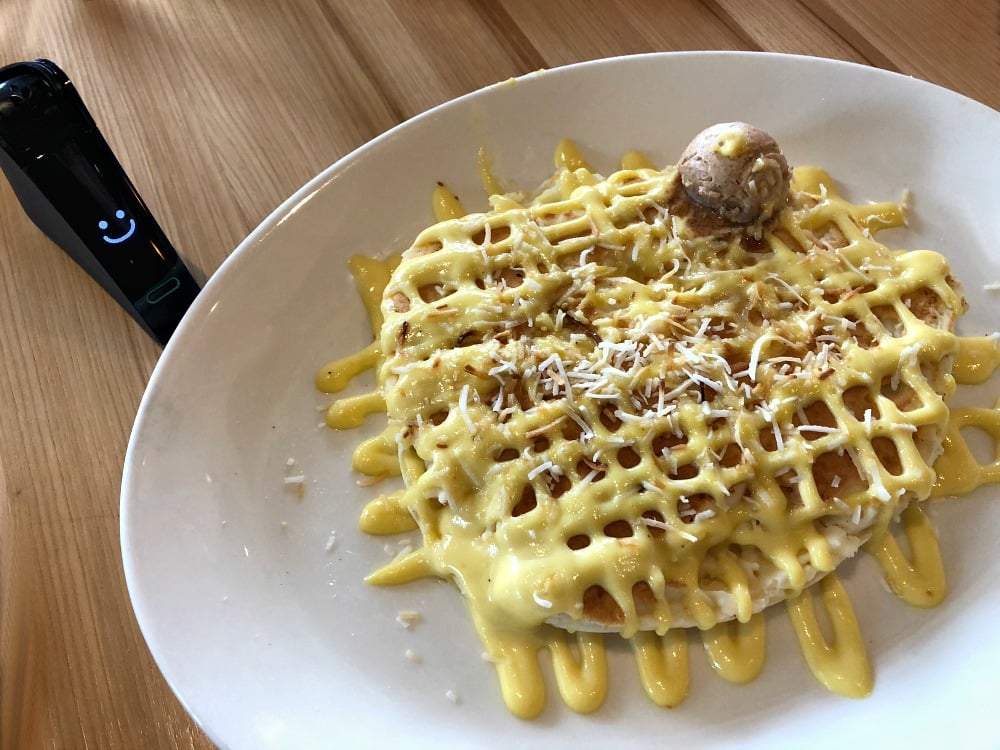 Vital Root
Edible Beats also has a 100% gluten-free and 99% vegan restaurant (by request) called Vital Root. It's located in the trendy Highlands, and, I have to say, the food is outstanding. I ordered the pad thai and loved it. The cassava fries can't be beaten, either.
Please note that Vital Root is a counter-service restaurant, perfect for brunch, lunch, or a quick dinner.
Whole Sol
I enjoyed my visit to Whole Sol, a 100% dedicated gluten-free and organic restaurant that serves up smoothie bowls, hot bowls, sandwiches and toast, cold-pressed juices, and gluten-free cookie dough (must order!). It offers a lot of vegan options too.
Don't be fooled; just because Whole Sol's menu is gluten free and healthy, it's still delicious. I enjoyed the OG smoothie bowl made with acai and topped with banana, strawberry, granola, honey, and for a little extra, a scoop of peanut butter. It was outstanding, full of flavors, textures, and colors. The cold-pressed juices are tasty, too, and come served in adorable glass jars.
Whole Sol has three locations, one in Sloan's Lake near Mile High Stadium, one on the Pearl Street Mall in Boulder, and one in LoDo near Union Station.
Woody's Wood-Fired Pizza
While you're visiting Golden, Colorado, take a moment to visit downtown Golden (it's cute) and visit Woody's Wood-Fired Pizza. Part of the menu is celiac safe and includes Holidaily beer battered fish and chips (although you can't eat the fries/chips), fried chicken tenders, and sweet potato tots. Any burger can be served with a gluten-free bun too.
Woody's also has gluten-free pizza crust and is willing to make accommodations to prepare the pizza as safely as possible. Truth be told, however, I didn't like the crust, and I'm not sure how celiac-safe it is.
Additional Information
Always be sure to inquire at each restaurant about their gluten-free safe practices, as safe practices and menus can change.
A special thank you to my friends at the FindMyMeal App, an app that helps you identify safe allergy-friendly restaurants throughout the Denver metro area.
Visiting Denver? Also, be sure to read: